Pac-12
Trophy Hunters #3: Sun Devils Snap PSU's Historic Streak
Trophy Hunters #3: Sun Devils Snap PSU's Historic Streak
On Friday, November 22, Arizona State knocked off Penn State. Here's what it could mean for their trophy hopes this year.
Nov 25, 2019
by David Bray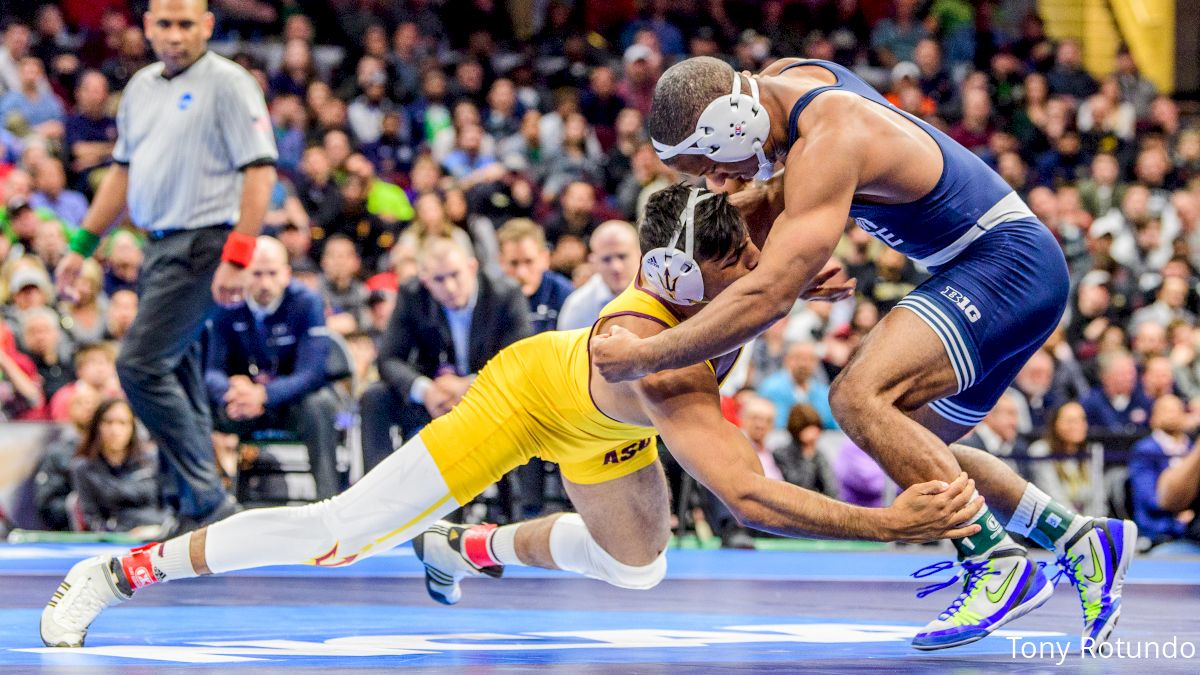 Unlock this article, live events, and more with a subscription!
Get Started
Already a subscriber? Log In
The Arizona State Sun Devils are the focus of our third edition of "trophy hunters." Their upset dual meet win over perennial power Penn State snapped a 60 dual meet win streak and has ASU squarely in the center of the national conversation.
For those who remember that ASU had the top recruiting class of 2015, it may be no surprise that they're in trophy contention in the final season for many of those recruits. This is a team that has hovered in the top 10-15 for the last few seasons, but they're poised to make a run for a top-four spot in this year's ultra-competitive trophy hunt.
Arizona State hosted #1 Penn State on Friday night in Tempe in front of a record-setting crowd. Wrestling fans in the desert got their money's worth in a thrilling dual meet that started with a bang came down to the final match.
THANK YOU SUN DEVIL NATION? ? pic.twitter.com/rfTXgAdnm1

— Sun Devil Wrestling (@ASUWrestling) November 23, 2019
Each team had five wins. Roman Bravo-Young, Nick Lee, Vincenzo Joseph, Mark Hall, and Anthony Cassar picked up wins for Penn State, as expected. ASU's five wins were less predictable. Zahid Valencia got a surprising forfeit at 184 for ASU. The remaining four Sun Devil victories could be considered swing matches to varying degrees.
At 125, unranked Brandon Courtney earned a major decision victory over Penn State's Brode Teske. At 149, #21 Josh Maruca knocked off a comparable foe in #24 Jarod Verkleeren. At 157, ASU's #20 Jacori Teemer beat Penn State backup Bo Pipher, and at 197, unranked Kordell Norfleet upset #13 Kyle Conel with a dominant 10-4 decision.
Arizona State 19, Penn State 18
125: Brandon Courtney (Arizona State) over Brody Teske (Penn State) (MD 19-7)
133: Roman Bravo-Young (Penn State) over Joshua Krammer (Arizona State) (Dec 7-6)
141: Nick Lee (Penn State) over Cory Crooks (Arizona State) (TF 18-3 4:28)
149: Joshua Maruca (Arizona State) over Jarod Verkleeren (Penn State) (Dec 5-4)
157: Jacori Teemer (Arizona State) over Bo Pipher (Penn State) (Dec 9-4)
165: Vincenzo Joseph (Penn State) over Joshua Shields (Arizona State) (Dec 7-4)
174: Mark Hall (Penn State) over Anthony Valencia (Arizona State) (MD 11-3)
184: Zahid Valencia (Arizona State) wins by forfeit
197: Kordell Norfleet (Arizona State) over Kyle Conel (Penn State) (Dec 10-4)
285: Anthony Cassar (Penn State) over Tanner Hall (Arizona State) (Dec 9-5)
---
Unpacking ASU's Upset
We've already discussed the significance of this dual meet in terms of what it says about wrestling at large, but what does it tell us about Arizona State's chances for a team trophy this year?
First, let's make sure we're familiar with ASU's current lineup:
125: Brandon Courtney
133: #11 Josh Kramer
141: Cory Crooks
149: #21 Josh Maruca
157: #20 Jacori Teemer
165: #5 Josh Shields
174: #8 Anthony Valencia
184: #1 Zahid Valencia
197: Kordell Norfleet
285: #5 Tanner Hall
This lineup is ranked fifth in the country and projected to score 48.5 points. The three highest predicted point scorers have also been the three most consistent ASU performers throughout their careers. Two-time NCAA champion Zahid Valencia and former All-Americans Josh Shields and Tanner Hall account for most of ASU's projected points, but for a realistic shot at a top-four trophy this year, Arizona State will need more than that.
Friday night's win over Penn State didn't solve the riddle of ASU's trophy chances, but it did raise three big questions:
1) How Close to the Podium is Josh Kramer?
ASU's 133-pounder has made waves this month knocking off four ranked foes to earn himself the #11 spot in last week's rankings. He does have a loss on the year to Sammy Alvarez of Rutgers and now another loss to #3 Roman Bravo-Young of Penn State.
While Friday night's match with RBY did not go Kramer's way, ASU fans may walk away from that result more encouraged than they were before. Kramer got the first takedown in the match and kept it to a 7-6 decision. ASU will need team points in March, and this version of Kramer looks ready to be within striking distance of almost any opponent he'll face at the NCAA tournament.
2) How Good is Jacori Teemer?
In preseason conversations about this year's 157-pound field, Teemer was considered by many, including our own Andrew Spey, to be among the contenders for an NCAA title. Momentum slowed for this kind of talk after Teemer dropped the opening match of his season to Virginia's Justin McCoy.
But on Friday night, Teemer looked like a star. While he didn't get a crack at Penn State's fifth-ranked Brady Berge, he dominated a solid backup in Bo Pipher. Teemer reminded wrestling fans that he has a potent offense and that he shines in big moments.
WELCOME TO TEMPE, @JacoriTeemer! pic.twitter.com/4bYQQM7xuR

— Sun Devil Wrestling (@ASUWrestling) November 23, 2019
3) Is Kordell Norfleet Making a Run?
Arizona State's 197-pounder Kordell Norfleet has had impressive moments throughout his career but has lacked the consistency he's needed to make an impact on the team score at the NCAA Tournament.
On Friday night, Norfleet had a dominant win over #13 Kyle Conel. The win itself might not say much about how high Norfleet can climb in the rankings as Conel's season is not off to a particularly strong start, but ASU fans can be optimistic about the way Norfleet won.
The ASU junior showed off his power, timing, and double-leg technique throughout the match. If Norfleet can find the consistency he's been looking for this year, he might have a shot at scoring real points in a 197 field that lacks the depth of the NCAA's top weights.
.@KD70_, MY GOODNESS ???

? Pac-12 Arizona
? https://t.co/UwOL9WNscr pic.twitter.com/hrc2SCdm9Z

— Sun Devil Wrestling (@ASUWrestling) November 23, 2019