Unlock this article, live events, and more with a subscription!
Get Started
Already a subscriber? Log In
Summer has turned to fall, which means the leaves (and Flo's logo) are changing from green to red. It also means folkstyle has returned, with the start of the NCAA season less than two weeks away.
Preview szn will take into account many things, from weight class rankings to redshirt reports to the crystal ball rankings, to try to give you as clear a picture as possible of what's in store for the 2019-20 season. The specter of Olympic Trials will hang over the year, impacting weight class changes and the depth of some brackets at NCAAs.
One of the best things about previews is reading them back at the end of the year to see how the lay of the land changed and how our perceptions of certain teams and athletes evolved. At 133, there was a pretty big exodus of talent, for this season at least, and the return of a national champ. Read on to see who else is in contention to place, who the dark horses are, and what new blood is ready to make an impact right away.
NCAA Previews: 125 | 141 | 149 | 157 | 165 | 174 | 184 | 197 | 285
The Favorite: #1 Seth Gross, Wisconsin
Perhaps the biggest transfer of the last decade, 2018 NCAA champ Gross reunited with his former coaches at South Dakota State in Chris Bono and Jon Reader to finish off his college career in Madison. It was a huge get for the Badgers, especially in a year where team trophies look more wide open than ever due to Olympic Redshirts.
We will see Gross doing some freestyle, however, and Wisconsin designed their schedule a specific way for that reason. He's going to be at 57kg for the Bill Farrell in November, and if he wins there he won't have to go to the Senior Nationals/Olympic Trials qualifier in December in Fort Worth.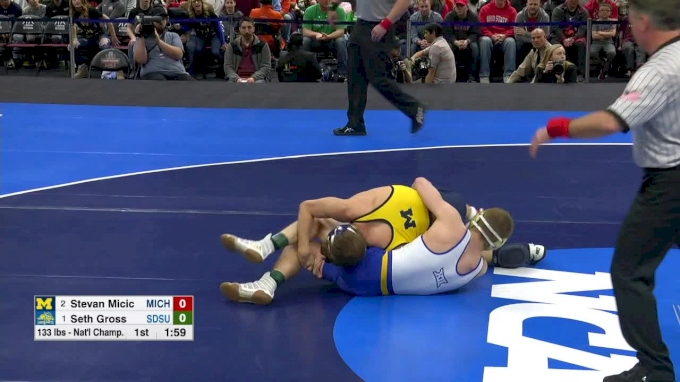 Unlock this video, live events, and more with a subscription!
Get Started
Already a subscriber? Log In
Spoiler alert, but Gross is going to be the preseason favorite when we do our Hodge rankings in the next few days. His last two full seasons, he's 63-3 overall with first- and second-place finishes at NCAAs. Throwing out him bumping up to face Bryce Meredith and excluding non-D1 guys, he's 61-2 with an 82.5-percent bonus rate and 4.6 dominance score since November of 2016.
Other Contenders
#2 Austin DeSanto, Iowa
#3 Roman Bravo-Young, Penn State
#4 Micky Phillippi, Pittsburgh
#5 Austin Gomez, Iowa State
Before we start it should be noted that Nick Suriano, Daton Fix, and Stevan Micic will all be taking Olympic Redshirts, Luke Pletcher and Tariq Wilson have moved up to 141, and there is still a small chance Iowa goes with Gavin Teasdale and bumps DeSanto up.
DeSanto only had one loss last year to a guy who returns at the weight, the 14-9 defeat to Austin Gomez in the dual with the Cyclones. He beat RBY twice, a guy he'll likely have to beat twice more again this season, but he walks in as the favorite to be in the finals opposite Gross. One of the few guys in the country who can take down anyone, including even Fix and Suriano, the Hawkeye junior is once again going to have to win matches on his feet.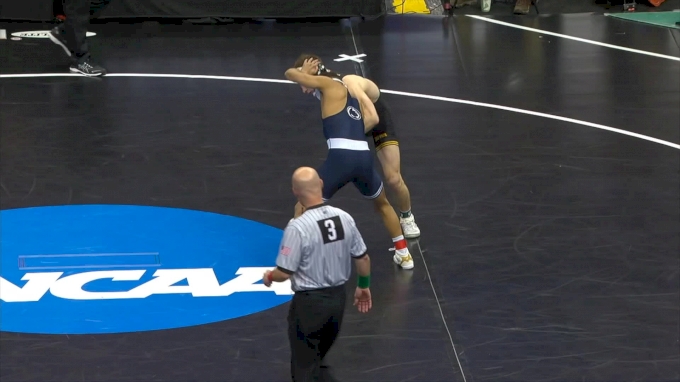 Unlock this video, live events, and more with a subscription!
Get Started
Already a subscriber? Log In
In his second year in Happy Valley, I'm curious to see what jumps Bravo-Young has made. His bonus rate was 37.5 percent last year, can he get that up closer to 50? Four of his seven losses are gone, so will he be able to keep his loss total under two and get a much better seed this March? I believe most of that will need to come from an improved top game. To give some context, he earned riding time in 13 matches but only picked up nearfall in six of his 31 bouts.
Phillippi made it through the gauntlet coming into NCAAs, beating Pletcher, Fix, Wilson, and Ethan Lizak during the season, along with avenging a loss to Korbin Myers. All of that rightfully earned him the four seed at the national tournament, and even then he made the quarters with a win over Gomez. But a late first-period takedown by Pletcher and takedown at the end of the second against Bravo-Young sealed Micky's fate, heartbreaking losses that kept him from placing not just in the city where he goes to school, but in his hometown as well.
Austin Gomez had a tumultuous offseason after his redshirt year, losing a coach in Mike Zadick that he loved wrestling for and had a lot of trust in. But now he's got Joey Palmer and Jesse Delgado in the room to train with. Palmer had two wins over world teamer Tyler Graff at the Open and Delgado is a two-time NCAA champ. Gomez split with DeSanto last year and beat RBY, and his nemesis Fix won't be in the mix, so Gomez very well could have a real shot to make the finals.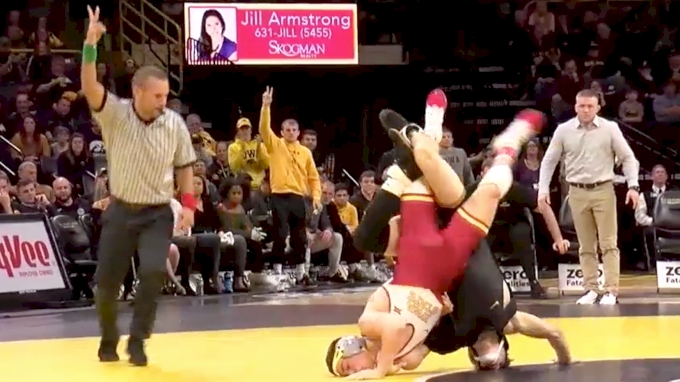 Unlock this video, live events, and more with a subscription!
Get Started
Already a subscriber? Log In
Best of the Rest
#6 Chas Tucker, Cornell
#7 Montorie Bridges, Wyoming
Although most of the Big Red lineup will be taking Olympic redshirts, Chas Tucker is the only one who will be competing at a world championship event. The U23 world team member will be one of the team leaders this year in Ithaca, along with Ben Darmstadt. He's just 2-4 in his two trips to NCAAs, but also has wins over Luke Pletcher and Austin DeSanto in his career.
This paragraph was originally about #7 Taylor LaMont of Utah Valley, who was coming off a redshirt to recover from surgery. But LaMont will be taking an Olympic Redshirt as he tries to make the team in Greco at 60kg.
Bridges placed in 2018, then fell short last year as the 12 seed in a much-improved weight class. With several guys leaving, he's back in All-American contention but is the same guy he always was. He still has two more years to do what Bryce Meredith never did and win a title for the Cowboys, but he's still got to clear the hurdles of making the semis and finals first.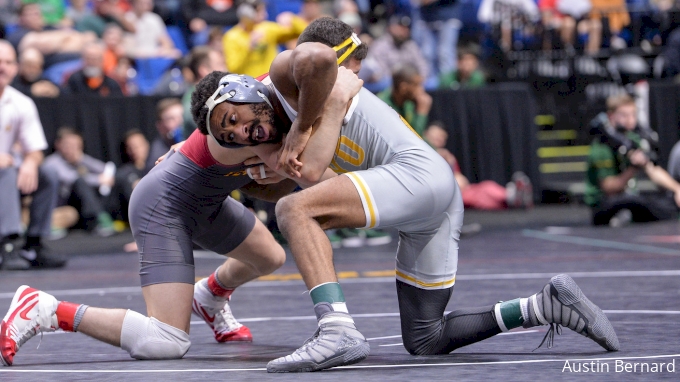 Unlock this video, live events, and more with a subscription!
Get Started
Already a subscriber? Log In
Sleepers and Landmines
#8 Noah Gonser, Campbell
#9 Cam Sykora, North Dakota State
#10 DJ Fehlman, Lock Haven
#13 Paul Konrath, Indiana
#17 Mario Guillen, Ohio
Coach Cary Kolat strategically redshirted a bunch of guys last year, and now they return nine starters in what is obviously a potentially massive year for Campbell. One of the team leaders is senior Gonser, a two-time qualifier for the Camels. He has an opportunity for a great seed, especially if he does well at Midlands once again. One of the nation's best wrestlers on top, I strongly recommend against choosing bottom when facing the Michigan native.
Speaking of being good on top, Sykora has made a living off his ability to ride. The fifth year senior bonuses over half the people he wrestles, and is a three-time qualifier for the Bison. However, he's gone 1-2 in every trip to nationals and has double digit losses every year, so a bit of consistency is needed to land on the podium in his final go round.
Keeping with our theme here, you really don't have a choice but to be a constant threat to turn people when you go to Lock Haven. It comes with the territory of having Scott Moore as your coach, who had 34 pins his senior year. Fehlman's got a long way to go to get there, with just 15 falls in his career, but if he comes through and places in Minneapolis, it's because he breaking guys on top.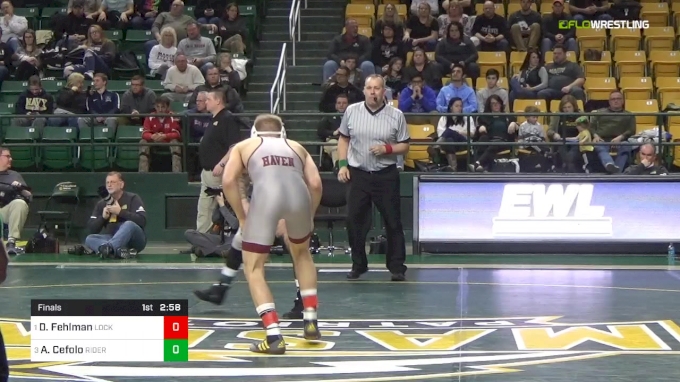 Unlock this video, live events, and more with a subscription!
Get Started
Already a subscriber? Log In
No, Konrath did not qualify for NCAAs last year, and he bounced between 133 and 141 after transferring from Wisconsin. But that's part of the point of this section — that the wrestler's resume doesn't suggest they are necessarily an easy pick to be an All-American. But his coach Angel Escobedo was one of the best lightweights a decade ago, so I'm betting that one of his guys in the first three weights will benefit from that this year.
Here's the thing. One or more of Ohio's first four weights is going to be really really good, and I'm going with the lighter Guillen, who placed twice at Ironman. The Bobcats had five AAs from 2010-2016, so it's not unrealistic that they get another one on the podium this year. The biggest thing for Guillen will be getting a full year under his belt, as he only wrestled 22 matches last season.
New Blood
Jordan Decatur, Ohio State
Julian Chlebove, Arizona State
Reece Witcraft, Oklahoma State
#15 Collin Gerardi, Virginia Tech
#20 Jarrett Trombley, NC State
Joey Silva, Michigan
Drew Bennett, Northern Iowa
We've known about Decatur and Chlebove since they were freshmen in high school, so if you watch absolutely zero high school wrestling, here is your warning. They were uber prospects, clear blue chips, which guarantees nothing, but they have the pedigree of guys who can come in and compete right away. Chlebove was a three-time Pennsylvania state champ and Decatur went 2-0 at Who's #1 along with being a Cadet wold teamer.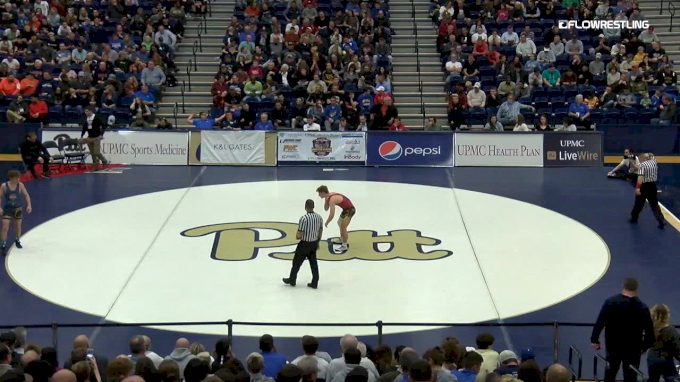 Unlock this video, live events, and more with a subscription!
Get Started
Already a subscriber? Log In
Reece Witcraft won an Ironman title for Broken Arrow and a Fargo Greco title for team Oklahoma while in high school. With Fix focusing on freestyle, it seems like Witcraft is the best man for the job. He's got D1 athleticism and isn't afraid to throw people, so he'll be one of the most exciting Cowboys out the chute.
Trombley flew under the radar in high school and made the semis in Vegas at the JR Open. A classic NC State get, he was #74 on the 2018 Big Board and went 21-6 last season. One of his wins came over fellow ACC redshirt freshman in Collin Gerardi. The Virginia native took RBY to overtime at the Scuffle and should be the starter for the Hokies.
He'll be in a roster battle, but I expect Drew Bennett to make a good jump this year for the Panther Train. In general, the 2018 recruiting class brought in by the Schwab Mob will be impacting West Gym sooner than later.
Key Dates
Nov. 15: Ohio State at Pitt
Nov. 22: Penn State at Arizona State
Nov. 24: Iowa at Iowa State
Dec. 1: Wisconsin at Iowa
Dec. 29-30: Midlands
Jan. 1-2: Southern Scuffle
Jan. 11: Iowa State at Arizona State
Jan. 31: Penn State at Iowa
Feb. 7: Penn State at Wisconsin
Feb. 15: Ohio State vs Penn State
That Friday in November could give us our first glimpse of how good Jordan Decatur can be this year when the Buckeyes travel to Fitzgerald Field House and he sees #4 Phillippi in perhaps just the fifth match of his young career. Similarly, a week later will be the first test for Julian Chlebove as he'll get All-American Roman Bravo-Young at home in Tempe. Two days later will be round three between #2 DeSanto and #5 Gomez in what will be one of the biggest duals of the year.
The hits don't stop coming, as we'll get Gross/DeSanto to kick off December, and then probably should get it again at the end of the month in the Midlands finals. A few days later we're set up for a Gomez/Phillippi Scuffle final in a rematch of their second round bout from NCAAs.
Starting off the second semester, the Cyclones travel to ASU as Gomez will test the young Chlebove. Then January closes out with the dual of the century of the year when the Nittany Lions travel to Iowa City for the first time since 2017 and RBY/DeSanto will be one of the headlining matchups.
The late conference slog for RBY includes a road dual against Gross and then his high school rivalry with Jordan Decatur will be renewed on February 15. They wrestled four times in Akron, including for the 2016 world team spot.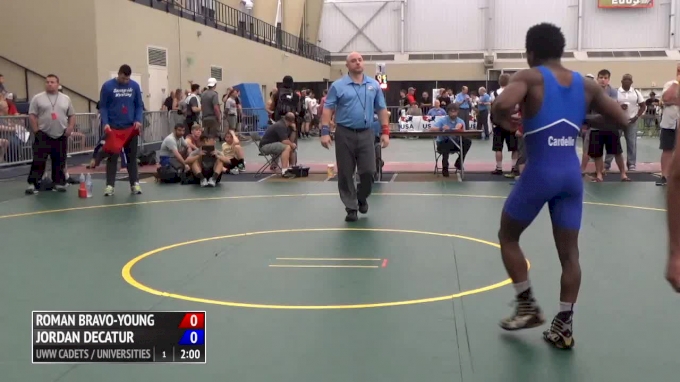 Unlock this video, live events, and more with a subscription!
Get Started
Already a subscriber? Log In
Nomad's Predictions
Seth Gross, Wisconsin
Austin DeSanto, Iowa
Roman Bravo-Young, Penn State
Austin Gomez, Iowa State
Micky Phillippi, Pittsburgh
Montorie Bridges, Wyoming
Julian Chlebove, Arizona State
Chas Tucker, Cornell
More chalk, and I in no way feel bad about it. The tiers are pretty clear at the first two weights, so I would really have to do some verbal gymnastics to justify moving some of those guys out of All-American contention.
I believe Gross will qualify for the Olympic Team Trials, win the Hodge and be an NCAA champ in what could be a trophy year for the Badgers, one of the most important seasons in program history. He's certainly not unbeatable, but we've got 90+ years of data to suggest being good on top is the most valuable skill one could have in college wrestling, and the other guys in contention aren't exactly dynamos on bottom.
DeSanto's multiple wins over RBY, plus his major of Gomez, makes me believe he's a little separated than those two and a bit safer pick to make the finals, though he'll have to go through those same guys once again this year. Bravo-Young may be in a similar position as the one Nick Lee was in last year, where he was clearly better than he was as a freshman but the weight didn't get any easier.
Similar to Wisconsin, this year has massive import and potential in Ames as Dresser looks to kick the Cyclones' return to glory into hyperdrive. Gomez is right at the front of that, and his ability to throw makes him the most dangerous guy in the weight. It's a big ask to go from not placing to finalist, but something we have seen before.
Phillippi gets back on track and places this year, especially if his offense picks up even a bit. Bridges starts the season in that next tier but has his opportunities to jump into the highest one.
The last spot wasn't easy when you've got veterans like Tucker and Gonser in the fold, but Chlebove is too talented to ignore. The skills that made him good in high school, his top work and scrambling, will translate right away. It's never fun picking a true freshman to place, but skill for skill I think Chlebove is right near the top of the pecking order in this bracket.