2019 Super 32
2019 Super 32 Upperweight Preview
2019 Super 32 Upperweight Preview
A breakdown of the upperweights at this year's Super 32 Challenge Tournament in Greensboro, NC.
Oct 10, 2019
by John Foster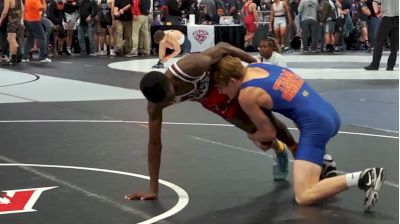 Unlock this article, live events, and more with a subscription!
Get Started
Already a subscriber? Log In
The anticipation for Super 32 has been building all week, and we are almost here. Always a fascinating tournament as we get our first look at kids who have made huge jumps over the summer, freshmen entering the fray, and, most importantly, studs from states that have limited travel during the regular season. That last little nugget allows us to have a literal clash of the titans at heavyweight this year, and I think you all know I am giddy with anticipation.
Watch Super 32 LIVE on FloWrestling
Saturday & Sunday, October 12 & 13 | Starting at 8 AM ET
Willie shed a spotlight on the lightweights and gave us a pile of fresh faces to follow, and Nomad rounded up the ever-shifting landscape of the middleweights, where we might even see an all Cali final at 160 if my picks come to fruition. Upsets and intrigue will be the rule of the day as college coaches watch on, and the upperweights will be no different.
Prepare to embrace the finest mullet in all of wrestling, Pintomania running wild, consistent battlers finally breaking through for their first big tournament win, perhaps the most eagerly anticipated return to the mat of anyone this season, new stars being born by savagely throwing the field on their backs, the No. 1-ranked at heavyweight being put on the line, and my love of a hyperbolic run-on sentence. Let's get right to it!
170: Entries - 93
2018 Final: Dustin Plott (OK) dec. Patrick Kennedy (MN), 16-12
2009 Final: Tristan Warner (PA) dec. Levi Clemons (FL), 5-1
The Ranked (8)
#3 Clayton Ulrey (PA) - Cadet World Team
#4 Lenny Pinto (PA) – Fargo Champ, NHSCA Champ
#6 Gavin Kane (GA) – Fargo 4th
#7 Greyden Penner (MO) – Returning 4th, Akron 3rd
#8 Connor O'Neill (NJ) – Fargo Runner Up
#10 Trey Kibe (PA) – State Champ, Powerade 3rd
#12 Duwayne Villalpando (KS) - State 1st
#14 Rocco Contino (CA) – State Runner Up
Other Contenders:
Bennett Berge (MN) – Fargo Champ
Andrew Wenzel (IL) – State 1st
Shane Reitsma (NJ) – State Runner Up
Trent Schulthesis (PA) – State Runner Up
Tyler Stoltzfus (PA) – Powerade Runner Up
Graham Calhoun (IN) – State 5th
Harrison Trahan (PA) – State Runner Up
Adrian Vidaud (FL) – State 1st, Grappler Champ
Commentary:
170 is stacked once again with six of the top 10, highlighted by two PA hammers who have literally muscled their way on to the national stage. Clay Ulrey was a guy sporting the best mullet in all of wrestling, but coming up just a little bit short in the big matches. The tipping point started when he won FloNats and then took it to Gerrit Nijenhuis at NHSCA Duals. Soon after, he started tossing boulders out of his way in Akron as he claimed his first World Team spot. It was pure magic watching Clay put it all together and I would be willing to bet that there is absolutely no stopping him now.
Of course, the same could be said about Mister Leonard Pinto. Pintomania caught fire over here at Flo this year. Willie had been in my ear nonstop about this kid leading into PA finals and I make no apologies in admitting that he was 1000 percent correct. I too have caught the fever. Not only is Pinto super talented and tough as nails, but he is just plain fun to watch. Lenny's NHSCA win was pointing things in the right direction, but his pathway of destruction through Fargo in claiming his stop sign last summer was a blast to follow along, unless you were one of the unfortunate souls who had to wrestle him.
Should they meet in the final, Ulrey beat Pinto early in the high school season last year, but I really feel like these two have truly come into their own and you can throw out a lot of their past results. This will be their moment to show how far the distance is between the top four at this weight and everyone else.
A few folks might think that gap is a lot smaller in reality. Trey Kibe bested Ulrey for the PA state championship last season, but Kibe also split matches with Tyler Stoltzfus. Gavin Kane earned fourth in a very tough Junior bracket at Fargo and has a little more reach in his game than a lot of these guys. Connor O'Neill wasn't far behind him and had a great Akron where he finished just behind Greyden Penner, who also won a hotly contested match over the larger Jake Evans there. O'Neill also won Powerade in sudden victory over Stoltzfus and is a past Fargo finalist. He beat Villalpando 13-12 in a wild semi in the Fargodome. Penner also has a high-scoring winner over Villalpando. Duwayne likes to go upper body and can be real problems for folks if they want to play that game. Rocco Contino has seen most of his competition out west, and is the only one of these guys that hasn't already rolled numerous times with half the field.
The guys that are bubbling just under have also busy beating one another all over the place. Stoltzfus probably has the craziest resume with wins over top ten guys but also tons of losses. He beat Graham Calhoun at Journeyman recently, but then lost to Brian Soldano, who lost to Calhoun. Calhoun also beat Reitsma, who has hung in there with tons of this crew, as has Wenzel. If you like riding a hot streak, Vidaud won Grappler last weekend, but didn't really hit anyone in doing so.
It's all over the place at this weight, from top to bottom. Luckily, Super 32 will help us start to shake it all out and make sense of this craziness. I expect Ulrey and Pinto to provide some separation, but all bets are off on how the rest of the bracket goes. One thing I know for sure is that it will be all kinds of entertaining.
Now, there is a wild card. Bennett Berge is just a sophomore, but he certainly has the pedigree, and following some growing pains and a tough Akron he went out and won a stop sign at Fargo. Is this his year, and does he start to put it together right here in Greensboro? I have a feeling that in this deep but fractured field he just might.
Foster's Picks: 1. Ulrey 2. Pinto 3. Penner 4. O'Neill
---
182: Entries - 66
2018 Final: Abe Assad (IL) dec. Gerrit Nijenhuis (PA), 5-3
2009 Final:
The Ranked (4)
#2 Gerrit Nijenhuis (PA) – Returning Runner Up, Fargo Runner Up
#4 John Poznanski (NJ) – Akron 5th
#13 Jake Evans (OH) – Akron 6th
#14 JT Davis (DE) – NHSCA Runner Up
Other Contenders:
Carson Manville (MN) – Cadet World Team
Gavin Nelson (MN) – Fargo 5th, Fargo Greco Champ
Michael Tal-shahar – Fargo Runner Up
Quayin Short (MN) – Akron 7th
Landon Foor (NC) – State 1st
Brady Colbert (VA)
Jack Darrah (MO)
Martin Cosgrove (NJ)
Joseph Walker (IN)
Walker Stephenson (SC)
Tanner Mendoza (AZ)
Commentary:
All eyes are going to be on the only wrestler who could prevent Nijenhuis and Poznanski from meeting once again. Carson Manville returns the mat for the first time after an extended break fully recovering from surgery for compartment syndrome in his arm. We are all thrilled to have him back on the mat and it will be fascinating to watch and see how quickly he can return to the level he was at before his injury. The big question is how do you seed a kid that was once the most prized prospect in his class? Manville was a Cadet World Team member who had dominated everything in his path before taking his much-needed break. He is one of the most decorated wrestlers in the entire tournament, but he has been out of the rankings for so long it is difficult to argue as to where he should go, not to mention that he is returning far heavier than when he left. If Manville shakes off the rust and looks like his old self, this gets REALLY interesting.
I am a huge Nijenhuis fan and few elite kids are as willing to put themselves in danger for the sake of learning how to get out of it quite like Gerrit. We have all been able to watch him progressively improve by the match and this should be the year where it all truly comes together to give him a season of domination. The kid is a potent mix of skill and technique and grit and determination: the total package. He still has room to grow and will only get better and better. Poznanski has been a little more under the radar but has also been an absolute savage on the mat, emerging as a warrior that no one likes to see across from them. He featured in some of my favorite matches last season, perhaps highlighted by a wild 16-13 loss to Chris Foca in the Beast semis (Poz beat JT Davis along the way as well). He can go toe to toe with the very best and isn't afraid of anything or anyone.
Is this the moment when one of these two studs really plants their flag and takes the title at a big tournament, or does Manville swoop down and steal their thunder?
There is a bit of a drop off for the rest of the field, with Jake Evans and JT Davis looking great recently, as long as they don't have to face Luke Stout. Evans has a win over Peyton Craft and was down in weight for FloNats and proceeded to give Ulrey a decent run before ultimately taking fifth. He has done well against the guys behind him and went through the grind to place fourth at Beast, so he has what it takes to go deep at Super 32. Davis had a big win at Beast over Sam Fisher before he fell to Poznanski and lost a heartbreaker in the NHSCA final to Colton Hawks. Those two will be looking to establish that they really belong in the elite guys at this weight.
If it wasn't for all of the buzz around Manville, the kid to watch in this bracket for a major surprise might just be another Minnesota hammer in Gavin Nelson. He is still growing and has been inconsistent in his results, but he really put it together this summer and gutted out a big win over Tate Picklo in the Greco final at Fargo, and finishing off his fifth-place match on the freestyle side really showed how far he has advanced since the high school season. Full of power and well-coached, Nelson has darkhorse written all over him.
The rest of this crew got some warmup runs in preparing for this weekend. Foor is up in weight after an inconsistent run at 170 at Journeyman. Walker beat Darrah for third last weekend at Grappler and beat a tough Jacob Laplace in the IndianaMat final and could be on the upswing for his senior year. Martin Cosgrove looked solid in taking third at 195 at Journeyman. Darrah has been waiting for that breakthrough so many times that it is legitimate to ask if it will ever come. No matter what they all do though, this is a two man race (or is it three..?).
Foster's Picks: 1. Nijenhuis 2. Poznanski 3. Manville 4. Nelson
---
195: Entries - 55
2018 Final: Jacob Cardenas (NJ) dec. Wyatt Hendrickson (KS), 9-7
2009 Final: Antonio Giorgio (PA) dec. Stephen McPeek (TX), 12-6
The Ranked (7)
#2 Seth Shumate (PA) – Fargo Champ
#6 Evan Bates (IN) – Fargo Runner Up
#9 Brandon Hoselton (IL) – State Champ, Fargo 4th
#10 Isaac Trumble (NE) – State Champ, Fargo 4th
#12 Santos Cantu (OR) – Reno Champ
#13 Guillermo Escobedo (CA) – NHSCA Runner Up (at 220)
#20 Mike Misitia (NJ) – NHSCA 3rd
Other Contenders:
David Harper (GA) – Fargo 4th
Luke Chakonis (NJ) – Returning 6th
Bennett Tabor (MN) – Fargo 5th
Kaden Glass (KS) – Fargo 7th
Evan Anderson (OH)
Jadon Martin (CA) – State Runner Up
Jack Wimmer (PA) – State Runner Up
Kyle Epperly (NJ)
Gavin Carter (KS) – State Runner Up
Commentary:
Seth Shumate was an absolute BEAST this spring and summer, winning an Ohio state title, storming NHSCA and then capturing both styles at Fargo, including beating Evan Bates in the freestyle final and all business over David Harper in the semi. He rocketed to the top of the 2022 Big Board and hasn't looked back. Not only does Shumate win convincingly, but he does so with such power and style that you simply can't take your eyes away during his matches. The kid is the TRUTH! In a stacked bracket at Akron he beat Kolby Franklin and pinned Poznanski and gave Kyle Haas all he could handle in the finals.
Last year Shumate and Pinto couldn't get out of the back side here, and now they are two of the most exciting high school wrestlers in the country. I am certain that Seth is looking to make sure everyone knows that. Shumate was also the only person to have a better Fargo than Evan Bates. Bates put it on top seed Noah Pettigrew in the round of 64 and just kept right after it, blazing a path all the way to the final. He may not have an answer for Seth's muscular approach, but any other opponent will find his crisp positioning and killer technique a major dilemma.
Brandon Hoselton just gets work done against the rank and file and has picked up some impressive wins pinning guys right and left. He runs into trouble with the top guys like Poznanski or Braxton Mikesell, but will be looking to stake a claim to climb the rankings. Watch for him to end matches quickly. A fresh Hoselton entering the semis could be problems. Isaac Trumble is more of the same, but with a bit more of a rangy style to pair with his height. Neither one matches up well with Shumate's power, but both will like their chances if they get to Bates.
Santos Cantu actually looked great at Fargo this summer, but ran into the magical run Jonovan Smith was on. He has a compact build and tends to let guys come in, where they are then met with his very heavy hands. Guillermo Escobedo dropped down in weight and is a similar bulldog out there. He really gave Dorian Crosby and Danny Striggow some battles at 220 but I think he will be more effective at 195 and this will be a good opportunity to find out if that is the case. Both guys are savvy and tend to keep matches close. Look for one of them to strong-arm their way through to the final four.
Mike Misita has shown flashes of real talent, from taking Dorian Crosby to the edge at FloNats to pinning Shumate at National Duals, but he has been inconsistent. Two weeks back he looked overmatched by Nick Stemmet in the Journeyman final, and running into one of the real powerhouses here could spell trouble for him. Misita lost his first match here last year to Cantu, so this is a huge chance for him to make a statement as to where he is now.
David Harper is a young kid who has been lingering around late in big tournaments and could do the same here. He is a work in progress as he fills out his body, but one to watch as it will all come together for him sooner rather than later. Does he make a big run? It can't be ruled out and he is certainly a decent darkhorse if you fancy one, but I am circling him for making more noise by National Preps at the end of the season.
Tons of bangers round out this group and we could have a really entertaining round of 16. Chakonis has the pedigree and beat Wimmer here last year and lost the semi 3-2 to Jacob Cardenas. Wimmer is always tough and just hasn't been able to get past the top guys. Tabor and Glass both had solid showings in Fargo and can hang. Anderson is talented and just waiting for his big man body to fully arrive. Kyle Epperly has soundly beaten Chakonis but just dropped one to Misitia. Gavin Carter is stronger in Greco where he once had a wild match with Hoselton but can be dangerous in potentially catching someone. This group should really get after it and it will be a lot of fun to see how it shakes out.
Foster's Picks: 1. Shumate 2. Bates 3. Escobedo 4. Hoselton
---
220: Entries - 32
2018 Final: Braxton Amos (WV) dec. Konner Doucet (OK), 5-0
2009 Final: Jamie Callender (PA) dec. Harrison Honeycutt (NC), 9-2
The Ranked (2)
#2 Braxton Amos (WV) - Returning Champ
#11 Dorian Crosby (PA) - Fargo Runner-Up
Other Contenders:
Chase Horne (GA) - Returning 8th, Fargo 3rd
Gage Cook (WA) – Fargo Greco Runner Up
Riley Ucker (OH) - Fargo xx
Chad Nix (FL) - Grappler Champ
John Meyers (PA) - Journeyman Champ
Nick Benton (FL)
Brent Paulus (OH)
Commentary:
We could be witnessing the beginning of a senior year victory lap for the incomparable Braxton Amos. He is the #2 pound-for-pound guy in the country and has been absolutely dominant in high school. He has seen fit to kick off the past two seasons by winning Super 32 titles, and looks to be on track to do so again. Dorian Crosby is a tough competitor with rock-solid positioning, and was able to fight through the field to face Amos in the final at Fargo, but he will have some tough talent nipping at his heels.
The primary pursuit will come from Chase Horne, who has been improving rapidly and finished third at Fargo, blowing through Riley Ucker and Gage Cook along the way. He is quick and nimble for the weight and will be eyeballing a major improvement on his eighth-place finish here last year. Cook is a past Fargo Greco finalist and is a powerhouse who can do some upper body damage, and despite their most recent meeting, he does hold a narrow win over Horne in the past. Ucker dominated Cook in their Fargo meeting and he tends to go deep into tournaments and stick around, as shown by his third-place showing at NHSCA.
Keep your eye on Chad Nix, as he just beat Nick Villareal (currently ranked ninth at 285) at Grappler in the 215 bracket last weekend. He won the whole thing and is screaming into Super 32 on a hot streak. Nix also has a last-second sudden victory loss to Garrett Kappes on his resume so he should be considered a tough out at best. In a similar vein Pennsylvania big man John Meyers, who should have pinned Kyonte Hamilton with a vicious cradle at NHSCA Duals, got into fighting shape by winning Journeyman and will be looking to keep his roll going. Meyers isn't a finished product, but could be very dangerous this weekend and is a decent darkhorse to crash into the semifinals (assuming he can avoid Amos early) if you are looking for one.
Foster's Picks: 1. Amos 2. Crosby 3. Horne 4. Meyers
---
285: Entries - 25
2018 Final: Aiden Connor (TX) dec. Colby Whitehill (PA), 11-4
2009 Final: Henry Chirino (FL) dec. Donovan Green (FL), 2-1
The Ranked (4)
#1 Hunter Catka (PA) - Cadet World Team
#2 Hayden Copass (IL) - 2 Time Fargo Champ
#5 Colby Whitehill (PA) - Returning Finalist, State Champ,
#8 Garrett Kappes (MD) – National Preps 3rd, State Champ (both at 220)
Other Contenders:
Alex Coleman (OH) – Fargo Greco Champ, State 1st, NHSCA Runner Up
Nick Sannino (NJ) – Journeyman Champ
Jalen Stephens (PA) – State 3rd
Tyler DeLooff (MI)
Commentary:
I wrote pretty extensively on how amazing it is that we have the potential for Super 32 to end on a #1 vs #2 heavyweight clash, but it should be celebrated here as well. We are looking at two bulls running straight towards one another, with the strong possibility of the victor locking down the #1 ranking for the foreseeable future. Hunter Catka has broken through and fulfilled his years of potential by making his first Cadet World Team, and Hayden Copass just can't seem to stop swatting opponents away like flies on his way to his second straight Fargo Cadet title.
It feels like an inevitable title bout, but there are a few landmines to navigate first. Colby Whitehill has been wrestling with a lot more swagger since he last graced the Super 32 finals, and he won't shy away from trying to erase his past history with either Catka or Copass. Garrett Kappes has gone from 170 to 265 in just three years and is clearly talented, but has struggled to stay healthy and is unproven as a heavyweight. He will be looking to show that he deserves that top-10 ranking. Kappes has dominated his local rivalry at 220 with Kyonte Hamilton, but Whitehill pinned him quickly in their first meeting last spring. Garrett's Fargo draw left him facing some serious hammers, but he also didn't put up much of a challenge for them. This will be a pivotal tournament for Kappes as he could be looking at a long season at this weight.
There are two wildcards, with the first being past Fargo Greco champ Alex Coleman. Coleman is insanely dangerous and wildly inconsistent. He has been in and out of the rankings because he can beat just about anyone if he can get them in his upper body positions, but he can also lose to just about anyone by being too risky in forcing those positions. At Fargo he went right after Nash Hutmacher and put up 11 points on the polar bear, only giving up the lead in the last minute. It was a stark contrast to Hutmacher easily dispatching Kappes. He can get quick pins and is a single headlock away from upsetting this entire bracket. Coleman will surely be coming to Greensboro with a chip on his shoulder, remembering that he pinned Whitehill in 14 seconds in their Fargo Greco final in 2018.
The other sizable roadblock is Tyler DeLooff, who always looks competitive, but hasn't been able to break through at any of the big national tournaments. He had a rough summer going 220 but now he is back at heavyweight. He has already pinned Coleman once this preseason, making him 2-0 in that regard, and had to injury default out of the Grappler before they could meet again last week. If he is healthy, he could have a say in how things play out as well.
Let's not forget that every year a heavyweight comes out of nowhere to make a name for themselves at Super 32. Is Nick Sannino that heavyweight this year? He has held his own in a tough state in New Jersey, and he beat Jalen Stephens in the Journeyman semi on his way to winning the competition, knocking Stephens from the rankings. By the way, Stephens is not a top-four threat, but he isn't a lot of fun to wrestle and can be hard to move around the mat or pin once he is on bottom. For heavyweights that like to steamroll through the field, he can be an exhausting speed bump along the way.
Foster's Picks: 1. Copass 2. Catka 3. Coleman 4. Whitehill