Unlock this article, live events, and more with a subscription!
Get Started
Already a subscriber? Log In
Nick Gwiazdowski has become a mainstay on Team USA, and he is now competing in his third straight world championships.
Gwiz is trying to become just the 10th man from America to win world or Olympic medals in his first three tries. Considering he came after Tervel Dlagnev, who won two world medals and was awarded the 2012 Olympic bronze earlier this year, I'd say his resume is coming along just fine.
World Previews: 57kg | 61kg | 65kg | 70kg | 74kg | 79kg | 86kg | 92kg | 97kg
Coming in as the No. 4 seed, he'll be on the top side, just like he was last year as the top seed. It should give him a smaller half to work with, but the entry list is hanging around 32 right now, so maybe not. Of course, he will be on the same side as Geno Petriashvii (GEO).
Three of last year's medalists return (Parviz Hadi of Iran is hurt), and all of the medalists from 2017 will be in the bracket. In total, six different wrestlers at 125kg have previously won world or Olympic medals. This is a veteran field, and we know all of the major players.
The American: Nick Gwiazdowski
Now a two-time bronze medalist, Gwiazdowski has become a fixture at the back of the lineup for Team USA. He played a crucial role in both the 2017 title-winning team and last year's runner-up squad.
The 26-year-old carries the fourth seed into Nur-Sultan, meaning he's guaranteed to be at the very bottom of the top half of the bracket, opposite the only men's freestyler to win world titles each of the past two years: Geno Petriashvili of Georgia. Gwiz has never faced Petriashvili in his career.
A two-time NCAA champ for NC State, Gwiz is ranked 13th in the world. He is a resident athlete of the Wolfpack WC but will sometimes train at the Nittany Lion WC and often times has Casey Cunningham in his corner. He is sponsored by Titan Mercury.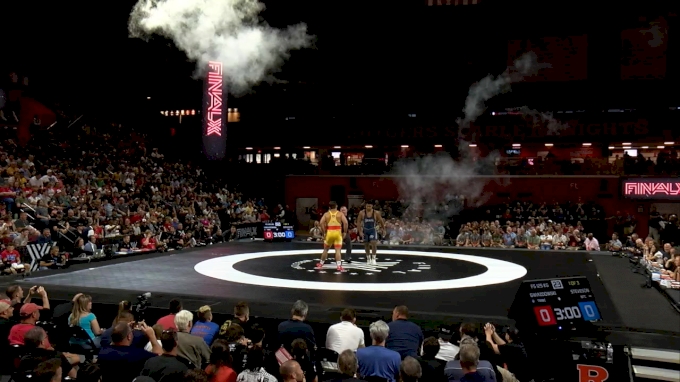 Unlock this video, live events, and more with a subscription!
Get Started
Already a subscriber? Log In
The New York native has competed six times in 2019, ranging from Bulgaria to Argentina to Turkey to Peru, with stops in New York City for Beat the Streets and Rutgers for Final X as well. He's 13-3 on the year, having lost to Zhiewei Deng, Taha Akgul, and the recently retired Parviz Hadi of Iran. In those 16 matches, he's averaging just under seven points and is winning by an average margin of over five.
Gwiz will almost assuredly be the aggressor in every match, regularly outshooting his opponents for all six minutes and getting them out on the clock in the first period. However, that sometimes gets him in trouble as he can give up go behinds or re-attacks, not to mention the chest wrap Deng hit him with in last year's world semis. Even in this field, he has established himself as a clear and consistent medal threat.
Top Four Seeds
| | | | |
| --- | --- | --- | --- |
| Seed | Name | Country | Points |
| 1 | Geno Petriashvili | GEO | 88 |
| 2 | Zhiwei Deng | CHN | 77 |
| 3 | Taha Akgul | TUR | 64 |
| 4 | Nick Gwiazdowski | USA | 57 |
The defending champ is at the top, and the guy with three golds is the three seed. Deng and Akgul are the only guys in the field to beat Gwiz this year, and he avoids both of them. Barring a terrible draw, we may finally get to see the Gwizard of Oz finally take on Geno.
Breaking Down The Field
It seems strange to say, but #1 Taha Akgul (TUR) hasn't been at the top of the world since 2016, and last year didn't even place in Budapest. It looked like he might have been over the hill when he lost to #4 Anzor Khizriev (RUS) in the Yarygin finals, but he avenged that with an 8-1 win in the semis. The next day, he blanked #2 Petriashvili 7-0. The three-time world and Olympic gold medalist also beat three ranked opponents at the Yasar Dogu.
Petriashvili was the only champ from 2017 to repeat in 2018 and is one of only four guys in the entire men's freestyle field to have won medals four straight years. But, aside from their epic 2017 world final, Akgul has gotten the better of Geno nearly every single time they've wrestled. Aside from his silver at Euros, he's won Tbilisi and the Alans since worlds. As the No. 1 seed, he will likely face Akgul again in the finals.
Coming in as the two seed last year but going 0-1, Oleksandr Khotsianivskyi (UKR) has rebounded well in 2019. He enters Nur-Sultan ranked fifth after winning Ukraine and getting silver at the Kolov. He beat Gwiz 4-3 at the Dogu last year but most recently dropped one to Russia's rep in #7 Alan Khugaev in Poland.
Russia originally planned to send Yarygin champ Khizriev, especially after he won the Euro Games, but a late injury meant they had to sub in Khugaev instead. This is a weight that Russia has not won a medal at since Bilyal Makhov took bronze home from Vegas in 2015. In their only meeting, Gwiz bet Khugaev 6-1 in the first round of Yarygin last year.
American fans were excited to see how Gwiz would fare in his rematch with #12 Zhiwei Deng (CHN) after losing 5-4 on a late chest wrap in the quarterfinals in Budapest. They would meet on the backside in March at the Kolov, with Deng once again prevailing. The Olympian finished as the runner-up at both last year's Asian Games and this year's Asian championships, the leader of a slowly burgeoning Chinese men's freestyle team that may have some interesting potential down the road.
Hungary is going with #10 Daniel Ligeti, a two-time Olympian who has otherwise never won a world medal. He does have two European bronzes to his name but is more just steady on the senior level. He's going to need a little help to crack into a medal situation.
Coming in right behind him is #11 Yadollah Mohebi (IRI). The two-time Asian champ was also Iran's rep in 2017 when he fell to Gwiz in the quarters. He beat Deng for the Asian title, and also beat #19 Khasanboy Rakhimov there.
Getting bronze at those Asian championships was Sumit Malik (IND), who Gwiz beat for bronze in Budapest. This will be Sumit's fourth world championship appearance for India. Also not looking to have to go to the Asian qualifier is #20 Oleg Boltin of host Kazakhstan.
There are two past world medalists we haven't discussed: #17 Jamaladdin Magomedov (AZE) and Levan Berianidze (ARM). Magomedov was silver in 2015 and bronze in 2011, qualifying his country for the Olympics both years. Berianidze won medals seven years apart, first for Georgia in 2010 and then for Armenia in 2017.
The Contenders
#1 Taha Akgul, Turkey
2019 European Champ
2018 European Champ
2017 World Silver
2016 World Champ
2015 World Champ
2014 World Champ
2013 World Bronze
#2 Geno Petriashvili, Georgia
2019 European Silver
2018 World Champ
2018 European Silver
2017 World Champ
2016 Olympic Bronze
2015 World Bronze
2013 World Bronze
#5 Oleksandr Khotsianivskyi, Ukraine
2019 Euro Games Bronze
2019 Ukraine Champ
2019 European Bronze
2019 Dan Kolov Silver
2018 Medved Champ
#7 Alan Khugaev, Russia
2019 Yasar Dogu Bronze
2019 Sassari Silver
2019 Dan Kolov Bronze
2017 Ziolkowski Champ
2017 Tbilisi Silver
#11 Yadollah Mohebi, Iran
2019 Asian Champ
2019 Takhti Cup Champ
2018 World Military Champ
2017 Asian Champ
#12 Zhiwei Deng, China
2019 Asian Silver
2018 World Silver
2018 Asian Games Silver
2017 World Military Silver
#13 Nick Gwiazdowski, United States
2019 Pan Am Games Champ
2019 Pan Am Champ
2018 World Bronze
2018 Pan Am Champ
2017 World Bronze