Unlock this article, live events, and more with a subscription!
Get Started
Already a subscriber? Log In
At the tender age of 23, Kyle Snyder is already one of the greatest American wrestlers ever.
He will once again close out the world championships, and will be shooting to make his fifth straight final when he starts wrestling on Saturday, September 21st.
World Previews: 57kg | 61kg | 65kg | 70kg | 74kg | 79kg | 86kg | 92kg
Snyder already made history last year in Budapest when he made his fourth consecutive gold medal match, becoming the first man since John Smith to do so. He'll be favored to come out of the top side and be the final match in Nur-Sultan, Kazakhstan.
Three of last year's world medalists return, as well as both bronze medalists from Snyder's title run in Rio. The #1 pound-for-pound wrestler in the world Abdulrashid Sadulaev, the captain of USA's nemesis Russia, should once again be waiting in the finals, this time looking at round three of their rivalry.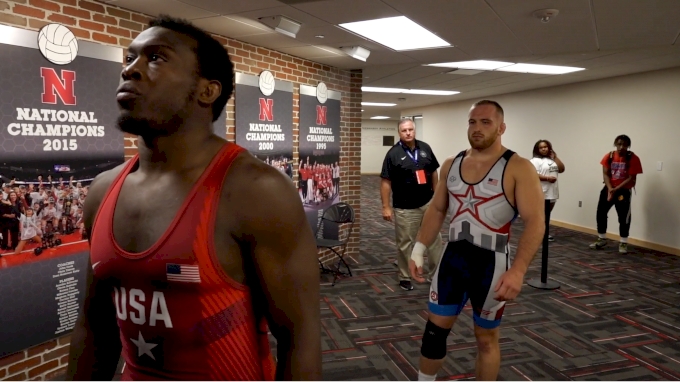 Unlock this video, live events, and more with a subscription!
Get Started
Already a subscriber? Log In
The American: Kyle Snyder
We've already covered that Snyder is historically relevant. He was the youngest world champ and youngest Olympic gold medalist in US history, and just the ninth man to medal in his first three cracks at those prestigious events designed to determine the baddest dudes on the planet. There is no question that he is among the finest wrestlers to ever walk the earth.
But he is not without his blemishes. The three time NCAA champ has more career losses than Jordan Burroughs and has been criticized for being one dimensional and lacking a par terre game. While those may be harsh criticisms, they come with the territory of being hyper nitpicked as one of the most famous and studied wrestlers of this era.
WATCH: Kyle Snyder Block Party
One thing to hone in on is Snyder's offense. From his first world championship run in 2015 to the time he beat Sadulaev in Paris, his scoring went up from 6.4 points per match, to 7 per bout in Rio, to averaging 8.75 when he stopped on the mat in 2017. That number stood at 8 ppm entering last year's finals, dropping to 6.4 when he got pinned.
While Snyder maintaining a high offensive pace has always been part of what makes him great, cleaning up some stuff is what will make lead him to another world title. The past two matches he lost were both off counters: the four pointer (that turned into a five point deficit after a lost challenge) against Rasul Magomedov at the Yarygin, as well as the Sadulaev pin off a Snyder shot in last year's world finals. It has been one of the few ways to beat Snyder going back to his loss to Gatsalov at the Medved in 2016.
What has picked up is his gut wrench. It's not terrible to not have one, Snyder proved he could without one when he was younger. And stamina/energy conservation is important. It's hard enough to finish leg attacks against 213 pound behemoths as it is, now add in trying to turn them, and you're exerting a ton of energy. But, it can also make life easier during matches and add a layer of stress to your opponent when he knows you might gut him.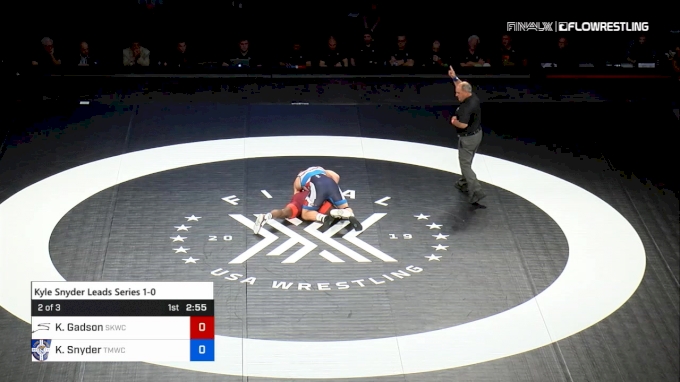 Unlock this video, live events, and more with a subscription!
Get Started
Already a subscriber? Log In
Top Four Seeds
| | | | |
| --- | --- | --- | --- |
| Seed | Name | Country | Points |
| 1 | Kyle Snyder | USA | 94 |
| 2 | Abdulrashid Sadulaev | RUS | 80 |
| 3 | Batzul Ulziisaikhan | MGL | 54 |
| 4 | Elizbar Odikadze | GEO | 41 |
Snyder had the most ranking points of any men's freestyler and will be on the top side. Separated from him at the bottom is Sadulaev, setting up their third straight final. Perhaps a surprise three seed is the Mongolian. Snyder could see Odikadze in the semis, and who could forget their Olympic semi went Odikadze hit an arm spin and then melted down in the second period?
Breaking Down The Field
Sadulaev is a future hall of famer. He's ranked #1 in the world, and has lost just once in the past five years. It cannot be overstated how excellent Sadulaev is, both in terms of his stats and his technique. In four world championships plus the Olympics, he's given up 15 points, TOTAL, which is unreal. It is damn near impossible to get to his legs, and he turns just about everyone with his gut wrench. He's also among the most efficient finishers we've ever seen.
Few weights had as many expected changes as 97kg. Italy won't be sending bronze medalist Abraham Conyedo Ruano, and the guy he beat in that match, Hungary's Pavlo Oliynyk won't be there either. Armenia also isn't sending anyone, which means 2017 bronze Georgi Ketoev won't be in Kazakhstan. Azerbaijan wasn't planning on sending 2017 bronze Aslanbek Alborov, but an apparent knee injury to Euro Games silver Nurmagomed Gadzhyev means they're sliding up Sharif Sharifov. Ranked #3 at 92kg, Sharifov has never wrestled Snyder but was the Olympic champ in 2012 and bronze in Rio.
Snyder has gotten the chance to wrestle all of the best 97s, except for Reza Yazdani. The Leopard of Juybar appeared ready to finally make a comeback this year, but he got hurt at training camp. That means they slid in #19 Ali Shabanibengar, who teched Alborov at the Dogu. It will now be up to the U23 world bronze to get Iran qualified for the Olympics.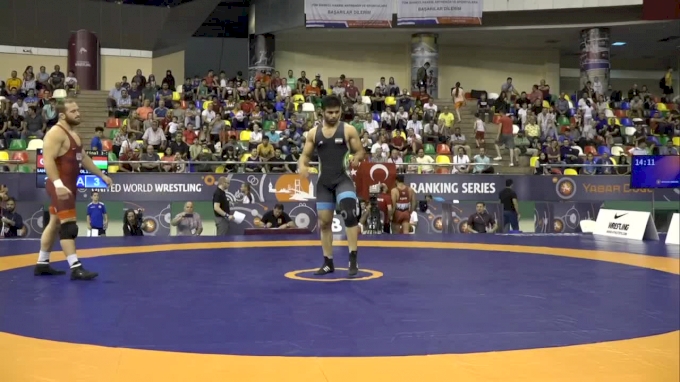 Unlock this video, live events, and more with a subscription!
Get Started
Already a subscriber? Log In
Elizbar Odikadze (GEO) finally broke through last year. After four straight years of losing in the bronze medal match, he finally got his world medal, and he beat 2016 Olympic bronze Magomed Ibragimov (UZB) and 2017 world bronze Alborov to do so. He comes in ranked 9th and has competed four times since Budapest, but his only loss to someone wrestling in Nur-Sultan is #5 Aleksandr Hushtyn (BLR).
Last October, Hushtyn went 0-1 after losing to #10 Ibragimov in the round of 16. Since then, he's won the Kunaev, made the finals of Yarygin and the European championships, and was bronze at Euro Games. All three of his losses are to Russians, with two coming at the hands of Sadulaev.
The ageless Valerii Andriitsev was selected by Ukraine, although they also have Murazi Mchedlidze pushing him now. Ranked 7th, Andriitsev won the Henri Deglane and lost to Snyder in the finals of the Dan Kolov.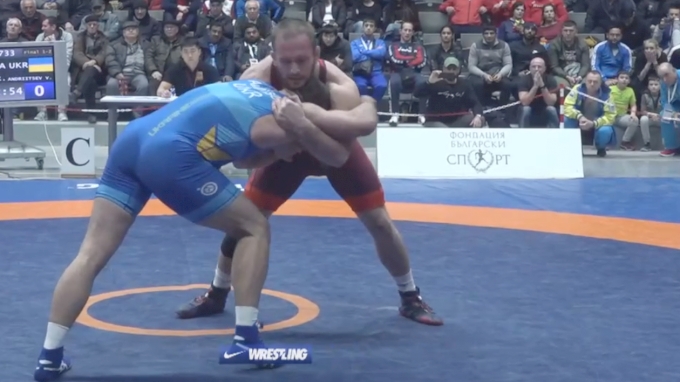 Unlock this video, live events, and more with a subscription!
Get Started
Already a subscriber? Log In
After years of toiling in obscurity, #10 Ibragimov finally broke through with his Olympic bronze in Rio. Since then, he's won two Asian titles and become a consistent medal threat. This year, he won a tough Ali Aliev but also went 0-1 at the Medved, losing to Belarus backup.
Unranked but third seeded Batzul Ulziisaikhan (MGL) has competed like crazy this year, with his best result coming in a runner-up finish at the Asian championships. Back once again for Macedonia is #15 Magomedgadzhi Nurov, who fell to Ibragimov in the match to wrestle for bronze. He won Tbilisi this year and competed three other times.
He hasn't wrestled at the world championships since winning bronze in 2011, but #20 Albert Saritov (ROU) looks ready to go after taking titles at the Medved and Ion Corneanu; he was also Olympic bronze in 2016. Magomed Musaev (KGZ) will be a tough draw for someone.
Turkey is going with 2017 Junior bronze and U23 Euro champ Ibrahim Ciftci. Cuba is not sending anyone, even though Reineris Salas Perez wrestled at the Ali Aliev and both the Pan Am Games and Pan Am championships.
The Contenders
#1 Abdulrashid Sadulaev, Russia
2019 Euro Games Champ
2018 World Champ
2017 World Silver
2016 Olympic Champ
2015 World champ
#2 Kyle Snyder, United States
2019 Pan Am Games Champ
2018 World Silver
2017 World Champ
2016 Olympic Champ
2015 World Champ
#3 (at 92) Sharif Sharifov, Azerbaijan
2019 European Champ
2018 European Silver
2016 Olympic Bronze
2012 Olympic Champ
2011 World Champ
#5 Aleksandr Hushtyn, Belarus
2019 Euro Games Bronze
2019 European Silver
2018 European Silver
2017 World Military Champ
2017 European Silver
#7 Valerii Andriitsev, Ukraine
2015 Euro Games Bronze
2014 World Bronze
2012 Olympic Silver
#9 Elizbar Odikadze, Georgia
2019 Euro Games Bronze
2019 European Bronze
2018 World Bronze
2018 European Bronze
2017 European Bronze
#10 Magomed Ibragimov, Uzbekistan
2018 World Fifth
2018 Asian Games Bronze
2018 Asian Champ
2017 Asian Champ
2016 Olympic Bronze