Unlock this article, live events, and more with a subscription!
Get Started
Already a subscriber? Log In
Daton Fix has represented the United States all over the planet, but for the first time he will be wrestling at the senior world championships.
His experiences in Lima, Peru; Nanjing, China; Tampere, Finland; and Recife, Brazil, all led him to this point. When Fix takes the mat on Thursday, September 19, everything he has worked for his entire life will be right in front of him.

The 2019 world championships are being held in Nur-Sultan, Kazakhstan. They serve as the first opportunity to qualify your nation for next year's Olympic Games, meaning the Oklahoma State star can guarantee America will have a 57kg representative in Tokyo. To do that, he must wrestle for a medal.
But it also means an opportunity at $50,000 from the Living The Dream Medal Fund, and the ability to sit out until the finals of the Olympic Team Trials in April. The former comes if he wins gold, and the latter right is afforded to him should he bring a medal of any color back home to Stillwater.
World Previews: 61kg | 65kg | 70kg | 74kg | 79kg | 86kg | 92kg | 97kg

We still don't know if Daton will be wrestling for OSU this year or taking an Olympic Redshirt. He is eligible to take one, and has already qualified for the OTT. It should be noted that if he fails to qualify the weight for 2020, he or someone else will have to wrestle at the Pan Am Olympic qualifier, which is the week in between conference weekend and NCAAs, and just two weeks before the Trials.
There will be a stout field in Nur-Sultan which will include all four of last year's medalists, and four previous world medalists in total. What makes it difficult to predict though are the foreign hammers searching for their first time on a world podium. Let's break down Fix himself, what the field looks like, and who the top seeds are entering next month's world championships.
The American: Daton Fix
At just 21 years old, Fix has been groomed for this since he was in middle school. He's won five world medals at age-level events, including the gold at Junior worlds in 2017 (he medaled all three years of his Junior eligibility). In his younger days, Fix also won bronze at Cadet worlds in 2015 and made the Youth Olympics Games finals the year prior.
An NCAA finalist this past season at Oklahoma State as a redshirt freshman, Fix has excellent leg defense and scrambling ability, scoring over half of his points at Final X: Lincoln off of Thomas Gilman's attacks. While he's gone away from his slideby and lefty inside trip domestically, his hand fighting has improved demonstrably, as evidenced by his adjustments against Tony Ramos last year and Gilman this spring. The Cowboy is far better at clearing underhooks now, but he may get in trouble with fleeing calls when he grounds himself on the edge, leaving open the possibility of being hit for a Caution+1.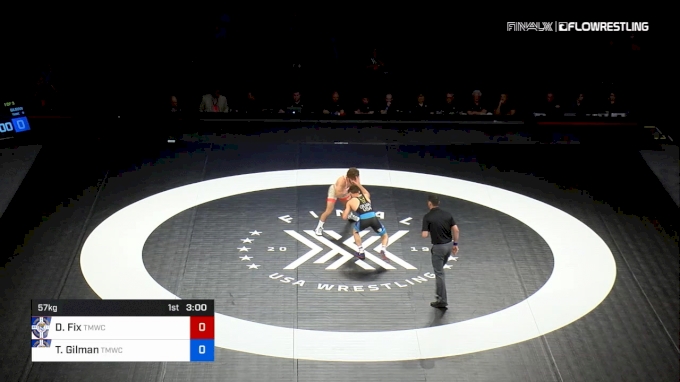 Unlock this video, live events, and more with a subscription!
Get Started
Already a subscriber? Log In
In order to maximize his medal potential, Fix will need to stay on the offensive, particularly in the form of committed leg attacks, not just level changes and jab steps. It is his biggest area for growth and opportunity, particularly as he has switched back to being a left leg lead. However, when Daton does score, he has a world-class gut wrench, which he now uses even more than the trap arm he was so effective with on the developmental level.
We don't have a ton of senior-level data for the Cowboy, but he does have three wins now over 2017 world silver Gilman. Additionally, his semis win at Pan Am Games was over Reineri Andreu Ortega of Cuba, who won a U23 world title in 2017 and wrestled for fifth last year in Budapest. It should be noted though that this will only be Fix's third senior-level tournament internationally, as he obviously has competed with seniors the past two years domestically.
Top 4 Seeds
| | | | |
| --- | --- | --- | --- |
| Seed | Name | Country | Points |
| 1 | Suleyman Atli | TUR | 61 |
| 2 | Zaur Uguev | RUS | 60 |
| 3 | Yuki Takahashi | JPN | 41 |
| 4 | Nurislam Sanayev | KAZ | 40 |
As you can see, Fix will be drawn in randomly and could face any of these four as early as his first match. If you are unfamiliar, European champ Suleyman Atli will be at the very top of the bracket. Reigning gold medalist and world #1 Zaur Uguev will be at the very bottom of the bracket and receive a bye in the first round. Yuki Takahashi, the 2017 world champ, will also receive a bye and be at the top of the bottom half other bracket, exactly where a three seed would be placed in folkstyle. Returning world silver and #15 Nurislam Sanayev will be at the very bottom of the top half, again mimicking what you would see in folkstyle.
Other Contenders
#3 Mahir Amiraslanov, AZE
#4 Reza Atri, IRI
#11 Stevan Micic, SRB
#20 Givi Davidovi, ITA
None of these guys will be seeded, but all have excellent credentials. Amiraslanov won Euro Games and was the Junior world champ back in 2015. To win Euro Games, Amiraslanov beat Micic, who was bronze in that same JR bracket that the Azeri won. The NCAA finalist for Michigan has beaten both #15 Sanayev and #2 Atli. Atri won the Asian championships this year and is making his third straight appearance at worlds for Iran. Davidovi won the Yasar Dogu and if any of the four seeded wrestlers do not compete, he will move into the four spot.
Breaking Down The Field
Zaur Uguev (RUS) is the defending world champ but has only competed twice this year while battling injuries. He missed the Yarygin in January, but won the Ali Aliev, though he dropped a match to Mahir Amiraslanov (AZE) at Euro Games. The Russian will be your No. 2 seed, so Daton will only see him on the bottom side. Uguev's gut wrench is formidable, though it will likely be more of a problem for the world than for Daton. His most interesting battles with Fix should come in the seatbelt whizzer position off of his righty underhook.
Amiraslanov has a very odd style but is remarkably difficult to score on. A match between him and Daton will likely result in five or fewer points on the board. His go-to is a modified snap in which he tries to get high on a go behind. Suleyman Atli (TUR) is his kryptonite, having beaten him at least three times. The Azeri made two Cadet world finals, once teching Spencer Lee.
Atli is your No. 1 seed, meaning he'll be on the top side. This year he won the European championships, finished second at the Dan Kolov, and was bronze at the Euro Games. Since the start of 2018, he's putting up 8.7 points per match. A right leg lead, Atli scores by clearing elbows to his right, as well as a lefty arm drag. He'll sneak in some points with his chest wrap and gut wrench as well.
The only guy to medal each of the past two years is #9 Yuki Takahashi (JPN). After wrestling for bronze in 2014 and losing in the quarterfinals in 2015, he failed to make the Olympic team for Rio. He followed that up with a world title in 2017 (beating Gilman in the finals) and bronze last year, following 7-2 to Uguev in the semis. The country he least wants to see is North Korea, having lost three times in a row to them, and he also has an excellent rivalry with #10 Bekhbayar Erdenebat (MGL). Takahashi has a win over Amiraslanov from 2015 and beat Reineri Andreu Ortega (CUB) for bronze in Budapest.
Erdenebat may be past his prime now. The two-time world bronze won the Asian Games in 2018 but has since struggled outside of his Mongolia Open title in May. They didn't use him at the World Cup or the Asian championships, but they still chose him to be their rep.
One of the newest additions to the world circuit is Arsen Harutyunyan (ARM). The young Harutyunyan is still Junior eligible and has competed at age level European and world championships for the past four years, winning medals each time at his continental. He was bronze at Junior worlds in 2017 and 2018 and won senior Euros earlier this year. His only meeting against an American was his 8-7 win over Roman Bravo-Young at Cadet worlds in 2015.
Micic will be making his world championship debut for Serbia after missing the event in Budapest due to injury. To make the 2015 Junior world team for America, he beat Fix 7-4 and 10-4 in the best-of-three finals. They did not meet this season in folkstyle. The Serbian Sickle is massive for the weight, perhaps even bigger than Daton, and works better off an elbow than maybe anyone in this weight, making a potential matchup with Fix even juicier.
A few wildcards include 2019 Asian champ Reza Atri of Iran. Atri beat Erdenebat last year, avenging a loss to him at the Asian Games, before losing to Belarus. The year prior in Paris, Atri beat Zoheir El-Ourraqe of France, who now trains Fix in Stillwater. He would lose to Gilman the next round and then fall to Andiy Yatsenko of Ukraine in repechage. Yatsenko would win bronze that year, the year after losing to Fix in the bronze medal match at Junior worlds. However, we could see Ukraine send Taras Markovich instead of Yatsenko anyway.
North Korea has competed at every Olympic Games since 1992, obviously focusing on the lightest weights. That means there will be added pressure on their likely rep, Kumsong Kang, who has made the finals in both the 2018 Asian Games and Asian championships, as well as at this year's Asian championships.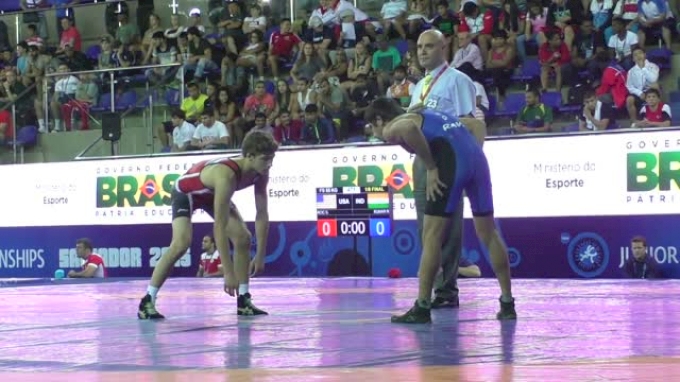 Unlock this video, live events, and more with a subscription!
Get Started
Already a subscriber? Log In
Georgia should figure heavily into the team race, though it is unclear who their best option is at 57kg. My money is who they've sent to the past four European championships, Otari Gogava. He won the Henri Deglane in February and most recently the G. Kartozia & V. Balavadze, which is held in Tbilisi and included Beka Bujiashvili and Lasha Lomtadzee in the field. Bujiashvili won the Dan Kolov and Lomtadze was sent to the Euro Games. If selected, it would be Gogava's second world championships appearance.
Also in the mix should be Ion Corneanu champ Georgi Vangelov (BUL), a 2016 European bronze. Medved champ Vladislav Andreev (BLR) is still trying to break through on the senior level. Davidovi could be good for an upset. India is sending Ravi Dahiya Kumar, a 2018 U23 world silver who was runner-up at the 2015 Junior world championships, beating Micic in the first round.
The Contenders
Zaur Uguev, Russia
2019 Euro Games Bronze
2018 World Champ
2018 European Champ
2018 Yarygin Champ
Yuki Takahashi, Japan
2019 Asian Bronze
2018 World Bronze
2018 Asian Games Bronze
2017 World Champ
2017 Asian Champ
Daton Fix, America
2019 Pan Am Games Champ
2018 Junior Bronze
2017 Junior Champ
2016 Junior Bronze
Suleyman Atli, Turkey
2019 Euro Games Bronze
2019 European Champ
2018 World Bronze
2017 U23 World Bronze
2017 European Bronze
Stevan Micic, Serbia
2019 Euro Games Silver
2018 European Bronze
2015 Junior Bronze