Is USA Now The Unofficial Team Champs Of The 2012 Olympics?
Is USA Now The Unofficial Team Champs Of The 2012 Olympics?
With Tervel Dlagnev now a bronze medalist, does America now get the unofficial team title from the 2012 Olympic in London?
Jul 24, 2019
by Wrestling Nomad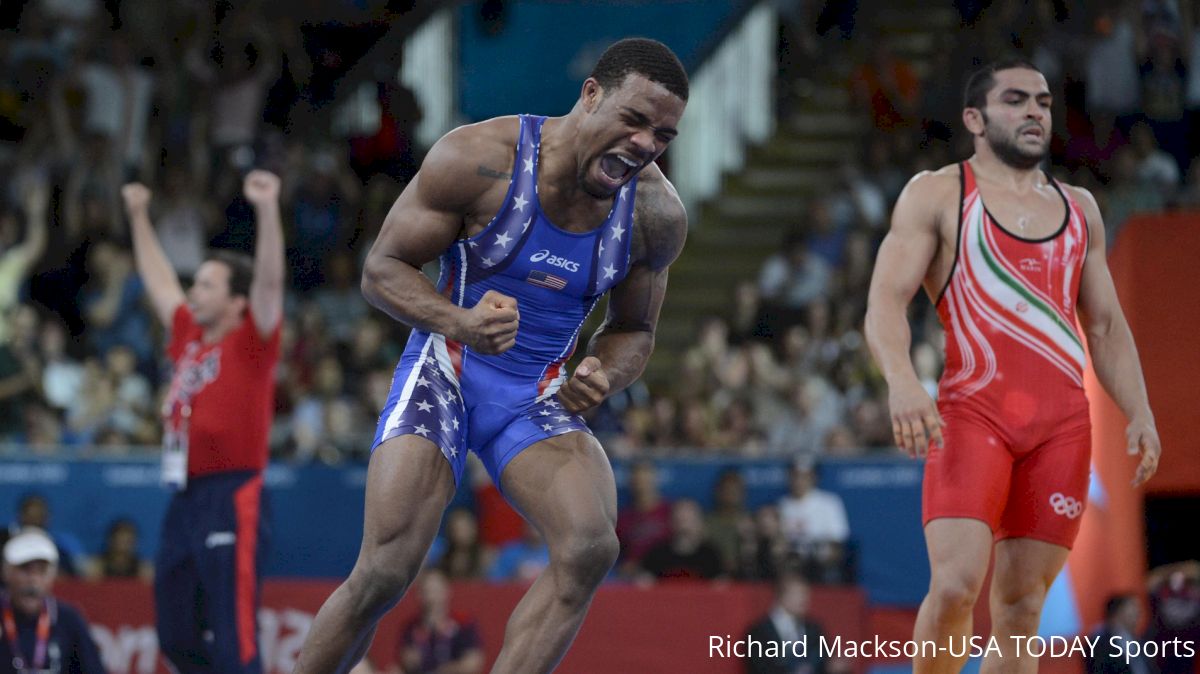 Should the United States now be considered the unofficial team champions of the 2012 London Olympics in men's freestyle?
With the news yesterday that Artur Taymazov has been stripped of his gold medal, it means Tervel Dlagnev will be moved up from fifth to now being a bronze medalist. That gives America an extra two points in the team standings. Along with Davit Modzmanashvili's silver being thrown out, the team results received a massive adjustment.
Originally, if you took the scores the day after the Olympics ended, Russia and Georgia were tied with 40 points. Just a few months later, Georgia took the lead when Soslan Tigiev of Uzbekistan had his 74kg bronze medal stripped, moving Davit Khutsishvili up to sixth.
Back then, USA and Iran were tied for third with 38 points. But now that both heavyweight finalists have been disqualified, both teams get moved up. If UWW assigns the gold and silver based on classification points, that means Bilyal Makhov of Russia becomes the champ and Komeil Ghasemi of Iran is now the runner-up.
So while it would seem like Russia is now the champs, we must point out that Besik Kudukhov was later found to have tested positive for a banned substance. However, since he is deceased, the IOC did not pursue having the results adjusted.
So, if you throw out Besik's results, Russia drops to 32 points and USA becomes team champs! But that also means Masoud Esmailpour bumps up to sixth and Iran ties America with 40 points. Team USA has two golds though and Iran has none so that should give us the tiebreaker, right?
Russia: 42 Points*
| | | | |
| --- | --- | --- | --- |
| Weight | Name | Place | Pts |
| 55kg | Dzhamal Otarsultanov | 1st | 10 |
| 60kg | Besik Kudukhov | 2nd* | 9 |
| 74kg | Denis Tsargush | 3rd | 8 |
| 84kg | Anzor Urishev | 8th | 3 |
| 96kg | Abdusalam Gadisov | 9th | 2 |
| 120kg | Bilyal Makhov | 2nd | 10 |
USA: 40 Points
| | | | |
| --- | --- | --- | --- |
| Weight | Name | Place | Pts |
| 60kg | Coleman Scott | 3rd | 8 |
| 74kg | Jordan Burroughs | 1st | 10 |
| 84kg | Jake Herbert | 7th | 4 |
| 96kg | Jake Varner | 1st | 10 |
| 120kg | Tervel Dlagnev | 3rd | 8 |
Iran: 39 Points
| | | | |
| --- | --- | --- | --- |
| Weight | Name | Place | Pts |
| 55kg | Hassan Rahimi | 8th | 3 |
| 60kg | Masoud Esmailpour | 7th | 4 |
| 74kg | Sadegh Goudarzi | 2nd | 9 |
| 84kg | Ehsan Lashgari | 3rd | 8 |
| 96kg | Reza Yazdani | 5th | 6 |
| 120kg | Komeil Ghasemi | 2nd | 9 |
Azerbaijan: 37 Points
| | | | |
| --- | --- | --- | --- |
| Weight | Name | Place | Pts |
| 60kg | Togrul Asgarov | 1st | 10 |
| 66kg | Jabrail Hasanov | 5th | 6 |
| 74kg | Ashraf Aliev | 8th | 3 |
| 84kg | Sharif Sharifov | 1st | 10 |
| 96kg | Khetag Goziumov | 3rd | 8 |
Georgia: 32 Points
| | | | |
| --- | --- | --- | --- |
| Weight | Name | Place | Pts |
| 55kg | Vladimer Khinchegashvili | 2nd | 9 |
| 60kg | Malkhaz Zarkua | 9th | 2 |
| 74kg | Davit Khutsishvili | 6th | 5 |
| 84kg | Dato Marsagishvili | 3rd | 8 |
| 96kg | Georgi Gogshelidze | 3rd | 8 |
| 120kg | Davit Modzmanashvili | 2nd | DQ |