Wrestling Legends Besik Kudukhov & Artur Taymazov Stripped Of Olympic Medals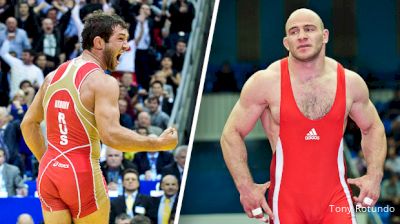 FloWrestling has confirmed that two giants in our sport will have their Olympic medals stripped. Artur Taymazov of Uzbekistan will have his 2008 gold medal stripped, while the late Besik Kudukhov of Russia will lose his silver medal from the London Games. This is a result of the samples from those games being retested and the samples testing positive for a banned substance.

All year, a shadow of performance enhancing drugs hung over the Rio Olympics, affecting qualifying right up until the week of competition. This news continues that trend and puts a black mark on some of the greatest wrestlers of the first decade of this millennium.

With Taymazov losing his 08 medal, he is now "just" a two-time gold medalist and three-time finalist. That leaves Buvaisar Saitiev and Alexander Medved as the only three-time Olympic champs in men's freestyle.

Kudukhov was on the verge of sweeping the quad when he ran into Toghrul Asgarov of Azerbaijan in the London finals. He is still a four-time world champ and bronze medalist from 2008, but there is now a stain on his record. He died at the age of 27 in a car collision in southern Russia.

The new heavyweight gold medalist from the Beijing Games is Russian Bakhtiyar Akhmedov. Moving up from bronze to silver is David Musul'bes, now known as Mehmet Aydin Musul'bes, who was originally a Russian but transferred to Slovakia in 2007. Musul'bes beat Taymazov in the 2000 Olympic finals, as well as at the world championships in 2001 and 2002. Disney Rodríguez of Cuba should move up from fifth to bronze now.

At 60kg, Yogeshwar Dutt will join his countrymen Sushil Kumar as a silver medalist from 2012 in London. His bronze medal opponent Ri Jong-myong of North Korea should now move up from fifth.

Although the names have not yet been released, an undisclosed number of wrestlers from Kazakhstan, Azerbaijan and Ukraine will have their medals taken from both the 2008 and 2012 Olympics. FloWrestling will continue to bring you those names as they come to light.

UPDATE: The IOC has decided not to pursue stripping Kudukhov's Olympic medal since he is deceased and cannot dispute the findings.

UPDATE: We now know the substance Taymazov took to cause this. He failed for dehydrochlormethyltestosterone (turinabol) and stanozolol, per an IOC release from today (April 5, 2017). The complete decision of the IOC can be found here. Additionally, United World Wrestling has confirmed the above re-shuffling of the Olympic medal table at heavyweight in 2008.