Russian Nationals 2019 Weight-by-Weight Preview
Russian Nationals 2019 Weight-by-Weight Preview
Previewing every weight with favorites, contenders, and dark horses at this weekend's Russian Nationals held in Sochi.
Jul 2, 2019
by Wrestling Nomad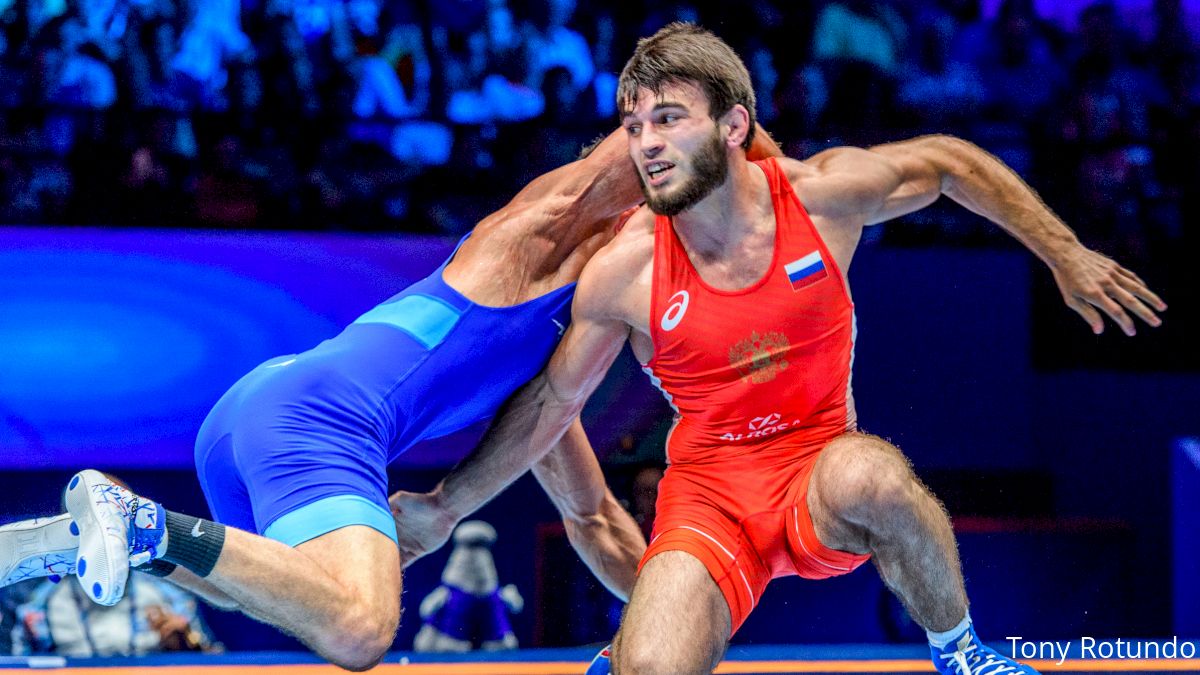 Unlock this article, live events, and more with a subscription!
Get Started
Already a subscriber? Log In
Russia has won the team title 34 times at the World Championships, and have more gold medalists than any other country by a wide margin. One trip to Russian Nationals makes it abundantly clear why they win year after year.
This weekend in Sochi, the Russians will host their national tournament to help determine who will represent them at this year's world championships in Kazakhstan. Like Final X in America, there will be heightened attention on the six Olympic weights as they hope to qualify the weight for Tokyo next year.
Speaking of the six Olympic weights, all of the wrestlers who competed in the Euro Games have been released from competing this weekend, but each will likely get a shot to wrestle-off for the spot down the line.
According to WrestRus, the first day of action (July 5) will see the finals set at 57, 65, 74, 86, and 97kg, with the finals coming the next day. On July 6, they will complete the semifinals at 61, 70, 79, 92, and 125kg. The tournament closes out on July 7 with repechage and medal matches at those last five weights. Wrestling will begin at 4AM eastern, and we will embed the youtube streams in a separate article.
57kg
There has not been a great deal of turnover at this weight, with only two men holding it over the past five years. Viktor Lebedev was the guy from 2014-16, winning a bronze in 2015. The team sent Zaur Uguev to both Paris and Budapest, winning gold last year, but he will not be wrestling in Sochi.
The Favorite: Muslim Sadulaev
With no Uguev at the Yarygin, Sadulaev won the title, earning the right to represent his country at the European Championships. He finished with silver there and was Russia's U23 rep last year. He defeated Junior world champ Abasgadzhi Magomedov in the Yarygin finals, but fell to last year's runner-up Khuresh-ool Donduk-Ool in the semis of the Alans in December, so he is vulnerable.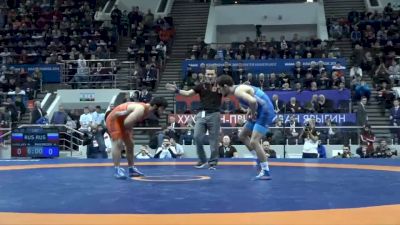 Unlock this video, live events, and more with a subscription!
Get Started
Already a subscriber? Log In
The #1 Contender: Khuresh-ool Donduk-Ool
Last year's runner-up and the flagbearer for the Tuva Republic, Donduk-ool has only represented Russisa one time, winning University worlds back in 2012. His only competition this year is a title at the Buryatia Cup. His length will create issues for just about everyone in the bracket, except for the guy I'm about to introduce.
The Wild Card: Abasgadzhi Magomedov
The young buck has been on an excellent trajectory for his career, with a Cadet world silver in 2015, a Junior Euro title in 2016, and a win over world champ Yuki Takahashi at the Yarygin in 2017. The Dagestani was the 61kg Junior world champ last year, and won the same weight at the U23 European championships this year. Offensively he has a sneaky arm drag and a quality ankle pick. He's never beaten Uguev, but he won the Alans in December over Donduk-ool and made the Yarygin finals with wins over Thomas Gilman and Erdenebat. He's got next once Uguev's done.
2018 Results
GOLD: Zaur Uguev, Dagestan
SILVER: Donduk-ool Khuresh-ool, Tuva
BRONZE: Muslim Sadulaev, Chechnya
BRONZE: Aryaan Tyutrin, Yakutia
---
61kg
This and 92kg are Russia's weakest weights, which is to say the least likely weights where they will earn a medal. It is also one of the weights with the most variance and possible different champs.
The Favorite: Magomedrasul Idrisov
The exodus of two-time world silver medalist Gadzhimurad Rashidov and 2016 world bronze Akhmed Chakaev up to 65kg has left this weight without a true favorite in Russia. Idrisov went on an excellent run last year, winning golds at both U23 Euros and Worlds, as well as winning Russian Nationals. He would ultimately lose his spot to Rashidov, but went on to win Yarygin in January, though he would go 0-1 at Euros.
The #1 Contender: Alexander Bogomoev
Buy one get one is a throwback to the Guseinov era, their 2014 and 2015 world team member, winning Euro Games in the latter year. He has battled some adversity over the years, from the Lebedev debacle at their Olympic Trials, to being stabbed and having to miss Nationals in 2017, and getting wrecked by Idrisov last year. But he beat Idrisov at the Alans, and has won the Mongolia Open and Buryatia Cup in 2019. Still has world class go behinds.
The Dark Horse: Zelimkhan Abakarov
A 4-0 win over Idrisov in the Ali Aliev finals avenged a semis loss at last year's RusNats, where he finished third. Abakarov beat world bronze Joe Colon in the Medved finals last September, but lost to Eduard Grigoriev at the Intercontinental Cup in November. Ramazan Ferzaliev and Artem Gebekov should also make deep runs in the tournament.
2018 Results
GOLD: Magomedrasul Idrisov, Dagestan
SILVER: Ismail Musukaev, Kabardino-Balkaria
BRONZE: Zelimkhan Abakarov, Dagestan
BRONZE: Artem Gebekov, Dagestan
---
65kg
Russia has some real depth at 65kg, both in terms of medal potential this year and young talent who can carry the spot down the road. Returning bronze medalist and Yarygin champ Akhmed Chakaev was released from Russian Nationals, with head coach Dzombolat Tedeev indicating he is injured. Chakaev was bronze at Euro Games and will likely be allowed a shot to compete to be the rep.
The Favorite: Gadzhimurad Rashidov
Rashidov has represented Russia six times at worlds, two each on the Cadet, Junior, and senior levels, winning medals each year. He's fallen in the 61kg finals two years in a row and lost to Chakaev in the Yarygin semis, but has only had one match since then, an 11-0 win over Japan at the World Cup. The barrel chested Dagestani has some of the best defense you'll see this weekend.
The #1 Contender: Ilyas Bekbulatov
By far the best wrestler to have never competed at a world championships, and if he was healthy I'd consider him the favorite. But I'm not sure if he's at full strength after surgery. If so, the guy we saw win the Kolov in March should win his second RusNats title, and he's already beaten Chakaev before.
The Wild Card: Nachyn Kuular
One of the most exciting wrestlers in the world, but a guy who almost always gets bronze. A native Tuvan like Donduk-ool, he has twice beaten Vladimer Khinchegashvili, but has struggled against Viktor Rassadin, and lost to upstart Kurban Shiraev at the Alans. Shiraev will be Russia's rep at Junior worlds, and his only losses to fellow countrymen are Rashidov at Yarygin and Muslim Saidulaev at Alans. Shiraev avenged that loss to Saidulaev twice over, though Saidulaev did pick up a Junior Euro silver.
2018 Results
GOLD: Akhmed Chakaev, Chechnya
SILVER: Bekkhan Goigereev, Chechnya
BRONZE: Nachyn Kuular, Tuva
BRONZE: Dasha Sharastepanov, Buryatia
---
70kg
If I had to pick a weight where the Russians should medal no matter who they send, I'm taking 70kg. They've won four of the five world titles awarded at this weight, and there are at least four young stars who will be problems for the world in the next Olympic quad.
The Favorite: Magomedrasul Gazimagomedov
The reigning world champ is one of the toughest hand fighters you'll ever see and has the best lefty overhook in the world. He's extremely difficult to score on, has multiple wins over Chamizo, and two gold medals. Yes, he dropped one at Euros, but he's also fended off Zhamalov and Baev twice each, plus Ramonov, to win Yarygin and Russian Nationals. Count how many times he gets to bodylocks in Sochi.
The #1 Contender: Soslan Ramonov
He's honestly the favorite if he's healthy, but he hasn't been all year. It's impossible to forget his run from 2014-16, and has won two world military titles since his Olympic gold medal. Besik Kudukhov's pupil is one of the most talented Russians in recent memory, but he could be past his prime.
The Wild Cards: Youth Movement
Evgeni Zherbaev might be the best wrestler you've never heard of. After getting teched by Ramonov at RusNats, he beat him 8-0 to win the Dmitri Korkin and also won his native Buryatia Cup this year. A fast riser is Dagestan's Razambek Zhamalov, who won U23 Euros this year and made the Junior world finals last year.
Zhamalov's big rival right now is David Baev, an Ossetian who beat Zhamalov for bronze at RusNats last year but lost to him in the same match at Yarygin. Baev was a 2014 Cadet and 2017 Junior world champ. Anzor Zakuev and Cherman Valiev are also good enough to beat any of these guys.
2018 Results
GOLD: Magomedrasul Gazimagomedov, Dagestan
SILVER: Arbak Sat, Tuva
BRONZE: David Baev, Ossetia
BRONZE: Magomed Kurbanaliev, Dagestan
---
74kg
Russia has been incredibly strong at this weight the past five years. Denis Tsargush was the world champ in 2014, Aniuar Geduev was bronze in 2015, and clearly the second best guy that year. Geduev was silver in Rio, and very well could have won. Tsabolov was second in Paris and Sidakov won last year. Sidakov was released but is the overwhelming favorite to be the guy in Kazakhstan, where he'll have to prove the Burroughs win wasn't a fluke.
The Favorite: Timur Bizhoev
The Alans champ was bronze at U23 worlds last year and senior Euros this year. With Sidakov sitting out, someone will have to emerge as his biggest threat, and I'm taking the guy who beat last year's world silver medalist.
The #1 Contender: Khetik Tsabolov
What a difference a year makes. The 2014 world champ at 70kg spent years bulking up to 74, and finally looked the part. He was silver to Burroughs in 2017, and followed that up with a Yarygin title. But after losing a couple times to Chamizo, losing to Sidakov at RusNats and Usmanov at Alans, his time may soon be passed. It was a short run, but all those years he spent growing into 74 may have caught up to him.
The Dark Horse: Darsam Dzhaparov
To win the Ali Aliev he beat 2016 world champ Magomed Kurbanaliev in the semis, and avenged his controversial RusNats loss to Nikita Suchkov in the quarters. His match with Suchkkov last year ended with the Russian fans throwing water bottles on the mat in what has become a rather common occurrence over the years.
2018 Results
GOLD: Zaurbek Sidakov, Ossetia
SILVER: Khetik Tsabolov, Ossetia
BRONZE: Timur Bizhoev, Krasnodar Krai
BRONZE: Nikita Suchkov, Krasnoyarsk Krai
---
79kg
After years of falling short of making the team, Akhmed Gadzhimagomedov finally won a bronze medal last year. However, he had surgery and is out for the year, leaving Russia to turn to its depth in what should be a weight where America is favored to win gold.
The Favorite: Khusey Suyunchev
I'm going against myself a bit here by taking a guy who didn't wrestle at Yarygin. Suyunchev has a phenomenal duck series that I believe will create issues for our current #1, Magomed Ramazanov.
The #1 Contender: Magomed Ramazanov
A Yarygin runner-up, he split with Gadzhi there and also beat Alan Zaseev. He won the Ali Aliev last month and split time with Suyunchev at the World Cup. Intercontinental champ Khalil Aminov beat him in December.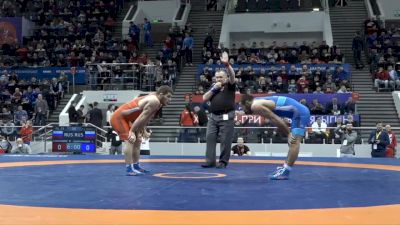 Unlock this video, live events, and more with a subscription!
Get Started
Already a subscriber? Log In
The Wild Card: Alan Zaseev
When Zaseev beat up on Tsabolov at the Alans in 2017, I thought he would be the next big thing. He had the pedigree as a Junior world champ, but has not lived up to that hype. He lost to another world champ at the Alans in December, 2015 gold medalist Gadzhi Nabiev of Dagestan. Nabiev was U23 silver last year but has yet to compete in 2019.
2018 Results
GOLD: Akhmed Gadzhimagomedov, Dagestan
SILVER: Khusey Suyunchev, Karachay-Cherkessia
BRONZE: Khakhaber Khubezhty, Ossetia
BRONZE: Gadzhi Nabiev, Dagestan
---
86kg
Last year's starter Dauren Kurugliev won't be competing after winning the Euro Games. He fell to Artur Naifonov at the Ali Aliyev in his tuneup before Minsk, but otherwise outscored opponents 33-1 at Yarygin and appears poised to be the second best wrestler in the world behind Hassan Yazdanicharati of Iran.
The favorite: Vladislav Valiev
I know we have Naifonov ranked #1 in the country and #2 in the world, but he didn't qualify for Yarygin. Valiev also won the Alans and Euros, not to mention his bronze from Paris. The 2013 Junior world champ is my pick to win this weekend.
The #1 Contender: Artur Naifonov
We should have an all-Ossetian between Naifonov and Valiev, though they have not met since Naifonov's criteria win at Alans 2017. Naifonov has performed well outside of the country, with a 2017 Junior world title to go along with senior Euro gold and U23 world silver last year.
The Dark Horses: Arsen-ali Musalaliev & Zelimkhan Minkailov
If anyone can upset the apple cart this weekend, it's one of these two, but Slavik Naniev is also one to keep your eye on.
2018 Results
GOLD: Dauren Kurugliev, Dagestan
SILVER: Artur Naifonov, Ossetia
BRONZE: Zelimkhan Minkailov, Chechnya
BRONZE: Vladislav Valiev, Ossetia
---
92kg
If anyone tells you they have any clue about what Russia's going to do at 92kg, they're lying to you. Most countries had guys that were too big for 74 or too small for 86, but there don't seem to be many too small for 97.
The Favorite: Magomed Kurbanov
By far the most difficult weight to pick a favorite for. Kurbanov took Yarygin with wins over Alikhan Zhabrailov and last year's world teamer Batyrbek Tsakulov. Kurbanov also beat Zhabrailov at the Alans, but their initial match at Medved last year went to Zhabrailov. Kurbanov went 0-1 at RusNats in 2018, but the person he lost to now wrestles for Bulgaria.
The #1 Contender: Alikhan Zhabrailov
He has a good hit list for the weight, having beaten Tsakulov at the Yarygin, Anzor Urishevat the Aliev, and Kurbanov at the Medved.
The Wily Vet: Anzor Urishev
No one has more Yarygin medals than Urishev, but he's only won Russian Nationals one time. He beat Kurbanov and Azamat Zakuev en route to his Interconinental Cup title and is a returning finalist here.
2018 Results
GOLD: Batyrbek Tsakulov, Ossetia
SILVER: Anzor Urishev, Kabardino-Balkaria
BRONZE: Yuri Belonovski, Krasnoyarsk Krai
BRONZE: Alikhan Zhabrailov, Chechnya
---
97kg
Russia has the #1 pound-for-pound wrester in the world, but he won't be wrestling this weekend. To be completely honest, it doesn't matter who wins, they're sending Sadulaev to Kazakhstan.
The Favorite: Vladislav Baitsaev
Sadulaev has lost one time in five years. Their captain and team leader might be the single hardest person on the planet to score on, and has the best gut wrench of this decade. But the one guy who probably should have beaten him was Baitsaev at RusNats two years ago. The Alans champ does give them excellent depth, but he may never get a chance to prove it.
The #1 Contender: Shamil Musaev
Musaev has been on a steady ascent after winning Junior world gold in 2017, taking Yarygin this year with a U23 Euro silver to follow it up. His losses in international events lately are good - Olympic bronze Ibragimov and world bronze Odikaze - but he did stumble against Zaynula Kurbanov at the Intercontinental Cup, Kurbanov is a returning bronze here.
The Wild Card: Rasul Magomedov
He beat Kyle Snyder, so as far as I'm concerned, he's a threat to win this thing.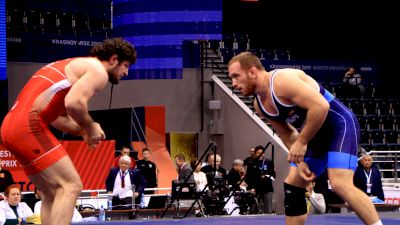 Unlock this video, live events, and more with a subscription!
Get Started
Already a subscriber? Log In
2018 Results
GOLD: Abdulrashid Sadulaev, Dagestan
SILVER: Vladislav Baitsaev, Ossetia
BRONZE: Zaynula Kurbanov, Dagestan
BRONZE: Igor Ovsyannikov, Krasnoyarsk Krai
---
125kg
The retirement of Bilyal Makhov left heavyweight in a bad way for the Big Red Machine. The cupboard was not left totally bare, but the developmental pipeline had not been built up during his career. They only had one Junior world medal during his career, but help may soon be on the way, as Russia has gone gold, bronze, gold at Junior worlds the past three years, along with Euro titles three of the past four years.
The Favorite: Magomedgadzhi Nurasulov
It's hard to accurately say who the favorite is with Khizriev out, but Nurasulov was runner-up in 2017 and bronze last year (and the lone Junior world medalist of the Makhov era with a gold in 2012). He did lose to former Junior world teamer Pavel Krivtsov at the Alans, who we have ranked #2 behind Khizriev going in.
The #1 Contender: Pavel Krivstov
The win over Nurasulov, plus the Buryatia Cup title has him in a good position. You could also put Kushkhov here, but he has not been active in 2019.
The Dark Horse: Zelimkhan Khizriev
Along with Said Gamidov, who he beat, Khizriev represents one of the few young talents in Russia at heavyweight. Khizriev was a 2015 Junior Euro bronze who has taken tough losses the past two years at RusNats that have kept him off the podium.
2018 Results
GOLD: Anzor Khizriev, Chechnya
SILVER: Muradin Kushkhov, Kabardino-Balkaria
BRONZE: Said Gamidov, Dagestan
BRONZE: Magomedgadzhi Nurasulov, Dagestan