Unlock this article, live events, and more with a subscription!
Get Started
Already a subscriber? Log In
World Team Trials weeks is upon us. By Sunday night, the other half of the Final X field will be set.
Watch World Team Trials Live On Flo
May 17-19 | 10:00 AM Eastern
There will be seven weights with wrestlers sitting in Sunday's best-of-three finals, while at 57kg, 65kg, and 70kg the challenge tournament will be done after the semis. So, who's going to make it out of North Carolina?
Please note, the fields are not set until weigh-ins on Saturday morning, so all seeds are subject to change. Brackets will be on FloArena once they are complete.
Comprehensive Greco Preview | Definitive Women's Preview
57kg
Projected Seeds
Thomas Gilman, Titan Mercury/Hawkeye WC
Zane Richards, Titan Mercury/Illinois RTC
Darian Cruz, NYAC/Lehigh Valley WC
Frank Perrelli, Titan Mercury/Lehigh Valley WC
Zach Sanders, Minnesota Storm
Jack Mueller, Cavalier WC
Josh Rodriguez, Nittany Lion WC
There is Thomas Gilman, and then there is everyone else. Nathan Tomasello won't be wrestling in Raleigh, a worrying sign that he's still recovering from injuries that kept him out all of last summer and resurfaced at Midlands. Zane Richards was clearly the next best guy at the Open, but he got teched by Gilman in the quarters.
Richards looked very impressive in his run to third place, scoring 16 takedowns in Vegas. Also scoring five times off gut wrenches and twice off leglaces, it means about half of the time he's finishing a shot he's increasing his lead with a turn. That ability to increase the score differential on top was extremely valuable in his final three bouts on the backside, where he gave up one takedown in each match.
Sanders and Perrelli are both wrestling in their third straight World Team Trials, but neither's results this year suggest they are a serious contender to make the finals. Darian Cruz could make a run, but may not be able to put up enough points, as he has only picked up one turn between the Schultz and the Open. Jack Mueller teched Nick Piccininni at Beat the Streets and Josh Rodriguez won Pan Ams.
What seems cyrstal clear is that it will be Thomas Gilman making it to Final X opposite Daton Fix once again. I do think it will be Richards to come out of the bottom side and make the national team. He has yet to defeat a foreign opponent in the past year, going 0-3 against international foes, but his attack rate, ability to get to legs and finish, plus his par terre game make him our nation's third best 57kg right now.
61kg
Sitting in Finals: Cody Brewer, Titan Mercury
Projected Seeds
Nico Megaludis, Titan Mercury/Pittsburgh WC
Joey Palmer, Unattached
Tyler Graff, Titan Mercury
Cory Clark, Titan Mercury/Hawkeye WC
Tony Ramos, Sunkist Kids/Tar Heel WC
Earl Hall, Titan Mercury/Cavalier WC
Shelton Mack, Titan Mercury
Sean Fausz, Wolfpack WC
Nahshon Garrett announced he will not be competing in Raleigh, so the only addition to the Trials field from Vegas is Sean Fausz. That's excellent news for Open runner-up Nico Megaludis, who has lost at least five straight to Nahshon. Nico's tournament should start with Fausz, which is a match he'll be highly favored in but Fausz is wrestling in his home gym so perhaps may be tougher than it would be otherwise.
Also on the top side, we're looking at Cory Clark/Tony Ramos part four. Ramos is the only one in this bracket to make a senior world team, but has struggled against Clark multiple times this year. Megaludis put it on Clark 10-1 at the Open, but lost to Ramos 1-0 several years back at WTT.
No one's really sure what to make of Joey Palmer finishing third. His first win over Tyler Graff was more flukeish in nature, as Graff had a two waved off on a trap arm, gave up a caution at the end of the first, got head pinched to his back and then gave up a late stepout. Palmer did a much better job controlling the pace in the third place match, and also beat Tony Ramos in Vegas, plus had a win over Cory Clark in November of 2017.
Graff has frequently been in the conversation but hasn't quite been able to make the jump. Ramos is four years removed from his last world team and up a weight. Palmer came out of nowhere. Clark has to overcome a 9-point loss. So, each of these guys have reasons to pick against them, which is why I see Nico coming out of the challenge tournament.
What makes Brewer so interesting, even as he transitions from Northwestern to Virginia Tech, is how seriously he takes his coaching. He tries to practice what he preaches to his athletes, in the way they prepare and cool down and mentally psyche themselves up. This may mean nothing, but to me it represents a distinct advantage that he has over Megaludis right now.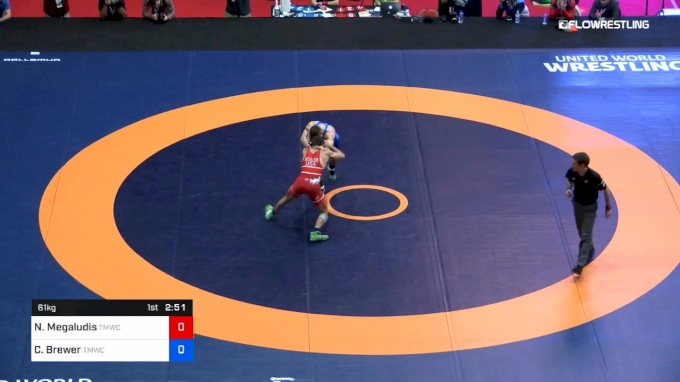 Unlock this video, live events, and more with a subscription!
Get Started
Already a subscriber? Log In
65kg
Projected Seeds
Zain Retherford, Nittany Lion WC
Jordan Oliver, Sunkist Kids
Jayson Ness, Minnesota Storm
Frank Molinaro, Titan Mercury/Oklahoma RTC
Jaydin Eierman, Titan Mercury
Dom Demas, Oklahoma RTC
Kanen Storr, Titan Mercury/Michigan RTC
Dean Heil, Titan Mercury/Oklahoma RTC
Colton McCrystal, NWTC
One of the great problems with this weight class is that all of the matches involving the favorites are from two years ago. That also is what it makes it so interesting, because we have no idea how matches between Zain Retherford, Jordan Oliver, and Frank Molinaro will go. Throw in that Jayson Ness beat Molinaro for third at the Open and it becomes even more intriguing.
I'm curious to see where they seed Oliver after he forfeited out from the semis. Based on the seeds I have, there will be some good quarters, as Molinaro beat Eierman 8-5 on the backside in Vegas. BJ Futrell is not currently entered, so hopefully we see him register soon.
It would be good to see another match between Molinaro and Retherford, which was a series that went the distance in Lincoln in 2017. Oliver has never lost to Molinaro or Retherford, but he's never had to face either in a best-of-three format. We're keeping open the possibility Oliver moves up to 70kg, though it seems unlikely.
I think no matter what they do with Oliver, Retherford ends up in the finals. However, I'm not sure I see him getting by JO. As the 2017 world team member, there's no doubt Zain can win the spot. But his match against Rashidov and Batirov continue to stick out in my mind as examples that there's a still another level internationally that the two-time Hodge winner has yet to reach in freestyle.
70kg
Projected seeds
James Green, Sunkist Kids/NWTC
Alec Pantaleo, Cliff Keen WC
Hayden Hidlay, Titan Mercury/Wolfpack WC
Brandon Sorensen, Titan Mercury/Hawkeye WC
Nazar Kulchytskyy, Minnesota Storm
Jason Chamberlain, Titan Mercury/Valley RTC
Mario Mason, NYAC/Lehigh Valley WC
Anthony Ashnault, NJRTC
There are two major monkey wrenches at this weight. The first is Jason Nolf bumping up to 74kg and the second is Hayden Hidlay throwing his hat in the ring. Hidlay should be opposite James Green and is slated to face Alec Pantaleo in the semis.
We've never seen Hidlay against Green, but that may be a bad matchup for Hidlay. Generally speaking, a low scoring match focused on control ties (in this case Hidlay's underhook) plays into the way Green has wrestled these last couple years. He'll keep his hand on the mat and legs back, but if Pantaleo can get to his legs, there's no reason to think Green can't.
What makes Hidlay so effective against Pantaleo is what makes Green so effective against Nolf: the ability to get four pointers. Given the compact nature of the field, expect those four pointers to have massive implications in the championship bracket. If we get a Pantaleo/Nolf semi, a point of emphasis will be Nolf's ability to either dig himself out of a hole again or avoid being down in the first place.
Last year's Final X runner-up Jason Chamberlain will be in Raleigh, as well as Pan Am champ Anthony Ashnault. Both will get low seeds, so an early upset is what they'll need to catapult them into the finals. I'm not sure if they'll put Ashnault bottom side or top side, but we just saw him lose to Green, so he has a better chance to make the finals if he gets the seven seed.
This weight certainly loses some juice with Nolf, even in the sense of if Hidlay or Pantaleo could beat him, but still has great depth. I'm taking Green over Hidlay in two matches to make it back to Final X: Lincoln and get another shot at Ryan Deakin.
74kg
Sitting in Finals: Isaiah Martinez, Titan Mercury/Illinois RTC
Projected Seeds
Tommy Gantt, Titan Mercury/Wolfpack WC
Jason Nolf, Nittany Lion WC
Anthony Valencia, ASU Wrestling
Logan Massa, Michigan RTC
Richie Lewis, NYAC
Brian Murphy, MYAC/NJRTC
Dan Vallimont, NYAC/Penn RTC
Joey Lavallee, Titan Mercury/Valley RTC
Jared Frayer, Titan Mercury/Southeast RTC
After winning his second straight U.S. Open, Isaiah Martinez gave one of the best interviews of his career. In it, he mentioned he's never been in a better place, and then later that night got engaged. Imar made a point to mention that the gap between he and Jordan Burroughs is much smaller than most people would expect. Whether that is true or not remains to be seen, but on the surface Martinez seems to feel confident that no one can stop him from getting another crack at JB in Lincoln.
One of the most fun wrestlers to watch grow over the past few years has been Tommy Gantt. At a great weight for his frame, with one of the best paces in the game, and wrestling in his home gym this weekend, Gantt should make it to the finals opposite Imar. He fell in last year's challenge tournament finals 5-3 to Nazar Kulchytskyy, so I do wonder if Nazar potentially moves up (which he is not currently registered to do).
Richie Lewis will be at the Trials after winning the Schultz in January. We should get yet another Logan Massa/Anthony Valencia match, a not infrequent occurrence between NCAA and Juniors these past four or so years. It was good to see Jared Frayer qualify, but he'll probably be the only one out of Blacksburg competing at 74kg, as Junior world champ Mekhi Lewis will not be in attendance.
Nolf's move up to 74 is by far the biggest plot twist heading into the Trials. He went 1-2 against IMar when he was a redshirt freshman at Penn State, and has a 6-1 folkstyle and 10-0 freestyle win over Tommy Gantt, but all those matches are from several years ago. That leads me to believe Nolf is the one guy who can beat Gantt in his own gym.
I brought this up on FRL even when I thought Nolf was down at 70kg, but his performance and demeanor at the Open during and after the Green match was out of character for him, not to mention the nature of his NCAA semifinal against Hidlay. Now perhaps the move up will help his mindset as he will be less concerned with his weight, but the change just three weeks after Vegas makes me wonder if there's any level of self doubt in Nolf's mind. Ultimately this is only conjecture on my part and he will wrestle how he wrestles, but the move up concerns me perhaps more than even the loss itself to Green.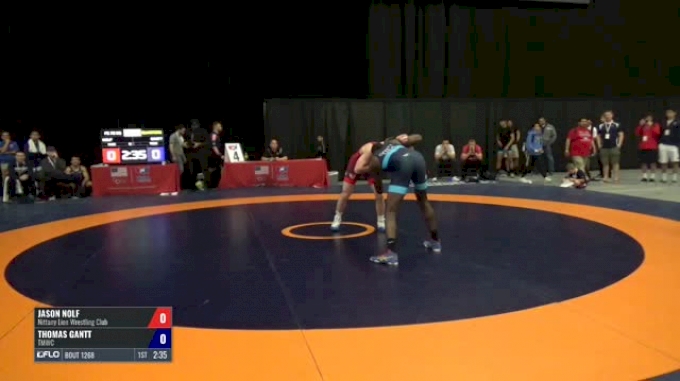 Unlock this video, live events, and more with a subscription!
Get Started
Already a subscriber? Log In
79kg
Sitting in Finals: Alex Dieringer, Titan Mercury/Cowboy RTC
Projected Seeds
Zahid Valencia, Sunkist Kids
Mark Hall, Nittany Lion WC
Chance Marsteller, Titan Mercury/Lehigh Valley WC
Nick Becker, Askren Wrestling Academy
Matt Finesilver, Blue Blood WC
Geno Morelli, Nittany Lion WC
Stacey Davis, Titan Mercury/Wolfpack WC
Ben Harvey, West Point RTC
The perception of this weight has shifted dramatically over the past few months, but it's back to where it was in the first place. Coming out of 2018, there was no question Kyle Dake was the best in the world at 79kg, but many felt that Alex Dieringer would also have been a world medalist based on his international performances. And since Zahid Valencia beat up Ringer twice, the consensus was that Zahid would also be able to contend on the senior level right away.
Then we weren't sure if Dake would drop to 74kg this year or not, and if Zahid or Mark Hall might try to position themselves into an Olympic weight. But then Dake accepted the Final X berth, Ringer ran through the Open, Zahid is confirmed to be wrestling in Raleigh, and Hall won the last chance qualifier. It's the first time in quite a few years we've had four legitimate senior level medal threats at one weight, and it comes at a time when there are 10 weight classes!
Valencia and Hall should be on opposite sides, setting up a one match final on Saturday for the right to face Dieringer in a best-of-three series on Sunday. It's a match we've never seen in freestyle, but they have built perhaps the greatest college rivalry of all-time. After the Scuffle, Hall said in his interview that he spent last summer working on his sprawl and keeping guys off his legs instead of relying on his scrambling, adjustments to his skills that he said will help him win world titles.
At this point, I'd lean about 60/40 in favor of Zahid to win the challenge tournament, though I have a hard time believing he'll be able to replicate how badly he beat Dieringer a year ago. While I think it will be closer, and that Ringer is even better than he was coming into the Trials than he was going into WTT in Rochester, the prevailing thought in my mind is that we'll see Zahid vs Dake once again at Final X.
86kg
Sitting in Finals: Pat Downey, Titan Mercury/NJRTC
Projected Seeds
Nick Heflin, Titan Mercury/Oklahoma RTC
Sammy Brooks, NYAC/Hawkeye WC
Myles Martin, Titan Mercury/Ohio RTC
Brett Pfarr, Minnesota Storm
Nathan Jackson, NYAC/NJRTC
Kenneth Courts, Titan Mercury/Finger Lakes WC
Drew Foster, Panther WC
Nino Bonaccorsi, Pittsburgh WC
There will be a heightened level of attention paid to 86kg at the Trials after David Taylor's injury at Beat the Streets. It's possible some guys change weights to try to increase their chances at a world team, but that seems unlikely since no one knows yet how much time, if any, that Taylor will miss.
Pat Downey is wrestling better than ever since moving to the NJRTC, having now won the Dave Schultz and U.S. Open. He is 0-2 against international opponents this year, but both were very high level (Yurieski Torreblanca of Cuba and Slavik Naniev of Russia) and he was facing them in their home country. Having beaten Nick Heflin, Myles Martin, and Brett Pfarr this year, Downey will be very confident no matter who makes it through that he can win these Trials.
Two training partners of Downey, one former and one current, also should probably lead to Downey being the favorite. PD3 made a point to say he's undefeated in freestyle against Sammy Brooks, who he used to train with at the Hawkeye WC, and Nate Jackson is coming up from 79kg, he trains with Downey now at the NJRTC. Brooks teched Jackson in drastically different ways in Vegas, 11-0 on the front side and then reeling off 20 unanswered after being down 10-1 on the backside.
Martin remains the most fascinating person in this bracket. A U23 world teamer last year, he was the heavy favorite to win NCAAs but fell in the semis and was up 7-0 on Downey at the Open, but lost 9-7 and did not wrestle back on day two. If he's back on track, I think he presents the biggest threat to Downey, though waiting in the semis is his nemesis Brooks, who has never lost to Martin.
I believe Brooks makes it to the challenge tournament finals against Heflin, where he avenges his open loss and takes the rubber match. All they did in the first four and a half minutes in Vegas was trade shot clock points before Heflin got a body lock and threw Brooks for four. That would ultimately be the difference in the match as Brooks would pick up a late takedown. While it would be great for the fans to see more bombs out of these two, I think neither gets in those positions and it comes down to leg attacks and stepouts, a match that favors Brooks.
92kg
Sitting in Finals: Bo Nickal, Nittany Lion WC
Projected Seeds
Hayden Zillmer, Minnesota Storm
Michael Macchiavello, Titan Mercury/Wolfpack WC
Tim Dudley, Sunkist Kids/NWTC
Kollin Moore, Ohio RTC
Riley Lefever, Nittany Lion WC
Timmy McCall, Titan Mercury/Wolfpack WC
Scottie Boykin, Titan Mercury/RTC South
Zillmer is one of the more underrated guys in the country, having made the national team in 2017 and then finishing as Final X runner-up to eventual world champ Cox last year. He hasn't faced Macchiavello or Dudley, who were the next two highest placers at the Open. Based on how their two matches went in Vegas, as well as the possibility that Dudley is still hurt, Macch should once again beat Dudley to make the challenge tournament finals. It will be up to Kollin Moore to make the necessary adjustments this time around when once again faces Zillmer in the semis.
The question is, how valuable is Macch's home field advantage? Wrestling in your home gym, sleeping in your own bed, preparing in familiar surroundings. I was outvoted on FRL by a 3-1 margin saying that Macch would make it out of the challenge tournament. I'm going to stick with that here, but I'm curious if he goes with a head outside single, which seems to be Zillmer's weak point.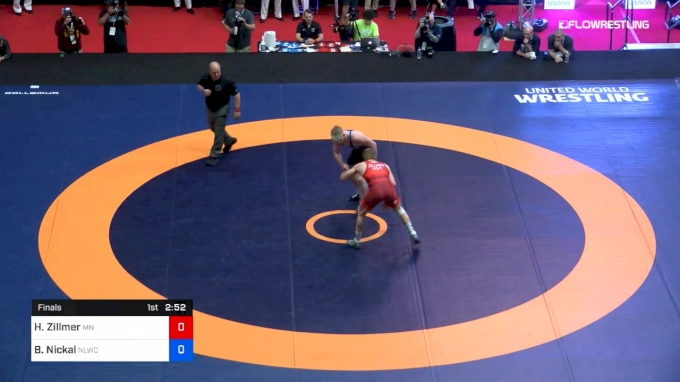 Unlock this video, live events, and more with a subscription!
Get Started
Already a subscriber? Log In
97kg
Sitting in finals: Kyven Gadson, Sunkist Kids/Cyclone RTC
Projected Seeds
Ben Honis, Titan Mercury/Finger Lakes WC
Danny Chaid, California RTC
Ty Walz, Titan Mercury/Southeast RTC
Kevin Beazley, NYAC/Cliff Keen WC
Michael Boykin, Titan Mercury/Wolfpack WC
Jeremiah Imonode, West Point RTC
Gadson is similar to Isaiah Martinez in that he has established himself as the clear #2 in his weight behind a world and Olympic champion. He did not give up a point in Vegas and is the overwhelming favorite to make it to Final X: Lincoln to face Kyle Snyder again. However, he has yet to make a big jump in terms of his international resume, so there is still room to grow depth at this weight.
Ty Walz seemed like the obvious choice to be the national team member behind Snyder and Gadson, but then he struggled in two matches against Danny Chaid, losing the second, as well as taking a loss to Ben Honis in the semis in which he was gut wrenched twice. The 16 pound difference between his college and international weight is clearly a big help to Honis, and his gut wrench should propel him into the finals against Gadson.
125kg
Sitting in finals: Adam Coon, NYAC/Cliff Keen WC
Projected Seeds
Tony Nelson, Minnesota Storm
Gable Steveson, Minnesota Storm
Mike Kosoy, Sunkist Kids
Dom Bradley, Sunkist Kids/NWTC
Derek White, Titan Mercury/Cowboy RTC
Youssif Hemida, Terrapin WC
Tate Orndorrf, Utah Valley RTC
Garrett Ryan, Sunkist Kids
Nick Nevills, Nittany Lion WC
Each of the past two years, Nick Gwiazdowski has won a bronze medal at the world championships, granting him a bye into Final X. His most likely opponent in Rutgers would be the same he had last year at Lehigh, Adam Coon.
After winning a silver medal in Greco-Roman in Budapest, Coon did not compete again until mid-April, when he won the Pan Am title in Greco. He then came back to America and won the U.S. Open in freestyle, which is why he's sitting in Sunday's finals. He had the same advantage last year, and beat Tony Nelson 6-1 and 10-4 in their series.
Nelson was Coon's opponent in the Open finals as well, beating Dom Bradley in the semis. Nelson should be the top seed based on his Open finals appearance, as well as his criteria win over Gable Steveson in the 2018 challenge tournament finals. Steveson, who will be wrestling senior level this weekend, has a lot to prove right now. He did not place at Junior worlds, and fell to Anthony Cassar at both Big Tens and NCAAs. His freestyle trajectory is even higher than Gwiz's, who many (correctly) felt would be the eventual successor to Tervel Dlagnev at heavyweight.
One wrestler who seems to be in a much improved space both mentally and in terms of his training situation is Mike Kosoy. The Dave Schultz champ will be seeded ahead of Dom Bradley, which should probably put him against Gable in the semis and opposite of Nelson; those are the same two wrestlers who beat him in last year's Trials. Kosoy used to wrestle at NC State and I believe will have a chip on his shoulder that will only help his performance. I'm picking him to be a surprise finalist and avenge both of his losses from Rochester.
Although I have seen an improved Kosoy this year, I'm not picking him to beat Coon. Same goes for Nelson, who has now lost three straight to the Michigan Man. Same goes for Steveson, who got teched by Coon in last year's Open. Nelson is the smart pick most will go with to win the challenge tournament, while some will echo my sentiment from a year ago that, while Gable might've lost to those senior level guys then, they won't ever beat him again.
Predictions
57kg: Gilman over Richards in two matches
61kg: Brewer over Megaludis in two matches
65kg: Oliver over Retherford in two matches
70kg: Green over Hidlay in two matches
74kg: Martinez over Nolf in two matches
79kg: Zahid over Dieringer in three matches
86kg: Downey over Brooks in two matches
92kg: Nickal over Zillmer in two matches
97kg: Gadson over Honis in two matches
125kg: Coon over Kosoy in two matches