Unlock this article, live events, and more with a subscription!
Get Started
Already a subscriber? Log In
Gable Steveson burst into the consciousness of many a wrestling fan when he began rumbling through the 2018-19 NCAA season as a true freshman. Steveson wasted no time knocking off established wrestlers in the heavyweight field and steadily climbing up the rankings.
Watch World Team Trials Live On Flo
May 17-19 | 10 AM ET
But is a wrestler who finished third at the NCAAs a real threat to make the world team? He is for those who followed Gable Steveson's career before he got to Minnesota's campus. For those who did not, we will explain why Steveson will be in the mix to win the World Team Trials Challenge Tournament and earn a trip to Final X.
Nomad's WTT Upperweight Preview

Before he was manhandling All-Americans in college, Steveson was mixing it up with the country's best senior freestyle heavyweights at the 2018 U.S. Open, while still a high school senior. Though Gable still had three years of UWW junior eligibility left, he had won two cadet and one junior UWW World Championship and was ready to test the senior waters.
Despite still being in high school, Steveson managed to finish fourth. He announced his presence early by power bombing Shawn Streck out of the championship side of the bracket after Streck had just won two matches at the 2018 NCAAs. Gable also downed savvy veteran Michael Kosoy 9-0 and obliterated All-American Tanner Hall in less than two-and-a-half minutes.
Watch Steveson vs. Hall below:
Unlock this video, live events, and more with a subscription!
Get Started
Already a subscriber? Log In
Steveson's two losses at the tournament were to Adam Coon and Dom Bradley. Only Coon looked substantially better, winning via tech-fall, whereas Bradley squeaked by on criteria 2-2. Not bad for a young man yet to have completed his 18th revolution around the sun.
A few weeks later, Steveson would ply his mettle at the 2018 World Team Trials Challenge Tournament. After another tech-mauling of Tanner Hall in the quarterfinals, Steveson would get a chance to avenge his Open loss to Dom Bradley in the semis.
It was another close match, but this time it was Steveson who prevailed.
Watch Steveson vs. Bradley II:
Unlock this video, live events, and more with a subscription!
Get Started
Already a subscriber? Log In
Next was the finals of the mini-tournament; the winner would take on Adam Coon, who received a bye to the best two-out-of-three finals thanks to his Open title. Fittingly for a match that took place in Rochester, Minnesota, it was legendary Gopher heavyweight Tony Nelson who bested Steveson, the future of the heavyweight division in Minneapolis, in a tight 4-4 battle.
Watch Nelson vs. Steveson in Rochester: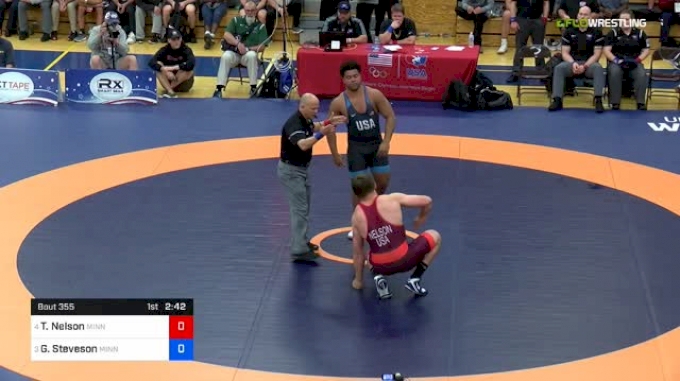 Unlock this video, live events, and more with a subscription!
Get Started
Already a subscriber? Log In
Steveson has now placed himself just outside the national team at fourth on the U.S. heavyweight ladder. However, all of the senior heavies who beat Steveson last season are back. Plus there is the fact that Anthony Cassar, who beat Steveson twice in the NCAA season, may (or may not) enter the World Team Trials.
So what makes us think Steveson will do any better this year?
One is that Steveson is better in freestyle than he is at folkstyle. While clearly proficient in both, Steveson's agility and nimble feet are more useful in the international style, which depends less on the top and bottom grind that is so integral to the collegiate style.
Steveson also benefits from the step out penalty. He thrives in his ability to cut off escape routes and force his freestyle opponents to either give up the point or place themselves in even graver danger.
Then there is the obvious fact that Gable is still a teenager, and merely scratching the surface of his wrestling potential.
Additionally, there is a precedent for this kind of trajectory. It wasn't that long ago that Kyle Snyder, fresh off a multiple loss true freshman college season, was looking to fulfill his freestyle hype on the senior circuit. Not that Steveson is guaranteed to match Kyle Snyder's trajectory, or anyone's else's for that matter, but the similarities are there.
Like Gable, Snyder entered his true freshman year with sky-high expectations. Like Steveson, Snyder fell short of an NCAA championship. Like Steveson, Snyder was a multiple-time UWW age division champion. Steveson is even slightly younger than Snyder was at the same point in their careers.
Obviously, Steveson's path won't be easy. He'll likely have to beat either Bradley, Cassar, or Derek White just to make it to Nelson. After Nelson, it's two-of-three against Coon. And that's just in Raleigh. Whoever emerges victorious in North Carolina will face Gwiazdowski at Final X - Rutgers.
All the wrestlers mentioned have their own reasons to believe they are the USA's best shot at winning a world medal. Now we get to see who proves it.