Unlock this article, live events, and more with a subscription!
Get Started
Already a subscriber? Log In
We're just a few days way from knowing the final 30 wrestlers who will be competing in Final X. This weekend's World Team Trials in Raleigh, NC will help determine our national teams and who will face the wrestlers who have already earned Final X berths.
Watch World Team Trials Live On Flo
May 17-19 | 10:00 AM Eastern
Our lightweight and middleweight previews have already come out, leaving only 92kg, 97kg and 125kg. Each of those weights had a world medalist last year, with J'den Cox and Nick Gwiazdowski already in Final X: Rutgers and Kyle Snyder waiting in Final X: Lincoln.
92kg
Sitting in Finals: Bo Nickal, Nittany Lion WC
Projected Seeds
Hayden Zillmer, Minnesota Storm
Michael Machiavello, Titan Mercury/Wolfpack WC
Tim Dudley, Sunkist Kids/NWTC
Kollin Moore, Ohio RTC
Riley Lefever, Nittany Lion WC
Timmy McCall, Titan Mercury/Wolfpack WC
Scottie Boykin, Titan Mercury/RTC South
Zillmer is one of the more underrated guys in the country, having made the national team in 2017 and then finishing as Final X runner-up to eventual world champ Cox last year. He hasn't faced Macchiavello or Dudley, who were the next two highest placers at the Open. Based on how their two matches went in Vegas, as well as the possibility that Dudley is still hurt, Macch should once again beat Dudley to make the challenge tournament finals. It will be up to Kollin Moore to make the necessary adjustments this time around when once again faces Zillmer in the semis.
The question is, how valuable is Macch's home field advantage? Wrestling in your home gym, sleeping in your own bed, preparing in familiar surroundings. I was outvoted on FRL by a 3-1 margin saying that Macch would make it out of the challenge tournament. I'm going to stick with that here, but I'm curious if he goes with a head outside single, which seems to be Zillmer's weak point.
97kg
Sitting in finals: Kyven Gadson, Sunkist Kids/Cyclone RTC
Projected Seeds
Ben Honis, Titan Mercury/Finger Lakes WC
Danny Chaid, California RTC
Ty Walz, Titan Mercury/Southeast RTC
Kevin Beazley, NYAC/Cliff Keen WC
Michael Boykin, Titan Mercury/Wolfpack WC
Wynn Michalak, Titan Mercury
Jeremiah Imonode, West Point RTC
Gadson is similar to Isaiah Martinez in that he has established himself as the clear #2 in his weight behind a world and Olympic champion. He did not give up a point in Vegas and is the overwhelming favorite to make it to Final X: Lincoln to face Kyle Snyder again. However, he has yet to make a big jump in terms of his international resume, so there is still room to grow depth at this weight.
Ty Walz seemed like the obvious choice to be the national team member behind Snyder and Gadson, but then he struggled in two matches against Danny Chaid, losing the second, as well as taking a loss to Ben Honis in the semis in which he was gut wrenched twice. The 16 pound difference between his college and international weight is clearly a big help to Honis, and his gut wrench should propel him into the finals against Gadson.
Unlock this video, live events, and more with a subscription!
Get Started
Already a subscriber? Log In
125kg
Sitting in finals: Adam Coon, NYAC/Cliff Keen WC
Projected Seeds
Tony Nelson, Minnesota Storm
Gable Steveson, Minnesota Storm
Mike Kosoy, Sunkist Kids
Dom Bradley, Sunkist Kids/NWTC
Derek White, Titan Mercury/Cowboy RTC
Youssif Hemida, Terrapin WC
Tate Orndorrf, Utah Valley RTC
Garrett Ryan, Sunkist Kids
Nick Nevills, Nittany Lion WC
Each of the past two years, Nick Gwiazdowski has won a bronze medal at the world championships, granting him a bye into Final X. His most likely opponent in Rutgers would be the same he had last year at Lehigh, Adam Coon.
After winning a silver medal in Greco-Roman in Budapest, Coon did not compete again until mid-April, when he won the Pan Am title in Greco. He then came back to America and won the U.S. Open in freestyle, which is why he's sitting in Sunday's finals. He had the same advantage last year, and beat Tony Nelson 6-1 and 10-4 in their series.
Nelson was Coon's opponent in the Open finals as well, beating Dom Bradley in the semis. Nelson should be the top seed based on his Open finals appearance, as well as his criteria win over Gable Steveson in the 2018 challenge tournament finals. Steveson, who will be wrestling senior level this weekend, has a lot to prove right now. He did not place at Junior worlds, and fell to Anthony Cassar at both Big Tens and NCAAs. His freestyle trajectory is even higher than Gwiz's, who many (correctly) felt would be the eventual successor to Tervel Dlagnev at heavyweight.
One wrestler who seems to be in a much improved space both mentally and in terms of his training situation is Mike Kosoy. The Dave Schultz champ will be seeded ahead of Dom Bradley, which should probably put him against Gable in the semis and opposite of Nelson; those are the same two wrestlers who beat him in last year's Trials. Kosoy used to wrestle at NC State and I believe will have a chip on his shoulder that will only help his performance. I'm picking him to be a surprise finalist and avenge both of his losses from Rochester.
Although I have seen an improved Kosoy this year, I'm not picking him to beat Coon. Same goes for Nelson, who has now lost three straight to the Michigan Man. Same goes for Steveson, who got teched by Coon in last year's Open. Nelson is the smart pick most will go with to win the challenge tournament, while some will echo my sentiment from a year ago that, while Gable might've lost to those senior level guys then, they won't ever beat him again.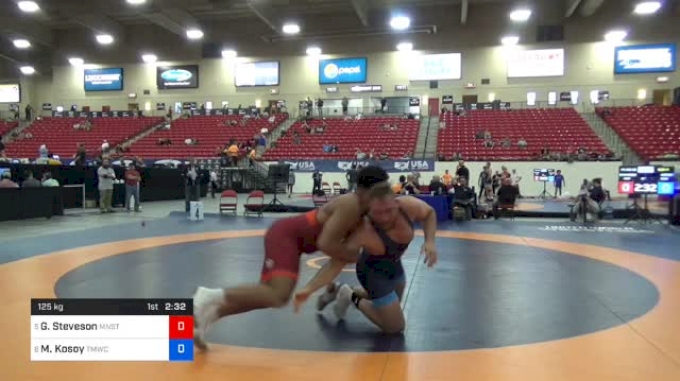 Unlock this video, live events, and more with a subscription!
Get Started
Already a subscriber? Log In
Predictions
92kg: Nickal over Zillmer in two matches
97kg: Gadson over Honis in two matches
125kg: Coon over Kosoy in two matches