Penn State Dominance Gains NFL Praise
Penn State Dominance Gains NFL Praise
Stop me if you've heard this before, but wrestling is extremely beneficial for football players.
Apr 3, 2019
by Ryan Holmes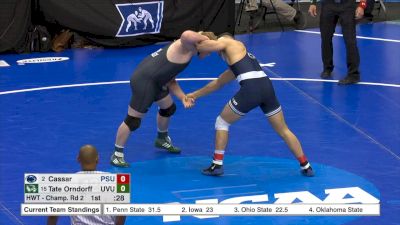 Stop me if you've heard this before, but wrestling is extremely beneficial for football players. If this is the first time you're hearing this, which I highly doubt, then let me give you some backup.
As it was currently reported by The Morning Call newspaper, the Penn State wrestling team has caught the eye of a few NFL football coaches, mainly Houston Texans Bill O'Brien, who was part of the Nittany Lion coaching staff before heading to Houston, and Bills' Sean McDermott, who has praised Cael Sanderson and the NCAA Champs in the past. He's also had World and Olympic Champ Jordan Burroughs join the Bills' during their training camp a few years back as well.
Recently, O'Brien stopped in at a practice while he was on campus.
"He's very involved with the wrestlers. I mean, he's out there wrestling with them. I'm not sure how many of those guys really want to wrestle him on a daily basis, but he's what wrestling is all about."
McDermott also got the invite to the Lions' den to watch the champs put in work and said he'd like to have Cael come visit the Bills as well, according to The Morning Call.
I had the opportunity to visit them the day before they left for the national tournament," McDermott said. "Just to be around their culture and around their building for a day was phenomenal. The connection between [Bills co-owner and Penn State graduate] Terry Pegula and Penn State is an obvious one. I've got a lot of respect for what they do up there. The number of national championships that they've won and the way they've won them I think speaks volumes for their program. I was very grateful for the opportunity to spend a day with them and be around their practice a little bit and watch what they do and how they do it.
But it wasn't just the culture at PSU that captures the eye of these coaches. It's the technique, the skill, the ability. That's what has coaches like McDermott and O'Brien champing at the bit to get some wrestlers to switch over to the gridiron. And there was one guy in particular that he's looking at - Anthony Cassar.
"I mean, at the combine, we would ask the players what other sports they played, so that's one of the sports we look for. When you're talking about leverage, hips, handfighting, balance — to me every football player, particularly interior linemen, should come up with a wrestling background. In fact, there's a couple of guys on their team I'd like to convert to football players, particularly that heavyweight [Anthony Cassar] that they've got."
Read the full article from The Morning Call.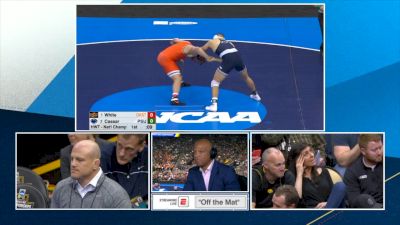 Unlock this video, live events, and more with a subscription!
Get Started
Already a subscriber? Log In