Burroughs Inspires The Buffalo Bills At Training Camp
Burroughs Inspires The Buffalo Bills At Training Camp
Jordan Burroughs dropped by the Buffalo Bills training camp to give an impromptu inspirational speech.
Aug 8, 2017
by Andrew Spey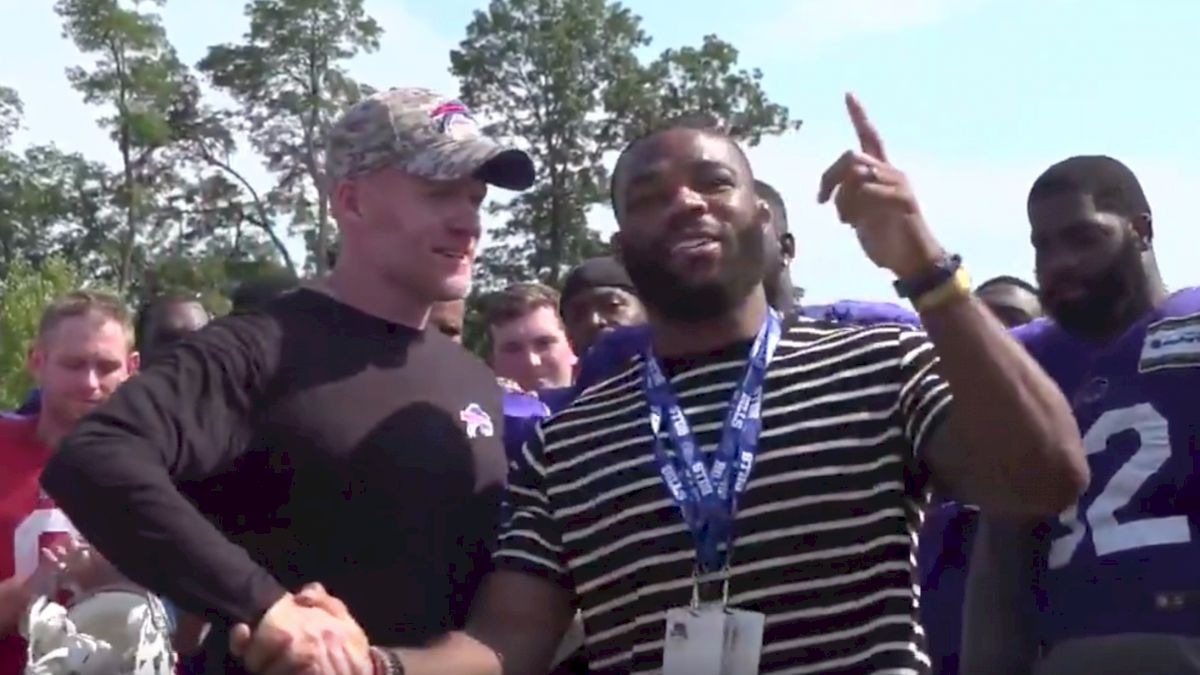 Jordan Burroughs stopped by the Buffalo Bills training camp in Rochester, NY, on Monday with the intention of fulfilling his patriarchal duties and collecting some signatures for his 3-year-old son, Beacon. But when Bills head coach Sean McDermott saw the four-time world and Olympic champion at his camp, he asked the former Nebraska Cornhusker to give an impromptu speech to the team, to which Burroughs gladly obliged.
Burroughs, whose wife is from the Buffalo area, spoke to the assembly of pro football players about the importance of remembering your love for the game and not competing solely for the money.
You know what's cooler than being the richest guy in the room? Being the toughest guy in the room. I want to be the toughest guy in the room. There are a lot of rich guys. Everybody makes money, not everybody makes history.
Burroughs implored the Bills to be the best in the world, telling them, "Discipline, focus, endurance, is what it takes to be the greatest."
McDermott,
a former wrestler
who doesn't shy away from talking up the virtues of the sport, gave Burroughs the honor of leading the team in a breakdown to end one of the last days of camp before the Bills start the new NFL season.
The full speech can be heard in the embedded tweet below.
Olympic champion wrestler (and Bills fan!) @alliseeisgold broke down today's huddle.

"Everybody makes money. Not everybody makes history." pic.twitter.com/SCuTnKkBvA

— Buffalo Bills (@buffalobills) August 7, 2017
Get all of the hottest FloWrestling content!
Sign up for the FloWrestling newsletter for instant access to: breaking news, live events, results, rankings, archived matches and more!