2019 Big Ten Wrestling Championship
FloWrestling's Official 2019 Big Ten Tournament Seed Predictions
FloWrestling's Official 2019 Big Ten Tournament Seed Predictions
FloWrestling's official seeding predictions for all 10 weights at the 2019 Big Ten conference tournament.
Feb 25, 2019
by Wrestling Nomad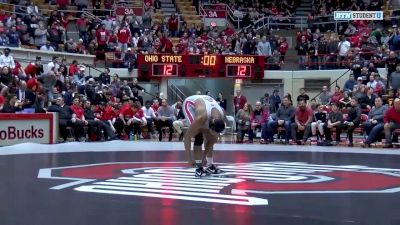 Unlock this article, live events, and more with a subscription!
Get Started
Already a subscriber? Log In
The regular season is over and the postseason is right around the corner. With every dual in the books, we thought we'd take a crack at predicting the seeds for the nation's premier conference tournament, Big Tens.
Watch the 2019 Big Ten Championships Live on Flo
March 9-10 | 10:00 AM Central
Hosted by Minnesota this year, the Big Ten tournament starts on Saturday, March 9th at 11AM Eastern. There is no doubt the conference will once again get the most automatic qualifier allocations, which should be released later this week.
The number of auto qualifier slots determines if the seeds go to the Top-8 or if the entire weight class is being seeded. Every weight will have eight seeds, even if the conference is given fewer than eight spots at a given weight. However, if any weight guarantees more than 8 spots to the national tournament, then the entire weight will be seeded.
Big Ten seeding is done by the 14 head coaches. On to the predictions.
125 Pounds
Sebastian Rivera, Northwestern
Spencer Lee, Iowa
Rayvon Foley, Michigan State
Sean Russell, Minnesota
Travis Piotrowski, Illinois
Drew Mattin, Michigan
Zeke Moisey, Nebraska
Devin Schroder, Purdue
Malik Heinselman, Ohio State
Elijah Oliver, Indiana
Devin Schnupp, Penn State
Brandon Cray, Maryland
Ethan Rotondo, Wisconsin
Shane Metzler, Rutgers
One and two are crystal clear. It should be noted that with Lee losing to Nick Piccininni, if the Hawkeye beats Rivera they'll likely be seeded to meet again in the NCAA semis. Foley and Russell did not hit, so I went with the Spartan because his loss is to Rivera while Russell's is to Lee. Piotrowski split with Mattin and his loss to Connor Brown will probably be thrown out since Brown will not be wrestling at Big Tens. Mattin beat Moisey at CKLV, and Moisey also beat Schroder at CKLV. Heinselman split with Liam Cronin and beat Elijah Oliver.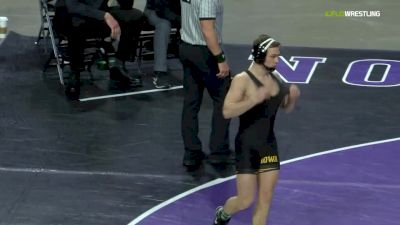 Unlock this video, live events, and more with a subscription!
Get Started
Already a subscriber? Log In
133 Pounds
Stevan Micic, Michigan
Austin DeSanto, Iowa
Nick Suriano, Rutgers
Roman Bravo-Young, Penn State
Luke Pletcher, Ohio State
Ethan Lizak, Minnesota
Ben Thornton, Purdue
Dylan Duncan, Illinois
DeSanto's win over Suriano ensured him a top-two seed, but I think Micic will get the nod for the top spot. The four through seven spots are a gut feeling, due to the following chain: Pletcher beat Lizak, Bravo-Young beat Pletcher, Thornton beat Bravo-Young, and Lizak beat Thornton. Based on rankings, as well as a loss to Pletcher in the dual, Thornton seems the most likely to be punished, which benefits RBY the most. Duncan lost to Jens Lantz but beat Anthony Tutolo, who lost to Colin Valdiviez. That eight spot is going to be difficult to identify, but it may be better to be drawn in and not have to face Micic in the quarters.
141 Pounds
Mikey Carr, Illinois
Nick Lee, Penn State
Joey McKenna, Ohio State
Tristan Moran, Wisconsin
Mitch McKee, Minnesota
Kanen Storr, Michigan
Chad Red, Nebraska
Max Murin, Iowa
No one's going to be happy with this weight. Carr went undefeated, but didn't wrestle against Nick Lee and didn't get a chance to beat McKenna as the Buckeye missed the dual at Illinois. Following my argument at 165, plus the case I made in a prior 141 article, I'd like to see Lee get the one but I don't think that's how it will happen. McKee had a slightly better conference ledger than Storr, but they didn't wrestle this season, so the coaches could very easily flip them. The eight seed is hard to figure out as we don't know if Iowa is going with Vince Turk or Max Murin. The latter lost to Kyle Luigs of Indiana but should still be seeded ahead, however, Turk only wrestled in two B1G duals.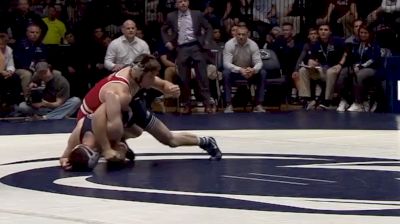 Unlock this video, live events, and more with a subscription!
Get Started
Already a subscriber? Log In
149 Pounds
Anthony Ashnault, Rutgers
Micah Jordan, Ohio State
Pat Lugo, Iowa
Tommy Thorn, Minnesota
Cole Martin, Wisconsin
Brady Berge, Penn State
Shayne Oster, Northwestern
Malik Amine, Michigan
If the favorites make the finals, the winner of this weight will get the top seed at NCAAs. Lugo lost to Sammy Sasso at Midlands, but the Ohio State freshman won't be in this field. The Hawkeye majored Thorn and beat Martin in overtime. Martin lost to Thorn and beat Berge, but also lost to Brayton Lee and Collin Purinton, neither of whom should be in the bracket.
157 Pounds
Jason Nolf, Penn State
Tyler Berger, Nebraska
Ryan Deakin, Northwestern
Alec Pantaleo, Michigan
Kaleb Young, Iowa
Steve Bleise, Minnesota
Eric Barone, Illinois
Ke-Shawn Hayes, Ohio State
Griffin Parriott, Purdue
Jake Danishek, Indiana
John Van Brill, Rutgers
Jacob Tucker, Michigan State
Garrett Model, Wisconsin
Ryan Diehl, Maryland
A very clean top four, as Nolf beat 2-4, Berger beat Deakin and Deakin beat Pantaleo. Although Young lost to Barone and didn't wrestle Hayes, his win over Bleise combined with Barone's two losses to Jeren Glosser give him the five. Bleise beat Barone and Barone split with Hayes, but Hayes otherwise has no wins over anyone above him. There are so many conflicting results in 9-12 that there is no easy way to do it, but Parriott's win over Berger was the best of the bunch so he's at the top of that little heap.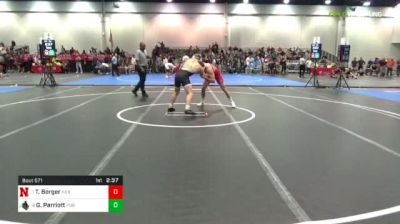 Unlock this video, live events, and more with a subscription!
Get Started
Already a subscriber? Log In
165 Pounds
Alex Marinelli, Iowa
Vincenzo Joseph, Penn State
Evan Wick, Wisconsin
Isaiah White, Nebraska
Logan Massa, Michigan
Te'Shan Campbell, Ohio State
Tyler Morland, Northwestern
Carson Brolsma, Minnesota
Bryce Martin, Indiana
Joey Gunther, Illinois
Phillip Spafadora, Maryland
Stephan Glasgow, Rutgers
Austin Hiles, Michigan State
Cole Wysocki, Purdue
I've made the case for Marinelli, but Cenzo could very well end up the top seed. White beat Massa and lost to the three above him. Campbell being at 174 for half the year could be problematic, but given the losses of those below him, six is probably fair. The big win in his favor is Tyler Morland, who beat Carson Brolsma, who beat Joey Gunther. Martin and Gunther did not meet, but I gave Martin the edge since Gunther has a loss to Nelson Brands.
174 Pounds
Mark Hall, Penn State
Myles Amine, Michigan
Mikey Labriola, Nebraska
Dylan Lydy, Purdue
Devin Skatzka, Minnesota
Ethan Smith, Ohio State
Ryan Christensen, Wisconsin
Drew Hughes, Michigan State
The top two are easy, but then there is a rock-paper-scissors below that. Christensen beat Labriola, Smith beat Christensen, and Labriola beat Smith. However, Labriola also beat Skatzka and placed ahead of Lydy at CKLV, so he should be the three seed. Lydy was 2-0 against Skatzka and also beat Smith. Skatzka placed ahead of Smith at CKLV but did not get a head-to-head with the Buckeye. Christensen has the big win over Labriola, but missed too much time to be able to justify putting him ahead of the Husker. Hughes beat Grello, who in turn beat Bowman and Covaciu.
184 Pounds
Myles Martin, Ohio State
Taylor Venz, Nebraska
Emery Parker, Illinois
Cash Wilcke, Iowa
Max Lyon, Purdue
Cameron Caffey, Michigan State
Shakur Rasheed, Penn State
Jelani Embree, Michigan
Mason Reinhardt, Wisconsin
Nick Gravina, Rutgers
Norman Conley, Indiana
Brandon Krone, Minnesota
Kyle Jasenski, Maryland
Brendan Devine, Northwestern
Myles is the no-brainer at one, but Venz beat Parker, Wilcke beat Venz, and Parker beat Wilcke. For the tiebreaker, we went with our 184lb national rankings, but any combination of those three is fair game. Lyon beat Caffey but lost to Nick Gravina, so it's possible Caffey goes ahead of Lyon. Rasheed missed six duals, including Michigan State and Purdue, plus his best win was Embree, so he gets dropped pretty hard. No one should be surprised if they put him five though. Embree's best win is Conley, so he's not going to be fun to seed. Conley could even go above Reinhardt and Gravina, but with Gravina beating Lyon and Reinhardt beating Gravina I think that's how they shake out.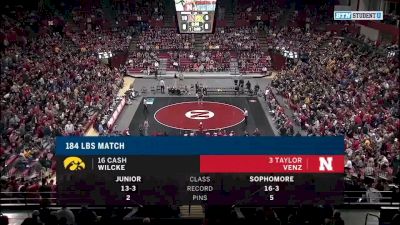 Unlock this video, live events, and more with a subscription!
Get Started
Already a subscriber? Log In
197 Pounds
Bo Nickal, Penn State
Jacob Warner, Iowa: 10-0
Kollin Moore, Ohio State: 10-1
Eric Schultz, Nebraska
Christian Brunner, Purdue
Jackson Striggow, Michigan
Dylan Anderson, Minnesota
Brad Wilton, Michigan State
It would be perfectly reasonable if they made Kollin Moore the two seed, as his only loss is to Nickal. Schultz lost to the three guys above him, and Brunner did not wrestle in the dual against Nebraska. Brunner also suffered a loss to Mitch Bowman of Iowa, who is normally their 174. Striggow only lost to those above him: Nickal, Moore, Brunner, Schultz. Anderson was the Gophers' starter for the last six duals of the season. Wilton beat five of the six guys who won't be seeded. This weight will likely have fewer than eight auto qualifier spots.
285 Pounds
Gable Steveson, Minnesota
Anthony Cassar, Penn State
Mason Parris, Michigan
Trent Hillger, Wisconsin
Chase Singletary, Ohio State
David Jensen, Nebraska
Conan Jennings, Northwestern
Sam Stoll, Iowa
This weight will no doubt be the hardest to seed. Steveson and Cassar did not lose, so they will be your top seeds, but beyond that no one has a clean resume. Try to follow this web: Parris beat Hillger, split with Singletary, and twice lost to Jennings. Hillger beat Singletary, lost to Jennings, did not wrestle Jensen, and beat Stoll. Singletary beat Jensen and Jennings, while Jensen beat Jennings and Stoll but lost to Youssif Hemida. That win is Hemida's only consideration of making it in the Top-8 seeds, which again there are only eight because there are that many auto qualifier spots for the NCAA tournament. Stoll beat Jennings and Hemida but lost to Jensen and Hillger.