Unlock this article, live events, and more with a subscription!
Get Started
Already a subscriber? Log In
We've got a bit of an issue on our hands at 141 pounds. The Big Ten coaches are not going to have an easy time deciding who should be seeded where for the conference championships.
The regular season isn't over, there's still two weekends left to go, but at this point there's enough data to start putting together scenarios of what the seeds will look like. Before we start, here are the latest Big Ten rankings at 141 (from February 12th).
As it stands right now, here's how I think the top four looks, with their record against other conference opponents:
Mikey Carr, Illinois: 7-0
Nick Lee, Penn State: 6-1
Joey McKenna, Ohio State: 5-1
Tristan Moran, Wisconsin: 9-2
Lucky for us, Nick Lee wrestles Mikey Carr this Sunday in Urbana-Champaign where the top seed should be on the line. Carr beat Lee 10-6 in last year's Big Ten semis.
Watch Penn State at Illinois Live on Flo
Sun. Feb. 17 | 1:00 PM Central
Right now, Carr has wins over the rest of the top eight in conference, the best total resume of anyone in this article. He's beaten Mitch McKee, Kanen Storr, Max Murin, Chad Red, and most recently, Tristan Moran.
Where it gets dicey is if he loses to Lee on Sunday. He lost to Joey McKenna 13-0 in the conference finals last year, but McKenna did not wrestle when Ohio State traveled to Illinois. There is a difference between two wrestlers not meeting because the conference did not schedule a dual between their teams, and one wrestler not competing in a dual.
Procedurally speaking, and I will repeat this point through several articles about Big Ten seeding, not participating in a dual should be punished when it comes to seeding. This of course creates issues because it is impossible to distinguish ducking from legitimate injuries and sicknesses, but the facts are all that should be taken into account, and when someone doesn't wrestle, the person who did compete should be afforded some benefit.
Lee's only conference loss was to Moran in State College on January 13th. While Andrew Spey and Christian Pyles do not factor in margin of victory when doing our national rankings, I find it hard to believe the Big Ten coaches will punish Lee harder for a 12-10 overtime loss to Moran than they do Moran's 14-2 loss to McKenna. It's much easier to put Lee ahead of Moran if the Nittany Lion beats Carr than any situation in which Moran is seeded ahead of McKenna.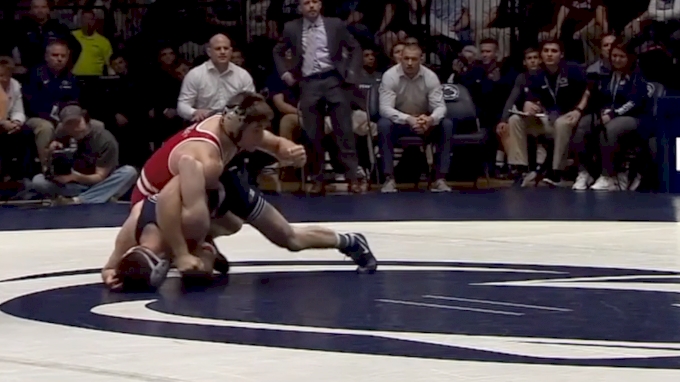 Unlock this video, live events, and more with a subscription!
Get Started
Already a subscriber? Log In
What hurts Moran is that he'll have losses to both McKenna and Carr, so with two conference losses, he has a much worse case for the two seed. On paper, McKenna only has one loss, but I've already argued not wrestling against Carr should be treated as a loss.
A Carr win over Lee would mean they have a rock paper scissors on their hands of Lee beating McKenna, Moran beating Lee, and McKenna beating Moran. Going down the line, McKenna teched Kanen Storr but did not get a chance to wrestle Mitch McKee. Likewise, Lee has a 10-4 win over Storr but will not see McKee in the regular season. Meanwhile, Moran won't see Storr but pinned McKee in sudden victory of their dual last month.
It is far more likely they put McKenna or Lee at the two seed than Moran. If McKenna gets the two, they'd make Moran three and Lee the four. It would not surprise me if they went with this option given that McKenna beat Carr last year and only has one conference loss.
Mikey Carr, Illinois
Joey McKenna, Ohio State
Tristan Moran, Wisconsin
Nick Lee, Penn State
But if Lee gets the two, McKenna's the three and Moran's the four. Since this is going to come up at other weights (Vincenzo Joseph at 165 and Shakur Rasheed at 184), I think it would be wise to stick to results from this season only and apply some punitive measure for missing duals. That would make the seeds look like this.
Mikey Carr, Illinois
Nick Lee, Penn State
Joey McKenna, Ohio State
Tristan Moran, Wisconsin
Ultimately there is no true right way to seed when everyone in the top four has a loss. If Lee beats Carr, he should be the top seed. That would leave it up to the coaches to make McKenna or Carr the two, which as I already mentioned the conference as a whole should be consistent with whether or not they punish guys who miss duals, because it is something that will come up more than once over the course of seeding.