2019 Big Ten Wrestling Championship
Why Vincenzo Joseph Should Be The 3 Seed At Big Tens
Why Vincenzo Joseph Should Be The 3 Seed At Big Tens
Why Vincenzo Joseph should be the three seed at the Big Ten tournament no matter what happens on Sunday between Evan Wick and Alex Marinelli.
Feb 12, 2019
by Wrestling Nomad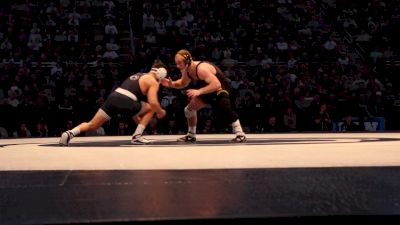 Unlock this article, live events, and more with a subscription!
Get Started
Already a subscriber? Log In
The winner of Sunday's match between #2 Alex Marinelli and #3 Evan Wick should be the top seed at the Big Ten tournament. The loser should get the second seed.
Watch Iowa at Wisconsin Live on Flo
Sun. Feb. 17 | 2:00 PM Central
That leaves two-time defending NCAA champ and #1 ranked Vincenzo Joseph as the third seed. What's the reason for that? Simple: Joseph did not wrestle Wick in the dual.
One of the most discussed topics this season has been top stars sitting out matches. While it is impossible to prove whether someone was ducking or they were in fact injured/sick, there must be punitive measures for missing competition. Therefore, just like I did with the 141lb seeds, I am advocating that a star be punished for not wrestling in a dual.
Even for Penn State fans, they could probably tolerate Marinelli getting the top seed over Cenzo since he would be undefeated in the conference with two wins over Wick. However, another level of thought would be required if Wick beats Marinelli.
The argument is thus: It's clear that the top three seeded wrestlers should be Joseph, Wick, and Marinelli, as all three have beaten Isaiah White, who in turn has beaten Logan Massa. Marinelli is currently the only wrestler in the group with a win over someone else in the top three. Whether Wick avenges his Midlands loss to Marinelli or not, he should get credit for wrestling against Penn State while Joseph sat out.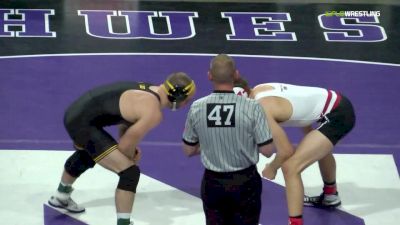 That dual was January 13th in State College. The Nittany Lions sent out Mason Manville after Joseph did not weigh-in. Similar to my argument for Mikey Carr over Joey McKenna, if you don't wrestle in a dual, it should be considered as either a loss for the athlete not competing or a win for the one who does weigh-in and compete.
This is different than two wrestlers who cannot hit during the regular season due to their team's schedule, which is the case with Joseph and Marinelli. Since Penn State and Iowa were not scheduled to dual by the Big Ten, and did not cross paths in a tournament, the resumes of the two must be objectively measured.
What helps Cenzo's case is that he will have wins over the 4-7 seeds in White, Massa, Bryce Martin, and Te'Shan Campbell. However, Marinelli's schedule did not allow for him to wrestle Massa or Campbell, and Wick's did not afford him the chance at Massa or Martin. Campbell wrestled against Wisconsin, but he was still up at 174 at the time.
No matter how it plays out, the PSU junior will have a tough semifinal. If he's given the one, he'll see White, who he has never scored a regulation takedown against. If he gets the two or three, he'll face Wick, a returning third who he's never wrestled against, or Marinelli, who beat Joseph the last time they wrestled.
To me, there are two options for seeding. If Marinelli wins again, it goes like this:
Alex Marinelli, Iowa
Evan Wick, Wisconsin
Vincenzo Joseph, Penn State
If Wick wins, the seeding should be as follows:
Evan Wick, Wisconsin
Alex Marinelli, Iowa
Vincenzo Joseph, Penn State
This is a great opportunity at not only 165, but several other weights, for the Big Ten coaches to be able to make a stand and set a precedent against sitting out competition. If they simply look at conference records after a Wick victory, they'll give Cenzo the one, which only encourages sitting out.
Again, these recommendations are procedural in nature. Also, the coach should always do what is best for the athlete and if they are not healthy, they shouldn't weigh-in. But like injury time, it is better to be safe than sorry in college wrestling. To prevent wrestlers from taking injury time merely to receive a break to relax and rest, the other wrestler is given choice. Conference seeding should follow suit and punish wrestlers who sit out competition. The way to do that is by giving wrestlers who wrestle, in this case Wick, a seeding edge over those who don't.