2018 UWW World Championships
Day 3 Recap
Day 3 Recap
Notes for Men's Freestyle on Day three of the World Championships in Budapest.
Oct 22, 2018
by Willie Saylor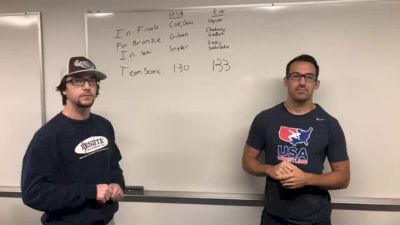 Day 1 Recap | Day 2 Recap | Team Race | Play-by-Play
Day Three Notes - Session 2
For Men's Freestyle we have three wrestlers going for a medal and Kyle Snyder wrestling his semifinal.
Thomas Gilman goes for Bronze, Kyle Dake and J'den Cox are in the finals. Jacarra Winchester is in the semifinals for the Women as well.
First up was Snyder who had Pavlo Oliinyk, a 3-time World Bronze Medalist for Ukraine now wrestling for Hungary. No action early and only a shot clock point for Snyder at the break.
Snyder
Snyder scored early in the 2nd to go up 3-0. Oliinyk pushed the pace with a minute to go but Kyle played good defense, denying a clean shot to get off.
Snyder makes the final for the 4th straight year and for the second consecutive year he'll face Abdulrashid Sadulaev (RUS) in the finals.
Winchester
Winchester next and she almost had a pushout :20 in but they stalemated it. Later, Zalina Sidakova (BLR) earned a point on an obligatory shot clock violation. 1-0 at the break.
Winchester was in deep on a shot at 2:00 but Sidakova fought it off. They then put Sidakova on the clock and things were tied at 1 for the briefest of moments as Sidakova shot and pushed Jacarra out. Jacarra pushed the pace but really couldn't get anything going with an underhook as Sidakova maintained position in the middle well. With :04 Winchester blasts through! Iffy takedown awarded. They reviewed and it's overturned. Winchester loses and will wrestle in the Bronze bout.
Gilman
Thomas out for the first medal match of the day against U23 Bronze Sulyeman Atli (TUR). Typical Gilman early. He doesn't pull the trigger on leg attacks but forces Atli to the zone multiple times. He forces a clock that expires and It's 1-0 at the break.
Atli very active early. Nearly has a takedown on the edge but settles for a push out. Atli immediately in on a single and converts. Gilman exposes. They give 2 + 2. 5-1. Gilman's pace is becoming a thing. He gets three easy pushouts outs. 5-4 with :36 on the restart. Atli is dead. But somehow stays in the center. Gilman has to settle for 5th.
Team Race Update
The Gilman loss coupled with the Gold medal won by Uguev in the next match, sealed the team title for Russia.
Kyle Dake
Here we go! Kyle Dake's World title bout. Not much action early, but not surprising; Hasanov is a savvy vet that is more technical than aggressive. Just a push out for Dake. 1-0 at the break.
Kyle takes a reattack and a leg in the air for a moment but Hasanov counters. Dake pressures in though and gets a step out. 2-0. A minute and a half goes by without much action. At :40 Hasanov starts moving and snapping. Half shots. Nothing remotely close. Dake warned at :19 to circle. Nothing close. Dake wins! World Champ, unscored upon the entire tournament!
J'den Cox
J'den for the title....let's go! And J'den shoots deep almost immediately. Pulled up into an underhook. It gets stalemated on the edge. Yankouski (BLR) who has not previously given up a point this tournament, surrenders his first on a shot clock. J'den then gets a passive warning and that's all she wrote for the first.
After the break there's good action. Both guys getting to underhooks and pummeling out of them. Halfway through and J'den puts a couple things together that draws another passive on Yankouski. J'den gets warned as Yankouski is chasing. He then gets hit with a Caution and 1. 2-1 with :10. Yankouski chasing, J'den counters. It's over. J'DEN COX. WORLD CHAMP! Three straight years with a medal and this one is GOLD!!!
US Session 2 Results:
55KG Semifinal - Zalina Sidakova (BLR) dec. Jacarra Winchester, 2-1
97KG Semifinal - Kyle Snyder dec. Pavlo Oliinyk (HUN), 3-0
57KG Bronze - Suleyman Atli (TUR) dec. Thomas Gilman, 5-4
79KG Gold - Kyle Dake dec. Jabrail Hasanov (AZE), 2-0
92KG Gold - J'den Cox vs. Ivan Yankouski (BLR)
US - Russia Scoring Comparison
Incredibly, only three of the twenty combined wrestlers on these teams did not reach a medal bout. Russia has the title locked up. It is possible, based on what happens tomorrow, that James Green earns 10th place, which would give us 2 additional points.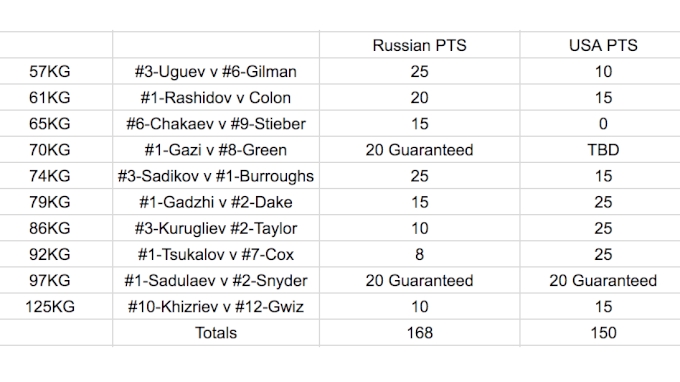 Day Three Notes - Session 1
Team Race Situation to Start Day 3
The U.S. Men's Freestyle Team entered the day with a 120-113 lead on Russia. Each nation has three wrestlers in medal matches today and two wrestlers kicking off their tournament.
Thomas Gilman will wrestle for Bronze in the second session while Kyle Dake and J'den Cox are in the finals. James Green and Kyle Snyder begin their tournaments.
Russia counters with #1's Gazimogamedov (70kg) and Sadulaev (97kg). They have Uguev (57kg) in the finals with Chakaev (65kg) and Gadzhimogamedov (79kg) going for Bronze.
Match Notes
Snyder started with a quick tech of American Somoa. James edged 2018 JR World Champ Gadzhiyev of AZE, 6-5
Then disaster struck as James led Erdene (MGL) 2-2 with short time and got taken down. Erdene has Russia's Gazimogemedov next round. If Gazi wins, James is eliminated.
Update: Gazi won a tight, yet comfortable win over Erdene, leading 1-0 at the break and a 5-0 final score. James Green is out.
In the quarters, Snyder outclassed Abraham Conyedo (ITA), formerly of Cuba. Snyder scored on two powershots and a counter. Though Conyedo showed good footwork, earning two step outs. Snyder led 7-2 at the break. Two more takedowns in the 2nd gave Snyder an 11-2 win and a move to tonight's semi.
It's a two-team race and this is what each country has remaining: