2018 UWW World Championships
Freestyle Day 1 Recap
Freestyle Day 1 Recap
Day 1 recap from the World Championships in Budapest.
Oct 20, 2018
by Willie Saylor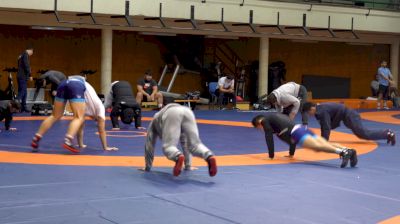 David Taylor is on to the World finals.
After an undefeated calendar year where he beat some of the best in the world, Taylor is now on the precipice of a World Title.
And what a day it was.
He started off with none other than Hassan Yazdani Charadi (IRI/match details below), blew through Medved Champ Haji Rajabau (BLR) and Yurieski Torreblanca (CUB) before a mesmerizing come-from-behind win over #3-Dauren Kurugliev (RUS).
Taylor and Kurugliev traded push-outs to start their semi. Soon after, Taylor had Kurgliev's leg when it appears he had his bell rung. Taylor staggered and took a quick injury time out but didn't seem to be fully composed.
Kurugliev scored a takedown and then another on what was likely the fastest snap and spin ever caught on camera. It made it 5-1 at the break.
Just like in his opener with Charati, the Magic Man came out firing in the second period, cutting the lead to 5-3 ten seconds into the period. Another Taylor takedown had him leading 5-5 on criteria with just under 2:00 remaining. Taylor played defense and then added a nice reattack score in the closing seconds.
Taylor is the only one of the four U.S. competitors to reach the finals on Day 1. But all four are still alive as the American contingent went 9-3.
Joe Colon led us off in the second session against the dangerous Cuban Yowlys Bonne Rodriguez. The two-time World Bronze medalist stymied Colon earning a shot clock point with a minute to go. Late in the period Bonne earned a 4 and would start the second the exact same way, building up a 9-0 lead en route to a 9-4 win.
Colon will now have a Bronze medal match tomorrow against the winner of Yakhkeshi (IRI) and Guidea (ROM).
America's six-time World Medalist Jordan Burroughs lost to Russia's Zaurbek Sidakov in the quarters in the first session, but he's still alive. Ranked #3 in the World, Sidakov beat #1-Frank Chamizo (ITA) in the semi's to pull Burroughs back in. With the match tied at 1-1 late, Sidakov hit a beautiful throw-by. Chamizo could only earn a step out and Sidakov took it, 3-2.
Burroughs awaits the winner of Franklin Gomez (PUR) and Miroslav Kirov (BUL). Should he win that, Burroughs would wrestle Chamizo for Bronze. They are 1-1 against each other this year.
Gwiazdowski was 1-1 and just short time from making the semi's. He lost to Zhiewi Deng of China, who made the finals though, and will have Amaveer Dhesi in the repechage.
The U.S. vs. Russia
The US has one wrestler in the finals (Taylor), one wrestling for Bronze (Colon), and two wrestlers that need to win one match to get to the Bronze bout (Burroughs and Gwiazdowski).
Russia has two in the finals (Rashidov and Sidakov) with both semifinal losers (Kurugliev and Khizriev) one bout from the medal match in repechage.
Georgia is also a player in the team standings at this point as they put Kentchadze (74) and Petriashvili (125) and have Lomtadze (61) in the Bronze bout.
US Match Ups
61kg Bronze - Joe Colon vs. TBD
74kg Repechage 2 - Jordan Burroughs vs. TBD
86kg Final - David Taylor vs. Fatih Erdin (TUR)
125kg - Nick Gwiazdowski vs. Amarveer Dhesi (CAN)
Finals Match Ups
61kg - Yowlys Bonne Rodriguez (CUB) vs. Gadzhimurad Rashidov (RUS)
74kg - Zaurbek Sidakov (RUS) vs. Avtendil Kentchadze (GEO)
86kg - David Taylor vs. Fatih Erdin (TUR)
125kg - Geno Petriashvili (GEO) vs. Zhiewi Deng (CHN)
First Session Notes
The United States started off on a blistering pace.
Looking to defend their 2017 Paris World Team Title in freestyle, the four members that wrestled for the Stars & Stripes went a combined 6-0 through the preliminaries of opening session at the 2018 World Championships.
Two late match losses in the Quarterfinals would scar the hot start.
David Taylor got things kicked off at 86kg by beating Hassan Yazdani Charati (IRI) in the first round. Charati made the finals at the last three World/Olympics, winning Gold in 2016 and 2017.
Charati got to his underhooks early and Taylor was a bit risky on a couple occasions. The first, when he floated his hips over Charati, saved him a point as he gave up a pushout instead of the takedown. Later, Taylor attempted a chest wrap that caused him to give up two. It was 6-2 at the break.
But Taylor, who gassed Charati in Charati's first appearance at 86kg at the 2017 World Cup, poured it on in the second period, scoring on both his attacks and countering Charati's. 11-6 was the final and Charati was exhausted.
Taylor would go on the smash the Medved Champ, Hajy Rajabau (BLR), 10-0 and then completely control Yurieski Torreblanca (CUB), 8-0. Taylor had beaten Torreblanca twice before in close bouts.
Six-time World Medalist, Jordan Burroughs (74kg) had a forfeit to start before squeaking by Iran's Mostafa Hosseinkani, 4-3. They traded takedowns and Burroughs got a late pushout to win it.
In the quarters, Burroughs once again had a nailbiter. Ranked #3 in the World, Russia's Zaurbek Sidakov tied things up at two just before the break with a shrug. Burroughs, who had been on shot clock, opened the scoring with a nice low level attack.
In the second period, Burroughs scored a pushout in the opening :30 seconds to lead 3-2. With under a minute to go, Sidakov scored on a high crotch. Burroughs got his motion and shot into a body lock that he used for a takedown and what looked to be another case of late match magic. But with :08 left on the restart, Sidakov got in deep. Burroughs tried to cut the corner and Sidakov lifted the leg and drove Burroughs out of bounds to win 5-5 as time expired.
Burroughs will now have to hope Sidakov beats Italy's Frank Chamizo (which he has done before) to get pulled into repechage.
The feel good story of Day 1 for the U.S. is Joe Colon. A replacement for Final X Champ Nahshon Garrett, Colon went 2-0 to reach the semi's where he'll have Cuba's Yowlys Bonne Rodriguez, last year's Bronze medalist. Colon teched Bulgaria's Vladimir Dubov in the quarters with two upper-body attacks.
At HWT, Nick Gwiazdowski, a returning World Bronze Medalist, beat Mongolia's Zolboo Natsagsuren with ease, 9-4 in the opening round. He then looked to be in good shape in the quarters. Gwiazdowski led 2-1 late without Zeng (CHN) showing any offensive threat. But Gwiz took a shot and Zeng chest wrapped for 4pts.
Team Race
The Burroughs loss was a big swing match. Russia has three in the semi's to the USA's two. Having Burroughs and Gwiazdowski get pulled back in to repechage will be critical.
Next for the U.S.
61kg Semifinal - Joe Colon vs. Yowlys Bonne Rodriguez (CUB)
74kg - Jordan Burroughs - Enters repechage with Sidakov win over Frank Chamizo (ITA)
86kg Semifinal - David Taylor vs. Dauren Kurugliev (RUS)
125kg - Enters repechage with Deng win over Sumit (IND)
Other Wrestlers With American Ties
74kg - Franklin Gomez (PUR) tf. Nestor Taffur (COL). Gomez lost in the second round.
74kg - Avtandil Kentchadze (GEO) dec. Bekzod Rakhmanov (UZB), 12-12 in R1.
86kg - Ville Heino (FIN) tf. Dominic Abounader (LEB). Heino lost in the quarters.
125kg - Zhiewi Deng (CHN) dec. Amar Dhesi (CAN), 4-1 in R1.