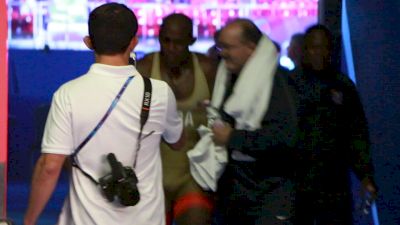 For full play-by-play see these updates. | Full medal match results here when available.
Absolutely nothing short of an amazing day for the US Men's Freestyle Team.
All four of our Day 1 wrestlers medaled and of our four Day 2 wrestlers, two made the finals and a third is wrestling for Bronze.
Read the above sentence again. It's unprecedented in American wrestling history.
Ladies and Gentlemen, we're in first place.
After the team race tightened up with the semifinal round, the US guys in the medal bouts had to feel the additional gravity of the task at hand.
When J'den Cox and Kyle Dake reached the finals, the US tied Russia.
Joe Colon wrestled in the first medal bout of the 2018 World Championships and came out firing, building a 3-0 lead within :30 on Yakhkeshi (IRI). It was 3-1 at the break. In the second period he ended it with a series of guts. WORLD BRONZE for Joe COLON!!!!
One of the premier bouts of the tourney was next for American fans. There was a lot of motion and cat-and-mouse action when Burroughs-Chamizo took place, but just a shot clock point for JB before the break.
Things in the 2nd got much more interesting. With JB on the clock, he got a takedown and what looked like a gut. After a Italian challenge, they somehow ruled it 2 and 2. Burroughs also came out on the short end of another call and trailed 4-3. But Burroughs would get a pushout to lead on criteria and played great defense for the win! The 7th World Medal for Burroughs!
After waiting what seemed like an eternity, the Magic Man came to the mat for the only U.S. final of the day. Honestly, after beating Charati in the first round, everything for DT seemed like a formality; at least it seemed that way in my conscience. Two early takedowns for DT. Erdin scored on a nice finish on the edge. 4-1 midway through the first and that's how the period would end.
In the 2nd...ball game. DT was doing whatever he wanted, including a score nine seconds in. It wrapped up with a tech with a minute to go. And finally. Finally. David Taylor had a medal, and it was a golden one. WORLD CHAMPION! David Taylor!
Like every match he wrestled in this tournament, Nick Gwiazdowski was dictating action against Sumit (IND) in his Bronze match.. In the first period, two stepouts and a takedown staked him to a 4-0 lead at the break.
Sumit was immediately called for a point for hands to the face, showing frustration. Then he actually set up a good attack to cut it to 5-2. Gwiz got his feet back under him and scored to make it a 5pt. match again. And Gwiz does it. More team points for USA and Nick Gwiazdowski by a 7-2 score goes Bronze in back-to-back years!
US Medal Bout Results
61KG Bronze - Joe Colon tf. #12-Yakhkeshi (IRI), 13-2
74KG Bronze - #2-Jordan Burroughs dec. #1-Frank Chamizo, 4-4
86KG GOLD - #2-David Taylor tf. #11-Fatih Erdin (TUR), 12-2
125KG Bronze - #12-Nick Gwiazdowski dec. Sumit (IND), 7-2
Day 2 Semi's
The start of the second session began with the semifinals for the Day 2 competitors, which meant Thomas Gilman led us off. The veteran Artas Sanaa (KAZ) scored a takedown early while Gilman tried to use the underhook and tie ups that were successful for him earlier in the tournament. It was just 2-0 at the break bur Sanaa hit a high crotch that technically (and/or controversially) took Gilman from feet to back. Sanaa went right into a turn and it was 8-0. 9-0 after the failed challenge and a final takedown made it an 11-0 tech, sending Gilman to the Bronze bout.
Logan Stieber was eliminated from 65kg repechage contention when Akhmed Chakaev lost to 19-year old Takuro Otoguro (JPN)
Kyle Dake took the mat next against #1-ranked Akhmed Gadzhimogamedov who had beat him in Yarygin finals in January. "Gadzhi" held center early with Dake on the outside. :45 into the period, Gadzhi pushed into Dake with a half duck attept and Dake pulled it up and hipped him over for 4. A lost challenge and another Dake takedown made it 7-0. A point for a headbutt put Dake up 8-0 at the break.
Thirty seconds into the 2nd, Dake took a deep shot into a seatbelt and then to a body lock for 4. And what was supposed to be a nailbiter was a woodshedding!
J'den was our last semi of the day. He faced Karimi (IRI) whom he beat in the quarters in Rio. Not much going on in the first and Karimi gave up a shot clock point to give Cox a 1-0 lead at the break.
The pace picked up in the 2nd and J'den turned Karimi around on the edge for a step out. 2-0. Karimi immediately fired off a shot that scored but J'den switched him easily. 3-2. J'den then used excellent footwork to avoid a pushout and countered for the final score, 5-2. And on to the finals!
Day 3 US Matchups
57kg Bronze - Thomas Gilman vs. TBD
65kg - Logan Stieber - eliminated
79kg - Kyle Dake vs. Jabrail Hasanaov (AZE)
92kg - J'den Cox vs. Ivan Yankouski (BLR)
Team Race
First Session Notes
4-for-4.
All Day 1 Americans will wrestle for a medal after Nick Gwiazdowski and Jordan Burroughs won their repechage bouts.
Gwiz downed Amarveer Dhesi (CAN), 7-0 and Burroughs blanked Bulgarian Miroslav Kirov, 9-0.
They join Joe Colon, who is in the Bronze medal bout, and David Taylor, who is in the finals.
The next 4-man flight had great success as well, posting a 6-1 combined record.
In their first bouts, J'den Cox opened with a solid win over #6-Dato Marsagashvili (GEO), Kyle Dake teched Euro runner-up Martin Obst (GER) with ease, and Thomas Gilman had a workmanlike win over Givi Davidovi (ITA).
Gilman then used a bull-like offense to down #5-Edisherashvili (AZE) who had beaten Gilman at World Cup. Using underhooks and front head, Gilman moved him to the edge and picked up several step-outs for a 4-0 win.
Dake made it look like a walk in the park in his quarter, ragdolling #16-Khutashvili with a series of back and forth guts for the tech.
Jden made the US 3-for-3 in Sunday semis with a 6-0 whitewashing of #12-Ceban (ROM).
Logan Stieber dropped his opening bout to #6-Akhmed Chakaev (RUS) but remains alive as Chakaev is in the semifinals.
Second Session US Match Ups
Semifinals
57 - Thomas Gilman vs. Artas Sanaa (KAZ)
79 - #2-Kyle Dake vs. #1-Akhmed Gadzimogomedov (RUS)
92 - #7-J'den Cox vs. #7 (at 97)-Alireza Karimi (IR)
Medal Bouts
61KG Bronze - Joe Colon vs. #12-Yakhkeshi (IRI)
74KG Bronze - #2-Jordan Burroughs vs. #1-Frank Chamizo
86KG GOLD - #2-David Taylor vs. #11-Fatih Erdin (TUR)
125KG Bronze - #12-Nick Gwiazdowski vs. Sumit (IND)
Team Race
1. Russia - 90
2. USA - 80
3. Georgia - 50
3. Iran - 50
5. Cuba - 30
5. Turkey - 30
5. Japan - 30