With every Final X matchup set, we have started breaking down each match individually. On Saturday, June 9, in Lincoln, NE, 2017 world team member Tamyra Stock is taking on past Pan Am silver medalist Randyll Beltz for the right to represent Team USA at the World Championships later this year in Budapest, Hungary.
The addition of two new weight classes seemed to help Stock, who went from 69kg for day-before weigh-ins to 68kg for day-of weigh-ins. Beltz is coming up from 63kg at last year's U.S. Open.
Where: Lincoln, NE | When: Saturday, June 9
Stock (nee Mensah) has entered the prime of her career. Earlier this year, she became the second American woman to win two titles at the prestigious Ivan Yarygin in Russia, and the first to win back-to-back.
The 25-year-old made her first world team last year after winning the Olympic Team Trials in 2016. Unfortunately for American fans, Stock was unable to qualify for the Rio Olympic Games. Aside from wrestling in Paris last year, she also obtained a silver medal at the 2014 World University Championships.
Final X Breakdowns: 55kg | 59kg
After going 1-1 and losing to eventual bronze medalist Yue Han of China, Stock did not take her foot off the gas. She wrestled Junior Asian bronze medalist Mai Hayakawa of Japan at the Beat the Streets LA event and then went up to 76kg for the Dave Schultz a couple days later. She closed out her 2017 by going 3-1 at the World Cup and then getting silver at the Russia Cup. At both events, she beat European champ Anastasia Bratchikova of Russia.
As previously mentioned, Stock kicked off her 2018 with a Yarygin title. Then in February, she beat 2014 bronze medalist Laura Skujina (LAT) and 2016 World University champ Buse Tosun (TUR) en route to a third-place finish. Since then, Stock went 1-1 at the 2018 World Cup and beat two-time Olympian Blessing Oborududu of Nigeria at Beat the Streets.
Unlock this video, live events, and more with a subscription!
Get Started
Already a subscriber? Log In
Beltz has spent the majority of her Senior-level career between 58kg and 60kg, deciding to make the big jump for same day weigh-ins. It took her some time to grow into the weight, with her first match up being a 10-0 loss to Junior world teamer Alex Glaude. That was at November's Dave Schultz, where she ultimately wound up third.
The Missouri native did not compete again until April at the U.S. Open in Las Vegas. There, Beltz won her first match by pin in 33 seconds and then got a 10-0 tech in just over a minute. She would ultimately lose to Stock in the finals, allowing Stock to qualify herself for Final X.
Now competing for the U.S. Army World Class Athlete Program, Beltz avenged her Glaude loss at the World Team Trials challenge tournament with an 11-0 victory in the semis. Then in the finals, the 28-year-old took out WCWA All-American Yvonne Galindo 10-0 and 15-4.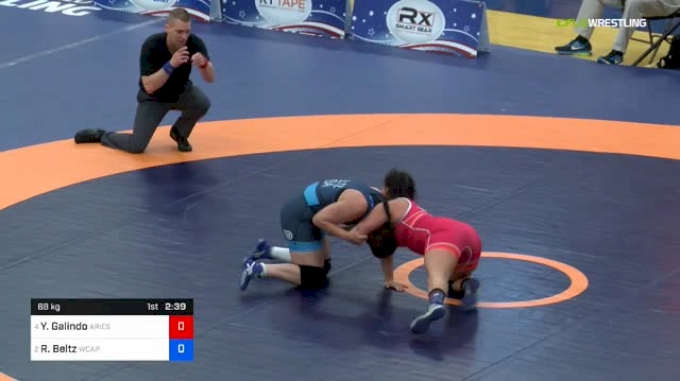 Unlock this video, live events, and more with a subscription!
Get Started
Already a subscriber? Log In
This will be the second-to-last match of the day and the final women's match of the event. Along with Beltz, she will also have WCAP teammate Burkert wrestling in Lincoln.
If you will be in attendance rooting on Stock or Beltz, be sure to attend the tailgate party on Saturday afternoon. It takes place from 3-5 PM Central time at The Railyard, which is at 350 Canopy St., Lincoln, NE, 68508.
Based on their Open match, as well as Beltz being very undersized for the weight, I see this one going in straight sets to Stock.
Nomad's Prediction
Stock over Beltz, two matches to none
Final X Lincoln Match Order
70kg: James Green vs. Jason Chamberlain
59kg: Alli Ragan vs. Jenna Burkert
97kg: Kyle Snyder vs. Kyven Gadson
55kg: Becka Leathers vs. Jacarra Winchester
57kg: Thomas Gilman vs. Daton Fix
68kg: Tamyra Stock vs. Randyll Beltz
74kg: Jordan Burroughs vs. Isaiah Martinez