Create a free account to unlock this article!
Get Started
Already a subscriber? Log In
Now that all 20 Final X matchups are set, it's time to dive deep into each of them individually. On June 9 in Lincoln, NE, world bronze medalist Becka Leathers will battle U.S. Open champ Jacarra Winchester for the 55kg world team spot.
The two have only met twice before, with Winchester taking round one in the 2015 World Team Trials semifinals and Leathers returning the favor at the Dave Schultz in February 2017.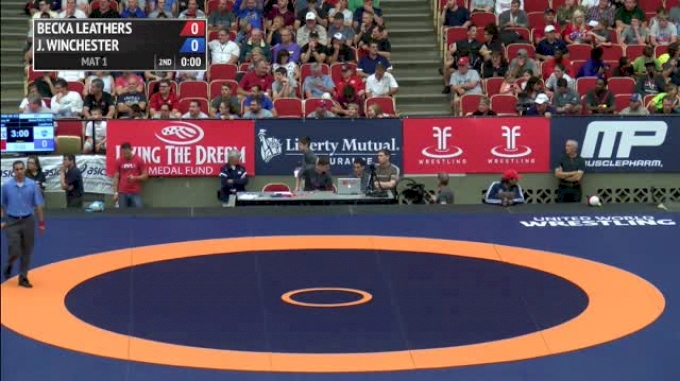 Create a free account to unlock this video!
Get Started
Already a subscriber? Log In
Both have had success on the international level. Leathers has been sitting in the finals thanks to her bronze medal at the 2017 World Championships last August in Paris. She also has a junior world bronze to her name, two senior Pan Am titles, and a junior Pan Am gold.
Winchester has made three national teams on the senior level, and also won a world University bronze back in 2014. A two-time WCWA finalist for Missouri Valley, she won her national title in 2015, when Leathers was still a senior for Choctaw high school in Oklahoma.
Where: Lincoln, NE | When: Saturday, June 9
Leathers seems to have jumped levels in the last 18 months, with her only losses coming to opponents from women's wrestling powerhouse Japan. A left leg lead, she'll occasionally hit big moves for 4 or 5 but relies heavily on short offense and low singles to her opponent's right leg. She's also crafty on top, able to score with both a gut wrench and a leglace from par terre, as well as a modified stack when she's going for the pin.
As for Winchester, she has been knocking on the door for years, battling ineligibility issues in college and injuries on the senior level. This year has been the most active of her career, wrestling in seven competitions. The California native won the Ukrainian Memorial in February up at 57kg and also took bronze at the Russia Cup in December. She wrestled 62kg at the Dave Schultz in November and 57kg at the Bill Farrell in March before dropping down for the U.S. Open and WTT challenge tournament.
Purchase Tickets for Final X Lincoln
Winchester can be very difficult to score on, particularly from leg attacks; she is more vulnerable to upper body stuff or go-behinds. In wrestling so many tournaments this year, she has had to win a variety of ways. She's won close matches, blew people out, come from behind, and held onto leads. Leathers' best bet is likely to mimic what Yui Sakano of Japan did to her at the Schultz. In Winchester's worst loss of the season, Sakano scored off low singles to Winchester's right leg, which is Leathers' primary attack spot.
There are a couple reasons to think Winchester can take a match in this best-of-three series. Based on her length and size, as well as her stinginess and being battle tested this year, it certainly seems she can win a low scoring battle. She's already beaten her once, though she probably won't be able to tech Leathers again. One of the 25-year-old's greatest strengths is her ability to convert doubles into points, particularly in getting edge takedowns.
But this is Leathers' weight for the foreseeable future. Jacarra won't be able to move Becka around much and will likely be forced to battle out of a hole early. The par terre game also favors Leathers, which could be the difference in a series that may have a relatively even takedown battle.
These are the two best 55kg women in the country right now. Unfortunately for Winchester though, Leathers also happens to be one of the best 55s in the world and still has plenty of career left ahead of her.
Nomad's Prediction
Leathers over Winchester, two matches to none