Create a free account to unlock this article!
Get Started
Already a subscriber? Log In
With every Final X matchup set, the time has come to take a deep dive into each one individually. On June 9 in Lincoln, NE, world silver medalist Alli Ragan is taking on Jenna Burkert for the right to represent Team USA at the World Championships later this year in Budapest, Hungary.
The addition of two new weight classes allowed this matchup to happen, bringing back the old 59kg at which both of them used to compete for years. When they were teammates at the 2011 and 2012 Junior World Championships, Ragan was at 63kg and Burkert was at 59kg.
Where: Lincoln, NE | When: Saturday, June 9
At one time, both Ragan and Burkert competed for the New York Athletic Club. Ragan has since moved on to the Sunkist Kids and Burkert now wrestles for the U.S. Army WCAP. These two are very familiar with each other, training together for years. The last time they were in the same bracket was the 2016 Olympic Trials, two years after they were teammates at the 2014 World Championships.
Their last time wrestling against each other was the 2013 World Team Trials, with Ragan winning by pin. They also wrestled at the 2011 U.S. Open, a match took by Ragan 1-0, 1-0 under the old three-period system. Those matches don't provide us a very good picture of the two women who will be taking the mat in Nebraska next month.
Ragan is one of the most athletic girls in America right now. A multi-sport athlete at Carbondale High School in Illinois, she became a four-time WCWA finalist for King, winning titles her junior and senior years. Though her game has evolved since then, she has not lost the explosive first step that makes her low single so extremely difficult to stop.
Final X Breakdowns: Leathers vs. Winchester
Looking at her run to the finals at non-Olympic weight Worlds in Budapest and last year's Worlds in Paris, Ragan scored almost as much off of her go behind as she did her low single. Again, Ragan's athleticism is on display there, both the strength to overpower her opponents from short offense and the quickness to make them pay for bad shots by giving up counters.
Since winning her world semifinal, Ragan is 8-7 but at a variety of different weights and against world-class competition from Russia, Japan, Mongolia, and China. Thusly is the necessity to push oneself to accomplish something you've never done before: win a world title. However, it's difficult to put Ragan from the "medal threat" category into the "title contender" one right now.
While she has taken some losses, her high-level track record is impeccable. She's won five world medals in her career: two bronzes as a junior, a university silver in 2013, and silver medals at the past two world championships. There is enough data there to suggest that Ragan could walk into any bracket in Budapest and make a run to the finals.
Burkert's greatest trait is her fearlessness and physicality on the mat. She'll hammer the handfight until she can get her opponent in a front headlock. The New York native also has an excellent gut wrench once she gets on top.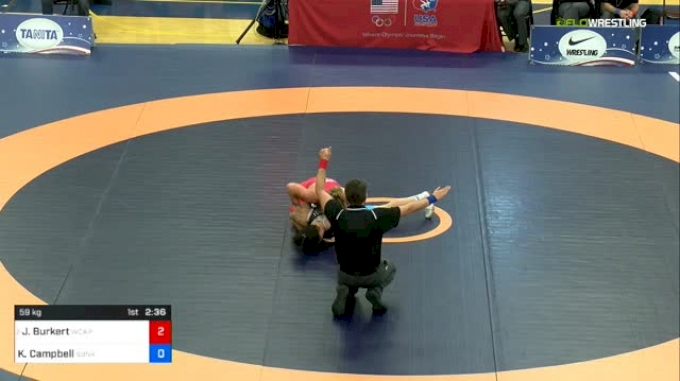 Create a free account to unlock this video!
Get Started
Already a subscriber? Log In
Making Final X guarantees Burkert will be on her fourth national team and is the last step toward her marking her second world team. A junior world team member from 2011-13, her senior-level career has been solid but not spectacular. Her three tournament victories were the 2014 Trials, December 2016 Open, and this past WTT challenge tournament.
After battling injuries all season, Burkert also dropped down a weight class. She went 62kg for the Dave Schultz and U.S. Open but looked as healthy as ever wrestling 59kg in Rochester, MN, for the Trials. Of course, any athlete is different competing at the right weight and fully healthy, but not all of them can then also put together and execute a game plan that puts them on the verge of making a world team.
Following her wins over Kelsey Campbell in Minnesota, Burkert was asked about wrestling Ragan, and the point was brought up that she had two world silvers. Burkert said, "Past tense. Alli won world medals, it's my time now." Though it is precisely this confidence that pushed her into Final X, Ragan is too varied offensively to lose this series.
What makes Ragan great is that she can pull a headlock or a throw out of her back pocket and in fact has done so at Worlds. Burkert is vicious but can be one dimensional from that front head position. She was able to score with it against Campbell, the one girl in America who has been able to beat Ragan recently. But I see the first match going similar to Burkert's Open semis loss to Kayla Miracle, and then Ragan opening up in the second match and winning by even more.
Nomad's Prediction
Ragan over Burkert, two matches to none