The top wrestlers in the nation's strongest conference are set to battle for titles and NCAA bids at the 2018 Big Ten Championships in East Lansing, Michigan, this weekend.
The first session of the two-day tournament starts at 10 AM ET on Saturday, March 3, with the top two seeds at each weight getting first round byes. The pre-seeds can be found here.
We are running previews for every weight class, beginning with the lightweights at 125lb, 133lb, and 141lb.
For each weight, we show the automatic qualifier allocations available for the NCAA tournament, as well as the pre-seeds. We finish each weight with predictions for the top four finishers.
WATCH THE BIG TEN TOURNAMENT LIVE | SATURDAY, 10 AM EASTERN
125 Pounds: 10 Allocations
Nick Suriano, Rutgers
Spencer Lee, Iowa
Nathan Tomasello, Ohio State
Sebastian Rivera, Northwestern
Ethan Lizak, Minnesota
Luke Welch, Purdue
RayVon Foley, Michigan State
Drew Mattin, Michigan
Travis Piotrowski, Illinois
Elijah Oliver, Indiana
Mitchell Maginnis, Nebraska
Johnny Jimenez, Wisconsin
Brandon Cray, Maryland
Carson Kuhn, Penn State
With 10 guys heading to NCAAs, this weight will seed every entry. It will feature nine guys who were ranked in the top 20 at the end of the regular season.
At Midlands, we thought the wait was finally over to see Spencer Lee vs. Nick Suriano — a matchup over four years in the making. But then Ronnie Bresser upset Lee at the tournament, and a week later Nathan Tomasello didn't wrestle against Rutgers, making Suriano the prohibitive favorite to be the top seed at Big Tens. However, Suriano missed the last four duals of the season, and it is unclear if he'll be at 100 percent for the conference tournament.
Aside from missing his two opportunities at Suriano, Lee ran the gauntlet this year, beating Tomasello, Sebastian Rivera, and Ethan Lizak. He might be the best 125lb wrestler from top in the country and can definitely replicate his win over Tomasello with the same game plan.
Nathan Tomasello, OSU vs. Spencer Lee, Iowa: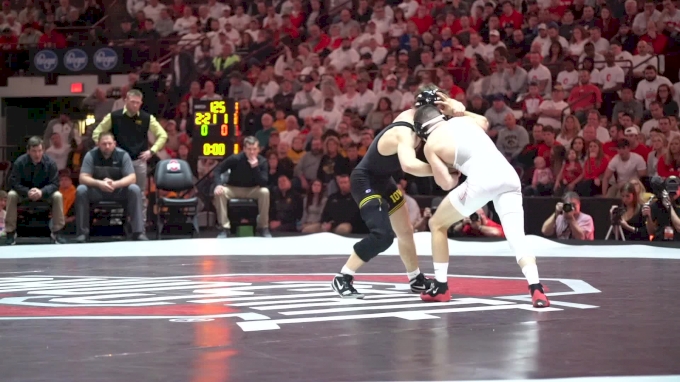 The Buckeyes senior has just seven losses in his college career, with only one in each of the last three seasons. He scored the only takedown against Lee when they wrestled in the dual on January 21 and will likely need to take Lee down twice or more in order to win the rematch in the semifinals on Saturday night. NaTo also gets a rematch from one of the more exciting matches we saw this season, when he'll see Carson Kuhn right off the bat on Saturday morning. One last note, it's pretty incredible to think that a guy going for his fourth Big Ten title walks into conference weekend as an underdog.
One match we did not get to see this year will likely happen in the quarterfinals, as returning NCAA finalist Ethan Lizak takes on redshirt freshman Sebastian Rivera. I like Rivera there, and think he finishes fourth right behind Tomasello. As for the final, I think Suriano avoids going under Lee at all costs and wins the takedown battle 2-1.
Nomad's Picks
1) Nick Suriano 2) Spencer Lee 3) Nathan Tomasello 4) Sebastan Rivera
WATCH THE BIG TEN TOURNAMENT LIVE | SATURDAY, 10 AM EASTERN
133 Pounds: 7 Allocations
Stevan Micic, Michigan
Luke Pletcher, Ohio State
Mitchell McKee, Minnesota
Jason Renteria, Nebraska
Scott DelVecchio, Rutgers
Corey Keener, Penn State
Dylan Duncan, Illinois
Ben Thornton, Purdue
A couple matches to circle on this bracket, the #4/5 seed quarterfinal rematch between true freshman Jason Renteria and redshirt senior Scott DelVecchio, the match that catapulted Renteria into the national rankings. Those seeds mirror our 133lb Big Ten rankings.
Scott DelVecchio, Rutgers vs. Jason Renteria, Nebraska: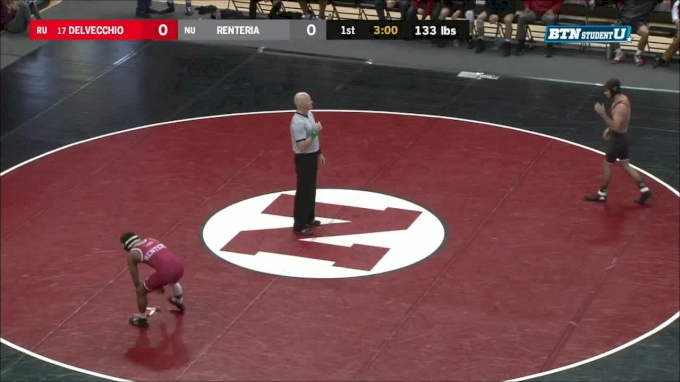 The other is the semifinal between Mitch McKee and Luke Pletcher, two sophomores who we did not see battle this year. They met twice during their senior year of high school, with Pletcher winning 7-3 in the Super 32 semis and McKee winning 12-1 in the UWW Junior national freestyle semis.
Outside of a head-scratcher to Austin DeSanto at CKLV, and a loss to Pletcher in Las Vegas that he avenged, Micic has been every bit as good as we thought he would be this year. He won 11 of his last 12 matches by bonus, averaging 4.5 team points per match.
The only surprise from our seed predictions was that Ben Thornton was seeded ahead of Paul Glynn when Glynn has a head-to-head win over Thornton. It's boring, but I like this one to go chalk.
Nomad's Picks
1) Stevan Micic 2) Luke Pletcher 3) Mitchell McKee 4) Jason Renteria
WATCH THE BIG TEN TOURNAMENT LIVE | SATURDAY 10, AM EASTERN
141 Pounds: 8 Allocations
Joey McKenna, Ohio State
Nick Lee, Penn State
Mike Carr, Illinois
Chad Red, Nebraska
Nate Limmex, Purdue
Tommy Thorn, Minnesota
Cole Weaver, Indiana
Eli Stickley, Wisconsin
Of any weight, I expect these pre-seeds to change the most, just because of the amount of strange results which occurred during the season. And it seems like the tournament will be just as unpredictable as the dual season.
Tommy Thorn was the most unpredictable wrestler at 141 this year, and if pre-seeds hold, he will get a rematch with Mike Carr, one of the higher ranked guys that he beat, along with Joey McKenna.
There seem to be few obstacles in the way of a Joey McKenna vs. Nick Lee final, a match that could factor in huge in the team race. But we should get an interesting Chad Red vs. McKenna match in the semis, a matchup that did not happen this season.
Right now, Red is seeded a guy he lost to this year in Nate Limmex. They could meet in the quarterfinals in what should be yet another great 4/5 matchup.
Chad Red, Nebraska vs. Nate Limmex, Purdue: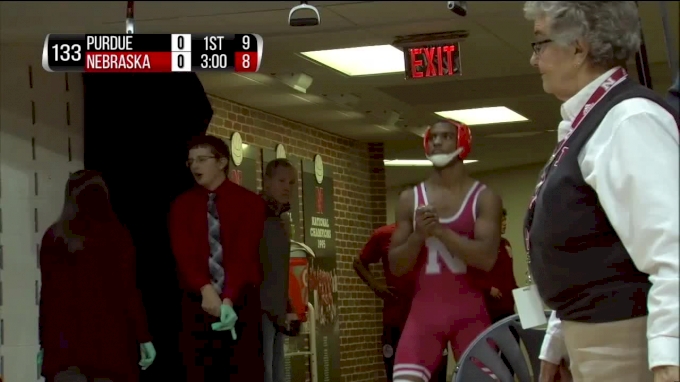 Unlock this video, live events, and more with a subscription!
Get Started
Already a subscriber? Log In
The curveball in the allocations came when only eight spots were awarded, meaning the bottom six guys will now be drawn in randomly instead of the whole field being seeded.
Nomad's Picks
1) Nick Lee 2) Joey McKenna 3) Chad Red 4) Tommy Thorn
We are running previews for every weight class, and today we're covering the four middleweights at 149lb, 157lb, 165lb, and 174lb. Tuesday's lightweight preview is available here.
For each weight, we show the automatic qualifier allocations available for the NCAA tournament, as well as the pre-seeds. We finish each weight with predictions for the top four finishers.
WATCH THE BIG TEN TOURNAMENT LIVE | SATURDAY, 10 AM EASTERN
149 Pounds: 9 Allocations
Zain Retherford, Penn State
Brandon Sorensen, Iowa
Ryan Deakin, Northwestern
Colton McCrystal, Nebraska
Ke-Shawn Hayes, Ohio State
Eleazar DeLuca, Rutgers
Alfred Bannister, Maryland
Malik Amine, Michigan
Steve Bleise, Minnesota
Cole Martin, Wisconsin
Austin Nash, Purdue
Eric Barone, Illinois
Jwan Britton, Michigan State
AJ Raya, Indiana
I was pretty surprised that the Big Ten wound up with nine allocations at this weight, which also means it seeds every wrestler. That is of course contingent upon Steve Bleise of Minnesota being in the field, who hasn't wrestled since January 21.
I also think the conference got the five and six seeds wrong, as Ke-Shawn Hayes has no wins over anyone in the top four and lost to Eleazar DeLuca, who did not lose to anyone seeded below him. If you're Ohio State, you'd actually want Hayes to be the six, as that gets him away from Zain Retherford and sets up a rematch with Brandon Sorensen if Hayes can upset Ryan Deakin in the quarters. Hayes only lost 4-2 to Sorensen and actually scored the first takedown in that match.
The seeds for the Big Ten tournament have matched the pre-seeds every year since 2015, so if they hold, Hayes and McCrystal will match up for the first time this season in the quarterfinals, a key match for the Buckeyes' hopes of a team title this weekend.
Aside from the intrigue with Hayes, the most interesting matchup of Saturday will be the two vs. three semifinal of Ryan Deakin vs. Sorensen, which Sorensen won on a controversial headgear pull in overtime during the Hawkeyes' dual with Northwestern. I like Sorensen once again in the rematch, and for Hayes to get by everyone else to face Deakin for third.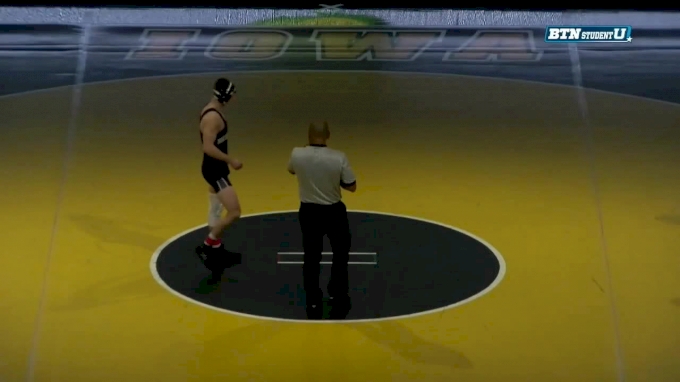 Unlock this video, live events, and more with a subscription!
Get Started
Already a subscriber? Log In
Nomad's Picks
1) Zain Retherford 2) Brandon Sorensen 3) Ryan Deakin 4) Ke-Shawn Hayes
WATCH THE BIG TEN TOURNAMENT LIVE | SATURDAY, 10 AM EASTERN
157 Pounds: 8 Allocations
Michael Kemerer, Iowa, Jason Nolf, Penn State
Alec Pantaleo, Michigan
Micah Jordan, Ohio State
Tyler Berger, Nebraska
Andrew Crone, Wisconsin
Jake Short, Minnesota
John Van Brill, Rutgers
There is no bigger question heading into conference weekend than the health of Jason Nolf. Will he wrestle? If he does, is he at 100 percent? Will he go the Nick Suriano route from last year and medical forfeit out of the tournament? If he does, can Penn State still win anyway? So many questions and all justified, as he is the most fascinating wrestler of this season.
The other big question, will he or Michael Kemerer get the one seed? They are currently tied for the top pre-seed. This is of course only an issue because Nolf's loss "doesn't count" in the mind of most folks since it was an injury default. This matters a great deal to the likes of Micah Jordan, who could get a few extra points for Ohio State with a finals appearance.
I'm very curious to see how Andrew Crone fares this weekend. This guy went on a tear, winning 10 matches in a row against Big Ten foes before falling twice at the end the season. There's a very real possibility he makes the finals but also could go 0-2. Who knows?
The way I see it, Nolf defaults out, Kemerer wins his first Big Ten title, and we see the good version of Alec Pantaleo. Beyond that, it'll be Jordan vs. Crone for third.
Nomad's Picks
1) Michael Kemerer 2) Alec Pantaleo 3) Micah Jordan 4) Andrew Crone
WATCH THE BIG TEN TOURNAMENT LIVE | SATURDAY, 10 AM EASTERN
165 Pounds: 10 Allocations
Isaiah Martinez, Illinois
Alex Marinelli, Iowa
Vincenzo Joseph, Penn State
Richie Lewis, Rutgers
Evan Wick, Wisconsin
Nick Wanzek, Minnesota
Logan Massa, Michigan
Isaiah White, Nebraska
Te'Shan Campbell, Ohio State
Jacob Morrissey, Purdue
Bryce Martin, Indiana
Austin Hiles, Michigan State
Brendan Burnham, Maryland
Mike Sepke, Northwestern
The deepest weight in the country this year is 165 in the Big Ten, as evidenced by seventh-seeded Logan Massa of Michigan, who last year was the two seed going into NCAAs and finished third. Massa's seeding means he has a quarterfinal against the two seed, who at this time appears to be Alex Marinelli.
We did a very long debate on FRL and I also did an article about who should be the top seed at 165, Marinelli or Isaiah Martinez. It appears the coaches went with Martinez based on his win over Marinelli from last year at Midlands. Which means, if Marinelli gets by Massa again, as he did in a 3-2 win on January 27, we'll see a rematch of Marinelli and defending NCAA champ Vincenzo Joseph.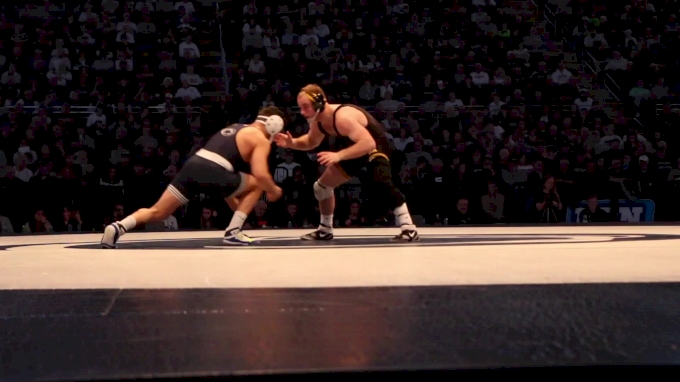 A couple other interesting rematches include Isaiah White vs. Te'Shan Campbell, as they split at CKLV, and Richie Lewis vs. Evan Wick, with Lewis riding Wick out for the entire third period to win when Wisconsin dueled Rutgers. That pushed Lewis up to fourth in the conference rankings.
Last year, Martinez beat Joseph twice before the NCAA finals. He also majored Marinelli, and majored Evan Wick this season. I think that's the IMar we see once again, the one who goes into his final NCAAs as the favorite and hitting on all cylinders.
Nomad's Picks
1) Isaiah Martinez 2) Vincenzo Joseph 3) Evan Wick 4) Alex Marinelli
WATCH THE BIG TEN TOURNAMENT LIVE | SATURDAY, 10 AM EASTERN
174 Pounds: 7 Allocations
Mark Hall, Penn State
Bo Jordan, Ohio State
Myles Amine, Michigan
Dylan Lydy, Purdue
Johnny Sebastian, Northwestern
Devin Skatzka, Indiana
Joey Gunther, Iowa
Ryan Christensen, Wisconsin
This weight lacks a ton of intrigue. Joey Gunther won the wrestle-off over Kaleb Young and will be the seven seed, which is the last seed that would earn an allocation if the results went chalk. It's one spot off where we have him in our conference rankings.
Saturday's big match will be the semifinal between Myles Amine and Bo Jordan, who have had two excellent matches so far this season. Jordan took the first match 6-4 at CKLV, and then Amine returned the favor with a last second takedown in the dual meet.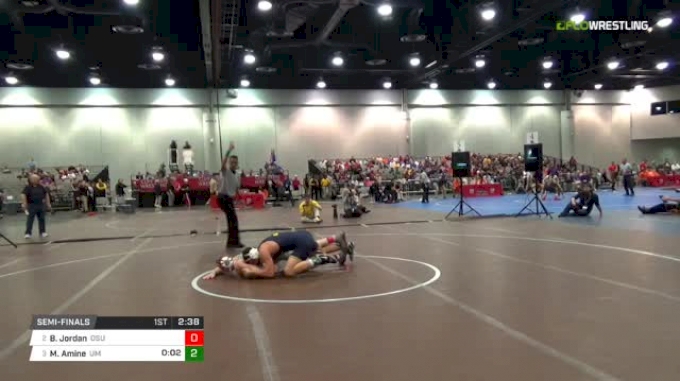 Unlock this video, live events, and more with a subscription!
Get Started
Already a subscriber? Log In
One of the interesting quarterfinals is Dylan Lydy vs. Johnny Sebastian. Their previous matchups have slowly gone Lydy's way, as Sebastian majored him last year, then got a late pin to start this year at the Michigan State Open. But a couple weeks ago in the dual, Lydy won 2-1 in overtime to snag the fourth seed.
I think Marky winds up with his first Big Ten title and doesn't suffer the same fate as last year. I have a hard time seeing Jordan losing to Amine twice in a row, but it might be the best match of the tournament at this weight.
Nomad's Picks
1) Mark Hall 2) Bo Jordan 3) Myles Amine 4) Johnny Sebastian
We are running previews for every weight class, and today's focuses on the three upperweights at 184, 197 and 285lbs. Tuesday's lightweight preview is available here and yesterday's middleweight preview is available here.
For each weight, we show the automatic qualifier allocations available for the NCAA tournament, as well as the pre-seeds. We finish each weight with predictions for the top four finishers.
WATCH THE BIG TEN TOURNAMENT LIVE | SATURDAY, 10 AM EASTERN
184 Pounds: 8 Allocations
Bo Nickal, Penn State
Myles Martin, Ohio State
Dom Abounader, Michigan
Emery Parker, Illinois
Nick Gravina, Rutgers
Taylor Venz, Nebraska
Ricky Robertson, Wisconsin
Mitch Bowman, Iowa
One of the best rivalries in recent college wrestling history could be renewed this weekend with a Bo Nickal vs Myles Martin final. Nickal now holds a 5-2 lead in the series after majoring Martin in the dual. They have never met in the Big Ten finals, as Nickal pinned Martin in the 2016 semis at 174 and Martin winning 6-4 in the 184 semis a year ago.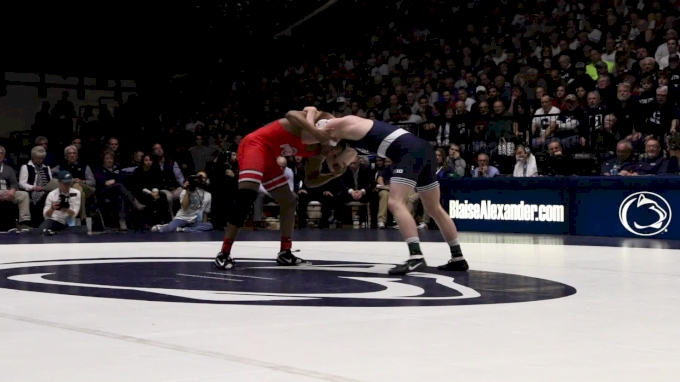 Martin will of course have to get by Dom Abounader in the semis, as he has already done twice this year by an 8-4 score in the CKLV finals and 5-3 in the dual. As for Abounader, he has not wrestled Midlands finalist Emery Parker in college. That one could very well be the third place match, and will be huge for seeding purposes.
This was one of the easiest weights to seed, as Gravina beat Venz and Venz beat Robertson. However, I'm not sure I see it going the same way again.
Nomad's Picks
1) Bo Nickal 2) Myles Martin 3) Emery Parker 4) Dom Abounader
WATCH THE BIG TEN TOURNAMENT LIVE | SATURDAY, 10 AM EASTERN
197 Pounds: 6 Allocations
Kollin Moore, Ohio State
Shakur Rasheed, Penn State
Cash Wilcke, Iowa
Kevin Beazley, Michigan
Hunter Ritter, Wisconsin
Christian Brunner, Purdue
Zack Chakonis, Northwestern
Eric Schultz, Nebraska
Another weight that, on paper, is the Penn State vs Ohio State show at the top. But this weight has been so topsy-turvy, those six allocation spots could go any number of ways.
I'm not sure how I fell about Wilcke as the three seed, but I do feel he is the third best guy. Beyond that, Beazley has the best track record as a former All American. However, he's also to the likes of Eric Schultz and Hunter Ritter in conference, and out of conference to guys like Tom Lane and Jordan Atienza.
I can't quite put my finger on it, but I like Brunner to steal the fourth spot here. No one below Rasheed has a clean resume, and Brunner has been wrestling well over the last month.
As for the final, the last seven years have led me to believe that it is foolish to pick against Penn State guys when they have a legitimate shot in the finals. Which does sound a little odd considering Ohio State just beat them one year ago in the conference tournament, and that Haught has been and will continue to be my pick to win NCAAs. But with this small field, give me Rasheed.
Nomad's Picks
1) Shakur Rasheed 2) Kollin Moore 3) Cash Wilcke 4) Christian Brunner
285 Pounds: 7 Allocations
Adam Coon, Michigan
Kyle Snyder, Ohio State
Nick Nevills, Penn State
Sam Stoll, Iowa
Youssif Hemida, Maryland
Conan Jennings, Northwestern
Shawn Streck, Purdue
Rylee Streifel, Minnesota
The big one, literally. A rematch of the Olympic champ and one of the largest humans that's soon to be in space. That one will go one of two ways: Snyder finishes his leg attacks and wins, or Coon gets his bodylock and wins.
Moving down the line, there's a couple interesting quarterfinals. Sam Stoll and Youssif Hemida did not meet this year, and I think that one will be closer than last year when Stoll 15-4. Nick Nevills did not see Conan Jennings this year, but it was only 5-4 in the dual last year with Nevills having to win on riding time.
As our own Andrew Spey pointed out in his article explaining the Big Ten allocations, all seven of the qualifying allocations were earned by guys ranked in the Top-20. Which means it will be difficult for someone like a Rylee Streifel to "steal" a spot.
The seeds matched our Big Ten conference rankings, and Buckeye fans should be hoping that Snyder does not get a bye in the first round so he can get bonus points for the team race.
Nomad's Picks
1) Kyle Snyder 2) Adam Coon 3) Sam Stoll 4) Nick Nevills