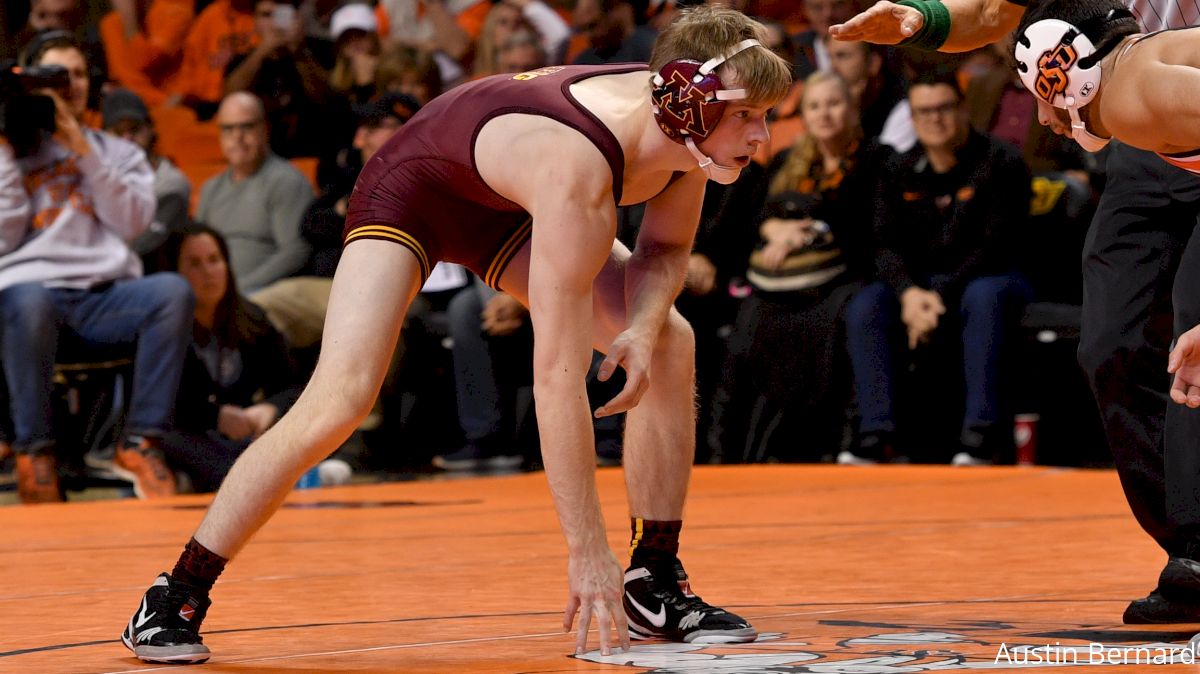 For several years now, the Cliff Keen Las Vegas Invitational has been the nation's best in-season tournament, and this year is no exception.
There are over 100 ranked athletes slated to compete this Friday and Saturday at the Las Vegas Convention Center, so we had to split up our previews into three parts. Today's lightweight preview will cover 125lb, 133lb, and 141lb.
The 2017 edition of the CKLV kicks off at 9 AM Pacific time, so be sure you're tuned in to watch LIVE on Flo. Brackets will be on FloArena and we will be sure to post those as soon as they become available.
Middleweight Preview + Predictions | Upperweight Preview + Predictions | Projected Team Scores
125 Pounds
Ranked Wrestlers
No. 3 Ethan Lizak (Minnesota), JR: 7-0
No. 6 Ryan Millhof (Arizona State), JR: 4-0
No. 7 Sean Russell (Edinboro), JR: 5-1
No. 9 Dalton Macri (North Carolina), JR: 1-0
No. 10 Luke Welch (Purdue), SR: 8-0
No. 11 Louie Hayes (Virginia), FR: 7-1
No. 12 Taylor LaMont (Utah Valley), FR: 12-2
No. 16 Connor Schram (Stanford), SR: 6-1
No. 18 Zeke Moisey (West Virginia), JR: 6-4
No. 19 Jay Schwarm (Northern Iowa), SO: 8-1
No. 20 Drew Mattin (Michigan), FR: 4-3
Commentary: NCAA finalist Ethan Lizak walks in as the heavy favorite, and though I expect him to win, he probably won't do it in dominating fashion. The redshirt junior has never wrestled at this tournament before, and his only bonus-point wins so far are against a true freshman, a high school senior, and an NAIA opponent. He also took a 6-2 loss to Sean Russell at University Nationals, though that was of course in freestyle and all the way back in June.
Russell would go on to lose there to Luke Welch of Purdue, who would win University Nationals and is my dark horse here as the six seed. He has yet to lose this season, with five of his eight wins coming by bonus. Call it the AJ Schopp effect, I think at least one of the Purdue lightweights will see a jump in performance this year due to their new assistant.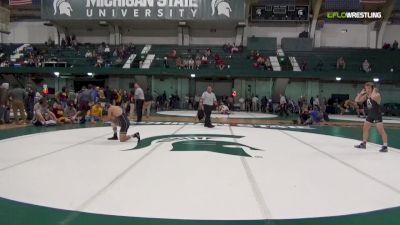 Unlock this video, live events, and more with a subscription!
Get Started
Already a subscriber? Log In
The only returning placer at this weight is Russell, who could wrestle his former high school teammate Ryan Millhof in the quarterfinals. Another potential matchup of high school teammates is the Dalton Macri/Connor Schram quarterfinal
Russell is one of five All-Americans competing in this bracket, along with Millhof, Lizak, Connor Schram, and Zeke Moisey. An All-American for Oklahoma once upon a time, Millhof is 4-0 on the year for Arizona State.
Schram is 6-1 this season after a loss to Brandon Cray of Maryland, while Moisey is 6-4 coming off a redshirt year. Two of those losses came at the hands of Taylor LaMont, a redshirt freshman for Utah Valley who won a junior bronze medal in Greco last year. His hip-pivot headlock is the one move I could point to as having the most potential to make this bracket fall apart.
Louie Hayes and Drew Mattin complete the triumvirate of interesting freshmen to watch at this weight; they should meet in the round of 16. Among unranked guys, the dark horse based on his performance so far this year is Christian Moody of Oklahoma.
Nomad's Picks
1. Ethan Lizak 2. Luke Welch 3. Ryan Millhof 4. Sean Russell
133 Pounds
Ranked Wrestlers
No. 2 Stevan Micic (Michigan), SO: 1-0
No. 5 Jack Mueller (Virginia), SO: 3-0
No. 7 Dom Forys (Pittsburgh), SR: 0-0
No. 9 Luke Pletcher (Ohio State), SO: 7-0
No. 11 Austin Eicher (Michigan State), JR: 0-0
No. 12 Dennis Gustafson (Virginia Tech), JR: 8-2
No. 13 Josh Terao (American), JR: 8-2
No. 20 Ian Parker (Iowa State), FR: 7-2
Commentary: Who can forget last year's final, when Stevan Micic controversially lost to Nathan Tomasello after a singlet grab? There's no Tomasello this year, but Micic has only wrestled twice so far this season, at the All-Star match and the Arizona State dual. It will have been three weeks since he last competed by the time the tournament starts.
His likely finals opponent should be Virginia's Jack Mueller, who is up a weight and 3-0 so far after achieving the rare feat of being an All-American as a true freshman. Mueller would have to get through ACC rival Dom Forys (making his season debut) in the semis.
Meanwhile, Luke Pletcher is down a weight from last season. Pletcher has had to eke out two overtime wins already but brings a 7-0 record to Vegas. It's safe to say a lot of people are curious to see how he'll stack up with Micic in the semis.
Unlock this video, live events, and more with a subscription!
Get Started
Already a subscriber? Log In
The next highest-ranked guy is Austin Eicher, who has yet to wrestle a match. Then there is Dennis Gustafson, who has four wins this season over guys in this field, including No. 14 Josh Terao of American.
But the real juice is with the freshmen: 11 seed Ian Parker of Iowa State and unseeded Austin DeSanto of Drexel; Parker has a head-to-head win over Drexel. like DeSanto if a rematch happens and really in general against most of this field after the second weigh-in given how high his pace is. The concerns with DeSanto are bracket placment, as well as if teams have his fireman's scouted now that there is a little tape on him.
Nomad's Picks
1. Stevan Micic 2. Jack Mueller 3. Luke Pletcher 4. Austin DeSanto
9 Can't Miss, Gotta See Matches
141 Pounds
Ranked Wrestlers
No. 3 Bryce Meredith (Wyoming), SR: 1-0
No. 6 Chad Red (Nebraska), FR: 4-1
No. 7 Tommy Thorn (Minnesota), JR: 4-2
No. 9 Javier Gasca (Michigan State), SR: 5-0
No. 11 Yianni Diakomihalis (Cornell), FR: 10-0
No. 12 Josh Alber (Northern Iowa), JR: 5-1
No. 13 Tyler Smith (Bucknell), SR: 6-2
No. 15 Mason Smith (Central Michigan), SO: 6-1
No. 16 Michael Longo (Oklahoma), SR: 9-4
No. 17 Kanen Storr (Iowa State), FR: 6-2
No. 19 Eli Stickley (Wisconsin), SO: 9-2
No. 20 Russell Rohlfing (CSUB), SO: 8-3
Commentary: The assumption is we do not see defending champ and No. 5 Joey McKenna just days after winning a bronze medal at the U23 world championships. That makes Bryce Meredith the overwhelming favorite. The Wyoming senior's early schedule has been very tough, wrestling Kevin Jack at the All-Star Classic, super freshman Chad Red, and now a tournament with over half of the ranked guys in the field.
Red's only loss so far is to Meredith in a very contentious match. So far, Red leads the big "group of four" freshmen at this weight, three of whom will be here. The Cornhusker's biggest win this season came against Tommy Thorn in the Daktronics finals, and we might get a rematch of that one this weekend.
Unlock this video, live events, and more with a subscription!
Get Started
Already a subscriber? Log In
Thorn did not get a chance to wrestle at CKLV last year and is "only" 4-2, though his losses are to the No. 1- and No. 6-ranked wrestlers. The Minnesota junior is likely the barrier between the first and second tier of guys at 141 this year, which just goes to show how deep this weight is as he could very well win this weekend.
Everyone's eyes will be on Yianni Diakomihalis, who to no one's surprise rapidly climbed to No. 11 in the country. We've seen freshmen start out hot before and then cool off once there is some tape to them, but Yianni seems a bit different. He'll likely end up somewhere in between 141lb true freshman dynamos Kyle Dake and Zain Retherford, oddly falling in an every four-year cycle.
Michigan State senior Javier Gasca could place highly; however, he did not wrestle in the Central Michigan dual after winning the MSU Open. Also of note at 133, No. 12 Austin Eicher hasn't wrestled a match so far and faced Gasca in their wrestle-offs.
We'll see it later in the year, but I wouldn't mind a Josh Alber vs. Kanen Storr match here. Michael Longo has some good wins this year over Storr and Mason Smith. No. 19 Eli Stickley of Wisconsin had a great trip out west, winning the Roadrunner Open and majoring Russell Rohlfing, the CSUB 141 who nearly knocked off Meredith in one of the craziest matches of last year's tournament.
Nomad's Picks
1. Bryce Meredith 2. Yianni Diakomihalis 3. Chad Red 4. Tommy Thorn