U.S. Women Have Tough Decisions To Make For 2024 Olympic Trials
U.S. Women Have Tough Decisions To Make For 2024 Olympic Trials
Where will they end up? Several top women's freestylers have difficult choices about where they will compete at the 2024 Olympic Trials.
Sep 26, 2023
by Kyle Klingman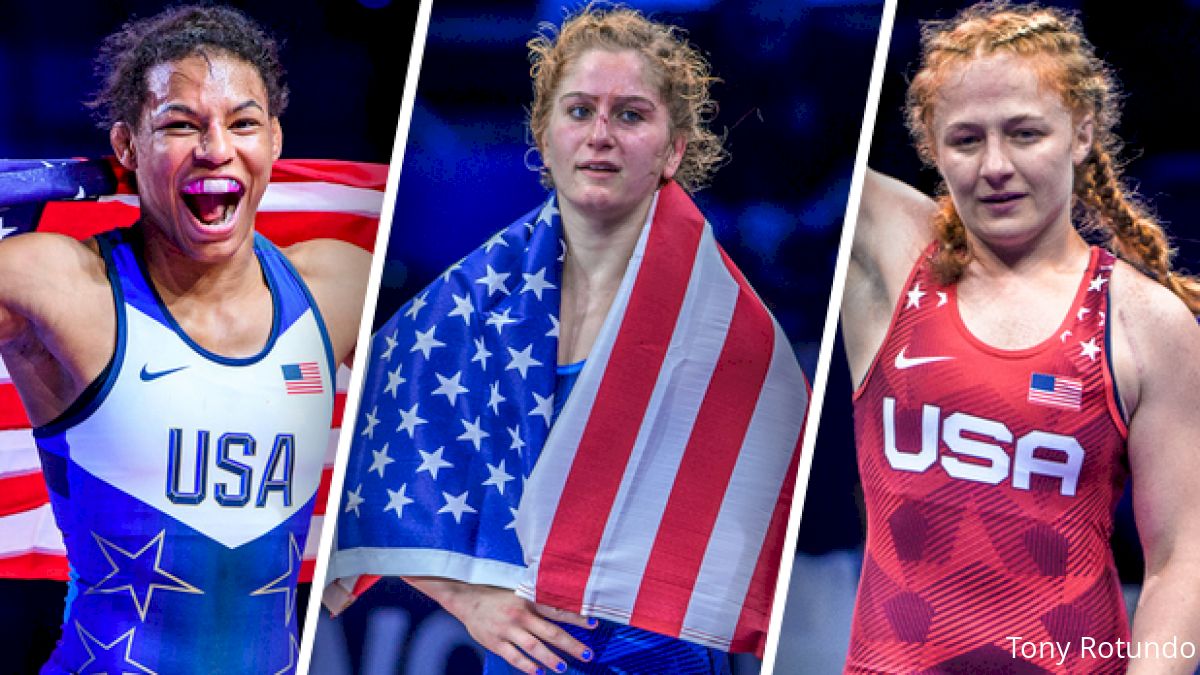 The 2023 World Championships are over, and now the real work begins. The Olympic Games, unfortunately, shrinks to six weight classes in each style from 10 at the Worlds.
That leaves many women's freestyle wrestlers with decisions to make entering the 2024 Olympic Trials on April 19-20 in State College, Pennsylvania. What wrestlers at World weights will move up or down in an attempt to make the team?
Three of the six weights are currently qualified for the Olympics — 50 kg, 57 kg, and 76 kg — with two more opportunities to get a full slate for Paris. Here is a refresher on all 10 women's freestyle weights and where the United States currently stands at Olympic weights.
50 kg: Olympic weight (qualified)
53 kg: Olympic weight (not qualified)
55 kg: World weight
57 kg: Olympic weight (qualified)
59 kg: World weight
62 kg: Olympic weight (not qualified)
65 kg: World weight
68 kg: Olympic weight (not qualified)
72 kg: World weight
76 kg: Olympic weight (not qualified)
Any 2023 World medalist at an Olympic weight gets an automatic bid to the Olympic Trials best-of-three finals. Sarah Hildebrandt (50 kg), Helen Maroulis (57 kg), and Adeline Gray (76 kg) won bronze medals at the 2023 World Championships and will face the winner of the Olympic Trials mini-tournament in their respective weight classes.
Jacarra Winchester (silver at 55 kg), Jennifer Page (bronze at 59 kg), Macey Kilty (silver at 65 kg), and Amit Elor (gold at 72 kg) earned spots in the semifinals of the Olympic Trials mini-tournament since each won medals at World weight classes.
This is where things get interesting. Winchester, Page, Kilty, and Elor will have to move up or down a weight for the Olympic Trials. This opens up a multitude of possibilities for next year.
Here's a look at several scenarios at each Olympic weight.
50 kilograms (qualified)
There's no such thing as a lock, but Hildebrandt — a five-time World/Olympic medalist — is in good shape to make her second Olympic team. She is already in the finals and it's unlikely that anyone will move down from a higher weight to challenge her.
53 kilograms (not qualified)
The United States has not qualified this weight for the Olympics but it seems likely that Winchester will move down from 55 kilograms. She made the 2020 Olympic team at this weight and placed fifth. Dom Parrish — a 2022 World champion at this weight — must wrestle in the mini-tournament to reach the best-of-three finals.
57 kilograms (qualified)
Maroulis reached the best of three finals with her bronze medal at the 2023 Worlds. She has owned this weight domestically for an Olympic quad, earning medals for four consecutive years. There's a chance that Winchester moves up, but that seems unlikely given the success of Maroulis at this weight.
However, moving down to 53 kg won't be easy for Winchester, so she has the option to move up if she wants. That could mean multiple World champions vying for the spot.
Prior to the World Championships, Page said she plans to wrestle at 62 kg (where she typically competes). She looked sharp at her new weight and there didn't appear to be any ill effects from dropping an additional 6.5 pounds.
Will she drop an additional two kilograms (4.4 pounds) to make 57 kilograms? That would mean two semifinalists in the mini-tournament if Page moves down and Winchester moves up.
Jenna Burkert, a 2021 World bronze medalist, is returning from an injury and will be a factor. She bested Winchester at the 2021 World Team Trials (55 kg) and took a match from Maroulis at the 2020 Olympic Trials.
62 kilograms (not qualified)
This weight offers the most possibilities and the most intrigue of the six. It seems likely that Page (59 kg) and Kilty (65 kg) will compete here, which means two of four semifinal berths are secured.
Kayla Miracle won silver medals at the 2021 and 2022 World Championships but did not place in 2023. She will start from scratch at the Olympic Trials mini-tournament despite best-of-three finals wins over Kilty to make the 2020 Olympic team and Page to make the 2022 World team.
Emma Bruntil also has the option to move down to 62 kg. She has competed at 65 kg of late but moved up to 68 kg and made the World team after she lost in the US Open finals at a lower weight. It would be quite a cut for Bruntil but don't rule out a scenario where four of this year's World teamers — Miracle, Page, Kilty, and Bruntil — are vying for one spot.
68 kilograms (not qualified)
Early indications are that Elor — a two-time World champion at 72 kg — will drop down to 68. She hasn't made her final decision yet, but she left the door open for a possible move up to 76 kg.
Elor has a semifinal berth at either weight but 68 kg seems like the best fit. No one is sitting in the best-of-three finals and 2020 Olympic champion Tamyra Mensah-Stock retired. Kilty could move up and take a semifinal spot, too. Returning World medalist Forrest Molinari will also be in the mix, but — like Bruntil — she'll have to wrestle through the entire mini-tournament to make the best-of-three finals.
76 kilograms (qualified)
Gray secured her spot in the best-of-three finals, so it's a matter of who she will face. Adding Elor makes this the weight class to watch with Final Xers Kennedy Blades, Kylie Welker, Dymond Guilford, Yelena Makoyed, Precious Bell, and Skylar Grote in the mix.
No scenario is secured, which is what makes this so fun.