2023 US Open Wrestling Championships
US Open Women's Freestyle Wrestling Preview
US Open Women's Freestyle Wrestling Preview
A full preview of the women's freestyle division at the 2023 US Open.
Apr 21, 2023
by Kyle Klingman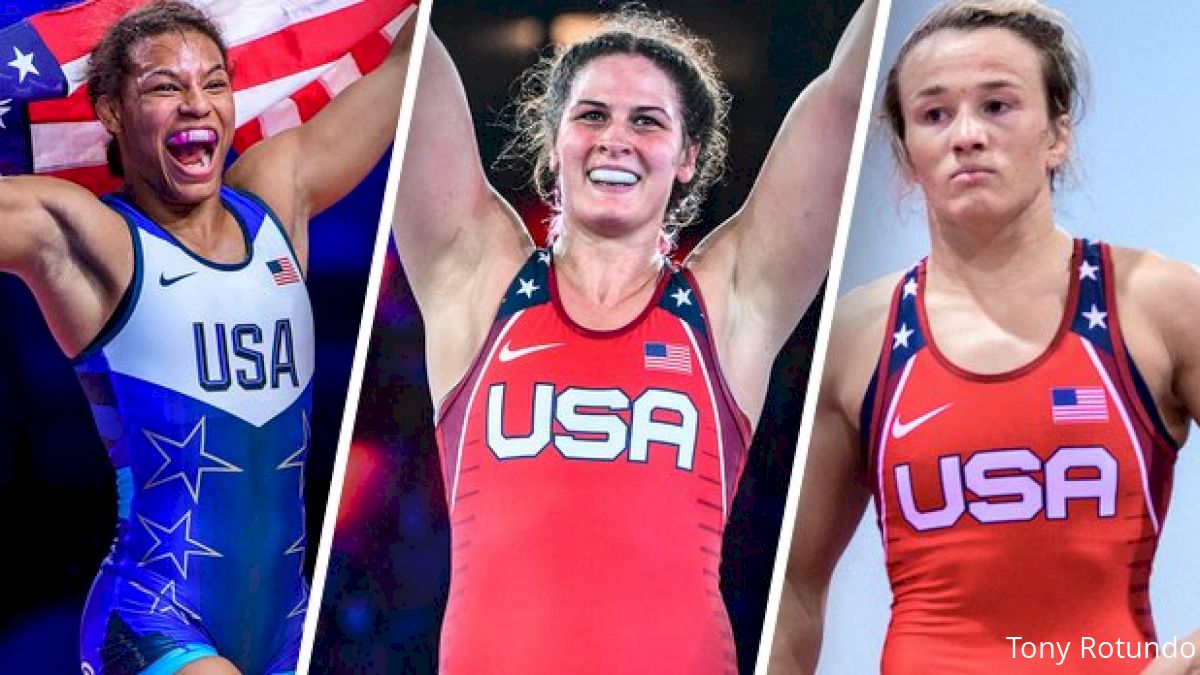 Below is a preview of the women's US Open field based on the latest registration list. There's always a chance that a quality wrestler enters at the last minute or that a wrestler switches weight, but this offers an overview of the leading contenders at each weight.
Every US Open winner receives a bid to Final X. Any returning medalist from the 2022 World Championships gets an automatic birth to Final X, while the remaining weights will compete in a World Team Trials tournament in Colorado Springs on May 20-21.
50 kg
Automatic Final X berth: Sarah Hildebrandt
Sarah Hildebrandt has owned this weight since she moved down from 53 kg after the 2019 World Championships. She won a bronze medal at the 202One Olympics, silver at the 2021 Worlds, and another bronze last year. No one has come close to her domestically at 50 kg.
The US Open winner will determine Hildebrandt's opponent at Final X. Heading the list are two veterans who have boatloads of international experience. Alyssa Lampe, 35, is a two-time World bronze medalist and four-time World teamer who fell to Hildebrandt in last year's Final X (10-0, 10-0).
Erin Golston, 30, won bronze medals at the 2011 and 2012 U20 World Championships and has been a consistent domestic presence for over a decade. Golston fell to Lampe at last year's World Team Trials challenge tournament but the matches were competitive and she continues to make gains.
The Emily Shilson-Sage Mortimer saga could spill over into the US Open. The two met during this year's National Collegiate Women's Wrestling Championships where Shilson got a fall, but Mortimer had Shilson on her back early in the match.
They met in the best-of-three U23 National finals on April 15 but only wrestled for a few seconds during a controversial finish. Mortimer had Shilson in a front headlock during the first match and twice attempted to clear Shilson's hand from her elbow, which sent Shilson's head to the mat. The referees called it brutality and Mortimer was disqualified from the tournament after Shilson couldn't continue.
Shilson is a three-time age-level World champion who is looking to make a breakthrough at the senior level. She will be a factor at this weight, as will Mortimer.
Don't be surprised if high school star Audrey Jimenez makes noise in Vegas. She's already a two-time age-level World medalist and had four straight techs (including over Mortimer in the semis) to reach the best-of-three finals at the U20 World Teams Trials. Jimenez bested the University of Iowa's Nyla Valencia, 4-2 and 7-0, to make the team.
Valencia is formidable in her own right, and will also be a factor at this weight. She made the 2022 U23 World team and has consistently made gains since last season.
There could also be a surprise from this weight. The bracket will be large but Golston and Lampe are the favorites.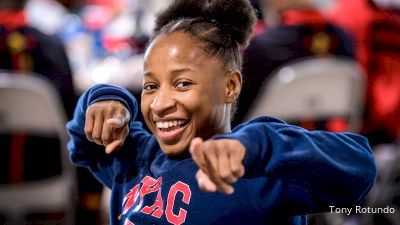 Erin Golston is a three-time Junior World medalist and a three-time national team member. Learn more about her unique path.
53 kg
Automatic Final X berth: Dom Parrish
Dom Parrish won a World title last year so she has the privilege of sitting out the US Open. She bested Felicity Taylor in straight matches at Final X when the two reached the World Team Trials Challenge tournament. Taylor recently won the U23 National Championships without surrendering a point and is among the favorites in the tournament.
Amy Fearnside had a memorable run as the seven-seed at the 2021 World Team Trials, which included a 10-0 tech over Alleida Martinez, a 6-1 win over Parrish, and a 4-3 win over Lampe. She defeated top-seeded Ronna Heaton 5-3 and by fall in the best-of-three series to make her first senior World team. Fearnside has a legitimate chance to make another team if she can win the US Open.
Katie Gomez wants to make her mark on the senior level after winning a 2021 U17 World title and a bronze medal at the 2022 U20 World Championships. She made her second U20 World team several days ago by teching everyone she faced and will be a factor at this year's US Open. Don't be surprised if she reaches the finals and is on the U.S. National team.
Lauren Mason entered at 53 kg and is coming down from 55 kg where she was on the national team. Mason was at her best last season and, if she can be effective at a lower weight, could reach Final X if she continues to make gains.
Virginia Foard reached the 55 kg finals at the U20 World Team Trials but is registered at 53 kg. Estrella Dorado Marin reached the U23 National finals against Taylor but fell 10-0 and 13-0. Samara Chavez and Jaslynn Gallegos are quality wrestlers who could make some noise but Fearnside, Taylor, Gomez, and Mason seem to be a cut above the rest. Tiare Ikei will be a factor if she registers.
55 kg
No 2022 World medalist here, but this is Jacarra Winchester's weight to win. She won the 2019 World Championship at 55 kg before cutting down to 53 to make the 2020 Olympic team. Winchester placed fifth last year at this weight and has been in World/Olympic medal matches during four of the past five seasons.
Alisha Howk and Marissa Gallegos will be Winchester's biggest threats. Howk has made two age-level World teams and recently won the U23 National championships with a pair of techs over Elena Ivaldi in the best-of-three finals.
Gallegos is fresh off a title at the National Collegiate Women's Wrestling Championships. The Colorado Mesa star placed fourth at last year's US Open behind Winchester, Ronna Heaton, and Lauren Mason. Returning World medalist Jenna Burkert is out for the year with an injury and Heaton is pregnant.
A win by anyone other than Winchester would be an upset. However, there is still an opportunity to reach the remaining Final X spot. Reaching the finals likely means being the top seed at the World Team Trials in May.
57 kg
Automatic Final X berth: Helen Maroulis
Everyone at 57 kg is fighting to see who gets to wrestle Helen Maroulis at Final X. Maroulis continues to be a consistent force at the weight, so the winner of the US Open has to knock off a four-time World/Olympic champion who won a silver medal at the 2022 World Championships.
Alex Hendrick fell to Maroulis at Final X in 2018 and 2022 by tech in all four matches and hasn't scored a point. The former Simon Fraser standout won a bronze medal at the 2022 U23 World Championships but hasn't made her mark at the senior level yet.
Still, Hedrick leads the field at 57 kg. Her methodical and deliberate style allows her to be competitive in most matches. She has a good chance to reach the finals and face Marouis at Final X for a third time.
Cameron Guerin, a three-time national champion for McKendree, is a serious threat to win this weight. She competes in college at 130 pounds but is dropping to 57 kg (125.5 pounds) for the US Open. She nearly won the US Open last year but fell 12-10 in the finals in the closing seconds to Adriana Dorado-Marin, who is currently not entered.
Guerin wrestles her best at big tournaments, and the prospect of a Hedrick-Guerin final is intriguing. Guerin's height and diverse offense make an interesting match-up against a shorter and fundamentally sound Hendrick. Hedrick defeated Guerin in straight matches at the 2022 World Team Trials — 2-1 and 7-5 — so this is Hedrick's weight class until someone other than Maroulis proves otherwise.
Amanda Martinez is entered at this weight and is ranked fifth at 59 kg. Martinez was winning last year's World Team Trials semifinal match against Hedrick, 4-0, with 20 seconds remaining but Hedrick hit a head pinch and gut wrench for a 6-4 win. The former North Central star could reach the finals — and win — with the right tournament.
Xochtil Mota-Pettis is dropping down to 57 kg after winning U23 Nationals at 59. Her high-octane and exciting style makes her a fan favorite and a contender at this weight. Mota-Pettis wrestled in college opens to prepare for the US Open, and fell to Guerin, 8-4, during the finals of the Bearcat Open on February 4.
Carolina Moreno could be a factor after winning back-to-back NAIA titles for Southern Oregon at 123 pounds but will have to be at her best.
Cristelle Rodriguez isn't entered but she won the best-of-three finals over Shelby Moore who is entered and could place at the US Open as a high schooler. Helen's domination over this weight has caused many to move up or down, but the prospect of entering the World Team Trials at 55 kg or 59 kg — two weights that don't have a returning medalist — means more competition at this weight.
Unlock this video, live events, and more with a subscription!
Get Started
Already a subscriber? Log In
Alex Hedrick and Amanda Martinez had a barn burner that came down to the closing seconds.
59 kg
This is a deep and compelling weight despite no returning World medalists. There are two available Final X spots, so expect competitors from other weight classes to join the World Team Trials party at the conclusion of this tournament. Final X will be set at 57 and 62 kg after the US Open, so there will likely be new entrants in Colorado Springs.
Leading the field are returning World teamers Abby Nette and Maya Nelson. Nette made the team last year but hasn't competed since the 2022 World Championships in September. She is a leading contender but will have to navigate numerous obstacles to win.
Nelson made the 2021 World team at 59 kg but hasn't competed in two years. She had a three-match slugfest with Forrest Molinari during the 2019 Final X, but that was at 65 kg. Her move down two weights has been successful, and she will be in the mix in Vegas.
The remaining field is looking up to Nette and Nelson, but someone new could emerge. Two-time NAIA champion Lexie Basham fell to Nette in straight matches at last year's Final X, while Lauren Louive reached Final X in 2019.
Basham and Michaela Beck have never faced each other, but they split time at the 2022 World Cup in Coralville. Beck won a silver medal at the Dan Kolov tournament in March and was on two age-level World teams. She is currently #3 on the National team behind Nette and Basham.
Brenda Reyna was a National Collegiate Women's Wrestling champion for McKendree in 2021 and has made two age-level World teams. She won the 2022 U23 National Championships with a 10-4 win over Basham in the semis, but Basham ultimately earned the World team spot because she reached Final X.
Gracie Figueroa is entered after a year away from the mat. Her last match was a loss to Iowa Wesleyan's Adaugo Nwachukwu in the 2022 NAIA finals at 136 pounds, but she's dropping six pounds to compete at this year's US Open. Figueroa has made five age-level World teams, including a bronze medal performance at the 2016 Cadet World Championships.
Sarah Savidge recently reached the U20 World Team Trials finals where she fell to Lexi Janiak in straight matches, but Janiak hasn't entered.
The quarterfinals might be the most competitive and intriguing of any women's freestyle weight. Expect a few upsets here. There's plenty of parity and the talent is deep.
62 kg
Automatic Final X berth: Kayla Miracle
Kayla Miracle entered the US Open last year even though she didn't have to. Her Final X opponent will likely be Jennifer Page or Adaugo Nwachukwu. Page lost by fall to Miracle in 18 seconds in last year's finals but took the first match against Miracle during a special best-of-three wrestle-off for the World team spot. Page is a savvy international veteran who will be favored to win.
Nwachukwu is a rising star who has won back-to-back NAIA Championships at 136 pounds. Her go-for-broke style includes lots of throws and lots of entertainment. She won a bronze medal at last year's U20 World Championships and recently made her second team with consecutive wins over SaVannah Cosme, who is also in the field.
Nwachukwu considered moving down a weight for the US Open but has since registered at 62. She still has the option to compete at 59 kg if she doesn't win in Vegas. She started wrestling as a sophomore in high school so her ceiling is high.
Ashlynn Ortega could be the wild card at the weight and should not be overlooked. She won the National Collegiate Women's Wrestling Championships for King in 2022 but fell in the 143-pound finals to Katerina Lange this year. She is moving down seven pounds to compete at 136.5 pounds at the US Open.
YeLe Aycock recently took second at the National Collegiate Women's Wrestling Championships for North Central at 136 pounds, and past age-level World medalist Skylar Hattendorf is always dangerous with her throws. NCWWC champion Zoe Nowicki is pursuing an MMA career so it will be interesting to see how she fares.
65 kg
Automatic Final X berth: Mallory Velte
Mallory Velte won a bronze medal at last year's World Championships so the US Open winner will face her. Last year featured a three-way battle between Velte, Emma Bruntil, and Forrest Molinari — but Molinari is moving up to 68 kg.
That leaves Bruntil in the US Open, but she will be tested by Macey Kilty who is moving up from 62.
Bruntil has earned five medals at various international tournaments since 2022, including golds at the Ivan Yarygin Grand Prix and the Dan Kolov-Nikola Petrov Tournament. She also has wins over Velte and Molinari.
Kilty reached the best-of-three Olympic Trials finals and went even with Miracle before suffering an injury in the decisive third match. The Stratford, Wisconsin, native has five age-level World medals, including Cadet gold in 2018.
A Bruntil-Kilty final seems inevitable since both are high-level competitors with lots of international experience. Bruntil likes to compete often and has found her niche at 65 kg after several years at 62. We'll see if Kilty finds her niche at this weight, too.
Recent college national champions Destiny Lyng, Ana Luciano, and Emily Se could make things interesting, but, barring injury, this final seems like a foregone conclusion.
68 kg
Automatic Final X berth: Tamyra Mensah-Stock (declined)
Tamyra Mensah-Stock declined her Final X spot, so that adds a layer of mystery to this weight. The US Open winner gets an automatic berth to Final X, but her opponent is yet to be determined.
Forrest Molinari, a mainstay at 65 kg, is moving up to 68 kg. She won a World bronze medal at the lower weight in 2021 but was a US National champion at the heavier weight in 2019.
Her recent performance at the Ibrahim Moustafa tournament proves she is ready to make a run at the world. Molinari wrestled a high-octane finals match against Senior World medalist Koumba Larroque where she completely broke her French foe. That will be her path to victory as she attempts to blitz through the US Open field.
Sienna Ramirez fell to Mensah Stock at Final X but hasn't entered yet. Solin Piearcy and Ramirez were in a three-match slugfest during the best-of-three World Team Trials final where every match was decided by criteria.
Piearcy is wrestling her best right now and should be a tough test for Molinari if they both reach the finals. She wrestled twice at the 2022 World Cup and won 2-0 over Mongolia's two-time World medalist Delgermaa Enkhsaikhan. The former Menlo star also took Moldovan World champ Irina Ringaci to the wire before falling, 4-2.
Alexandra Glaude, Katerina Lange, Dalia Garibay, and Kaylynn Albrecht will contend. Lange won the National Collegiate Women's Wrestling Championships at 143 pounds with a win over Ortega in the finals. She entered last year's US Open unseeded and defeated top-seeded Piearcy, 9-4, in the quarterfinals before suffering an injury in the finals against Ramirez.
Las Vegas native Bella Mir returns to her hometown after making the U20 World team. She has limited freestyle experience but her recent performance shows she is making gains. Mir should be fun to watch develop.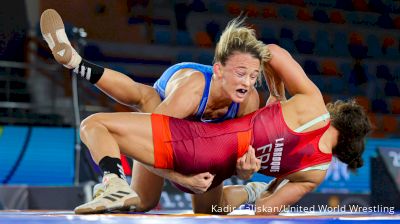 Unlock this video, live events, and more with a subscription!
Get Started
Already a subscriber? Log In
Forrest Molinari gave a master's course in how to break someone during her finals match against Koumba Larrouque
72 kg
Automatic Final X berth: Amit Elor
Amit Elor won World titles at the U20, U23, and Senior World Championships last year, and has already made the U20 team this year. This is the most unpredictable weight since there isn't a clear favorite.
Marlynne Deede, Joye Levendusky, and Cheyenne Bowman are the front runners, but it's anyone's guess on who it will be. This is a non-Olympic weight so several wrestlers (like Skylar Grote) are moving to an Olympic weight during the year leading up to the Olympics.
76 kg
This is the premiere weight class of the entire tournament with seven entrants who have reached Final X or the Olympic Trials at least once. A full breakdown is available here, but below are the cliff notes.
— Six-time World champion Adeline Gray is entered after giving birth to twins. Her last competition was a gold medal performance at the 2021 World Championships.
— Kennedy Blades recently defeated Kylie Welker in straight matches in the best-of-three U20 World Team Trials finals. Both reached the 202One Olympic Trials finals as teenagers.
— Yelena Makoyed has won four international rankings tournaments in a row and pinned the reigning World champion at the 2022 World Cup. She completed her senior year at North Central undefeated and didn't surrender a point all season.
— Dymond Guilford made the 2022 Senior World team but didn't place; however, she won a silver medal at the U23 World Championships a few weeks later.
— Precious Bell is a two-time US Open champion who reached Final X in 2019.
— Skylar Grote is moving up to 76 kg after reaching Final X at 72 kg last season.