2023 NCAA Championships Watch Party
Best Freshman Performances At The 2023 NCAA Wrestling Championships
Best Freshman Performances At The 2023 NCAA Wrestling Championships
Which wrestlers at the 2023 NCAA Championships did the best in their first year of varsity action? We take a look at the results and provide context!
Mar 25, 2023
by Andrew Spey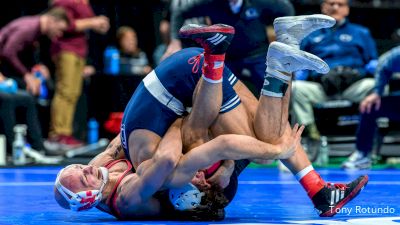 The 2023 NCAA Wrestling National Championships saw Yianni Diakomihalis join the ultra elite club of four-time NCAA champs, of which only four other wrestlers can claim membership.
The same tourney also saw Spencer Lee falls agonizingly short of reaching that goal, while three current wrestlers are still eligible for entry into the four-timer club: Aaron Brooks, Carter Starocci and Keegan O'Toole.
More NCAA Championship Coverage: By the Numbers

And what about the latest crop of freshmen? Well, there were no freshmen champs, so there will be no four-timers from the cohort of college wrestlers who made their varsity debut in 2023.
But that's not what this blog is about! No! We are here to celebrate the achievements of the freshmen of the 2023 NCAAs, irrespective of their chances of ever winning four NCAA crowns, which are now essentially nil.
Below is a list of all the freshmen who finished in the round of 12 or better, as well as their rank on their respective high school Big Boards. Links for reference: 2022 Big Board, 2021 Big Board, 2020 Big Board.
The True Freshmen All-Americans
157: Levi Haines, Penn State, 2nd - 2022 BB #7
Haines forewent his high school senior season to train full-time at M2, David Taylor's wrestling club located just outside of State College, PA. That move appears to have paid dividends, as Haines racked up a sterling 25-2 record as a true freshman, and finished the season as an NCAA runner-up, the highest placement of any freshman this season.
Because of the M2 connection, early comparisons to David Taylor were unavoidable. Those comparisons appear less and less premature with each match Haines wrestles and the Penn State dynasty continues to chug along.
149: Caleb Henson, Virginia Tech, 5th - 2022 BB #4
Hailing from Georgia, a non-traditional wrestling state but one surely on the rise, Henson battled back from a second-round loss to Graham Rooks of Indiana to finish fifth. Along the way, he avenged a regular season loss to Mizzou's three-time All-American Brock Mauller.
Henson was a big part of the Hokies Championship push that saw them finish in the top ten as a team and one point ahead of their bitter ACC rivals NC State, who just two weeks prior took home the ACC Championship title.
133: Jesse Mendez, Ohio State, 6th - 2022 BB #1
As a blue chip recruit coming out of high school (something Mendez shares with his fellow true frosh AAs), there was a lot of hype surrounding Jesse and the rest of his Buckeye recruiting class. Mendez delivered on the mat early and often during his first season in Columbus, winning tournaments and dual meets alike.
Mendez's route to the NCAA podium was anything but easy. He had to face three-time AA Michael McGee twice. He also recorded two victories over All-Americans in Lucas Byrd and Sam Latona, and needed tiebreakers to win three of his bouts in the consolation round.
The Redshirt Freshmen All-Americans
149: Shayne Van Ness, Penn State, 3rd - 2021 BB #4
Entering the tournament with six losses and the #12 seed, Van Ness promptly obliterated any doubts as to the realness of his deal, defeating Iowa State's true frosh phenom Paniro Johnson in the second round and All-Americans Caleb Henson and Kyle Parco in the consolation rounds. And the Penn State dynasty etc etc.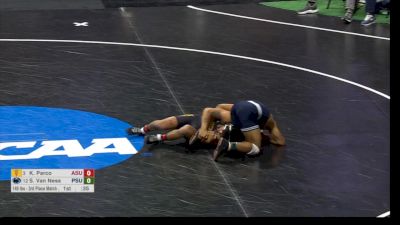 141: Lachlan McNeil, North Carolina, 4th - 2020 BB #5
McNeil completed the rare trifecta of an ACC placement, Canadian national championship, and an NCAA All-Amercan honor all within a two-week span. The Tar Heel by way of Wyoming Seminary by way of Toronto will help fill the void being left by departing two-time NCAA champ Austin O'Connor, as UNC faithful have three more years of eligibility from McNeil to look forward to.
133: Aaron Nagao, Minnesota, 5th - 2020 BB #69
A roster battle between Nagao and 2022 NCAA qualifier Jake Gliva was likely settled at the Southern Scuffle, where Nagao, a 2022 U23 world fifth-placer, outplaced his Gopher teammate. Nagoa then peeled off a breakout performance at NCAAs, beating All-Americans Kai Orine and Jesse Mendez along with four-time bloodrounder Mickey Phillippi on his way to fifth place in Tulsa.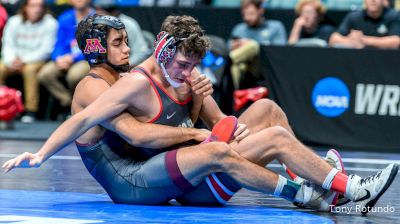 Unlock this video, live events, and more with a subscription!
Get Started
Already a subscriber? Log In
125: Eddie Ventresca, Virginia Tech, 7th - 2020 BB #68
In a classic case of reloading, not rebuilding, the Hokies, who placed 8th in 2022, found themselves in the top 10 again in 2023 with two freshmen All-Americans, the aforementioned Henson as well as the concurrently mentioned Ventresca. The Hokie lightweights are in good shape for a while with freshmen AAs at 125 and 149 as well as a true freshman qualifier in Tom Crook at 141.
165: Michael Caliendo, North Dakota State, 7th - 2021 BB #52
The Thundering Herd of Fargo had a banner season, with their hometown hero Jared Franek finally making the podium and Caliendo, who hails from Geneva, Illinois, finishing in the top 8 in an absolutely loaded weight class as a freshman. It's a good time to be a North Dakota State fan.
The True Freshmen Bloodrounders
141: Casey Swiderski, Iowa State, 12th - 2022 BB #8
The hype around the true frosh blue chipper from Michigan may have cooled a bit as the regular season progressed, but it picked back up as Swiderski put together an electrifying performance on the backside of the 2023 NCAAs, winning four matches in a row before falling one win shy of the podium.
149: Jackson Arrington, NC State,12th - 2022 BB #20
The Wolfpack and Hokies are locked in one of the most entertaining rivalries in college wrestling, and a main driver of that drama is that both teams keep loading up their rosters with new talent. Case in point: Sidman, Pennsylvania's much heralded Arrington, who lost by a single point to Brock Mauller in the bloodround.
157: Daniel Cardenas, Stanford, 12th - 2022 BB #32
Stanford's next big prospect entered the NCAA tournament having earned the #6. The Colorado native made the quarterfinals but would lose his next two, falling one win shy of a medal when Ed Scott eliminated him from medal contention in the bloodhound in sudden victory.
The Redshirt Freshmen Bloodrounders
125: Stevo Poulin, Northern Colorado, 12th - 2021 BB #20
National Champ Andrew Alirez will hog all the headlines about the UNCo Bears this year, but Poulin may find himself on equal footing with his current teammate soon enough. Alirez himself finished in the bloodround in 2022 before winning the whole enchilada in Tulsa.
125: Brett Ungar, Cornell, 12th - 2021 BB #21
It's not easy to fill the shoes of an All-American teammate that bumps up a weight class, however, Vito Arujau took some of that pressure off Ungar by winning a dang title at 133. Ungar will have an opportunity to raise his profile next year, as 125 clears out considerably due to graduations, including from the two wrestlers who beat Ungar in the 2023 NCAA bracket.
125: Dean Peterson, Rutgers, 12th - 2021 BB #17
Peterson advanced further than any other Scarlet Knight in Tulsa, which unfortunately meant Rutgers saw its streak of nine consecutive NCAA tournaments with at least one All-American come to an end. The cupboard is far from bare on the Banks of the Raritan, however, as Peterson is just one of many talented young wrestlers on the Rutgers roster.
149: Chance Lamer, Michigan, 12th - 2021 BB #7
Michigan was hit hard by graduations from Team 100 last season, but guys like Chance Lamer are a big reason the Wolverine faithful have hope for teams 102 and beyond.
157: Cael Swensen, South Dakota State, 12th - 2021 BB #44
Coach Damion Hahn qualified eight Jackrabbits to the tournament, putting two on the podium and advancing two more to the bloodround, including Swensen, as big things continue to happen in Brookings.
157: Vinny Zerban, Northern Colorado, 12th - 2021 BB #87
Zerban would like to be remembered for much more than just being the guy who got a win in the regular season over PSU's Haines, and his 2023 tournament is a good indicator that Zerban will accomplish that goal. The UNCo Bear joined freshman Poulin in the bloodround, as the future looks bright in Greeley.
197: Jaxon Smith, Maryland, 12th - 2021 BB #35
Like Caleb Henson, Smith is part of a wave of Georgians that are looking to put the Peachtree State on the wrestling map. Smith made the quarters but fell in the round of 12 to NCAA champ and four-time AA Max Dean.
197: Silas Allred, Nebraska, 12th - 2020 BB #17
Speaking of Dean, Allred defeated Dean in the second round, though was ultimately outplaced by the Nittany Lion. All of which is to say that 197 was an extremely good weight class this season.
Any other first-timers impress you? Should we have included true freshmen who made the round of 16 like Brian Soldano or others that had stand out seasons like Iowa State's Paniro Johnson? Or what about Nebraska's Brock Hardy, who finished 6th with freshman eligibility and was at his first NCAA Championship even though he technically wrestled varsity matches in 2021? Let us know!