2023 NCAA Championships Watch Party
Penn State Wrestling Seeking 10th NCAA Title In Cael Sanderson Era
Penn State Wrestling Seeking 10th NCAA Title In Cael Sanderson Era
Nittany Lions Insider: PSU has a unique blend of decorated stars and promising prospects, making the Nittany Lions the favorite to win another NCAA title.
Mar 15, 2023
by Travis Johnson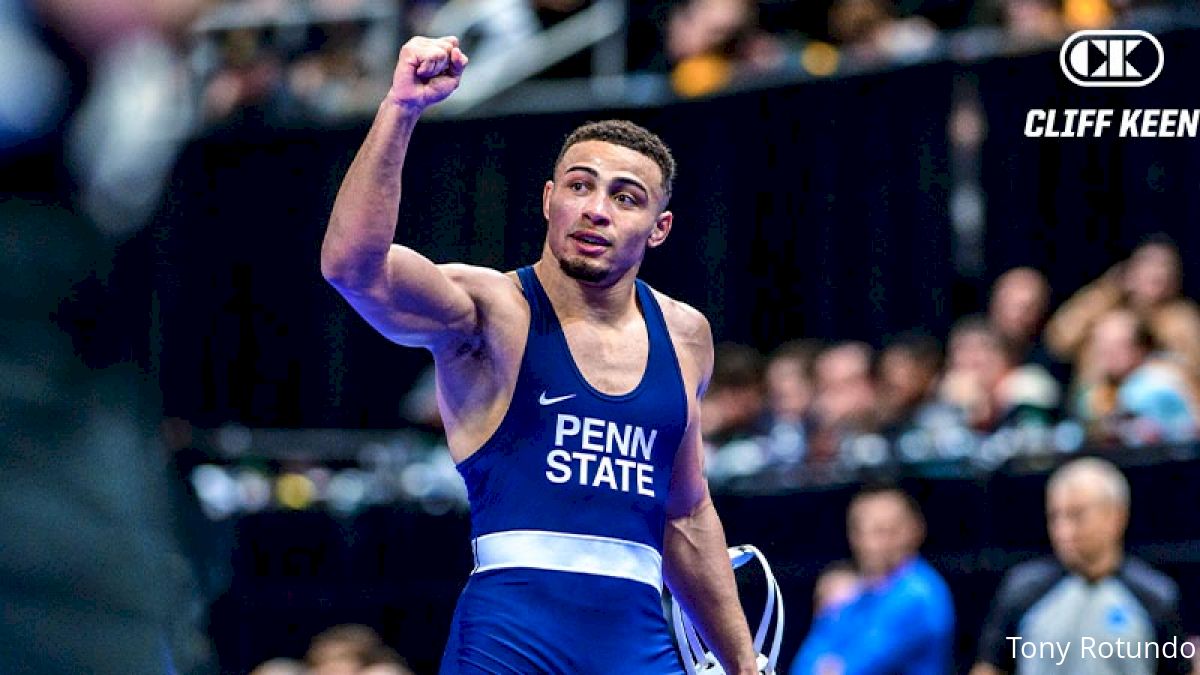 There's so much experience in Penn State's lineup and there's a lot of youth, too.
It may be Penn State's most dangerous combination as the Nittany Lions look for their 10th NCAA championship since head coach Cael Sanderson took over the program in 2009.
Not only for what it could do this weekend, but for how it projects for years to come.
Only two Nittany Lions are out of eligibility this season while three freshmen who've combined for 61 wins and just 11 losses will make their tournament debuts.
"For the most part, they're ready to roll," Sanderson said. "It's consistency, just be the same person all the time."
Penn State NCAA Wrestling Bracket Reactions
That mantra has paid off year after year. There's no turning up the heat in the wrestling room, no extra scrums in practice, no heavier lifting or longer cardio sessions.
All the work's already been done in that regard.
"I think it's the same way as you approach ever single day," Carter Starocci said. "You don't want to look at the postseason as a special time. It's time to get ready every single day of your life. So that kind of makes these moments the same and I don't think it's any different."
The Lion Verse
Two-time defending 184-pound champion Aaron Brooks is just fine with being the #3 seed at his weight.
His buddies back home in Hagerstown, Md. though?
"Truth is, you could be the #1 seed and lose," Brooks said. "You could be the 33rd seed and win the thing. My family and hometown was more upset about that than anyone here."
Getting upset doesn't seem to be in Brooks' nature. At least not this year. The deeply religious junior has routinely mentioned his spirituality and has found peace in numerous Bible verses throughout his life. He rattled off Proverbs 30:30 as one that has been at the top of his list recently.
The scripture refers to a lion, mighty among beasts, who retreats before nothing.
Brooks has also tapped into his spirituality to help pace himself this season. He's wrestled an admitted "partial" schedule for a reason. He wants to turn the corner into freestyle as soon as possible. Brooks' 13-match total this season also played a roll in his seeding. He notes that doesn't account for all the unseen battles in practice.
"I wrestle hard in here," Brooks said. "The main reason I took this kind of partial schedule, I really feel like God is calling me to wrestle the freestyle circuit this year. So I want to make sure I'm fresh for Vegas and able to go through Final X, all God willing."
First Shots
Freshmen Levi Haines, Alex Facundo and Shayne Van Ness will make their NCAA tournament debuts at 157, 165 and 149 pounds, alongside reigning NCAA champs Starocci (174), Roman Bravo-Young (133), Brooks (184) and Max Dean (197). Rounding out the lineup are Greg Kerkvliet at heavyweight and Beau Bartlett at 141.
Haines has given Penn State's lineup a bit more firepower after the coaching staff opted to burn his redshirt earlier this season.
That wasn't a difficult decision. After all, Haines arrived in Happy Valley in top shape, nearly mat-ready after skipping his final high school season to train with higher-level athletes. He spent time at David Taylor's M2 training facility just a few miles from Penn State's main campus and an entire lifetime with his dad, former Lock Haven star Ken Haines.
When asked about the Haines' family, Sanderson lit up. He remembered the call — as simple as it was — with Ken about pulling Levi's redshirt.
They both thought the kid was ready, but the Haines family was going to defer to Penn State's coach no matter what.
"He's obviously done a great job with Levi," Sanderson said. "That obviously goes a long way when your parents are on board and trust what you're doing. The family is the kind of family where if Levi had a question or something and calls home, they're not going to complain. He's going to say, 'Go talk to the coach, ask him.' That's pretty special. Great family."
Haines will enter the tournament as the #2 seed at 157 after winning a Big Ten championship last weekend.
Final Rides
Bravo-Young and Dean were not available to reporters on Monday.
Bravo-Young relaxed into a bubbling hot tub at one end of the facility while Dean appeared to go hard with a teammate at the other end.
Vastly different starts to the week for the squad's two seniors who'll arrive in Tulsa on divergent trajectories.
Unscathed at 16-0 this season, Bravo-Young will try to win his third straight title at 133, where he's the top seed and undeniable favorite. Dean, meanwhile, has been solid all season as the reigning 197-pound champ but is coming of a 6-3 loss in the Big Ten finals to Nebraska's Silas Allred.
However, Dean's best stretches have come after he's endured bitter losses where he knew he left something on the mat.
Like in the Allred match.
The Nittany Lion senior never recovered after giving up a late takedown in the first period. He fell 6-3, surrendering a counter takedown in the waning seconds.
"I think Max and Roman are in a good place," Sanderson said. "Max wasn't real excited with the way he competed, but he has a great foundation and I think it will be a blessing for him, kind of help him to kind of refocus, get things in place mentally for this last tournament."
Dean went on a 15-match win streak with three falls and four majors after his last loss. He bounced back from a 3-2 loss in late January last season with an 11-match winning streak that included his first title.
No Laying Up
Van Ness and Facundo were forced into wrestle-back situations after losing quarterfinal bouts in the Big Ten tournament.
Facundo battled back to beat Illinois Dan Braunagel for seventh while Van Ness fell in the third-place match to Iowa's Max Murin 3-2.
All four of their combined losses were by two points or less and Sanderson believes they have made adjustments that'll yield different results this time around.
"They've wrestled on a national stage many times, wrestling in some of the dual meets they wrestled in earlier this year was great preparation," Sanderson said. "The conference meet is great preparation, there's some adjustments they need to make mentally or technically, we've had some time to kind of work on that. But they're both ready to go."
Quiet, Effective Corner Work
No matter which two coaches find their way into the Nittany Lions' corners for any given match this weekend, Penn State wrestlers know they'll have a calming influence.
With exceptions for prior championship exaltations at the end of title bouts, Penn State's corner workers avoid emotional displays and other histrionics that opponents sometimes have to deal with.
As Brooks says, calm leads to focus and focus leads to wins.
"A lot of other coaches, their feet are tapping' or they're leaning forward and yelling, they're like very spastic," Brooks said. "Our coaches bring that energy where it's calm and collected, just what happens happens, we go with it. It's very contagious."
While Cael and Cody Sanderson, Casey Cunningham, Adam Lynch and Jake Varner have long been mat side staples, second-year assistant Jimmy Kennedy has added another element.
He's in the Nittany Lions' ears right up to the point they take the mat.
Call them last-second tune-ups, words of wisdom or late scouting morsels — they've paid off for whoever hears them.
"He's never tight. He's always goofy, cracking jokes, but it's subtle," Brooks said. "Very tactical when it comes to the wrestling side of things."
Racking Them Up
Bo Nickal. Jason Nolf. Zain Retherford. Ed Ruth.
Those four names stick out to Carter Starocci nearly every day he's in Penn State's wrestling room. They line the top edge of the wall along with the rest of the program's all-time NCAA champs.
Nickel, Nolf, Retherford and Ruth are Penn State's only three-time champs, though Starocci, Brooks and Bravo-Young could join them with championship runs this weekend.
"I think that's some good company," Starocci said.
Currently they belong to Penn State's two-timers club, a 10-wrestler lineup that includes names like David Taylor, Kerry McCoy and Quentin Wright.
There is no four-timer on Penn State's wall yet, however.
"These kids kind of grow up thinking and dreaming about winning four," Sanderson said. "When (Pat Smith) won four, I think everyone started thinking, 'Four.' I remember before that, it wasn't even something very many people thought about. I was just a kid, but I had to change my goal sheet, 'I don't want to win two now, I want to win four because Pat Smith won four.'"