The EIWA Dual Of The Week 2022-23
NCAA Week 16 Roundup: It's All Over
NCAA Week 16 Roundup: It's All Over
Recapping all the biggest stories from the sixteenth week of the 2022-23 NCAA D1 college wrestling season.
Feb 20, 2023
by Andrew Spey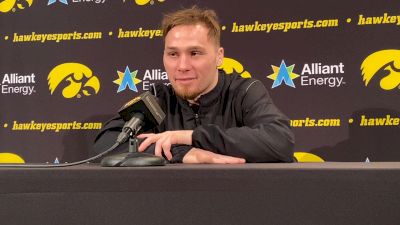 The last FULL weekend of duals (there are still 2 duals next week). No time to hold back, we're going full throttle, full bore, and full swing. What can I say, when it comes to wrestling, I'm quite fulsome!
Last Week's Roundup | Box Scores
The Artificial Intelligence ChatBot Approved Dual of the Century of the Week
The CowHawk Trophy: Oklahoma State vs Iowa
There have been too many legends to count that have competed for the storied CowHawk Trophy (which does not exist but maybe if we all collectively will it into existence we can make it happen). This edition was no exception, with program standard-bearers Spencer Lee and Daton Fix taking the mat for the Hawkeyes and Cowboys, respectively.
The dual started at 165, which meant four winnable matches for Oklahoma State before 285 and 125 rolled around and where the Hawkeyes were distinct favorites. Unfortunately for the Cowboy faithful, Iowa won all four of those toss-ups (or near toss-ups).
Anthony Cassioppi then solidly won a heavyweight matchup against Konner Doucet, followed by Spencer's Lee's final match in Carver-Hawkeye Arena. It was a "Who do you think you are? I am!" moment as Spencer countered an upper-body throw from Reese Witcraft with a cartwheel and ended the match in the first period with a pinfall.
.@LeeSpencerlee36 didn't even need a minute to stick his 34th career pin for his last match in Carver Hawkeye Arena! 🤯 @Hawks_Wrestling x @B1GWrestling pic.twitter.com/UpGeesc7Ne

— Big Ten Network (@BigTenNetwork) February 19, 2023
Daton Fix finally got the Cowboys on the board with a major decision over Brody Teske. But then Iowa answered with two more wins from Real Woods and Max Murin before Kaden Gfeller finished the dual and his collegiate dual meet career with a criteria win over Cobe Siebrecht.
Eight out of ten matches went the Hawkeyes' way as Iowa won this battle of college wrestling blue bloods. More interviews from CHA after the dual can be found here.
The Big 12 Dual That Kicked All The Ass
Missouri vs Iowa State
First of all, yes, you can say 'ass' in this blog, but only on very rare occasions like when you need to express just how excellent a dual was and you don't want it to get overshadowed by the more high profile Dual of the Century of the Week.
This particular insanely good dual was live on FloWrestling, so you can watch all the archives and a whole bunch of behind-the-scenes vids and interviews here.
You can also watch the battle of NCAA Champs #1 Keegan O'Toole vs #2 David Carr for FREE on YouTube (and below). Tell your friends, spread the word, and let the entire world enjoy the match!
The dual had it all. 14 top 24 ranked wrestlers, the aforementioned #1 vs #2, talented freshman, savvy veterans, pinfalls, close bouts, a pinfall in overtime! Go watch the matches, you will enjoy them if you are reading this blog and somehow have not watched them yet.
Elsewhere in the Big 12, Bedlam Part the Second, took place. Bedlam Part the First -- btw Bedlam is when Oklahoma State and Oklahoma wrestle, which they do twice a year in a home-and-home series -- saw the Cowboys win 21-15 in a closer contest than many expected.
Round 2 was not close, as OSU romped to a 26-6 win over the Sooners. Unfortunately for Cowboy fans, that was before they were dismantled by the Hawkeyes, so their weekend started on a high but ended on a low.
The Big 12 rivalries continued with the Battle for the Border Bell between South Dakota State and North Dakota State. The Jackrabbits absconded with the Janus-painted dumbbell for the second straight year and the sixth time in the last ten meetings.
Border Bell secured.

🔔🔒| #GetJacked pic.twitter.com/NScCPROXDy

— Jackrabbit Wrestling (@GoJacksWrestle) February 19, 2023
SDSU's #19 Tanner Sloan beat NDSU's #13 Owen Pentz 8-2 at 197 in the premiere matchup of the dual.
Additionally, Colorado's two D1 programs (both Big 12 affiliates) squared off with Air Force traveling to Greeley to wrestle the Northern Colorado Bears. #1 at 141 Andrew Alirez of Northern Colorado and #6 at 285 Wyatt Hendrickson of Air Force both won their bouts via fall but it was the Bears that won the dual convincingly 37-9.
The EIWA Dual of the Week!
America's Dual Meet: Army vs Navy
Another rivalry, and perhaps the most famous -- and definitely most patriotic -- rivalry of them all.
The Naval Academy was at West Point and won six of ten bouts to seize victory 18-13, with Andrew Cerniglia getting the dual deciding win at 165 over Nathan Lukez, 7-2 to end the competition.
Navy head coach Cary Kolat on the Middies win:
Coach Kolat's thoughts on todays win over Army! #GoNavy⚓️ x #WinTheBattle pic.twitter.com/ZKXIB3ded9

— Navy Wrestling (@NavyWrestling) February 20, 2023
That runs the all-time series to 52-10-5 in Navy's favor. Army will get a shot at revenge in a couple of weeks at the EIWA Championship on the campus of UPenn inside the historic Palestra. I'll be there and you should too if you're in the vicinity! Like anyone on the Northeast Corridor should go. Just take the Acela to the 30th Street Station and walk to the Palestra. It's 0.6 miles away and takes 11 minutes. I Googled it, now do it!
Elsewhere in the EIWA, Columbia picked up a solid out-of-conference win over a resurgent #25 Maryland squad. The Lions' Nick Babin beat the Terps' #16 Braxton Brown 8-5 at 125 to ignite the spark that powered Columbia to victory. Columbia also got wins from #23 Matthew Kazimir and #22 Joshua Ogunsanya as well as Honorable Mentions Cesar Alvin and Lenox Wolak. It appears Manhattan's very own D1 program could be peaking at precisely the right time.
LIONS WIN‼️

Columbia finishes off an 18-16 win over No. 29 Maryland!#RoarLionRoar | #Team120 pic.twitter.com/PZxAXK07Uz

— Columbia Wrestling (@CULionsWR) February 19, 2023
It's ACC Friday Night Duals!
The Atlantic Coast Conference concluded its fourth season of primetime duals on cable tv. The final dual of the year saw NC State ruthlessly dispatch their Tabacco Road rivals North Carolina for the tenth time in a row.
🏆 for the collection pic.twitter.com/vQBhGmaPk9

— NC State Wrestling 🤼‍♂️ (@PackWrestle) February 18, 2023
Pitt also beat Duke and Virginia Tech beat Virginia so NCSU, VT, and Pitt all shared the ACC Dual Championship this year.
Big Ten
Ohio State beat Cornell 22-14 in a Spartan Combat sponsored dual in lovely Tampa, Florida.
Big shout out to everyone who competed yesterday, and thank you to all the fans and supporters who attended!
•@BigRedWrestling @wrestlingbucks @vArujau pic.twitter.com/MDUpay4z9X

— Spartan Combat (@SpartanCombat_) February 19, 2023
Rather than lament the matchups we didn't get to see in this contest, I'd like everyone to focus on the very excellent 133-pound matchup we did get to witness. #3 Vito Arujau and #7 Jesse Mendez are special talents and it was a privilege to watch one wrestler at about the peak of his powers take on a similarly skilled wrestler on the ascent.
Vito got the dub, scoring the only two takedowns of the battle and winning 6-1. You can hear more from Vito after his win in the video below.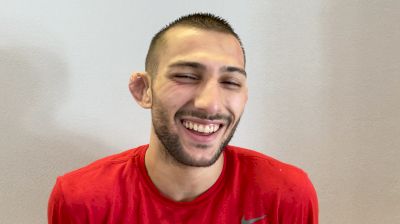 That video would make more sense in the EIWA section of the blog but it's the end of the season and sometimes things get posted in places where you might not expect them. It's just something you have to accept this time of the year.
Elsewhere, Nebraska got a big out-of-conference win over Arizona State. #3 Liam Cronin set the tone for the Huskers at 125, beating #7 Brandon Courtney in sudden victory.
Also getting a win for Nebraska was a wrestler named Pinto, though he is not lacking in horsepower.
LENNY ARE YOU SERIOUS 🤯

The Bob is rockin'❗️ Big Red up 20-12. pic.twitter.com/i5Fmfa7QGk

— Husker Wrestling (@HuskerWrestling) February 19, 2023
How many people even remember the Pinto? I was not yet alive when the car was discontinued so that reference may not have much of a shelf life left.
Anyway, it wasn't all bad news for the Sun Devils, who got a big win from true freshman Emilio Ysaguirre who defeated #4 Brock Hardy at 141-pounds, providing more evidence that 141 is the wildest weight class of them all.
Also, pretend that last paragraph was in the Pac-12 section of the roundup. Don't make me cut and paste it twice, this blog is long enough as is.
Finally, in a rivalry not quite as storied as some of the others that took place this weekend, Indiana dispatched Chattanooga 32-3. The Hoosiers were powered by #11 DJ Washington who defeated #10 Rocky Jordan 4-1 at 174-pounds.
MAC
Northern Illinois defeated SIU Edwardsville in the battle between the North and the South of the MAC programs in the Land of Lincoln. NIU won six of 10 duals and got two pins to propel them to a 25-12 victory.
The Rider Broncs had a good week, racking up three more wins (over George Mason, Drexel, and Cleveland State), which puts head coach John Hangey in the 50-win club. Congrats to Coach Hangey and all of Bronc Nation!
John Hangey picked up his 50th career win as the Head Coach of the Rider Wrestling Team after the Broncs closed out the regular season with a 3-0 weekend! Congratulations @jhangey a well deserved accomplishment. pic.twitter.com/goENwefXX7

— Rider Wrestling (@RiderWrestling) February 19, 2023
SoCon
App State won the conference dual championship by beating rival Campbell, who were previously undefeated in conference contests.
𝗧𝗵𝗮𝘁'𝘀 𝗔𝗡𝗢𝗧𝗛𝗘𝗥 𝗦𝗼𝗖𝗼𝗻 𝗥𝗲𝗴𝘂𝗹𝗮𝗿 𝗦𝗲𝗮𝘀𝗼𝗻 𝗧𝗶𝘁𝗹𝗲 🏆

No. 20 App State goes unbeaten in league duals for the second straight year!#ReAchTheSummit pic.twitter.com/cdb0xrXBiD

— App State Wrestling (@AppWrestling) February 20, 2023
The Mountaineers also shut out Davidson and Presbyterian the same day they vanquished the Camels to officially earn the SoCon Dual Championship.
Pac-12
Arizona State blanked Pac-12 rival CSU Bakersfield on Thursday but then fell to Nebraska on Sunday as we discussed already in the Big Ten section of the blog.
Cal Poly picked up a big in-state win over Stanford, 18-15. Stanford will travel to Oregon State next Sunday to wrestle in the last dual meet of the year, which is one of only two duals on the schedule for Week 17. Presbyterian at Bellarmine next Thursday is the other.
Cal Poly also beat Oregon State 19-15. That completes a 5-0 sweep of Pac-12 competition by the Mustangs! Also, Bernie Truax is back in action! The good times are rolling in San Luis Obispo!
Cal Poly finishes the season 5-0 in conference matches. PAC12 dual meet Champions‼️ pic.twitter.com/yTZU1Tp4GL

— Cal Poly Wrestling (@CalPolyWrestle) February 19, 2023
And so that's it! We did it. And I do mean we. You are a big part of this blog. Without you, there is no blog, for a blog with no readers is no blog at all!
So thank you for reading. No really, it's been more fun having you here with me as I've rounded-up the last 16 weeks of NCAA D1 wrestling.
Two more duals, and then it's time for Conference Championships, followed by main event. The crown jewel of collegiate wrestling. The NC2A Championship. See you then!