2023 Oklahoma State vs Iowa Audio Only
Iowa Wrestling Hosts Oklahoma State In Historic NCAA Rivalry Dual
Iowa Wrestling Hosts Oklahoma State In Historic NCAA Rivalry Dual
Iowa vs Oklahoma State is a must-watch annual tradition. Here's what to expect when the Cowboys head to Iowa City on Sunday.
Feb 16, 2023
by David Bray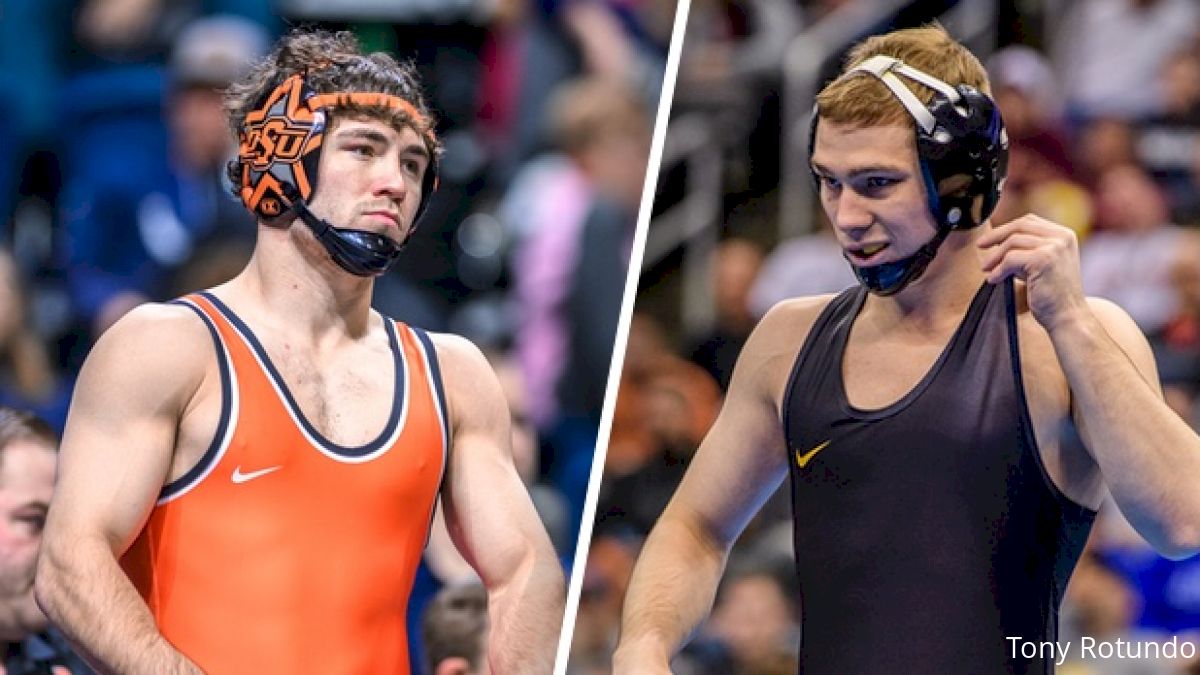 Iowa wrestles Oklahoma State Sunday in a rivalry dual that's long been an annual tradition. They Hawkeyes are heavily favored this year, but college wrestling fans know that anything can happen when these two programs collide. If you need a refresher on this rivalry, check out this article Andy Hamilton wrote a year ago about the Five Duals That Shaped The Iowa-Oklahoma State Rivalry.
This year's dual will air on the Big Ten Network, but if you can't watch that, listen in to our audio broadcast from inside Carver Hawkeye Arena. Here's a preview of what to expect at all ten weight classes when these two teams meet.
125 - #1 Spencer Lee, Iowa vs Reece Witcraft, Oklahoma State
Reece Witcraft wasn't OSU's starter at the beginning of the year, but as a 2020 NCAA qualifier, he's better than your average starter. Still, he'll have his toughest test of the year on Sunday. Spencer Lee is a notorious match terminator. He's 13-0 this season with 12 bonus point wins, 9 of which were techs or pins. He'll look to put 5 or 6 points on the board for the Hawks.
Don't be surprised if Witcraft takes an aggressive approach to this match. In a recent bout against Missouri's Noah Surtin, Witcraft locked up double overhooks and jumped into an inside trip almost immediately off the opening whistle. He may take a similar approach here. Regardless, avoiding a pin or tech would be big for the dual.
133 - #13 Brody Teske, Iowa vs #2 Daton Fix, Oklahoma State
Daton Fix will be a heavy favorite in this one despite the fact that Brody Teske's a tough NCAA qualifier who has finished in the round of 12 and round of 16 in his last two seasons. The former Nittany Lion turned UNI Panther turned Hawkeye has a realistic chance of avoiding a bonus point loss against the three-time NCAA finalist, a task he nearly accomplished against #1 Roman Bravo-Young before he was pinned late in the bout.
141 - #2 Real Woods, Iowa vs #14 Carter Young, Oklahoma State
Carter Young has yet to wrestle Real Woods in his time at Oklahoma State. He's been well-tested this season during his Big 12 dual schedule at 141 lbs is particularly deep in the conference. His recent victory over Allan Hart suggests he's a major player at this weight class, but #2 Woods is many people's pick to win the whole bracket in Tulsa.
Young's scrambling ability often allows him to extend positions that other wrestlers don't which might suggest that he can avoid giving up bonus points against Woods, but he has been bonused three times this season, most recently in a 12-4 major decision against #1 Andrew Alirez. Still, Woods only has one bonus point victory over a ranked opponent this season, so while his chances of victory are high, his chances of a major decision or better are less likely.
149 - #10 Max Murin, Iowa vs HM Victor Voinovich, Oklahoma State
Max Murin will compete in Carver for the final time on Sunday as the favorite against Oklahoma State freshman Victor Voinovich. Murin will look to end his dual meet career with a victory in front of a packed house. Voinovich entered Oklahoma State as a high-priority recruit, and while he's had a fine first varsity season, he's still waiting for a top-tier victory. This would certainly check that box.
157 - #10 Cobe Siebrecht, Iowa vs #13 Kaden Gfeller, Oklahoma State
This could turn into the most important and entertaining match of the dual. Cobe Siebrecht has been a nice surprise for Hawkeye fans. He's gone from fighting for the starting spot to the tenth ranked wrestler with a chance at earning All-American honors.
Kaden Gfeller has been a surprise for a different reason. Most Cowboy fans presumed his college wrestling career was over after the 2021-22 season, but he's been solid for OSU after returning to the lineup a weight above where he finished in the round of 12 a year ago. He may be the lower ranked wrestler on Sunday, but he's certainly more experienced. For Oklahoma State to have a shot in this dual, they'll need a victory from Gfeller. The drama in this bout will be heightened by the fact that both Gfeller and Siebrecht have a tendency to use big moves on occasion.
165 - #9 Patrick Kennedy, Iowa vs #19 Wyatt Sheets, Oklahoma State
Sophomore Patrick Kennedy is off to a strong first season in the Iowa lineup. His losses are to NCAA champ David Carr and All-American DJ Hamiti with his best victory coming against Penn State freshman Alex Facundo.
Wyatt Sheets is in his 6th year as a Cowboy. He was a surprise All-American in 2021 but is a three-time NCAA qualifier whose craftiness keeps him in most matches. He's lost two-point decisions to NCAA champions Shane Griffith and David Carr in the last several weeks. Kennedy's power, size, and consistency make him the favorite for Sunday's showdown, but this is a winnable match for Sheets.
174 - #15 Nelson Brands, Iowa vs #9 Dustin Plott, Oklahoma State
Oklahoma State is favored at 174 lbs where All-American Dustin Plott will look to knotch a big victory before the post-season. He's dropped two of his last three matches, falling to Peyton Mocco and Cade DeVos in consecutive duals. A victory over Tyler Eischens has him back on track, but a win over the stingy Brands would be huge.
Nelson Brands has seen limited action this season, and while his appearance in the lineup isn't guaranteed this weekend, the situation is big, and the Hawkeyes could certainly use him. Brands keeps himself in every match. His four losses this season have been by a combined five points. Expect this one to be close late.
184 - #9 Abe Assad, Iowa vs #11 Travis Wittlake, Oklahoma State
Iowa's Abe Assad hasn't seen the lineup since January 22, so even if he starts on Sunday, he'll have some rust to shake off which means he's likely the underdog against All-American Travis Wittlake. OSU's Wittlake has shown some vulnerability this year losing to Minnesota's Isaiah Salazar and Michigan's Matt Finesilver which might tempt Assad to return to the lineup assuming he's healthy enough to compete. Without Assad, Wittlake will be a big favorite in a match the Cowboys need desperately.
197 - #12 Jacob Warner, Iowa vs #21 Luke Surber, Oklahoma State
Iowa has returning NCAA finalist Jacob Warner at the weight, but Cowboy fans are sure to circle this match as a potential dual-swinging upset. #21 Luke Surber may have just lost to Tanner Sloan last weekend, but a week before that, he took out Rocky Elam who was ranked #1 at the time. Warner is difficult to score on, however, and even though he's had consistency issues this season, he's still a sizable favorite.
285 - #3 Tony Cassioppi, Iowa vs #18 Konner Doucet, Oklahoma State
Hawkeye heavyweight Anthony Cassioppi is coming off back-to-back losses for the first time since 2020, but that's because he happened to have #1 Mason Parris and #2 Greg Kerkvliet on his schedule for consecutive duals. Otherwise he's been flawless this season with a 61% bonus rate in his 16 victories.
Doucet has been solid this season, and while he has seven losses on the year, all of those losses have been by one or two points. Cassioppi's ability to turn good wrestlers opens the door for bonus points, but a decision for the Hawks seems like the most likely outcome.