2022 Bout at the Ballpark Presented by Kubota
Five Duals That Shaped The Iowa-Oklahoma State Rivalry
Five Duals That Shaped The Iowa-Oklahoma State Rivalry
College wrestling's most-storied rivalry has been constructed with decades of back-and-forth battles, bravado and occasional beatdowns.
Feb 10, 2022
by Andy Hamilton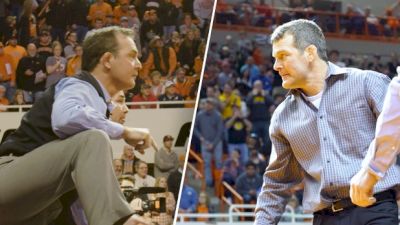 College wrestling's most-storied rivalry has been constructed with decades of back-and-forth battles, bravado and occasional beatdowns.
Iowa and Oklahoma State have squared off in 54 dual meets during the past 68 years. The Hawkeyes and Cowboys have staged epic battles in iconic wrestling venues, they've clashed in neutral settings with National Duals titles at stake, and they've gone toe-to-toe in front of a record-smashing crowd packed into a hallowed college football stadium.
Since 1977 — the year when the dual became an annual event on the college wrestling calendar — Iowa and Oklahoma State have faced off in 47 duals. Both teams registered 23 wins during that stretch in addition to a 15-15 tie in 2011.
Here's a look at five of the most memorable duals in the history of the Iowa-Oklahoma State dual series:
1984 — Oklahoma State 24, Iowa 6
The most lopsided loss in Dan Gable's coaching career came with no warning signs. The Hawkeyes entered Stillwater ranked #1. They were riding a 25-dual win streak and ran out a lineup that included NCAA champs Jim Zalesky and Pete Bush and returning national finalist Duane Goldman, along with an assortment of stars in the making.
But Mark Perry's 7-4 victory against returning All-American Tim Riley at 118 ignited a string of five consecutive Oklahoma State wins by a combined 10 points to start the dual.
"We started off losing and we just fell like dominoes," Iowa coach Dan Gable said. "You just can't have that many close matches like we had and lose them all and expect to come out all right. They just outhustled us; they beat us in the hand-fighting, and they had more hustle, better movement than we did."
Iowa's first win came at 158 pounds, where Zalesky used a last-second takedown to beat second-ranked Bill Dykeman, extending his winning streak to 80. The Cowboys closed the dual with three wins in the final four bouts.
"It's the first time I remember us taking Iowa down to the wire where conditioning was a factor in the outcome," Tommy Chesbro said in a story published by The Daily Oklahoman. "The most pleasing thing about this is these kids have worked harder this year than any team I've had."
Three of the five Hawkeyes who lost during the early onslaught wound up finishing ahead of their Oklahoma State adversaries a month later at the NCAA Championships and Iowa cruised to the national title.
1985 — Iowa 40, Oklahoma State 6
It took 372 days for dual dominance in the series to flip from one end of the pendulum to the other.
A little more than a year after thumping Iowa in Stillwater, the Cowboys went into Carver-Hawkeye Arena and ran into a black and gold buzzsaw. The Hawkeyes handed Oklahoma State its most lopsided loss in program history.
Mark Perry scored a win for Oklahoma State at 118 pounds and it spiraled out of control on the Cowboys after that. Iowa won the next eight matches, registering two pins, a technical fall, an injury default and a major decision along the way.
"In reality, I didn't think it would happen like this," Gable said. "I kept imagining we'd get breaks and win the close ones. But I didn't quite think this would happen."
"It's the first time this season we've wrestled near our ability."
Oklahoma State coach Joe Seay said he "never saw so many things go wrong in one night."
John Smith suffered a separated shoulder in an injury-default loss to Greg Randall. Leo Bailey aggravated a shoulder injury in a 16-2 loss to Kevin Dresser. Luke Skove was hauled out of the arena on a stretcher after hyperventilating at the end of his 6-3 loss to Jim Heffernan.
"The biggest problem is recovering mentally," Seay said in a story published by The Daily Oklahoman. "Physically, we can recover, but it can be mentally devastating if we let it."
1998 — Oklahoma State 22, Iowa 18
Regarded as one of the greatest dual meets in college wrestling history. This one was filled with stars, sharp turns and suspense.
The dual featured nine NCAA champs who combined to win 16 national titles, plus three more eventual national finalists and an Olympic silver medalist. It had stunning upsets, shocking momentum shifts and down-to-the-last-second drama.
In the second match of the night, returning national champ Eric Guerrero raced out to a 6-0 lead with more than three minutes of riding time late in the second period. But Iowa freshman Doug Schwab stormed back with three third-period takedowns to win 9-8.
Mark Ironside put the Hawkeyes ahead with a second-period fall at 134, before top-ranked Steve Schmidt and NCAA champ Jeff McGinness traded cradles at 142. McGinness locked up Schmidt and was trying to take him over when the Cowboy popped free and locked up McGinness for a first-period fall.
Oklahoma State won decisions by six, seven and seven points in three of the next four matches, but Lee Fullhart won by stalling disqualification at 190 to send the dual down to heavyweight. That's where Oklahoma State won the coin flip and Ben Lee escaped in a tiebreaker to beat Wes Hand 4-3 to lift the Cowboys to victory.
2012 — Oklahoma State 17, Iowa 16
To understand the historical significance of this dual, you first have to rewind to 2008. Iowa won its first seven duals and surged to the top of the national rankings for the first time under coach Tom Brands. The Hawkeyes ultimately win Big Ten and NCAA titles after a 21-1 dual season. Their lone slip was a 19-14 loss in early January against Oklahoma State in a dual that featured four consecutive Cowboy victories in bouts determined by two points.
The Hawkeyes won their last 14 duals of the season and reeled off 69 consecutive victories. Their winning streak turned into an unbeaten streak in 2011 after they wrestled Oklahoma State to a 15-15 tie in Stillwater. Iowa opted to use senior Tyler Clark at 133 pounds rather than freshman Tony Ramos against eventual national champion Jordan Oliver.
Oliver raced out to a big lead early, but Clark rode the Cowboy for nearly the entire third period to prevent a major decision in an 11-4 Oliver win, which proved to be pivotal in the final outcome.
"A tie doesn't do a lot for anyone," Oklahoma State coach John Smith said. "I think we had our opportunities but didn't really take advantage of them."
Following the season, the NCAA implemented criteria to break regular-season dual meet ties. The Hawkeyes won their first seven duals of the 2012 season to run their unbeaten streak to 84, matching a record set by Oklahoma State from 1959-66. They had to get past the Cowboys in 2012 to get past the Cowboys in the record books.
The two teams traded majors to start the dual before Ramos took the mat against Oliver, who was riding a 39-match win streak that included 10 pins in 10 matches that season. Ramos scored a takedown with 22 seconds remaining to go up 3-1 before Oliver escaped with six seconds left, barely preserving a riding-time point to force overtime. Oliver got hit with his third caution of the match in the tiebreaker session and Ramos rode the Cowboy out for the win.
Oklahoma State, though, picked up four victories in the final six bouts. Chris Perry escaped with four seconds left to force overtime at 174 and then rode out Ethen Lofthouse in the tiebreaker to win 3-2. With Iowa leading 16-13 going to the final match, Blake Rosholt notched an 8-4 win against Grant Gambrall at 197.
The Cowboys won on criteria by virtue of a 54-51 advantage in match points.
"It's a good win," Smith said. "It's easy to look at and say there were some ugly (individual) wins, but a lot of time on the road you've got to win ugly."
2015 — Iowa 18, Oklahoma State 16
The dual meet itself became a bit of a subplot to the entire Grapple on the Gridiron spectacle inside Iowa's Kinnick Stadium. The Hawkeyes and Cowboys wrestled in front of a record crowd of 42,287 — at least that was the announced figure, though some associated with the Iowa program contend the attendance was closer to 52,000.
"I know it's great for wrestling," Iowa coach Tom Brands said. "There's people in Russia and Turkey and Iran that are going to see this as well — or maybe saw it — and they will know about it.
"It was an incredible atmosphere. You can't deny that, and I'm one that likes to talk about the performance."
The entertainment wasn't bad, either. The Hawkeyes and Cowboys combined to rack up 137 match points, highlighted by double-digit shootouts at 157 and 174, where Oklahoma State picked up victories from Chance Marsteller and Kyle Crutchmer.
Iowa won on bonus points, thanks to a major decision from Thomas Gilman at 125 and a technical fall from Sam Brooks at 184.
"I felt my heart coming out of my chest," Brooks said. "I felt blood pumping through my veins. I thought my eyes were going to pop out of my head."