2023 Cornell vs Ohio State
5 Can't Miss Matchups From Cornell vs Ohio State On Saturday
5 Can't Miss Matchups From Cornell vs Ohio State On Saturday
Five questions for the #4 Cornell Big Red vs #7 Ohio State Buckeyes NCAA wrestling dual meet this Saturday at 1:00pm in Tampa, Florida.
Feb 15, 2023
by Andrew Spey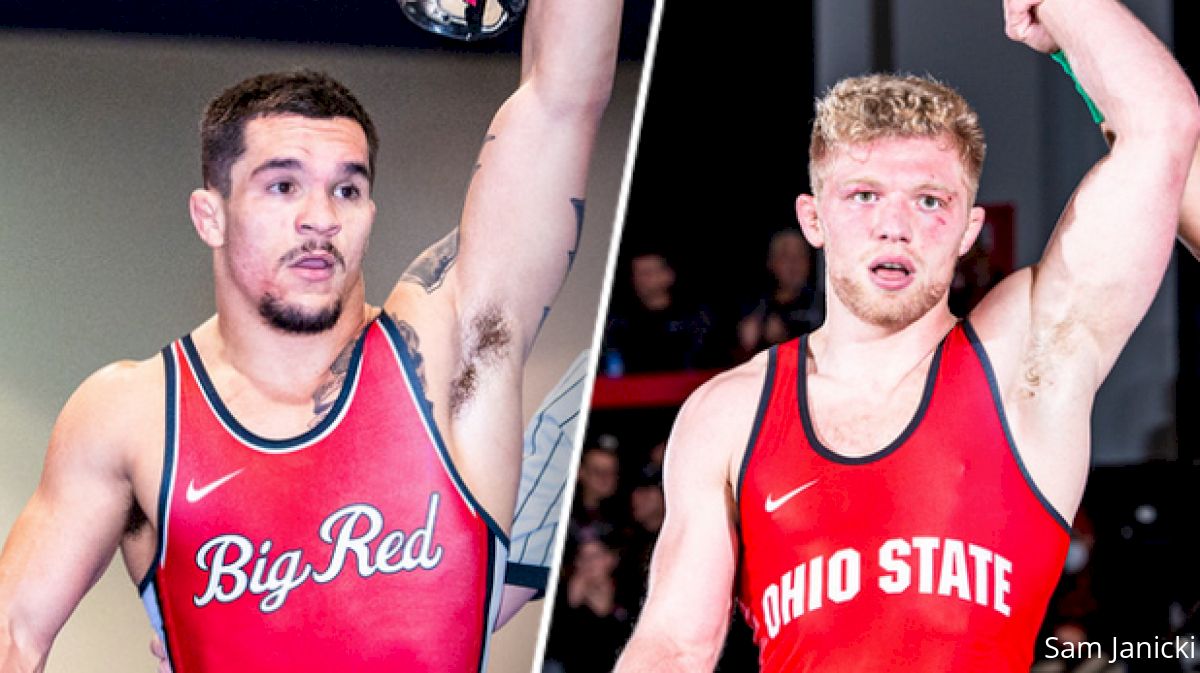 Major league collegiate wrestling is coming to the Sunshine State thanks to Spartan Combat. The #4 Cornell Big Red are taking on #7 Ohio State in a titanic out-of-conference clash to close out both programs' respective regular seasons this Saturday afternoon at 1:00pm ET.
The projected lineups are expected to produce a full slate of scintillating matchups.
125: #10 Malik Heinselman vs #18 Brett Ungar
133: #7 Jesse Mendez vs #3 Vito Arujau
141: HM Dylan D'Emilio vs #11 Vince Cornella
149: #3 Sammy Sasso vs #1 Yianni Diakomihalis
157: #21 Paddy Gallagher vs Cole Handlovic
165: #11 Carson Kharchla vs #7 Julian Ramirez
174: #5 Ethan Smith vs #4 Chris Foca
184: #5 Kaleb Romero vs Ethan Hatcher
197: #14 Gavin Hoffman vs #19 Jacob Cardenas
285: #13 Tate Orndorff vs Brendan Furman
That's a lot of ranked wrestlers competing in Tampa! Every bout should be an entertaining battle, but here are five questions for which we're hoping Saturday's dual will provide answers.
Which version of Gavin Hoffman and Jacob Cardenas will we see?
Hoffman bounced around from 184 to 285 during the first couple of seasons of his career before finally settling into the lineup at 197. The Pennsylvania native reached All-American status last year. Though Hoffman's taken unranked losses throughout his career, he's also beaten the likes of Cam Caffey this season and Nino Bonaccorsi, Jake Woodley, and Tanner Sloan on his way to AA status last season.
Cardenas has likewise looked like a world-beater, specifically when he was beating world-class international competitors on his way to the U23 finals in 2022. But he's also looked mortal at times, and failed to place at the 2022 NCAAs at 197.
Hoffman is the slight favorite on paper but this matchup between #10 on the 2018 Big Board and #15 on the 2019 Big Board could go either way.
Can Brett Ungar find another path to victory over Malik Heineselman?
True freshman Ungar cracked the Heinselman code at the CKLV in the round of 32, opening up a scoreless bout with four nearfall in the third to seal the upset.
The four-time NCAA qualifier Heinselman got revenge with a sudden victory win in the consolation of the same tournament. The rubber match could lead off this weekend's big dual.
You can watch that first CKLV match between Ungar and Heinselman below: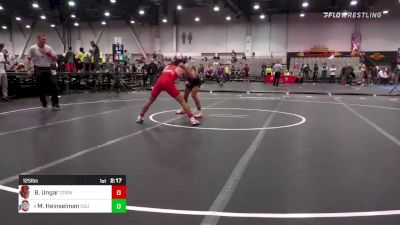 Unlock this video, live events, and more with a subscription!
Get Started
Already a subscriber? Log In
Can Superfrosh Jesse Mendez challenge #3 Vito Arujau?
Having won pretty much everything there is to win in high school, Mendez earned the #1 ranking on the class of 2022 Big Board. He's since climbed all the way into the top ten in the national rankings in his first varsity season without the benefit of a redshirt.
But his opponent, Vito Arujau, also did quite a lot of winning in his high school days, and has since gone on to place 3rd at the 2022 NCAAs. Arujau also only has 3 total losses over the last two seasons. Interestingly enough, Virginia Tech's Sam Latona holds a victory over both Arujau and Mendez this season.
Our very own Kyle Klingman has written more about this individual matchup, which you can read here. This bout should be one of the highlights of a weekend chock full of incredible matches.
Can Ethan Smith solve Chris Foca?
Foca jumped levels over the off-season, going from a national qualifier who took two losses at the 2022 NCAA tournament to non-All-Americans, to a top-five wrestler with top-of-the-podium aspirations. The #21 ranked senior on the class of 2019 Big Board has just one loss on the season, to former national champ Mekhi Lewis in the finals of the CKLV.
At the 2022 Cliff Keen Las Vegas Invitational, Foca also beat Ethan Smith, an All-American and four-time national qualifier who is also having an excellent season. Smith has five losses on the season, but four of them are to #1 Starocci, #2 Labriola, #3 Lewis, and the aforementioned loss to the #4 Foca. Smith avenged the only other loss of the season which was to Lenox Wolak of Columbia.
The bout between Foca and Smith in quarters of the CKLV went back and forth, with Smith holding the early lead but Foca's scrambling and gyro giving him the edge in the latter two periods, allowing him to ultimately win the dual 8-4.
Has Smith made the adjustments necessary to get a different result against the funky Foca the next time around? We'll find out on Saturday!
Check out their quarterfinal bout from the CKLV below: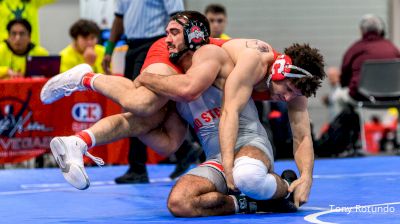 Unlock this video, live events, and more with a subscription!
Get Started
Already a subscriber? Log In
Will Julian Ramirez flip the script on Carson Kharchla?
Ramiez, aka Chalupa on Twitter, is 0-3 in his collegiate career against Kharchla. Those losses to last year's 7th placer from Ohio State came twice at the 2021 CKLV and then in the bloodround of the 2022 NCAA Championships.
You can watch that NCAA battle below: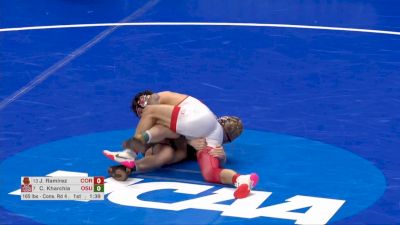 Unlock this video, live events, and more with a subscription!
Get Started
Already a subscriber? Log In
The last time they faced off was a near-run 4-3 match, and this season Ramirez outplaced Kharchla at the CKLV, though Carson did suffer an injury at that tournament and has been wrestling intermittently ever since.
Kharchla has the head-to-head historical wins, but Ramirez has been healthy and racking up bigger wins, such as his victory over Ivy-League rival Quincy Monday of Princeton less than two weeks ago. Ramirez also beat 2021 NCAA champ Shane Griffith last season, so he has a proven track record of being able to notch massive wins.
If Ramirez and Kharchla are both ready to go on Saturday, we could see a brawl of epic proportions that could also potentially decide the match.
That match, and just about every other bout in the dual, is why this contest is a can't miss event!