Women's Weekly
Women's Weekly: Yelena Makoyed Is For Real
Women's Weekly: Yelena Makoyed Is For Real
Yelena Makoyed won her fourth international ranking tournament, three major college women's tournaments took place, and there was a sellout in Iowa.
Feb 6, 2023
by Kyle Klingman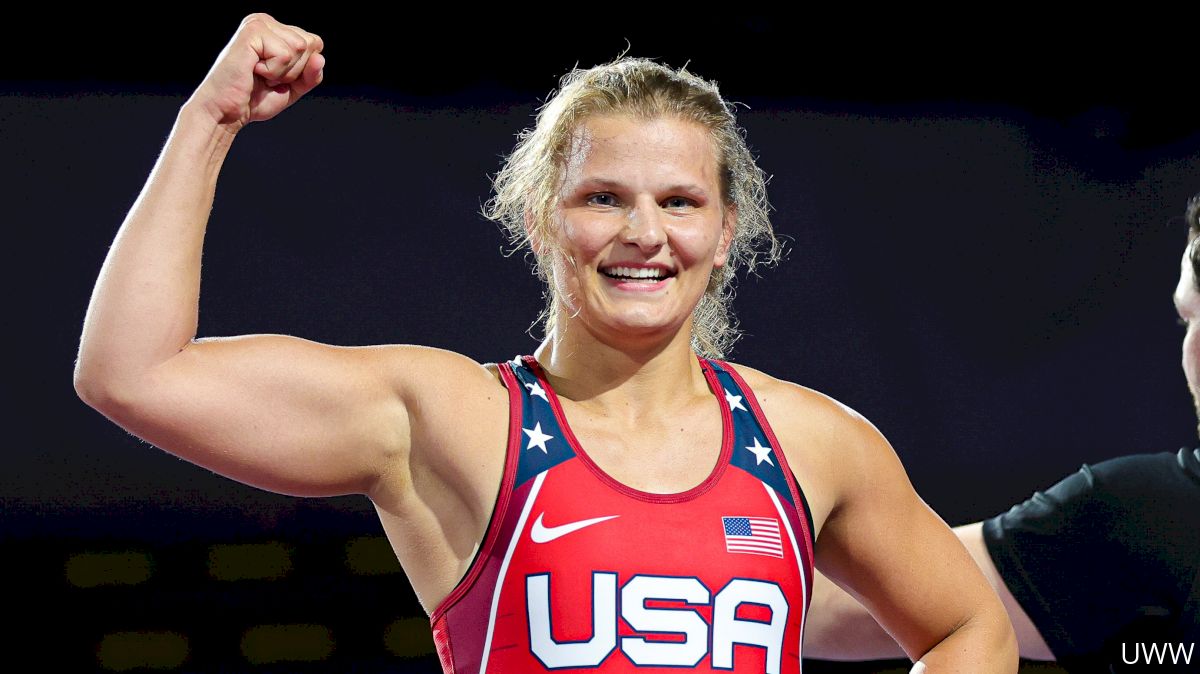 This is starting to get good.
The women's freestyle 76-kilogram class is the weight to watch as we approach the 2024 Olympics.
Six-time World champion and Olympic silver medalist Adeline Gray is expected to return. Teenage stars Kylie Welker and Kennedy Blades — both Olympic Trials finalists — will be in the mix. Dymond Guilford — a 2022 Senior World teamer — will be a factor, as are Final X participants Precious Bell and Skylar Grote.
And then there's Yelena Makoyed. A two-time national collegiate champion from North Central College who has never made a World team at any level.
If Instagram followers are your thing, then Makoyed is in last place. She's seventh out of seven of the above-listed names.
Don't worry, though. Makoyed prefers it that way. Her spiritual and philosophical view of the world keeps everything in check.
She's not opposed to dropping some Biblical nuggets, either. Matthew 20:16 suits her personality well: "The last will be first, and the first will be last."
Makoyed hasn't been last often. In fact, she has won gold medals at four consecutive ranking tournaments and pinned Yasemin Adar — the reigning World champion from Turkey — at the 2022 World Cup.
The Orangevale, California, native recently won the Zagreb Open with three technical falls and a fall in the finals. She won 12-2 over Bell and Guilford along the way. The victory over Guilford was particularly impressive since she lost three straight times to her in 2022 (including twice at Final X) before picking up a tight win in the finals at the Zouhaier Sghaier Tournament.
"I have grown and developed tremendously in the past few years," Makoyed said. "I went from being a freshman novice know-it-all to a senior with two national titles, four ranking event golds, and many, many questions. If there's anything I learned from life in the past four years, it's that I actually don't know anything about anything.
"I hope that this mindset never fades and that I will approach all situations with a childlike curiosity and a spongelike absorption of information. Because, in the grand scheme of life, I am a nobody."
Makoyed is now the undisputed pound-for-pound best college wrestler in the country after her win over Guilford. She is seeking her third national championship in March, while a loaded North Central squad seeks a team championship.
Cardinal coach Joe Norton is in awe of Makoyed's exponential growth. He used to take her down at will and would laugh when she couldn't finish a single on him.
Not anymore. Makoyed takes her coach down at will, and Norton says he won't face her unless he's fully ready to go.
"She's the perfect example of a competitor that has sought out challenges at every turn, and now she's reaping the benefits of all the hard work she's put in," Norton said. "Her commitment to the sport is unmatched, and it's the reason she's been able to accomplish so much. She will win Olympic gold medals."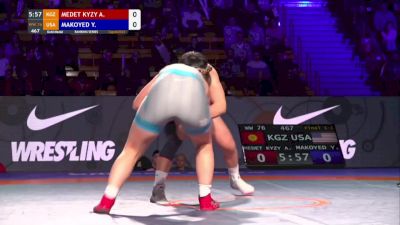 Unlock this video, live events, and more with a subscription!
Get Started
Already a subscriber? Log In
Yelena Makoyed won by fall in the finals of the Zagreb Open
Full U.S. Zagreb Open Results
50 kg: Erin Golston (NYAC), 5th
WIN Szimonetta Szeker (Hungary), 10-0
WIN Shivani Pawar (India), 4-0
LOSS Jiang Zhu (China), 9-0
LOSS Ziqi Feng (CHN), 12-1
53 kg: Dominque Parrish (Sunkist), 0-1
LOSS Samantha Stewart (Canada), pin 2:23
53 kg: Katie Gomez (Sunkist), 0-1
LOSS Khulan Batkhuyag (Mongolia), 6-2
53 kg: Alisha Howk (Sunkist), 1-2
LOSS Bolortuya Bat Ochir (Mongolia), tech. fall 11-0
WIN Vivian Matyi (Hungary), pin 2:25
LOSS Iulia Leorda (Moldova), 2-1
55 kg: Lauren Mason (Brunson UVRTC), 4th
WIN Laura Standlyte (Lithuania), 1:42
LOSS Moe Kiyooka (Japan), 10-0
LOSS Mariana Dragutan (Moldova), 0:51
LOSS Erika Bognar (HUN), 4-1
57 kg: Helen Maroulis (Sunkist), 1-1
WIN Laylokhon Sobirova (Uzbekistan), 11-2
LOSS Patrycja Gil (Poland), 10-5
57 kg: Alex Hedrick (TMWC), 1-1
WIN Tianna Kennett (Canada) pin 2:59
LOSS Guillia Rodriguez Penalber de Oliveira (Brazil), tech fall 10-0
57 kg: Amanda Martinez (TMWC/CWC), 0-1
LOSS Qi Zhang (China), tech fall 10-0
62 kg: Kayla Miracle (Sunkist), BRONZE
WIN Elis Manolova (Azerbaijan), 5-2
WIN Jia Long (China), 6-4
LOSS Grace Bullen (Norway), 8-6
WIN Taybe Yusein (Bulgaria), tech fall 11-1
62 kg: Lauren Louive (NYAC), 0-2
LOSS Sakura Motoki (Japan), tech fall 10-0
LOSS Viktoria Vesso (Estonia), pin 1:08
65 kg: Mallory Velte (TMWC/BDRTC), SILVER
LOSS Mahiro Yoshitake (Japan), 6-5
WIN Emma Bruntil (USA), 4-2
WIN Iva Geric (Croatia), tech fall 10-0
LOSS Mahiro Yoshitake (Japan), 2-1
65 kg: Emma Bruntil (TMWC), 5th place
WIN Mahiro Yoshitake (Japan), 3-1
LOSS Mallory Velte (USA), 4-2
68 kg: Solin Piearcy (Menlo WC), 5th place
WIN Alex Glaude (USA), 1-1
LOSS Koumba Larroque (France), 2-1
LOSS Irina Ringaci (Moldova), 6-0
68 kg: Alex Glaude (TMWC/BDRTC), 0-1
LOSS Solin Piearcy (USA), 1-1
68 kg: Marilyn Garcia (California), 0-1
LOSS Pauline LeCarpentier (France), tech. fall 10-0
72 kg: Skylar Grote (TMWC/BDRTC), GOLD
WIN Sumire Niikura (Japan), 10-1
WIN Reetika (India), 4-0
WIN Milla Andelic (Croatia), pin 0:42
WIN Dalma Caneva (Italy), 3-1
76 kg: Yelena Makoyed (TMWC/CWC), GOLD
WIN Shauna Kuebeck (Canada), tech. fall 11-0
WIN Precious Bell (USA), tech. fall 12-2
WIN Dymond Guilford (USA), tech. fall 12-2
WIN Aiperi Medet Kyzy (Kyrgyzstan), pin 1:40
76 kg: Dymond Guilford (TMWC), BRONZE
WIN Taylor Follensbee (Canada), pin 3:53
WIN Kamile Gaucaite (Lithuania), tech fall 10-0
LOSS Yelena Makoyed (USA), tech fall 12-2
WIN Precious Bell (USA), tech fall, 13-0
76 kg: Precious Bell (TMWC/VSW), 5th place
WIN Veronika Nyikos (Hungary), forfeit
LOSS Yelena Makoyed (USA), tech fall 12-2
WIN Shauna Kuebeck (Canada), tech. fall 10-0
LOSS Dymond Guilford (USA), tech fall 13-0
Tournament Time
The Grand View Open, Bearcat Open, and Limestone Open took place over the weekend and all three were tune-ups prior to conference and national championships.
U.S. star Xochtil Mota-Pettis ran the gauntlet by competing in Des Moines on Saturday, and in Lebanon, Illinois, on Sunday. She won the 130-pound bracket at Grand View and placed second to McKendree star Cam Guerin at Bearcat.
Iowa didn't send a full line-up to the Bearcat Open, but the Hawkeye women's wrestling team had an impressive showing.
Sterling Dias (101), Emilie Gonzalez (101), Ava Bayless (109), Ella Schmit (143), and Bella Mir (155) entered unattached in one of the best end-of-season tournaments in the country. The unattached Hawks went 19-2 on the day with three titles and two third-place finishes.
All four Division I women's programs (Iowa, Lindenwood, Presbyterian, and Sacred Heart) competed over the weekend.
Grand View Open Gold Division Champions (February 4)
101: Esthela Trevino (Southern Oregon)
109: Mia Palumbo (Unattached - Iowa Wesleyan)
116: Caitlyn Thorne (Central Methodist)
123: Carolina Moreno (Southern Oregon)
130: Xochitl Mota-Pettis (Rise RTC)
136: Adaugo Nwachukwu (Iowa Wesleyan)
143: Katerina Lange (Augsburg)
155: Lydia Krauss (Northern Michigan)
170: Joye Levendusky (Southern Oregon)
191: Tavia Heidelberg-Tillotson (Menlo)
235: Xena Hernandez of (Waldorf)
Click here for full results
Click here for interviews from the tournament
Bearcat Open Champions (February 5)
101: Sterling Dias (Iowa-Unattached)
109: Ava Bayless (Iowa-Unattached)
116: Payton Stroud (McKendree)
123: Marissa Gallegos (Colorado Mesa)
130: Cameron Guerin (McKendree)
136: Claire DiCugno (Unattached)
143: Ella Schmit (Iowa-Unattached)
155: Madison Sandquist (Sacred Heart)
170: Cara Broadus (Sacred Heart)
191: Sydnee Kimber (McKendree)
Limestone Open Champions (February 5)
101: Samantha Miller (Presbyterian)
109: Cassy Lopez (Presbyterian)
116: Alexis Medina (Cumberlands)
123: Trinity Howard (Montreat)
130: SierraMarie Miller (Presbyterian)
136: Paige Wehrmeister (Presbyterian)
143: Maya Letona (Unattached)
155: Gabrielle Holloway (St. Andrews)
170: Chamira Cooper (Cumberlands)
191: Jesse Kirby (Cumberlands)
235: Dasia Yearby (Unattached)
More D1 Women's Wrestling, Please
Another step to develop Division I women's wrestling programs took place during the Army vs Lehigh dual in Bethlehem, Pennsylvania. Two women's matches were wrestled at intermission in an effort to showcase the sport and grow women's wrestling.
Neveah Blevins of Alverinia won by fall over Annika Futch of Lehigh at 101 pounds and Brianna Felipe won by fall over Giselle Kimball of Lehigh at 191 pounds. Another women's showcase will take place at the intermission of the Princeton vs Lehigh dual on February 11.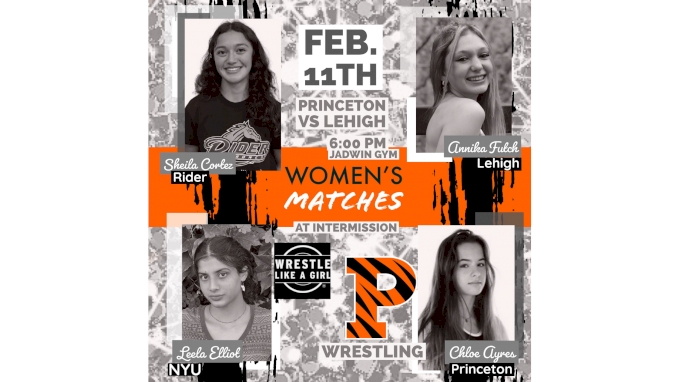 It's A Sellout!
Xtream Arena in Coralville, Iowa, holds 5100 people and every seat was full for the inaugural Iowa Girls High School State Wrestling Championships. Waverly-Shell Rock won the tournament with 123 points with five place winners and a champion.