The EIWA Dual Of The Week 2022-23
NCAA Week 13 Roundup: The Dual Of The Year
NCAA Week 13 Roundup: The Dual Of The Year
Recapping all the biggest stories from the thirteenth week of the 2022-23 NCAA D1 college wrestling season.
Jan 30, 2023
by Andrew Spey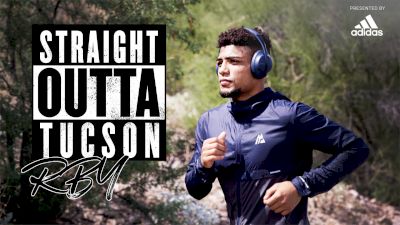 Hello friends. I hope everyone enjoyed the NFL Conference Championship games. Now all that's left of football season is the Superbowl.
But enough about everyone's favorite American enterprise in which tax dollars are wrung from the coffers of various cities and siphoned off by a cabal of 32 billionaires through publicly funded stadiums, it's time to talk college wrestling!
Last Week's Roundup | Box Scores
The MC Hammer 'Let's All Do The Bump' Dual of the Century of the Week
Penn State vs Iowa, DUH
They've won 13 of the last 14 NCAA titles between them. They came into the weekend ranked #1 and #2 in the dual meet rankings. It was by far the most hyped dual meet of the year, and no other dual meet will come close for the rest of the season. Yes, the Dual of the Century was very easy to pick this week.
Penn State hosted the event and the Big Ten Network aired the broadcast in prime time, and both entities pulled out all the stops to bring a couple of hours of first-class entertainment to two of the most rabid fan bases in the country and the rest of the wrestling community.
The BJC never looked nicer!
What a show. 🍿 @pennstateWREST x @RomanBravoYoung pic.twitter.com/9UhEYWl6eo

— Penn State On BTN (@PennStateOnBTN) January 28, 2023
And kudos to the production team from BTN, the product was outstanding!
About last night…🎬@pennstateWREST x @Hawks_Wrestling pic.twitter.com/KlRr2VIptd

— Big Ten Network (@BigTenNetwork) January 28, 2023
Hopefully, this will be a more regular occurrence for the sport!
As for the wrestling, the Nittany Lions delivered in front of the largest crowd to ever watch a collegiate dual meet indoors. Not to mention it was Coach Cael Sanderson's 100th Big Ten win at Penn State.
Tonight's B1G win, a milestone for Coach Cael...#PSUwr pic.twitter.com/5fhXcp6WUW

— Penn State WRESTLING (@pennstateWREST) January 28, 2023
Our own Kyle 'Big Blogger' Klingman has the match notes if you missed the action, which included Coach Sanderson officially tearing off Levi Haines' redshirt.
And no, Spencer Lee did not bump up to 133 to wrestle Roman Bravo-Young. No one should feel bad for wanting that to happen – it would've been cool to see! – but there was no chance of it actually going down. Hopefully sometime soon, though!
The dual itself was not without drama, but for all its potential it was a relatively tame event. There was only one upset, and it was a minor one, when #11 Patrick Kennedy defeated #5 Alex Facundo on criteria (yes, NCAA wrestling has criteria) in overtime.
Other than that, it was all chalk, with the higher ranked wrestlers winning. Spencer Lee and Aaron Brooks won in blowouts against backups, and RBY pinned Brody Teske in the final 15 seconds of their match. Every other bout stayed fairly close. Riding time was the differentiator in several bouts, leading many to opine that rules should be changed, because no one actually likes watching rideouts.
But that is a take for another time! Neither the game nor the player should be hated in this blogger's humble opinion. An event of that caliber and magnitude should be celebrated, and we'll worry about the rules and format and all the other nitty gritty in the offseason.
ACC Friday Night Dual of the Week
The Atlantic Coast Conference continues to produce bangers, with the second installment of their Friday Night Duals series broadcast on the ACC Network resulting in another epic contest in Blacksburg.
Unfortunately for the Hokie faithful, things did not go as well as they did last week, as Pitt came to town and promptly won seven of ten bouts, including the first three.
It didn't all come easy for the Panthers, though, as #7 Micky Phillippi needed tiebreakers to beat #5 Sam Latona, and Dayton Pitzer and Holden Heller both won by just two points over ranked opponents.
But it was Holden's brother Reece Heller who really brought the hammer down for the Panthers when he pinned #6 Hunter Bolen.
#PINZBURGH IN BLACKSBURG 💥@ReeceHeller sticks Hunter Bolen 👏

Pitt leads at Virginia Tech, 20-12 🔥#H2P » @NCAAWrestling pic.twitter.com/UJiLeO5KCh

— Pitt Wrestling (@Pitt_WRES) January 28, 2023
But on the plus side for Virginia Tech, Bryce Andonian continues to produce must-see wrestling whenever he steps on the mat.
BRO. HOWWW?!?!?! BA IS A WIZARD!#Team100 #Hokies pic.twitter.com/lz3Pim6ZPT

— Virginia Tech Wrestling (@HokiesWrestling) January 28, 2023
Don't sleep on ACC Friday Night Duals, they are a lot of fun!
Big 12
The Big 12's two programs in the states of Iowa and Oklahoma held a do-si-do, as Iowa State and UNI each wrestled Oklahoma and Oklahoma State over the weekend.
The first dual was a mixed bag for Iowa State despite the dominant win over traditional Big 12 rival Oklahoma. The hype trains behind true frosh phenoms Paniro Johnson and Casey Swiderski hit a couple of skids as they both took losses to lower ranked wrestlers, but David Carr looked as slick as ever getting the major decision over #18 Gerrit Nijenhuis.
One more, just for good measure.@Carrchamp

🌪🚨🌪 pic.twitter.com/LcB3D7mbum

— Iowa State Wrestling (@CycloneWR) January 28, 2023
Meanwhile, Oklahoma State defeated the Panthers in Cedar Falls in a back-and-forth battle. The difference maker was Wyatt Sheets who got the upset pin over UNI's #16 Austin Yant.
ICYMI: WYATT SHEETS IS HIM 😤#HomeOfWrestling I #GoPokes pic.twitter.com/f7BQrmtEsD

— OSU Cowboy Wrestling (@CowboyWrestling) January 29, 2023
The Clones and Panthers than swapped partners (though it is unknown if they swung them round-and-round).
ISU continued their winning ways with a victory over fellow NCAA wrestling blue-blood Oklahoma State. The Cowboys did get a win from Carter Young over Casey Swiderski that saw Swiderski get hit with a penalty point in the closing seconds of the match that nearly got coach John Smith ejected from the building. Cooler heads prevailed, and the rest of the dual went off without a hitch. Every higher ranked wrestler won in the rest of the bouts, which results in an 18-11 victory for the Cyclones.
And UNI got another win for the state of Iowa, as they soundly defeated the Sooners 23 to 12. Oklahoma did get upset wins from #21 Mosha Schwartz over #7 Cael Happel at 141, from Tate Picklo over #12 Lance Runyon at 174, and from #19 Josh Heinselman over #12 Tyrell Gordon at heavyweight. The Panther Train was too much nearly everywhere else, however, as Northern Iowa won six bouts and got a pin from Kyle Biscoglia over Wyatt Henson at 133.
Here's UNI head coach Doug Schwab after the Panther's win over Oklahoma.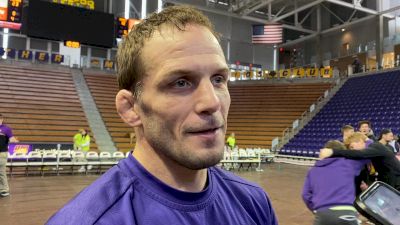 Elsewhere, the Jackrabbits defeated the Falcons of Air Force, running SDSU's dual meet win streak up to double digits. Pretty good!
Recapping the Jackrabbits' 10-match winning streak#GetJacked

Seventh time in program history with a double-digit dual win streak
2017-18 • 14
2015-16 • 12
1985-86 • 12
1972-73 • 12
1992-93 • 10
1995-96 • 10
2022-23 • 10 (present streak) pic.twitter.com/JGuuaWBUvH

— Jackrabbit Wrestling (@GoJacksWrestle) January 29, 2023
And California Baptist registered one of their biggest Big 12 victories in program history, taking out Wyoming 22-10. The Lancers were later stopped by Northern Colorado 31-6.
MAC
Clarion continues to do damage in the Mid-American Conference. With wins over Edinboro and Kent State this week they've upped their conference record to 7-1.
Their only loss is to Cleveland State, who are themselves 4-3 in MACtion. Clarion has two conference duals left on the schedule, against Buffalo and Rider, and then a tough out-of-conference dual with West Virginia, and then literally the toughest dual you can have against Penn State to close out the regular season.
Keep an eye on the Golden Eagles, they are flying high!
Cam Pine wins by major decision 12-1
Golden Eagles 14
Kent State 6 pic.twitter.com/1tMqaCJjqG

— Clarion Wrestling (@WrestlingCUP) January 29, 2023
Big Ten
There are always a ton of big results coming out of the Big Ten every week, but we'll start with Mark Manning earning his 300th career win as a D1 head coach.
Congratulations Coach on 𝟑𝟎𝟎 𝐜𝐚𝐫𝐞𝐞𝐫 dual wins! 👏 @HuskerWrestling x @Coach_Manning pic.twitter.com/V23oOjJxA8

— Nebraska On BTN (@NebraskaOnBTN) January 29, 2023
Manning coached the UNI Panthers for three years before taking on the head coaching position in Lincoln in May of 2000, guiding Nebraska through their transition into the Big Ten in 2011. Coach Manning has set just about every record in school history and continues to produce title contenders with no signs of slowing down.
Coach Manning fittingly notched his 300th win over a fellow B1G powerhouse, with a convincing 24-11 victory over Wisconsin.
In the Battle for the state of Indiana (a state needs another nickname besides the Hoosier State imo, as it doesn't sound right calling l it that when referring to the Indiana-Purdue rivalry), the Hoosiers edged the Boilermakers 17-16. Nick South of Indiana provided the heroics with a sudden victory takedown to get the dual-deciding win over Cooper Noehre at 165.
The Northwestern Wildcats continue to quietly stack up impressive wins, squeaking by Wisconsin 18-17 and pummeling Rutgers 28-6. The marquee matchup against the Badgers took place at 149, unfortunately for all wrestling fans, #2 Austin Gomez had to injury defaults against Northwestern's undefeated #4 Yahya Thomas. We all wish Gomez, one of the most electric wrestlers in the nation, a speedy recovery.
And Penn State vs Iowa wasn't the only rivalry the Big Ten had to offer this weekend. Ohio State and Michigan had their annual wrestling equivalent to 'The Game'. The Buckeyes won 23-15. Ohio State true freshman Jesse Mendez beat #10 Dylan Ragusin in sudden victory, but the Wolverines did get a boost from #6 Cam Amine, who pinned #8 Carson Kharchla in tiebreakers (in the ninth minute!).
Ohio State completed the sweep of the Mitten State with a 36-3 win over the Spartans on Sunday. Mendez won again over All-American Rayvon Foley of Michigan State. The Buckeyes also got a big win from #15 Gavin Hoffman over #19 Cam Caffey.
Pac-12
Arizona State had been taking it on the chin since the start of the new year, losing four straight duals in 2023. The Sun Devils righted the ship last week with a win over Stanford and then keep the momentum going in their favor last Saturday with a win in Bethlehem, PA over Lehigh.
The difference in the 20-16 victory for ASU was freshman Cael Valencia coming up big in sudden victory with a win over Jake Logan at 165. #4 Michael McGee also got a hard-fought victory over the very game #6 Connor McGonagle at 133.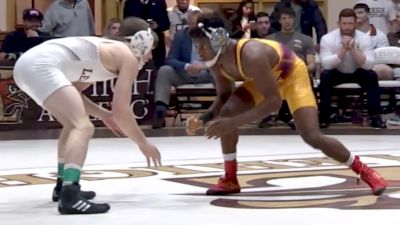 Unlock this video, live events, and more with a subscription!
Get Started
Already a subscriber? Log In
SoCon
Cambell scored three intraconference victories this weekend, beating Presbyterian, Davidson and VMI in convincing fashion. Elsewhere, registering two intraconference victories was Chattanooga, who beat Presbyterian and the Citadel. Additionally, App State beat out-of-conference (but in-state) rival Duke 42-3.
All three of the aforementioned SoCon programs are undefeated in conference duals. Looking ahead, App State hosts Chatanooga on February 5th and Campbell on February 19th. Meanwhile, the Mocs host the Camels on February 12th. Afterward, we'll have a pretty clear picture of what to expect at the Southern Conference Championships in March, also hosted by App State.
EIWA
Cornell continues to bully the conference, beating Columbia 30-3 and, in the EIWA Dual of the Week, taking out Army 27-12. In a battle of ranked opponents, Cornell's #4 Chris Foca stayed on his hot streak by beating #23 Ben Pasiuk of Army 6-3. Foca is now 17-1 on the season with his sole loss being a 3-2 defeat by Mekhi Lewis.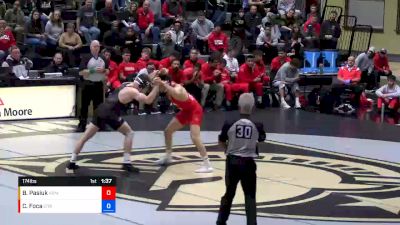 Unlock this video, live events, and more with a subscription!
Get Started
Already a subscriber? Log In
Army was able to bounce back from their loss to the EIWA favorites and defeated Bucknell 19-17, while the Bison of Bucknell managed two victories this weekend over MAC foe Rider and EIWA opponent LIU.
Elsewhere in the Ancient Eight, Penn defeated Harvard in a dual that featured an upset at 174 as Penn's #22 Nick Incontrera defeated Harvard's #13 Phil Conigliaro. And the big brains were on display again as Harvard defeated Princeton 20-18, though Princeton later got a dub over Brown on Sunday 36-6. Pat Glory wrestled up at 133 in both duals, but is still expected to make the decent back down to 125 for the postseason.
Finally, Franklin & Marshall handed Sacred Heart a very undiplomatic beat down, winning seven bouts against the Pioneers and taking the EIWA rivalry by the score of 35-11.
A Disturbing Trend... Or Is It???
A new weekly feature -- that I probably won't do after this week -- in which I examine a potentially disturbing trend in college wrestling
In this week's edition, I'll take a look at the number of forfeits we're seeing in dual meets.
I counted 17 forfeits in the D1 duals that occurred over the last seven days. That seemed like a lot, so I went back and looked at the results from the rest of this year. No other week before this most recent one broke double digits for forfeits. So it seems we have a disturbing trend on our hands. Or do we???
I then went back and looked at all the forfeits in all the dual meets from last season and it turns out, most weeks also broke double digits for forfeits. And in the last week of January there were 23 forfeits!
Forfeits then tapered for the rest of last season. But still, this season is on pace for fewer forfeits than last year. So the trend is less disturbing than it is encouraging.
All of which maps to the fact that there is a new rule in place this season that allows coaches to plug true freshmen into the lineup in up to five dual meets without utilizing a redshirt, which in theory should cut down on the number of forfeits we see.
So while 17 forfeits in the box scores is still not a good thing to see, it doesn't appear to be a panic-worthy situation yet. Just something to keep an eye.
That's it for this week. Before I sign off, please do note that I was only teasing about the NFL in the opening paragraphs. I have enjoyed watching that league for as long as I can remember, and I don't plan on stopping anytime soon. Of course, everything I said is also true, but if most people are okay with it, then I guess it's okay! In any event, there are far worse injustices in this world with which to occupy our time.
See you next week, friends!