2022 UWW World Cup
2022 UWW Men's & Women's World Cup Match Notes - Day 2
2022 UWW Men's & Women's World Cup Match Notes - Day 2
All the medal round action from Xtreme Arena in Coralville as we follow the men's and women's freestyle wrestling World Cup in real-time.
Dec 11, 2022
by Andrew Spey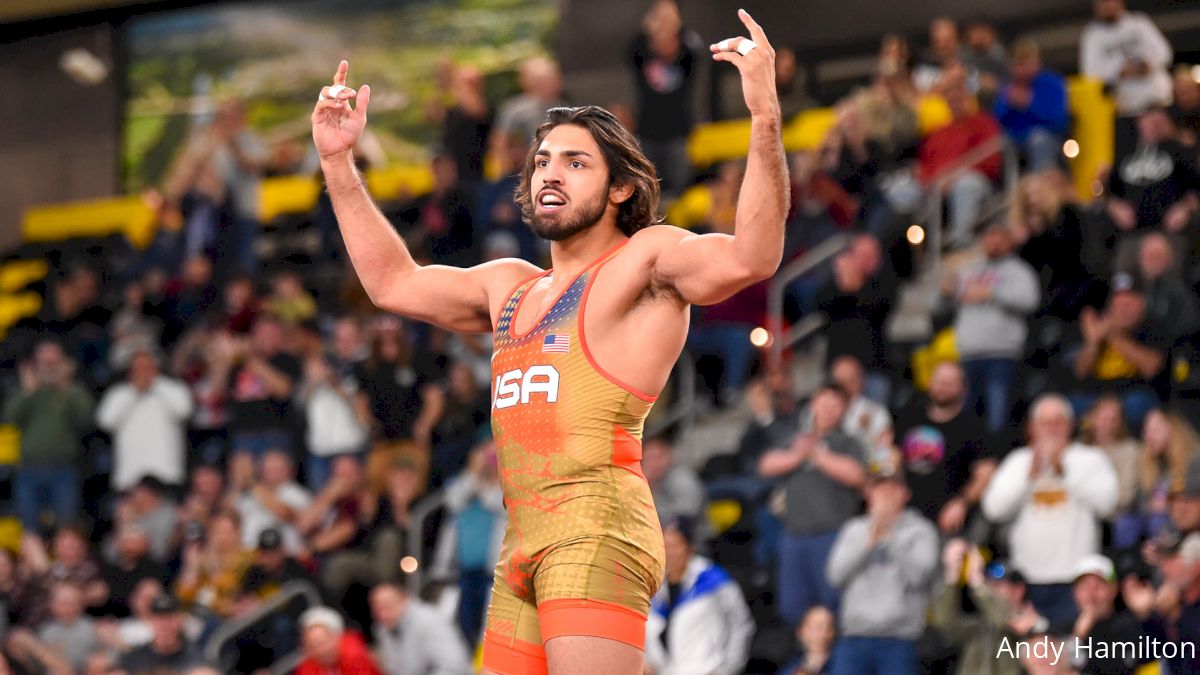 It's the medal matches of the 2022 UWW Men's and Women's Freestyle Wrestling World Cup from Coralville, Iowa. Team USA has a women's match at 12 noon eastern time against Mongolia for bronze, and a men's match at 7 pm eastern against Iran for gold.
That is very excellent and I'm going to live blog it all. Yes, it is indeed a great time to be an American wrestling fan.
The full schedule can be found here. The list of rosters is here. All the archives can be found here (search for a wrestler or team to pull up the specific match you're looking for). Box scores will be at the top of the article, followed by the live blog.
Yesterday's live blog and box scores can be found here.
BOX SCORES
Women's 3rd Place Dual: Mongolia 7, USA 3
50: Otgonjargal Dolgorjav (Mongolia) VFA Erin Golston (United States), 6-0 4:44
53: Otgonjargal Ganbaatar (Mongolia) VSU1 Felicity Taylor (United States), 12-1 5:58
55: Bolortuya Batochir (Mongolia) VPO1 Jenna Burkert (United States), 7-6
57: Alex Hedrick (United State) VPO1 Erdenesuvd Erdene (Mongolia), 6-4
59: Davaachimeg Erkhembayar (Mongolia) VUS1 Lexie Basham (United States), 13-2 5:55
62: Tserenchimed Sukhee (Mongolia) VSU1 Kayla Miracle (United States), 16-5 6:00
65: Orkhon Purevdorj (Mongolia) VPO1 Mallory Velte (United States), 9-6
68: Solin Piercy (United States) vs Purevsuren Ulziisaikhan (Mongolia), 2-0
72: Davaanasan Enkhamar (Mongolia) VPO1 Skylar Grote (United States), 7-1
76: Dymond Guilford (United States) VSU Burmaa Ochirbat (Mongolia), 10-0 1:16
Men's 3rd Place Dual: All-World Team 8, Georgia 2
57: Zelimkhan Abakarov (All World Team) VPO1 Beka Bujiashvili (Georgia), 4-1
61: Georgi Vangelov (All World Team) VFO Teimuraz Vanishvili (Georgia), 0-0
65: Taiyrbek Zhumashbek Uulu (All World Team) VSU1 Beka Lomtadze (Georgia), 14-4 5:44
70: Ernazar Akmataliev (All World Team) VPO1 Giorgi Elbakidze (Georgia), 4-3
74: Tajmuraz Salkazanov (All World Team) VSU Giorgi Sulava (Georgia), 10-0 3:20
79: Vladimeri Gamkrelidze (Georgia) VSU1 Arsalan Budazhapov (All World Team), 12-2 5:38
86: Azamat Dauletbekov (All World Team) VPO1 Sandro Aminashvili (Georgia), 6-1
92: Osman Nurmagomedov (All World Team) VPO Miriani Maisuradze (Georgia), 3-0
97: Batyrbek Tsakulov (All World Team) VPO1 Givi Matcharashvili (Georgia), 7-7
125: Solomon Manashvili (Georgia) VIN Oleksandr Khotsianivskyi (All World Team)
Women's 1st Place Dual: Ukraine 6, China 4
50: Oksana Livach (Ukraine) VPO1 Jiang Zhu (China), 4-4
53: Li Deng (China) VPO1 Albina Rillia (Ukraine), 2-1
55: Alina Hrushyna (Ukraine) VPO1 Qianyu Pang (China), 4-1
57: Yuliia Tkach (Ukraine) VFA Yongxin Feng (China), 2-0 1:30
59: Qi Zhang (China) VPO1 Iryna Bondar (Ukraine), 7-2
62: Iryna Koliadenko (Ukraine) VFA Xinyuan Sun (China), 4-0 2:16
65: Jia Long (China) VFA Kateryna Zelenykh (Ukraine), 12-12 5:58
68: Tetiana Sova (Ukraine) VPO1 Yue Han (China), 5-4
72: Qiandegenchagan Qiandegenchagan (China) VPO1 Alla Belinska (Ukraine), 9-1
76: Anastasiia Osniach (Ukraine) VPO1 Juan Wang (China), 9-5
Men's 1st Place Dual: USA 6, Iran 4
57: Zane Richards (United States) VPO1 Reza Momeni (Iran), 6-2
61: Seth Gross (United States) VSU Ebrahim Elahi (Iran), 10-0 2:16
65: Rahman Amouzad (Iran) VPO1 John Diakomihalis (United States), 5-4
70: Alec Pantaleo (United States) VPO1 Amir Yazdani (Iran), 4-3
74: Mohmmadsadegh Firouzpour (Iran) VPO1 Jason Nolf (United States), 2-1
79: Ali Savadkouhi (Iran) VPO1 Jordan Burroughs (United States), 6-6
86: Zahid Valencia (United States) VPO1 Alireza Karimi (Iran), 5-3
92: Nathan Jackson (United States) VPO1 Amirhossein Firouzpour (Iran), 8-4
97: Kyle Snyder (United States) VPO Kamran Ghasempour (Iran), 5-0
125: Amirreza Masoumi (Iran) VPO1 Hayden Zillmer (United States), 6-1
Women's 3rd Place Dual: USA vs Mongolia
First match of the day is a third-place bout between the Americans and Mongolia. Team USA was defeated 8-2 by China in their first dual in pool play but came roaring back to defeat a stacked All-World Team to secure their spot in this dual. Mongolia lost to Ukraine but defeated the vaunted Japanese women in their pool.
50kg: Erin Golston (USA) vs Otgonjargal Dolgorjav (MGL)
1st period: Nice flurry in the first, Dolgorjav gets a step out. Next sequence, close to a go behind but Golston hustled and wouldn't allow it. 1-0 a minute in. Mongolia working on her snaps and short offense but so further scores, now 2 minutes in. More crafty defense for Erin but she will go on the activity clock. Clock expires so it's 2-0 Mongolia, and we'll hit the halfway mark.
2nd period. Golston picking up her offense but Dolgorjav gets the better of the next flurry and secures a takedown for a 4-0 lead. Dolgorjac runs an armbar and Golston is in trouble. 2 more for exposure. Dolgorjav adjusting, and there's the fall. Mongolia takes the first match via pinfall.
MGL 1, USA 0
53kg: Felicity Taylor (USA) vs Otgonjargal Ganbaatar (MGL)
1st period: Iowa's own Felicity Taylor back on the mat. Ganbaatar on a single quickly but Taylor defends. Still no scores two minutes in. Ganbaatar goes on the clock. Taylor can score before the clock expires and the clock stays ticking. Close to a go behind for Taylor. She'll get the shot clock point. Slick counter Ganbaatar though right when it looked like a takedown for Taylor was imminent. A feet to back whip over just before the period ended makes it 4-1 Mongolia at the break.
2nd period: Both wrestlers trade shots but no scores, now just 90 seconds remain in the bout. Once again, Taylor close to a go behind but Ganbaatar counters and puts Taylor in danger. She then transitions to a lace and gets another turn so 2 + 2 will make it 8-1 as time is running out on Taylor. With just 10 seconds Ganbaatar shoots in. Taylor tries to counter but she'll get taken to her back and that's a 12-1 tech-fall for Mongolia.
MGL 2, USA 0
55kg: Jenna Burkert (USA) vs Bolortuya Batochir (MGL)
1st period: World medalist Jenna Burkert will try and turn the tide against an Olympic medalist from Mongolia. Burkert off to a good start with a step out and an early 1-0 lead. Batochir responds with a slick arm drag to a double for a takedown, then a leg lace to add 2 more and gains a 4-1 advantage. 90 seconds gone from the match. The priod ends, still 4-1 Mongolia.
2nd period: A slower start to the second period but action picks up about halfway thru. A very physical flurry ends in a stalemate, still 4-1, now about a minute left. Burkert locks up an upper body hold. Going big, Batochir avoids a feet to back but will give up a takedown. Back to their feet, 30 seconds to go, Jenna trails 4-3. A takedown will do it. Burkert in deep! But she's countered by Batochir with a crotch lock and exposure to make it 6-3 and likely put the match out of reach. Burkert gets a reversal as time expires and the match ends 6-4. USA challenges though. And they award a takedown to Burkert on the initial attack, but that's not enough as Batochir still gets the exposure. So the sequence starts 4-3 MGL, then Jenna gets a takedown and the lead 5-4, then MLG counters, 6-5 MLG, then Jenna reverses for a 6-6 score, but Mongolia has criteria, so they say challenge lost and add a point to Batochir's total (I'm not sure why) but it's moot as Burkert would've lost without it. 7-6 is the official final. Maybe there's something I'm missing but anywa, USA drops it's third bout in a row.
MGL 3, USA 0
57kg: Alex Hedrick (USA) vs Erdeneseuvd Baterdene (MGL)
1st period: Physical start to the bout with a couple of nice exchanges. Then Baterdene gets rear standing positions and suplexes Hedrick to her back for a four point move and a 4-0 lead. Hedrick responds with a single leg attack but can't finish and action is stalemated. The physicality of the bout continues but no more scores and Mongolia takes a 4-0 lead to the break.
2nd period: Hedrick on the offensive. Now it's her turn for rear standing. Hedrick fights through quadpod defense for her first points and she's chopped the lead in half. 4-2 in neutral, 90 seconds to go. Shot by Mongolia is stuffed. Another shot by Baterdene, stuffed again, Hedrick reattacks and gets a go behind. 4-4 but Mongolia has criteria. 31 seconds on the restart. Hedrick digs double unders and starts walking Baterdene to the boundary. She just needs one. Time running out, the ref calls the step out! There's the point as time expires. Mongolia challenges (naturally) but they lose the review. Hedrick gets Team USA their first win of the day!
MGL 3, USA 1
59kg: Lexie Basham (USA) vs Davaachimeg Erkhembayar (MGL)
1st period: Basham will try to keep the American momentum going. Team USA has little room for error from this point on. They lock horns in collar ties and tussle all around the mat but no scores. Basham put on the clock first. Mongolia scores the first point off the clock. No more scores in a physical but cautious first period, Erkhembayar up 1-0.
2nd period: More tactical wrestling and Basham goes on the clock again. She gives up a point and right after the activity clock expires Mongolia rips a headlock and scores four more to make it 6-0. Basham rolls her through to score two, but then Mongolia climbs back on top for a reversal and it's 7-2 with just one minute to wrestle. Basham pressuring in on the restart and Erkhembayar goes over/under and whips Basham to her back for another four point move. It's 11-2 with 12 seconds to go. A takedown by Mongolia after a desperation shot makes it a 13-2 tech-fall officially.
MGL 4, USA 1
62kg: Kayla Miracle (USA) vs Tserenchimed Sukhee (MGL)
1st period: USA's two-time world medalist arrives on the stage in a must-win match for the Americans. Miracle gets things going in the right direction with a single leg that she picks up and uses to run Sukhee off the mat for a point. Sukhee responds with a sag headlock for two but Miracle pops her head and comes around for a reversal. It's 2-2 but Mogolia has criteria. miracle locks up a leg lace and gets a turn, then Sukhee get's penalized for negative wrestling wrestling and they restart in par terre. Miracle can't get another turn but its 5-2 thanks to the reversal, turn and penalty point Miracle earned in that sequence. Sukhee grabs a single leg and converts for two just before time expires and we go to the break, Miracle leading 5-4.
2nd period: Sukhee goes on the attack, she puts Miracle in danger in the midst of a flurry, then works some sort of awkward head lever/arm bar and gets another turn. Sukhe now leads 8-5. 90 seconds left in the bout. Shot by Miracle is stalemated. 60 seconds to go. Miracle another attack but it's stuffed. Fireman's for Sukhee that lands for a takedown, right into a lace for two more and it's 12-5. Sukhe gets two more turns just before time expires and will win 16-5. Tough one for Miracle and Team USA's hopes of a victory.
MGL 5, USA 1
65kg: Mallory Velte (USA) vs Orkhon Purevdorj (MGL)
1st period: Team USA needs to win out and pin at least two opponents to win the dual. Velte is a two-time world medalists. Purevdroj is a world gold medalist. Purevdorj picks a knee and gets a two point takedown in the first 10 seconds. Velte responds with a knee pull single for two. Then another one with 30 seconds left in the period to take a 4-2 lead. Nearly another takedown but the sequence is ruled a slip for Mongolia. We go tot he break still 4-2 Mal Pal.
2nd period: Velte in a deep shot but it's stalemated. Velte in on a nother shot but Purevdorj crotch lifts for an exposure and a 4-4 lead via criteria. Velte responds with a throw by on the boundary froa. 6-4 lead. This match is heating up! Now a shot and a sucker drag puts Mongolia back on top 6-6 via criteria. 54 seconds to go. Velte in on a shot, Purevdorj sprawls, time ticking away. Purevdroj rear standing, Velte backs into Mongolia who falls to her back. Four points for Velte says the official? No, two points takedown for Mongolia says the table judge and chairperson. But USA challenges. On the review the 2 point takedown is confirmed, Velte drops a heartbreaker 9-6 and Mongolia clinches third place.
MGL 6, USA 1
68kg: Solin Piercy (USA) vs Purevsuren Ulziisaikhan (MGL)
1st period: A methodically paced first period results on just one activity clock point for Piercy and not much else. We go to the break USA in the lead 1-0.
2nd period: A couple of good exchanges but no scores after 90 seconds in the second. Ulziisaikhan goes on the clock one more time. 30 seconds later, Piercy collects her second point. Mongolia attacks but Piercy stands her ground and she'll take the match by the score of 2-0!
MGL 6, USA 2
72kg: Skylar Grote (USA) vs Davaanasan Enkhamar (MGL)
1st period: Grote fires off an early shot. Enkamar sprawls and action is stalemated. Grote has been the aggressive wrestler and she is rewarded by Enkhamar going on the activity clock. After 30 seconds Grote scores the first point of the bout. About one minute after that the period ends.
2nd period: 30 seconds into the period we get upper body ties, double overs for Grote, but Mongolia forces a step out. Grote shoots in but Enkhamar counters and then pancakes Grote as she was sitting up and has her on her back. Grote valiantly fights off her back to avoid the efall but its 3-1 for Mongolia. One minute left to wrestle, Grote still in this match. Another shot by Grote, down block go behind to make it 5-1. Restart with 30 seconds. There's no quit in Grote and she keeps looking for the feet to back. Enkhamar counters a last second attack to make it 7-1 the official final.
MGL 7, USA 2
76kg: Dymond Guilford (USA) vs B. Ochirbat (MGL)
1st period: An upper body exchange right off the whistle in the final bout of the dual. Guilford gets the better of that sequence and will take a 2-0 lead. Straight on double by Guilford and she makes it 4-0. Guilford locks up a lace. Three turns later and that's all she wrote. 10-0 tech-fall for Dymond Guilford!
USA drops the dual but ends on a high note.
MGL 7, USA 3
Men's 1st Place Dual: USA vs Iran
The top two teams at the event made the finals as expected. USA won the team title in Serbia at the World Championships. Can they double up on trophies at the World Cup? We will find out together.
57kg: Zane Richards (USA) vs Reza Momeni (Iran)
1st period: Richards strikes first with a knee pull single for a takedown. A couple good flurries ensue but its still 2-0 after two minutes of wrestling. Momeni driving forward, he's got a leg, Richards with a strong whizzer defense. At the boundary, Momeni gets Richards up to his feet as they go out of bounds and it's ruled a step out. Period ends, 2-1 Richards.
2nd period: Another good attack by Momeni but this time Richards sits the corner, locks on the crotch and flips Momeni over for two. He covers and then gets a restart and it's 4-1 deep into the match. Momeni stays attacking but Richards turns to face Momeni just in time. Another attack, they go out of bounds, looks like grounded but it's another step out for Momeni, 4-2 Richards still leads. 30 seconds to wrestle. Momeni in again, but Richards sits the corner again, slips around behind and collects the two. He knows he's got it in the bag. USA wins the first bout, 6-2!
USA 1, IRI 0
61kg: #7 Seth Gross (USA) vs Ebrahim Elahi (Iran)
1st period: The first two bouts are huge for the Americans. Iran is not as strong here so wins are crucial for Team USA. Gross does his thing with two-on-one ties. He hits a slide by and corals Elahi down to the mat for two points. Throws in some boots and wraps up a high gut wrench and goes to work. He's got one turn. He has another. He's a little high but adjusts and sinks back into a better position. Two more turns and that's all she wrote! A 10-0 tech-fall for Seth Gross! Those classification points are big too. They'll come in handy if we go to criteria.
USA 2, IRI 0
65kg: #4 Yianni Diakomihalis (USA) vs #1 Rahman Amouzad (Iran)
1st period: One of the marquee matchups. The rematch from the gold medal bout in Serbia that we've all been waiting for. The Greek Freak of Sweet Technique vs Mr Underhooks. Amouzad may as well be called the Submariner because it's impossible to get any lower in the stance than he likes to be in. Amouzad drives Yianni out of bounds but it's grounded. A shot from Amouzad, chest wrap defense from Yianni, but eventually it's two for Amouzad and a 2-0 lead. Yianni on the attack. Amouzad shuts him down. Amouzad drives Yianni out again but they're sliding across the mat so it's ruled grounded. The period ends, still 2-0.
2nd period: Yianni shoots in on a single leg, he climbs up and wrestling thru a whizzer to scor his first two points and gain the lead on criteria. Amouzad pressures in and a beautifully timed duck under gives Yianni two more and a 4-2. Yianni on a leg again, but Amouzad has a crotch lock. He sends Yianni over but no exposure, a second time thru tho scores and Amouzad leads on criteria, 4-4. A little over a minute to go. We'll see how much stamina plays into the end of this bout. Yianni searching for an opening. A flurry is stalemated at 42 seconds remaining. Amouzad gets a leg, he walks Yianni out of bounds for one point. 5-4, but a step out still wins it for Yianni. Only 24 seconds to work though. Down to 10. Duck under but it misses. 5 seconds. Amouzad holds on to win 5-4. So close but the Iranian did just enough to win the rematch.
USA 2, IRI 1
70kg: Alec Pantaleo (USA) vs #8 Amir Yazdani (Iran)
1st period: Amir Yazdani, cousin to Reza Yazdani, no close relation to Hassan Yazdani beyond being from the same small town in Iran, won silver at 65kg at the Oslo Worlds in 2021. Pantaleo is active off the whistle. Yazdani is warned for passivity. Off the whistle Pantaleo grabs a knee pull single, skies it and brings Yazdani down for two. Hands are heavy, lots of clubbing from both parties. IIn short time, Yazdani attacks, Pantaleo cedes ground, snaps down and gets the go behind, but he's ruled out of bounds before he completes his manuver so Yazdani gets a point. 2-1 at the break.
2nd period: Another knee pull early in the period. Same finish. Leg goes up in the air then both wrestlers go down to the mat with Alec on top. Big two point score to make it 4-1 Pantaleo. Gotta like Pantaleo's gas tank and physicality at this point in the match. There's a flurry, they both tip toe the line but no scores and you could see that took a lot out of Yazdani. Less than a minute to go, Yazadani attacks again but again its grounded. Now just 31 seconds to go. Pantaleo somehow has 6 points now? Iran challenges but I think they just need to fix the score. That's what happens and back to the center they go. A reinvigorated Yazdani goes on the attack, Pantaleo counters, Yazdani rolls through with a crotch lock to make it 4-3, then a gut wrench to make it 5-4 and the lead with 3 seconds left. Or is it? USA challeneges that Alec's head was out of bounds before the gut wrench started. And on review it clearly was. No two points on the turn, challenge won! And Pantaleo holds on to win 4-3! What a nervewracking win. Also a potentially pivotal one!
USA 3, IRI 1
74kg: #8 Jason Nolf (USA) vs #18 Mohmmadsadegh Firouzpour
1st period: Don't let the rankings fool you, this could be a very competitive bout. If Nolf wrestles to his potential though we should see another American win. A wild flurry starts things off. Nolf is a few inches away from converting an ankle pick and it's still 0-0 after a minute. Nolf doing the shooting so Firouzpour gets a passivity warning. Actually, his second warning so he goes on the clock. 30 seconds later its a point for Jason. Good level changes from Nolf but he still gets dinged for passivity, just his first tho. Period ends, still 1-0.
2nd period: Slow start but Nolf a little more active. Firouzpour goes on the clock again. He'll erase it though with a level change, half duck, half shrug, or something, anyway he's behind Nolf and has th 2-1 lead with a little over a minute to wrestle. 55 seconds now. Chest to chest, down to 30. Restart at 20. Nolf goes for a lat drop. Doesn't land, no points and they wrestle through it. Firouzpour holds position. Time expires on Nolf and Firouzpour takes it 2-1. Tough one.
USA 3, IRI 2
79kg: #1 Jordan Burroughs (USA) vs #6 Ali Savadkouhi
1st period: Iran elects not to go with their two-time world silver medalist, as Nokhodi lost to Burroughs in both those gold medal matches. Instead its Savadkouhi, who gave Burroughs a very tough bout at the Yashar Dogu last February. Savadkouhi takes ground off the whistle. Out of bounds but grounded. JB gets hit with the first passivity. Level changes from Jordan has Sadvadkouhi reacting. Now Iran gets the passivity warning. No scores after 90 seconds and Burroughs goes on the clock. With just 2 seconds left on that clock Burroughs hits a low double (double ankle pick?) that sends savadkouhi to the carpet. Immediate transition to a lace and Burroughs gets two more for a 4-0 lead. Back to the center, 45 seconds left in the period. And JB takes a 4-0 lead into the break.
2nd period: Four points is a lot for a guy with Burroughs' gas tank but Savadkouhi is young and has some big time dubs on his resume (like Sidakov in the Iranian league earlier this year). Burroughs drives Savadkouhi to the boundary to start the second. Savadkouhi circles back and drives Burroughs out but they're grounded so no scores. Savadkouhi is being agressive. Too aggressive with the fingers and he gets warned by the ref about them. Now Savadkouhi gets hold of a single leg. He climbs up and finishes for his first two points. Back to neutral. Burroughs shoots, Savadkouhi counters. Two more, plus a rare gut wrench turn on JB for two more and a 6-4 lead. Iran up by two with a little over a minute to go. 30 seconds now. Savadkohi holding position. Burroughs starts his sprint. Savadkouhi warned for fleeing. Burroughs chases Savadkouhi out of bounds. He'll give up one for the step out and one for fleeing. Savadkouhi still has criteria. 6-6 with 10 seconds left. Burroughs charges forward. Savadkouhi runs away for 10 and wins 6-6 on criteria. Brutal, but Savadkouhi did enough for the victory.
USA 3, IRI 3
86kg: #7 Zahid Valencia (USA) vs #11 Alireza Karimi (Iran)
1st period: Everything becomes must win from here on out. Karimi has been stuck behind Hassan Yazdani, but he's right there with the best in the world. Of course, Zahid is stuck behind David Taylor, and can make the same claim about being one of the best. Zahid gets the first takedown after a very entertaining scramble. Karimi warned for passivity after a minute, Valencia leading 2-0 stlll. Duck under at the 4:39 mark and Valencia has a 4-0 lead. Nice shot by Karimi in response but Valencia gets back and muscles his way out of danger. Valencia keeping the pace high. Heavy hands and half shots from Zahid take us into the break with a 4-0 lead for USA.
2nd period: Zahid keeps firing attacks and so Karimi gets put on the clock. Karimi charges ahead, working from short offense but Valencia wrestles out of danger and he'll collect a fifth point thanks to the activity clock expiring. Karimi then grabs hold of a single leg but Valencia holds him to a step out and it's 5-1 with about 70 seconds to wrestle. Down to 40 seconds, still 5-1 Zahid. 20 seconds. Valencia holding position. They go out of bounds with 10 seconds left. Karimi with a takedown off the whistle to draw within two. But he can't turn Zahid in the final seconds and Zahid Valencia gets one back for the USA! He wins 5-3.
USA 4, IRI 3
92kg: #9 Nate Jackson (USA) vs #3 Amirhossein Firouzpour (Iran)
1st period: Another match where the rankings can be deceiving. Tough to call Nate an underdog in this match even though Firouzpour is one of the best young upperweights on the Iranian roster. And Jackson goes right at Firouzpour, timing a double leg that sends Firouzpour to his back. A Jackson 'cram' for four. Jackson is run out of bounds in the ensuing scramble and it's 4-1 after 30 seconds. Firouz drives Jackson to the edge of the mat but they're grounded. Actually, Firouz floats behind and is given two points. Or is he? Jackson's corner challeneges. On the review it's ruled Jackson was fleeing and gives up a point and they return in par terre, plus Jackson has a caution. Firouz goes for a gut but Jackson step sover and has Firouzpoour in danger. He can't hold him but it was close to a pin. Time runs out in the period and Jackson has a 6-2 lead.
2nd period: Firouz on the attack, good defense from Jackson and they're back in neutral. Lots of time left in the match. Throw by attempt by Firouzpour gets stuffed. Another long flurry, they go out of bounds but it's ruled grounded. A little over a minute to go. Shot by Firouz, sprawl by Jackson, stalemate, 55 on the clock. Attack by Firouz. Now Jackson in on a leg. Crotch lift from Firouz, he gets two. 6-4 Jackson. They're still scrambling. Up to their feet. The flurry continues. And Jackson converts a takedown to ice it! He'll win 8-4! The crowd is on their feet as that's the fifth American win! One more will clinch it.
USA 5, IRI 3
97kg: #2 Kyle Snyder (USA) vs #1 Kamran Ghasempour
1st period: Kyle Snyder vs Kamran Ghasempour with the World Cup title on the line. Just as we drew it up! Synder won gold in Serbia at 97kg. Ghasempour won gold at 92kg. Not a bad way to decide the dual! A cautious first 90 seconds of wrestling. Ghasempour goes on the clock. He doesn't come close to scoring and Snyder draws first blood, 1-0. That's the score at the break.
2nd period: Wonderful flurry to kick off the second period. No scores but plenty of action. Ghasempour finds himself on a single leg but Snyder defends. It was close tho. Syder hit with passivity. His first. He then goes right after Ghasempour on the whistle and gets a step out. Ghasempour needs injury time. Looks like Snyder caught him in the xiphoid process (look it up!). They're back to the center. Snyder charges ahead again and earns another step out. 3-0 and we hit the final minute. Snyder in on a single, Ghasempour defends. A flurry ensues. A perfectly timed ankle picks sends Kamran to the mat and Snyder converts cleanly for two. That's a dagger for Team Iran. Final 10 seconds. And there it is! Snyder wins 5-0 and Team USA wins the World Cup!
Team USA men's freestyle completes the Double. They win the 2022 World Championship and the World Cup. Which is pretty kick ass imo.
USA 6, IRI 3
125kg: #7 Hayden Zillmer (USA) vs #5 Amirreza Masoumi (Iran)
1st period: This one's for pride, which both wrestlers have a lot of so expect nothing but a brawl in the last bout of the event. Masoumi strikes first with an ankle pick to a go behind to a takedown and a quick turn for a 4-0 lead. A step out a little bit later and it's 5-0 Masoumi. A lot of match left to go tho. Masoumi, who is enormous, gets an underhook and explodes on Zillmer for another step out. Zillmer counters with a low shot and he forces a step out to get on the board. 6-1 is the score. That's how the period ends.
2nd period: This slow down a bit, no additional scores after a minute. Same story after another minute. Masoumi has lost his explosiveness but Zillmer unable to really grind him down so its mostly collar ties. And that's how the match ends. 6-1 for Masoumi the teenage phenom. A little anti-climatic but we'll take it!
USA 6, IRI 4
That's all the time I have for reflections. Box scores and the weekly roundup await. Sorry for the typos and enjoy the victory America!