2022 UWW World Cup
The 2022 World Cup Watch Guide
The 2022 World Cup Watch Guide
It's only the most important international men's or women's wrestling dual meet event of the year, AND the USA has home mat advantage!
Dec 9, 2022
by Andrew Spey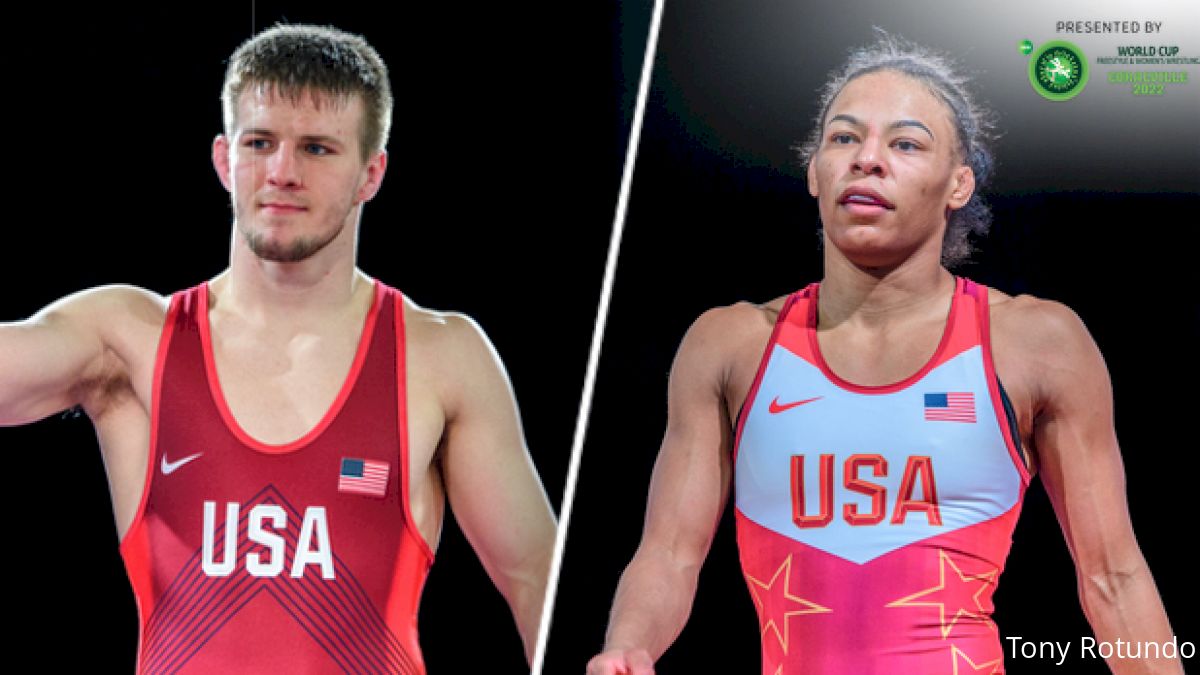 All the requisite visas were issues and all the international competitors have made it to Coralville, Iowa. The 2022 Men's and Women's Freestyle World Cup is a go!
We wouldn't presume to tell you all how to live your lives, but if you were so inclined to spend all day on Saturday and Sunday watching freestyle wrestling, we'd like to guide you with the following information.
The matches start at 10:00 AM central on Saturday with intra-pool duals. Here's the full schedule. And here are the rosters (you may see minor updates to these rosters between when this article is published and when wrestling takes place).
On Saturday, men's freestyle is always on Mat A, and women's freestyle is always on Mat B. Then on Sunday they break it down to just one mat for the bronze and gold medal duals for both men's and women's freestyle.
Saturday, December 10
Session I: 10:00 AM
Mat A: USA vs Mongolia; Mat B: Japan vs Mongolia
Your first look at our star-studded men's freestyle squad. They'll take on a tough Mongolian squad that always shows up to compete at every international event.
Might the whole event kick things off with a matchup between Nick Suriano and 2022 World Bronze Medalist Zanabazar Zandanbud? We can only hope.
The Stars and Stripes will need to be on their A-game for the heavyweight bout as well, as Mongolia could send out 2021 and 2022 world medalist Lkhagvagerel Munkhtur. Hayden Zillmer and Nick Gwiazdowski will have their hands full, whoever gets the nod for team USA.
Session II: 10:30 AM
Mat A: Iran vs Japan; Mat B: USA vs China
All American eyes will be on Mat B as the US distaff competitors make their 2022 World Cup debut. Their Chinese opponents will be a mix of seasoned vets and up-and-comers, but all will be ready to challenge the Americans on their home turf.
55kg will be the weight to watch, as the Americans have world medalist Jenna Burket and world champion Jacarra Winchester on their roster, whereas China has Qianyu Pang, a three-time world medalist.
The men's freestyle team and their supporters will also be watching Mat B (use the split screen function if you are watching on your laptop or desktop!) as Iran, their chief rival, will wrestle for the first time at the event vs Japan.
Session III 3:00 PM
Mat A: Mongolia vs Georgia; Mat B: Mongolia vs Ukraine
After a break for lunch, action resumes without Americans on either mat. We still advise you tune in, but if you abso;ute;y had to skip a session, this would be the round to do it.
Session IV: 4:30 PM
Mat A: Japan vs All-World Team; Mat B: China vs All-World Team
Another session without any American teams, but these All-World Teams are still definitely worth checking out. On the men's All-Star squad, for example, there are seven wrestlers ranked in the top 10 internationally, including defending 57kg champ, Zelimkhan Abakarov of Albania.
Session V: 6:00 pm
Mat A: Georgia vs USA; Mat B: Ukraine vs Japan
The American men are back on the mat after a sizable interval. The Georgians are never pushovers but Team USA will be the favorites to win the match and clinch a spot in the gold medal dual.
The marquee bout will likely be 79kg, where Jordan Burroughs has an opportunity to wrestle 2022 U23 gold medalist Vladimeri Gamkrelidze, who's currently ranked #10 in the world.
Session VI: 7:30 PM
Mat A: All-World Team vs Iran; Mat B: All-World Team vs USA
The final session will be a crucial one for the American women, which of course goes without saying as both duals for every team will be crucial on day 1. But this match will also be in primetime, and will hopefully command the attention of every wrestling fan in America.
The women's All-Star team is just as stacked as the men's, with world medalists in nearly every weight class. 62kg could decide the dual, as two-time world champ Aisuluu Tynybekova of Kyrgyzstan will represent the All-Stars and we should expect to see her face two-time world medalist Kayla Miracle in what would be a rematch of the 2021 world championship gold medal match.
Sunday, December 11
Session I: 11:00 AM
Women's Freestyle 3rd Place Match
We hope that the Americans are in the gold medal match, but third place against this competition is nothing to sneeze at.
Session II: 12:30 PM
Men's Freestyle 3rd Place Match
Likewise for the men's squad. Regardless of who makes this match though it will be another opportunity to watch high-level international wrestlers NOT taking place in the middle of the night for once!
Session III: 4:00 PM
Women's Freestyle 1st Place Match
Another break for lunch before returning for the championship duals. Japan doesn't have their number ones going (this year's event conflicts with a domestic event that is a major part of the Japanese world team trials), but second, third, or even fourth string in Japan is often good enough to win a medal at the world championships. Regardless, the best of international women's wrestling will be on display and it will be tough to find a more convenient time to show your support for women's wrestling!
Session IV: 6:00 PM
Men's Freestyle 1st Place Match
The Americans won the title in Serbia at the world championships, can they double up on trophies and win the cup on home soil? Chances are it will be an epic dual between USA and Iran. It's going down at 7:00 PM eastern time, so you have no excuse NOT to watch. Tune in, or regret it forever!