2022 UWW World Cup
Women's Freestyle Stars And Must-See Matches At World Cup
Women's Freestyle Stars And Must-See Matches At World Cup
The first combined freestyle World Cup kicks off Saturday, and the two-day event will feature a big collection of global stars and a new wrinkle.
Dec 8, 2022
by Olivia Lichti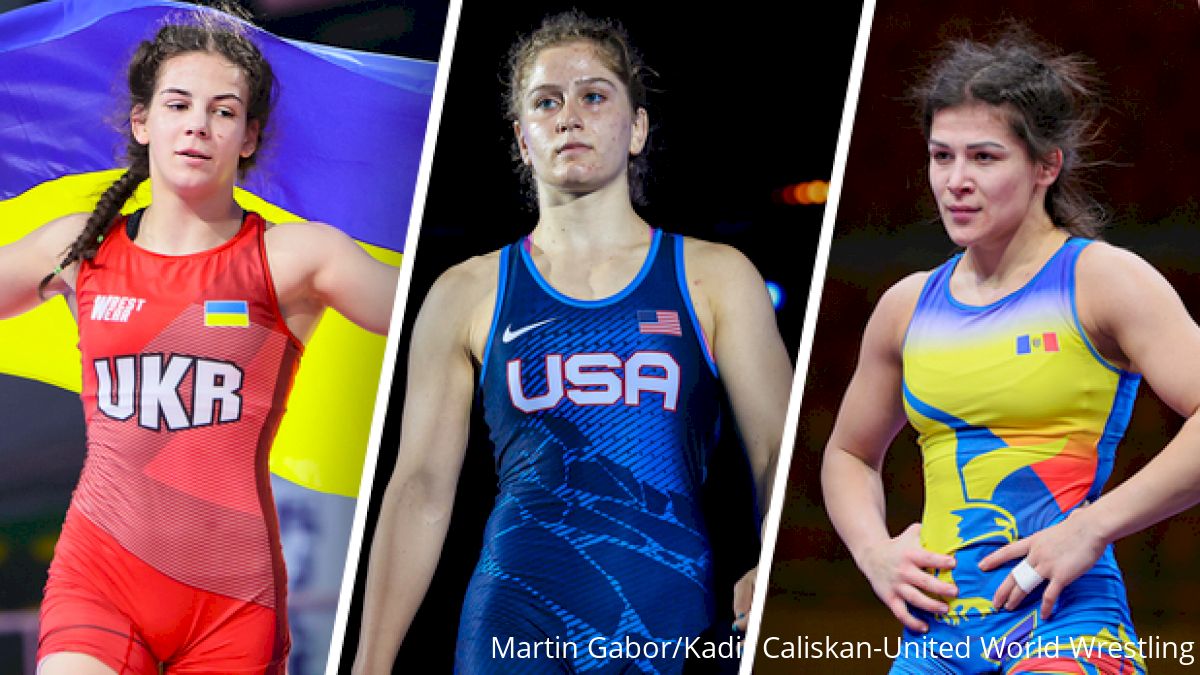 The first combined men's and women's freestyle World Cup kicks off Saturday in Coralville, Iowa, and the two-day event will feature a big collection of global stars and a new wrinkle to the event. In addition to the top five teams from September's World Championships, the All-World Team will also be one of the main attractions this weekend in Iowa. On the women's side, the All-World squad consists of wrestlers from nine countries and features seven World medalists.
Here's a look at the women's freestyle field and some of the top potential matchups for the United States:
USA
Roster
50 kg — Alyssa LAMPE
50 kg — Erin GOLSTON
53 kg — Felicity TAYLOR
53 kg — Ronna GROSS
55 kg — Jacarra WINCHESTER
55 kg — Jenna BURKERT
57 kg — Alexandra HEDRICK
57 kg — Amanda MARTINEZ
59 kg — Lexie BASHAM
59 kg — Michaela BECK
62 kg — Kayla MIRACLE
62 kg — Jennifer ROGERS
65 kg — Mallory VELTE
68 kg — Sienna RAMIREZ
68 kg — Solin PIEARCY
72 kg — Amit ELOR
72 kg — Skylar GROTE
76 kg — Dymond GUILFORD
76 kg — Yelena MAKOYED
Though some key names are missing from the American roster, Team USA will still be putting out a strong assortment of seasoned veterans and up-and-coming talents. Reigning World champions Dom Parrish and Tamyra Mensah-Stock as well as Helen Maroulis and Sarah Hildebrandt are all, unfortunately, missing from the entry list. In their absence, this team will be led by Amit Elor, who won U20, U23 and Senior Worlds this year, as well as two-time World medalist Kayla Miracle. Elor has been one of the most exciting women to watch in wrestling this year and will be a heavy favorite against everyone else in the field in Coralville. Miracle's weight class is quite deep and she's scheduled to have some competitive matches.
The USA also features a pair of strong athletes at 55 kg in 2019 World champion Jacarra Winchester and 2021 World bronze medalist Jenna Burkert. While it's unclear how these two will split matches, it's encouraging to see that the USA has two solid options in one of the deepest weight classes in Coralville. And 76 kg also has two talented athletes with U23 World Finalist Dymond Guilford as well as Yelena Makoyed, who won three international tournaments this summer and notched victories over four past World medalists. University of Iowa standout Felicity Taylor will be competing in her home state at 53 kilos; she'll share the weight with last year's Olympic Trials finalist Ronna Gross. This lineup will feature some of the USA's top stars while also giving some of the talented backups time to test themselves against international competition.
Ukraine
Roster
50 kg — Oksana LIVACH
53 kg — Lilija MALANCHUK
55 kg — Oleksandra KHOMENETS
57 kg — Alina HRUSHYNAAKOBIIA
59 kg — Yuliia TKACH OSTAPCHUK
62 kg — Iryna KOLIADENKO
65 kg — Tetiana SOVA RIZHKO
68 kg — Alla BELINSKA
72 kg — Anastasiya ALPYEYEVA
76 kg — Anastasiia OSNIACH SHUSTOVA
With half of its roster still being U23-eligible, Ukraine is bringing one of the youngest teams to Coralville. Despite their youth, the Ukrainians still have a formidable squad: their lineup includes five past World medalists and a host of age-level stars. 2014 World champion Yuliia Tkach Ostapchuk is their most experienced athlete, owning four World medals along with three European titles and a pair of Olympic appearances. She'll be joined by Tokyo 2020 bronze medalist Iryna Koliadenko, whose sole appearance since the Olympics was a Matteo Pellicone gold medal in June. Her return to competition will be highly anticipated in this deep weight class.
Much of the excitement around this team lies in their up-and-coming youth. Nineteen-year-old superstar Oleksandra Khomenets picked up her second World medal this year, upgrading her 2021 bronze to a finals appearance. Alongside her is 2021 U23 World champion Alina Hrushyna, who made the Senior podium for the first time this year at 57 kg. Also keep an eye on 2018 World bronze medalist Oksana Livach; though she hasn't quite been able to recapture the same magic of her previous medal run, she's still very skilled.
Best Potential Ukraine vs. USA Matches
50 kg: Oksana Livach vs Erin Golston/Alyssa Lampe
55 kg: Oleksandra Khomenets vs Jenna Burkert/Jacarra Winchester
62 kg: Iryna Koliadenko vs Kayla Miracle
Mongolia
Roster
50 kg — Otgonjargal DOLGORJAV
50 kg — Namuuntsetseg TSOGT OCHIR
53 kg — Bolortuya BAT OCHIR
53 kg — Khulan BATKHUYAG
55 kg — Otgonjargal GANBAATAR
55 kg — Sumiya ERDENCHIMEG
57 kg — Davaachimeg ERKHEMBAYAR
57 kg — Erdenesuvd BAT ERDENE
59 kg — Khongorzul BOLDSAIKHAN
59 kg — Bolortuya KHURELKHUU
62 kg — Tserenchimed SUKHEE
62 kg — Bolortungalag ZORIGT
65 kg — Purevsuren ULIZIISAIKHAN
65 kg — Shoovdor BAATARJAV
68 kg — Delgermaa ENKHSAIKHAN
68 kg — Urtnasan GAN OCHIR
72 kg — Davaanasan ENK AMAR
72 kg — Sarnai BAYARBAATAR
76 kg — Ariunjargal GANBAT
76 kg — Zagardulam NAIGALSUREN
Though it may not have the same high-profile stars as some of the other nations in Coralville, Mongolia did not play around with its World Cup team. While many countries were missing a couple key players from their lineup, Mongolia didn't leave a single star at home, bringing two women for each weight class. And the Mongolians have depth: at 53 kilos, they sport both Tokyo 2020 bronze medalist Bolortuya Bat-Ochir alongside this year's World Finalist Khulan Batkhuyag. They have a pair of Olympians at 59 kilos in Khongorzul Boldsaikhan and Bolortuya Khurelkhuu, as well as two-time World medalist Otgonjargal Dolgarjav and 2020 Olympian Namuuntsetseg Tsogt-Ochir at 50 kilos. All in all, this lineup includes seven World medalists across six weight classes, including 2014 World Champion Tserenchimed Sukhee at 62 kg.
A couple points of interest will be seeing how three-time World medalist Shoovdor Baatarjav performs up two weight classes, going from her usual 59 kg to 65 kg. As well, wrestling fans should keep an eye on Otgonjargal Dolgarjav, who had a win over Sarah Hildebrandt in the World semis this year; though Sarah won't be present in Coralville, there are lots of other talented 50-kg athletes that should be able to provide Dolgarjav with some challenging matches. Other talented athletes to watch are Tserenchimed Sukhee, who had a solid 2022 season despite a disappointing World Championship, and Delgermaa Enkhsaikhan, who picked up a win over Tokyo 2020 silver medalist Blessing Oborodudu in a deep 68-kg bracket at Worlds.
Best Potential Mongolia vs. USA Matches
50 kg: Otgonjargal Dolgarjav vs Alyssa Lampe/Erin Golston
55 kg: Sumiya Erdenechimeg vs Jenna Burkert/Jacarra Winchester
62 kg: Tserenchimed Sukhee vs Kayla Miracle/Jennifer Rogers Page
65 kg: Shoovdor Baatarjav vs Mallory Velte
68 kg: Delgermaa Enkhsaikhan vs Solin Piearcy/Sienna Ramirez
China
Roster
50 kg — Meng FAN
50 kg - Jiang ZHU
53 kg — Li DENG
55 kg — Qianyu PANG
57 kg — Yongxin FENG
59 kg — Zhang QI
62 kg — Xinyuan SUN
62 kg — Xiaojuan LUO
65 kg — Jia LONG
68 kg — Feng ZHOU
68 kg — Yue Han
72 kg — Qiandegenchagan
76 kg — Juan Wang
COVID has left China absent from the international stage for much of the past three years, but it was back in a big way in Belgrade, placing a respectable third with three medal-winners. This lineup here has some new names, but still contains five past World medalists. Most notably, Tokyo 2020 silver medalist Qianyu Pang will be making her return for the first time since the Olympics, though she'll be up a weight at 55 kilos. She'll be joined by returning World medalists Xiaojuan Luo, who placed third at 62 kg, and Jia Long, who took silver at 65 kg. These three women will all face Americans in must-watch matches in the first dual of the event.
Other World medalists present in this event are two-time bronze Feng Zhou at 68 kilos, who defeated Tamyra at the 2020 Matteo Pellicone, and 2017 World bronze medalist Yue Han. China's upperweight women are always formidable; though relatively uncredentialed, Qiadegenchagan at 72 kg and Juan Wang at 76 kg have both amassed some impressive wins over their careers and could earn some big wins for their team in this dual meet format.
Best Potential China vs. USA Matches
55 kg: Qianyu Pang vs Jenna Burkert/Jacarra Winchester
62 kg: Xiaojuan Luo vs Kayla Miracle
65 kg: Jia Long vs Mallory Velte
68 kg: Feng Zhou vs Sienna Ramirez/Solin Piearcy
76 kg: Juan Wang vs Dymond Guilford/Yelena Makoyed
Japan
Roster
50 kg — Hanano SAKRAI
53 kg — Rino KATAOKA
55 kg — Moe KIYOOKA
57 kg — Ruka NATAMI
59 kg — Himeka TOKUHARA
62 kg — Yui SAKANO
65 kg — Miyu IMAI
68 kg — Kumi KOBAYASHI
68 kg — Yuka FUJIKURA
76 kg — Nodoka YAMAMOTO
Reigning World champion Japan had five World champs and nine medalists in Belgrade, yet not one of them will be in attendance at this event. Japan's prestigious Emperor's Cup tournament will be taking place next weekend, and as the tournament has significant implications for their 2024 Olympic team selections, all of the big stars opted to skip the event in favor of their domestic pursuits.
Nevertheless, some highly-credentialed age-level athletes make up the Japanese squad. At 55 kilos, Moe Kiyooka won both the U20 and U23 Worlds this year; expect her to be fully ready to compete with the best at this weight. Other World champions in this lineup include Hanano Sakurai (2017 & 2019 U17), Ruka Natami (2019 U17 & 2022 U20), Himeka Tokuhara (2022 U23), Yui Sakano (2017 U23), and Miyu Imai (2018 U20). Even without their big stars, this Japanese lineup will be more than competitive with the other teams in their pool, and some of their backups will have big opportunities to make a name for themselves in Coralville.
Best Potential Japan vs. USA Matches
55 kg: Moe Kiyooka vs Jenna Burkert/Jacarra Winchester
57 kg: Ruka Natami vs Alexandra Hedrick/Amanda Martinez
62 kg: Yui Sakano vs Kayla Miracle/Jennifer Rogers Page
76 kg: Nodoka Yamamoto vs Dymond Guilford/Yelena Makoyed
All-World
Roster
50 kg — Anna LUKASIAK (POL)
53 kg — Maria PREVOLARAKI (GRE)
55 kg — Karla GODINEZ (CAN)
57 kg — Anhelina LYSAK (POL)
59 kg — Anastasia NICHITA (MDA)
62 kg — Aisuluu TYNYBEKOVA (KGZ)
65 kg — Koumba LARROQUE (FRA)
68 kg — Irina RINGACI (MDA)
72 kg — Zhamila BAKBERGENOVA (KAZ)
76 kg — Yasemin ADAR (TUR)
This is the inaugural year of an All-World team competing at the World Cup and the squad showing up to Coralville is very formidable. They'll be led by reigning World champions Anastasia Nichita of Moldova and Yasemin Adar of Turkey, both of whom will be comfortable favorites in all their matches. Other previous World champions in this lineup are 2021 65-kg World champion Irina Ringaci, who earned bronze at 68 kilos this year, and two-time champ Aisuluu Tynybekova. Tynybekova is coming off of a somewhat disappointing season this year which saw her take multiple losses and fail to medal at the World Championships. She'll likely face Kayla Miracle in the All-World vs USA dual on Saturday.
Another prime matchup wrestling fans should look forward to is Canada's Karla Godinez vs Jacarra Winchester. Godinez beat Winchester at Pan-Ams this year in an exciting match before winning her first World medal in Belgrade. Other stars on this team are U23 World Champions Anhelina Lysak and Koumba Larroque, who is also a three-time World medalist, as well as multiple-time World medalists Maria Prevolaraki and Zhamila Bakbergenova. All in all, this All-World team is not short of talent and will likely be favoured in most of the duals they're entered in.
Best Potential All-World vs. USA Matches
55 kg: Karla Godinez vs Jacarra Winchester/Jenna Burkert
62 kg: Aisuluu Tynybekova vs Kayla Miracle
65 kg: Koumba Larroque vs Mallory Velte
72 kg: Zhamila Bakbergenova vs Amit Elor
76 kg: Yasemin Adar vs Yelena Makoyed