NCAA Week 5 Roundup: Double Down In Vegas
NCAA Week 5 Roundup: Double Down In Vegas
The biggest stories from the fifth week of the 2022-2023 college wrestling season.
Dec 5, 2022
by Andrew Spey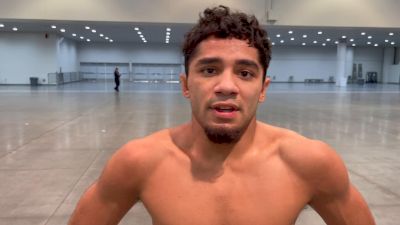 Lot's to discuss, so let's get to it before the fire marshall shows up and SHUTS THIS BLOG DOWN.
The Lead Pipe Cinch Dual Of The Century, Of The Week
The Iowa Corn Cy-Hawk Dual (duh)
It was a corn-tastic evening in Carver-Hawkeye. The teams were pugnacious, the crowd was rambunctious, the atmosphere was transcendent, and the action --hold on let me put the thesaurus down-- the action kicked ass.
The Iowa vs Iowa State dual lived up to the hype. Spencer Lee returned for his first match in almost a year. His presence in the lineup was likely the difference maker as the dual was tied 15-15 heading into the heavyweight bout.
In the last match of a scintillating dual, Anthony Cassioppi sealed the deal with a 9-2 decision over Sam Schuyler.
Real Woods also made his first appearance in an Iowa singlet as he wrestled his first match of the season against true frosh phenom Casey Swiderski. The bloody contest ended in a 3-2 win for Woods and things got a little chippy at the end.
Real Woods told 'em welcome to Iowa City. 😤@Hawks_Wrestling x @B1GWrestling pic.twitter.com/cLzhtGYxhp

— Iowa On BTN (@IowaOnBTN) December 4, 2022
There were plenty of positives for the Cyclones, though, despite the loss. The #9 ranked undefeated freshman Paniro Johnson continued his hot streak when he defeated the #6 ranked veteran Max Murin with a takedown in the final seconds of sudden victory. And #6 Yonger Bastida beat #3 Jacob Warner for the second straight time in a Cy-Hawk dual.
But in a night where emotions ran hot and 'curriculars' were 'extra', the Black and Gold prevailed, extending Iowa's winning streak over their rivals from Ames to 18.
Also this:
Iowa and ISU split a home and home in the '86-87 season. ISU went on to win NCAA title. The following year the Brands brothers arrived at Iowa. Since then, the Hawkeyes have won 47 of 49 in the Cy-Hawk series. Tom is 43-1 as an athlete and coach in duals vs. ISU. Terry is 35-0.

— Andy Hamilton (@Andy_Hamilton) December 5, 2022
What Happens In Vegas Is Sometimes The CKLV
Cliff Keen hosted yet another wildly successful tournament in the city of Lost Wages. A great event for watching wrestling and for frittering away a mortgage payment or two at the craps table. I like to do both, why not?
Nebraska showed that those that doubted them after their dual meet loss to North Dakota State did so at their own folly. The Huskers navigated a ludicrously loaded field and emerged with three champs (Brock Hardy at 141, Peyton Robb at 157 and Mikey Labriola --with a win over #2 Mekhi Lewis-- at 174) and seven podium placers in total.
Nebraska has now won the last three Cliff Keen Las Vegas Invitationals, in 2019, 2021, and 2022. When the Huskers are in Vegas, you should consider betting on red.
South Dakota State may only have 10,000 undergrads and an FCS football team, but the Jackrabbits wrestled like anything but a 'small' school in Vegas. SDSU finished in third place, putting eight on the podium. Eight! That's more than any other team! And all eight finished in the top six! Hashtag get jacked indeed.
Perennial powers NC State and Michigan also performed well. The Wolverines finished in fourth with one champ in Mason Parris at heavyweight, while the Wolfpack finished in second place, powered by their upperweights Trent Hidlay and Isaac Trumble, who won titles at 184 and 197, respectively.
Watch Hidlay defeat #2 Parker Keckeisen thanks to an impressive first-period throw for two-plus-four.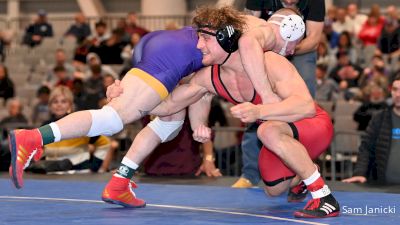 Unlock this video, live events, and more with a subscription!
Get Started
Already a subscriber? Log In
Northern Iowa rounded out the top five with six placers including three on the top three steps of the podium. Kyle Biscoglia and Cael Happel made a mockery of the rankings by placing third and second at 133 and 141, respectively.
Arizona State was likely less than thrilled with their sixth-place team finish and #1 Cohlton Schultz's loss to AJ Nevills in the quarterfinals, but head coach Zeke Jones had to have liked what he saw in redshirt freshman Richard Figueroa, who defeated #8 Matt Ramos in the finals, which marked Figueroa's fourth-ranked win of the season.
Watch Figueroa win a CKLV title: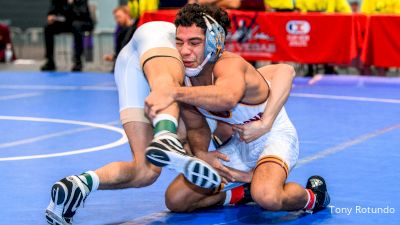 Unlock this video, live events, and more with a subscription!
Get Started
Already a subscriber? Log In
That presents coach Jones with a "good problem", as he also has two-time All-American and 2021 NCAA finalists Brandon Courtney on the roster at 125, plus two-time All-American Michael McGee at 133.
But perhaps the biggest story coming out of Nevada was the parity on display in the Las Vegas Convention Center. 11 different programs had finalists and 20 had top-eight placers. It made for one of the most enjoyable tournaments to follow in recent memory, at least from this humble blogger's perspective.
Check out the full results here. There are enough quality matches in these archives to keep you occupied throughout the holidays.
Grappling In The Garden State
Can you dig it? Four Big Ten teams and four EIWA programs traveled to Newark, NJ for the Garden State Grapple, held in the Prudential Center, home of the three-time Stanely Cup-winning New Jersey Devils.
The Big Ten teams swept the series, with Rutgers, Wisconsin, Indiana, and Michigan State all notching two victories at the event, and Penn, Princeton, Drexel, and Binghamton all suffering two defeats a piece.
For details, check out the painstakingly assembled box scores from week 5.
Gophers Shoot Down Cowboys In Gallagher-Iba
Oklahoma State got big wins from Kaden Gfeller and Carter Young, who both beat higher-ranked opponents, but Minnesota answered with key victories from Andrew Sparks, Isiah Salazar, and Michial Foy to power the Golden Gophers to victory in the Cowboy's historic home gym.
Young's victory over #4 Jakob Bergeland adds another cursed ingredient to the swirling cauldron of chaos that is 141-pounds. NCAA rankers will earn their paychecks with that division this season.
Penn State Casually Collects Two Dominant Dual Wins
The Nittany Lions devoured two opponents on their recent eastern swing where they competed at Rider on Friday and at Lehigh on Sunday. Penn State won both contests in their typically dominant manner. You can check out archives of the Rider dual here and the Lehigh contest here.
Max Dean, however, had a rare and unfortunate weekend where he dropped two tough bouts to ranked wrestlers.
On Friday he was upset by Ethan Laird in sudden victory. Dean just missed out on a takedown in the final seconds of regulation. Laird then fired off a shot early in the first overtime period, gained a rear-standing position on Dean and mat-returned him for the match-clinching takedown.
Here is an experienced official explaining why Laird had the takedown.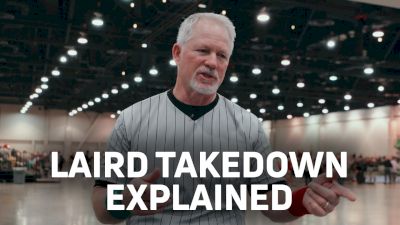 To which many a confident Penn State fan replied, "No he didn't."
Now that is a passionate fan base I can't help but admire.
Dean also lost to former Nittany Lion Michael Beard in PSU's dual in a sold-out Stabler Arena vs Lehigh.
So a rough weekend for Max Dean, but I would contend there is no reason to doubt that the reigning national champ won't be ready to go come March.
And besides 197, Penn State dominated both of their duals, so everything appears to be going more or less according to plan in Happy Valley.
About That Rider Dual
In what I most desperately hope does not become a recurring series, I will again attempt to explain what transpired at a recent FloWrestling event.
The Penn State Rider dual did not have a quality stream. It was, bluntly, unwatchable, especially for the first few weight classes. How did this happen?
Well, I can't tell you exactly what happened. I was in Austin, Texas and the dual was in Trenton, NJ at the CURE Insurance Arena. I also have zero practical experience producing internet streams for live sporting events.
I do know some of the people that know the people that produced that particular stream, however, and from what I understand, everything was prepped and tested and honky dory about 30 minutes from the scheduled start of the dual. Then, and I'm paraphrasing from multiple sources, the internet connection to the arena took a dump.
Great timing right? Well, as Andy Dufresne would say, more like decidedly inconvenient timing.
Chaos ensued. Calls were made, messages were sent, and people were franticly consulted. At one point, the internet service provider suggested rebooting the building router. Eventually, the stream quality was lowered to the point where some semblance of a video feed was making its way out of the arena and onto everyone's screens. And then a little later after that, the dual was over. They'll be more gory details when the pros involved do a retrospective but as far as I can tell there's not much more to it.
I'm also told fixing a live stream while a show is going on is like jumping out of an airplane and then knitting yourself a parachute on the way down. I'm quite thankful to have never experienced that sensation.
Now, you're probably thinking, I don't care, Flo should do better, stop making excuses. Yes, agreed. It's frustrating as hell. I'm with you there.
I've heard some people say that Flo doesn't care. And, in a way Flo doesn't care, because no companies care. Companies can't care about anything because companies are just abstracts. A stack of contracts and legal obligations. But believe it or not (actually, no, just believe it), the people who work at Flo care and the contractors and partners that work with Flo care. They would all be doing something else with their lives if they didn't care, trust me!
But maybe that's not good enough and someone else comes around and does it better and Flo is put out of business and we all end up penniless on the street. It could happen!
Anyway, tomorrow is another and the start of another week. More wrestling to stream (we hope ahahaha lol lmao kill me please) and matches to blog. See you then!