2022 Cliff Keen Las Vegas Invitational
The Total And Complete 2022 CKLV Preview
The Total And Complete 2022 CKLV Preview
Everything you need to know about the 2022 Cliff Keen Las Vegas Invitational, the toughest in-season wrestling tournament of the year.
Nov 30, 2022
by Andrew Spey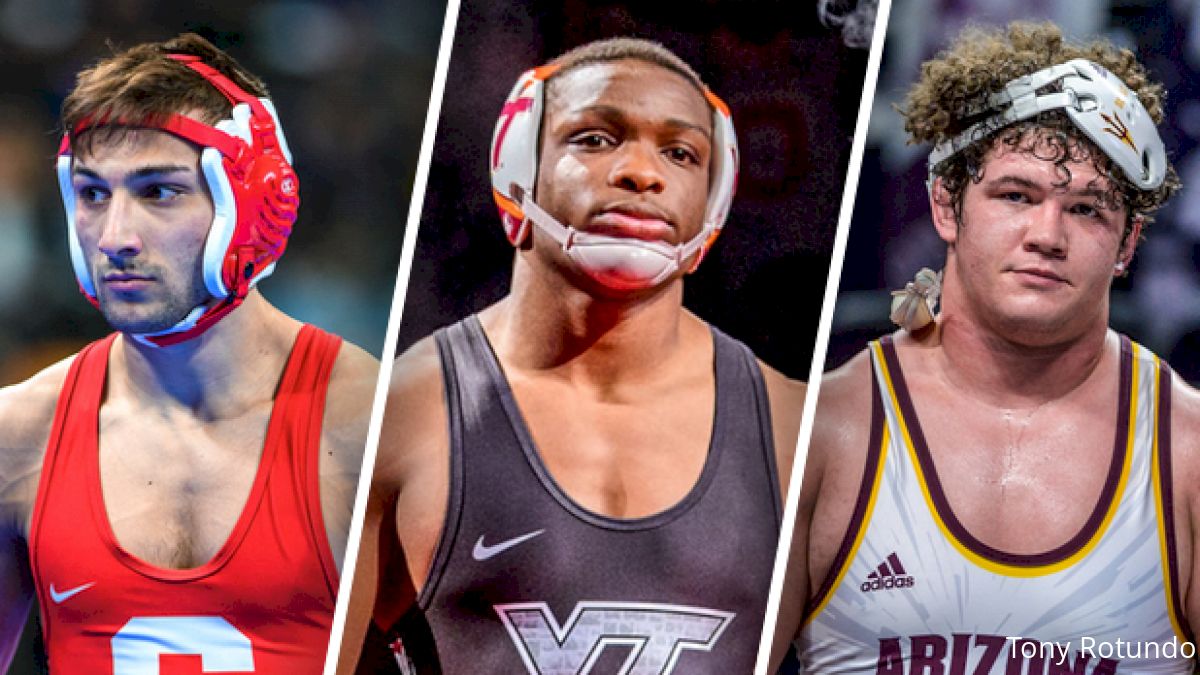 The 2022 edition of the CKLV is shaping up to be one of the deepest in this storied tournament's history.
Based on the entries, we should see the highest concentration of NCAA national qualifiers and All-Americans than at any other time before the postseason.
Below is a full breakdown of all ten weights at the Cliff Keen Las Vegas Invitational.
125 Pounds
The Favorite
The highest-ranked wrestler in the field will be Northwestern's Michael DeAugustino. Don't let the big crazy beard trick you, DeAugustino is as solid and fundamental a wrestler as they come. The fifth-year junior took fourth at NCAAs last year and is 2-1 with the last two wins over Arizona State's Brandon Courtney.
Michael DeAugustino's win over Brandon Courtney at 2022 NCAAs: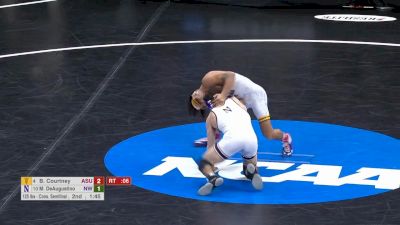 Unlock this video, live events, and more with a subscription!
Get Started
Already a subscriber? Log In
The Contenders
The most intriguing name in the weight, and one of the more intriguing names in the tournament as a whole, will likely be Richard Figueroa. With Brandon Courtney still not wrestling, I expect to see him entered for the Sun Devils. The #1 overall recruit in the class of 2021, I've really liked what I've seen from Figueroa so far this year.
The move down to 125 seems to be a smart one for Matt Ramos. He's 9-0 on the year with seven bonus point victories. He hasn't faced in All-American level guys yet, but that's sure to change in Vegas.
Brandon Kaylor could be that AA-level guy for Ramos. Kaylor took 8th last year in Detroit. He lost to DeAugustino 6-1 at NCAAs last year and suffered a hiccup against Army's Ethan Berginc at the Black Knight Scramble a couple of weeks ago, but I expect to him to impress this weekend.
Sleepers & Landmines
With a 5-4 win over Jack Medley at the Michigan State Open, it looks like Kurt McHenry is finally going to be the 125-pound starter for Michigan. He has taken losses already this year to Andre Gonzales and Kase Mauger, so McHenry in all likelihood isn't going to be competing for the top spot in Las Vegas, but we all saw the potential when he won a Cadet World title. Tucker Owens is just a classic Military Academy tough out. He's young, hungry, and going to wrestle hard.
125 Predictions: 1) DeAugustino 2) Kaylor 3) Figueroa 4) Ramos
---
133 Pounds
The Favorite
Vito Arujau looked solid in his 133 debut on November 19th against Wisconsin with a 17-6 major decision over Taylor LaMont. I think making the cut to 125 lbs weighed on him last year and led to some up-and-down performances. Currently ranked #3, he's the clear odds-on-favorite to win the weight.
Listen to Vito talk about the move up in weight and the opportunity to take on Fix and RBY below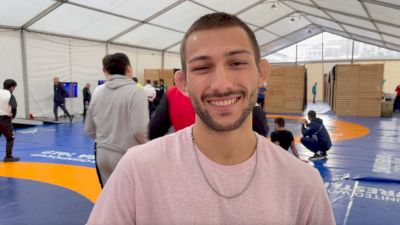 The Contenders
While Arujau is the clear favorite, what makes 133 so fun is that it won't be easy as the field has Five Guys™ that can take him out if he isn't at his best.
2X All-American Michael McGee has the highest resume of the handful. He took 6th in 2021 and 4th last year at NCAAs. Similar to Arujau, while their teams have competed at CKLV in the past, this will be their first time wrestling in the Las Vegas tournament.
A guy a lot of people, myself included, will have a close eye on is Jesse Mendez. Although the lowest-ranked guy of the bunch, Mendez beat Lucas Byrd the first week of the season and Byrd just beat McGee at the NWCA All-Star Classic. I think Mendez's trajectory and skill set give him as good of, if not better, chance to win this tournament as anyone not named Vito Arujua.
Virginia Tech fans will probably argue with me that Sam Latona is the main contender to Arujau as he beat Mendez 3-2 in their dual a couple of weeks ago. Latona is the only guy Vito has wrestled of this bunch. Vito won 12-2 last year in the dual.
One spot ahead of Chris Cannon in the rankings is Dylan Ragusin. The Wolverine is 2-0 against Cannon. One of those wins came in the finals of last year's CKLV. If the two meet can Ragusin make it 3-0?
Chris Cannon and Dylan Ragusin's 2021 CKLV final: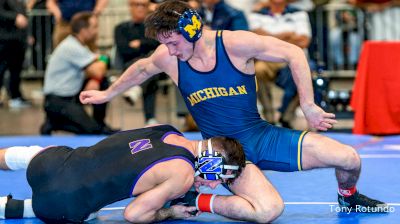 Unlock this video, live events, and more with a subscription!
Get Started
Already a subscriber? Log In
Sleepers & Landmines
Many people are familiar with Boo Dryden. As an over six-foot-tall 133-pounder, he sticks out in a wrestling crowd. This height and length could provide potential problems for higher-ranked opponents. California Baptist's Hunter Leake is another guy to keep an eye on. He already upset Iowa State's Zach Redding earlier this year and wrestled Iowa's Brody Teske to a close two-point match. He's got a good cradle from top.
133 Predictions: 1) Arujua 2) McGee 3) Mendez 4) Cannon
---
141 Pounds
The Favorites
Unlike 125 and 133 that had clear favorites to win the weight, 141 is a wide-open weight class with a handful of guys that would have similar odds to win. With Northwestern's Frankie Tal Shahar not registered, Ryan Jack will be the highest-ranked wrestler. He made the round of 16 last year at NCAAs and is 5-0 on the year with a win over Brock Hardy, who will also be in this field. NDSU's Dylan Droegemueller also made the round of 16 last year and is undefeated with a win over Brock Hardy so far this season.
There are two freshmen who I'm really excited to watch at 141: Tom Crook and Vince Cornella. Crook is two years removed from high school. They're both very talented and undefeated on the year. Cornella opened eyes at the US Open and U20 World Team Trials. Crook has proved himself this season by taking out Nic Bouzakis, Matthew Kazimir, and Lachlan McNeil.
And last but not least, Dylan D'Emilio is coming back after being sidelined with an injury in a match with Cole Mattin in week one.
The Contenders
It's pretty odd to see a returning CKLV champion not in a favorites category that includes six wrestlers. However, SDSU's Clay Carlson is off to an unusually rough start to the season with losses to Cael Happel and Vance Vombaur. If Carlson can return to normal form, he'll have as much a shot as anyone in the bracket to win. And lastly, I previously mentioned how Brock Hardy has taken losses to Jack and Droegemueller, but those are his only two losses this year. He's tough and should be considered a contender for sure.
Sleepers & Landmines
Both of these wrestlers are in the honorable mention category of the rankings and while they'll take their fare of losses, they're both capable of big wins as well. Greenwood has past wins over Michael McGee and Carter Young. Koderhandt is a big-time pinner but beat Matt Ramos twice by decision at last year's CKLV.
141 Predictions: 1) Cornella 2) Jack 3) D'Emilio 4) Crook
149 Pounds
The Favorites
With Yianni Diakomihalis out of the CKLV preparing to wrestle at the World Cup, the group of favorites at 149 is a large list consisting of past All-Americans - #3 Jonathan Millner, #4 Kyle Parco, #5 Sammy Sasso, and #7 Yahya Thomas. Sasso was upset early in the season by freshman stud Caleb Henson (who we'll get to in a minute), but he has past wins over Jonathan Millner and Kyle Parco. In fact, Sasso upended both the aforementioned Millner and Parco at the NCAA tournament last season on his way to a 5th place NCAA finish. Beyond that, Sasso's only losses in the 2021-22 season were to Austin Gomez and Yianni Diakomihalis. Sasso's consistent results show he's a "safe pick" to go far at the CKLV and should be considered a favoritte in every match in Vegas.
Sasso's win over Parco at the 2022 NCAA Tournament:
Unlock this video, live events, and more with a subscription!
Get Started
Already a subscriber? Log In
Millner finds himself in the #3 spot after Sasso was upset early in the season. Millner's earned that spot after an outstanding past two years at NCAAs (8th in 2021 and 6th in 2022) with notable wins over the likes of Kyle Parco, Max Murin, Josh Heil, and Zach Sherman. Millner is currently unbeaten on the year and continues to show steady improvement over his college career. Is he capable of making another jump to climb even higher on the podium? His performance at the CKLV will certainly help answer that question.
Kyle Parco went down with an injury on the second weekend of the year during a match against Doug Zapf. However, Parco responded by defeating 2-time All-American Brock Mauller the following week in a tight, 3-2 match. If Parco is 100%, he's capable of taking out anyone in this weight.
Then there's 2021 All-American Yahya Thomas. Though he failed to place last year at NCAAs, he has past notable wins over Brock Mauller, Boo Lewallen, Jaden Abas, and a number of other quality wrestlers. Thomas has never wrestled Millner or Parco in his college career but tech-falled Millner in two-straight matches over the summer at U23 Nationals.
Contenders
True freshman Caleb Henson put the nation on notice when he took out Sammy Sasso in the second week of the year with a 5-3 overtime win. Though Henson lost to #10 Doug Zapf in overtime at the Keystone Classic, Henson showed the Sasso match wasn't a fluke and he's a threat to everyone in this weight.
After Henson, Dom Demas is a clear contender at this weight. Demas placed 4th at the NCAA tournament back in 2019 and has past career wins over the likes of Clay Carlson, Chad Red, Nick Lee, and Kaid Brock. Demas also has the ability to "go big" in any match, making him an even bigger threat to the top 4 at this weight.
Dom Demas' win over Nick Lee at the 2019 NCAA Tournament: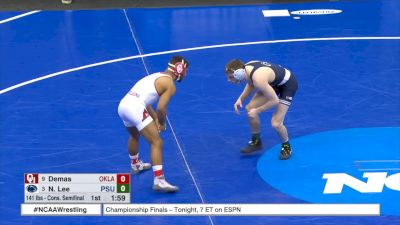 Unlock this video, live events, and more with a subscription!
Get Started
Already a subscriber? Log In
Sleepers & Landmines
Though #11 Colin Realbuto will also be entered in this weight, he doesn't fit the description of this category as well as Martinez and Arrington. Dylan Martinez opened the year with a 5-4 win over Jarod Verkleeren pin over All-American Jaden Abas. He's dropped a few matches since then but those wins show how dangerous he can be when wrestling his best.
Jackson Arrington has been impressive so far in his true freshmen campaign. He's had two competitive losses to Millner and Parco and most recently recorded wins over Kevon Davenport and 2-time national qualifier Johnny Lovett. The CKLV will show Wolfpack fans how close Arrington is to challenging for All-American honors this season.
149 Predictions: 1) Sammy Sasso, 2) Yahya Thomas, 3) Jonathan Millner, 4) Caleb Henson
157 Pounds
The Favorite
Will Lewan placed 5th at the NCAA tournament last season and will be the favorite to win the CKLV at 157. Lewan has two past wins over #3 Peyton Robb and is coming off a 3-1 victory over Bryce Andonian at the NWCA All-Star Classic. He might not wrestle the most exciting style, but Lewan has proven to have elite-level defense and is more than happy to win every match by 1 point.
Lewan's win over Andonian at the All-Star Classic: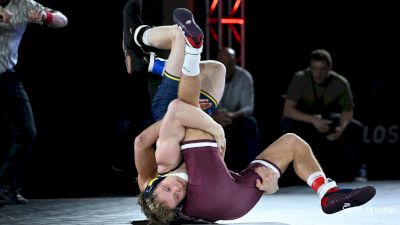 Unlock this video, live events, and more with a subscription!
Get Started
Already a subscriber? Log In
Contenders
Despite the past losses to Lewan, Peyton Robb and Bryce Andonian are capable of winning this bracket and getting revenge on Lewan. Robb had a fantastic end to his season last year placing 4th at the NCAA tournament highlighted by wins over Jacori Teemer, Hunter Willits, Ed Scott, and Brady Berge. This year, Robb has been fantastic with a 7-0 record and ranked wins over #6 Jared Franek, #13 Ed Scott, #17 Chase Saldate, and #22 Peyten Kellar.
Peyton Robb's win over Ed Scott in the round of 12 at last year's NCAA tournament: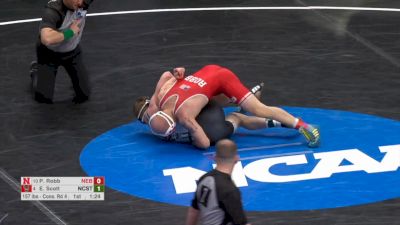 Unlock this video, live events, and more with a subscription!
Get Started
Already a subscriber? Log In
Anyone who watched Bryce Andonian last season knows he's one of the most exciting wrestlers in all of college wrestling. Andonian placed 3rd at the NCAA tournament (at 149) in 2021 and had notable wins over Austin Gomez and Jon Millner. It might take Andonian a little time to adjust to the new weight class and the CKLV will be the perfect opportunity for him to test himself against some of the top competitors at 157.
Sleepers & Landmines
It's worth noting there will be other ranked wrestlers #9 Jacob Wright, #11 Kendall Coleman, #18 Andrew Cerniglia, #19 Derek Holschlag, #23 Peyten Kellar, and #24 Trevor Chumbley will all be in the field and be a factor at this weight. However, I don't think they fit the "sleeper & landmine" category as well as the above group. Of the three listed, Ed Scott is the most notable as a round of 12 finisher in 2022. Scott has struggled to start the season after losing 8-2 to Peyton Robb and 4-1 to Central Michigan's Corbyn Munson. Scott has past wins notable wins over Austin O'Connor, Quincy Monday, Kaleb Young, Jarrett Jacques, and the CKLV might be the perfect opportunity for Scott to get back on track.
After Scott, Colton Yapoujian and Paddy Gallagher are wrestlers ranked in our honorable mention category and interesting 157-pound prospects. Gallagher has only lost to Northwestern's Trevor Chumbley this season but tech-falled Corbyn Munson at the MSU Open.
Yapoujian just made his season debut last weekend at the Mat-Town Open where he went 3-0 with a pin and a tech-fall. The CKLV will show both Cornell and Ohio State fans just how close Gallagher and Yapoujian are to contending for All-American honors this year.
157 Predictions: 1) Peyton Robb, 2) Will Lewan, 3) Bryce Andonian, 4) Ed Scott
165 Pounds
The Favorites
Cam Amine and Carson Kharchla have split matches in their college careers and are the clear favorites at 165 at the CKLV. Amine had a fantastic end of the season last year when he placed 2nd at the Big 10 tournament and 4th at NCAAs. However, Amine has yet to wrestle this season and might sit out of CKLV in order to get to 100% for the second half of the year.
If Amine's in Vegas, it's a coin-flip match between him and Kharchla. However, if Amine's out, Kharchla will be a big favorite to win the bracket. Kharchla placed 7th at last year's NCAA tournament and is currently 3-0 on the year highlighted by wins over Joshua Ogunsanya (6-3) and Connor Brady (3-1).
Kharchla's win over Julien Ramirez in 3rd place match at the 2021 CKLV: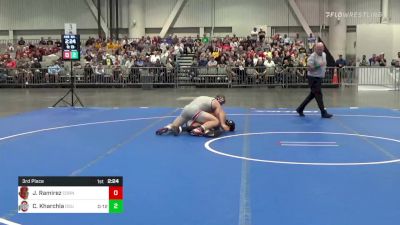 Unlock this video, live events, and more with a subscription!
Get Started
Already a subscriber? Log In
Contenders
Of the above contenders, Julian Ramirez has the best wins of the bunch with victories over Josh Ogunsanya, Cam Amine, and Shane Griffith. In fact, it was at last year's CKLV that Ramirez defeated Cam Amine and placed 4th.
After Ramirez, Josh Ogunsanya could make a run to the finals with an upset or two. Though Ogunsanya lost to Kharchla earlier this year, he defeated the aforementioned Ramirez last season along with an overtime win over 2021 NCAA runner-up Jake Wentzel. Ogunsanya will be a tough-out for any wrestler in this field and a potential finals threat
Sleepers & Landmines
Tanner Cook is the true definition of a landmine. Cook wrestles an incredibly exciting style with big move potential. Of his 24 wins over the past two years, he's recorded 17 by fall! Cook is always looking to end the match and will be "must watch" wrestling this weekend in Vegas.
Tanner Cook's recent overtime win over HM Andrew Sparks: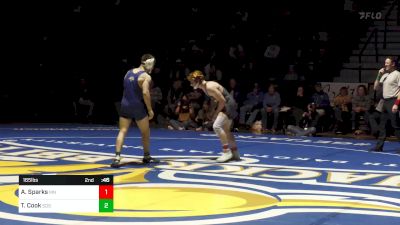 Unlock this video, live events, and more with a subscription!
Get Started
Already a subscriber? Log In
It's not confirmed whether or not Mitchell Mesenbrink will be wrestling in Vegas but if he does take the mat, look for him to make some noise in this bracket. Mesenbrink won a U20 world silver and is currently 2-0 on the year with 2 pins. He also recently competed at the Bill Farrel against senior level competition where he lost only to world fifth Arman Andreasyan (2-1) and 2016 All-American Tommy Gantt (9-4). Mesenbrink looks to have all the skills to be a college star and the CKLV would be a great preview of the true freshman.
It's also worth mentioning #11 Austin Yant, #16 Matthew Olguin, #19 Michael Caliendo, #20 Connor Brady, and #22 Will Formato could all potentially be in the 165-pound field. Any one of this group could make a big impact in this bracket and move up the rankings.
165 Predictions: 1) Carson Kharchla, 2) Joshua Ogunanya, 3) Julian Ramirez, 4) Tanner Cook
*I don't think Amine will wrestle at the CKLV. If he does, I predict he takes 2nd.
174 Pounds
The Favorite
2019 NCAA champion and returning runner-up Mekhi Lewis is the favorite to win the CKLV and the best wrestler in the weight class. Of the ranked wrestlers competing in the field, Lewis hasn't lost to any in his college career and has past wins over #5 Demetrius Romero, #6 Ethan Smith (2), #11 Lance Runyon, and #23 Chris Foca. Mekhi has firmly established himself as the 2nd best wrestler in the country at 174 pounds behind Carter Starocci and should end atop the podium in Vegas.
Mekhi Lewis' win over Demetrius Romero all the way back at the 2017 Wolfpack Open: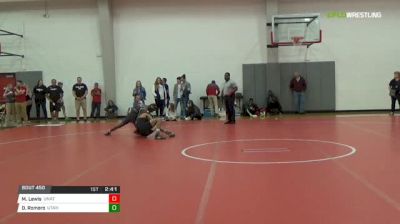 Unlock this video, live events, and more with a subscription!
Get Started
Already a subscriber? Log In
Contenders
#3 Mickey Labriola, Nebraska
#5 Demetrius Romero, Utah Valley
#6 Ethan Smith, Ohio State
While Mekhi is the clear favorite, the above list of contenders is about as quality as you'll find at a regular season tournament. Labriola, Romero, and Smith are all former All-Americans and will present unique challenges to Lewis in Vegas. 3-time All-American Labriola is the highest ranked of the bunch and brings with him the most diverse set of skills. He's a high-level scrambler and has the strength to match anyone in the country at 174 pounds.
Demetrius Romero is entering his 8th year after graduating from high school and earned All-American honors back in 2021. That season, he finished 6th and only lost two competitive matches on the year - 2-0 to Starocci and 5-4 to Labriola. This tournament will show whether or not Romero is just an All-American threat or if he's ready to challenge for a title.
Then there's Ethan Smith. No one has had more of a roller coaster year than Smith. The Buckeye wrestled a highly competitive match with Mekhi Lewis during the second weekend of the year but ultimately lost, 3-2. Then a week later, Smith lost to unranked and unknown Lenox Wolak only to defeat returning All-American Clay Lautt 2 days later. What Ethan Smith will we see in Vegas? It's hard to predict at this point, but if Smith's wrestling his best, he is more than capable of making the finals for a rematch with Mekhi Lewis.
Ethan Smith's win over #8 Edmond Ruth at the 2022 MSU Open: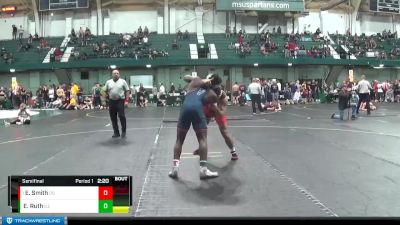 Unlock this video, live events, and more with a subscription!
Get Started
Already a subscriber? Log In
Sleepers & Landmines
There will likely be higher-ranked wrestlers in this field in #13 Phil Conigliaro, #17 Hayden Hastings, #15 Cade DeVos, and #11 Lance Runyon. However, those wrestlers don't fit the "Sleepers & Landmine" definition in my opinion. With that in mind, Chris Foca, Lennax Wolak, and Cael Valencia are my picks for guys who could blow up this bracket with an upset or two.
Foca is currently 5-0 on the year and had some interesting results last season. For instance, he lost to guys like Thomas Flitz, Jake Logan, and Adam Kemp but had incredibly close matches with both Mekhi Lewis (3-1 loss in overtime) and Carter Starocci (3-2 loss).
Columbia's Lennax Wolak is an interesting sleeper in this field. Wolak showed how dangerous he can be when he defeated All-American Ethan Smith 8-6 two weeks ago in Columbia's dual against Ohio State. If Wolak is able to wrestle up to that ability in Vegas, he's capable of taking out another ranked guy or two.
Cael Valencia is off to a slow start this year with losses to Ross McFarland, Blake Bahna, and Peyton Mocco. However, last season Valencia notably defeated both #16 Hayden Hastings and #15 Tyler Eischens. If he's back to that form, look for Valencia to knock some ranked guys off this weekend and move back into rankings at 174.
174 Predictions: 1) Mekhi Lewis, 2) Mikey Labriola, 3) Ethan Smith, 4) Demetrius Romero
184 Pounds
Favorites
With just three losses in two varsity seasons (plus an exhibition loss at the NWCA All-Star Classic), Parker Keckeisen is off to one of the most impressive starts of any UNI Panther in recent memory. He's the first underclassman to finish in the top 3 for Northern Iowa since at least 1999, and he's done so twice. He's also got three years of eligibility remaining, thanks to the covid-exemption for 2021 NCAA athletes.
Challenging Keckeisen for the lead in the hardware department is Wolfpacker Trent "Hoagie" Hidlay, who has two NCAA All-American honors plus an NWCA All-American honor from the 2020 season. Hidlay can also claim two age-level UWW World Championship medals, including a U23 silver medal at 86kg from just last October in Pontevedra, Spain.
Trent and Keck have only wrestled once in their collegiate careers, with Parker winning in tiebreakers at the 2022 NCAA Championship.
Watch highlights from that epic battle below:
Unlock this video, live events, and more with a subscription!
Get Started
Already a subscriber? Log In
Contenders
#4 Kaleb Romero, Ohio State
#6 Trey Munoz, Oregon State
#7 Jonathan Loew, Cornell
#8 Hunter Bolen, Virginia Tech
#10 Matt Finesilver, Duke
As in all rankings in the sport of wrestling, the delineation between tiers is often debatable. Kaleb Romero certainly has an argument to be included in the group of favorites, as evidenced by his one-point loss to Hidlay at the 2022 tournament, where he finished sixth.
Trey Munoz has less of a claim, as he finished just off the 2022 podium and lost to Hidlay 6-2 at that same event, although he did vanquish Jon Loew in the round of 16. The Cornellian would have better luck in the consolation bracket, however, advancing to the medal round and ultimately finishing eighth.
Hunter Bolen is trying to regain some of his 2021 season mojo, where he spent all but the final week of the season ranked either #1 or #2 before finishing seventh at NCAAs. Matt Finesilver, last of the famous collegiate wrestling Finesilvers of Duke by way of Colorado, is using his final year of eligibility at Michigan and looking for his first All-American honor of his career.
Landmines
David Key, Navy
Ben Vanadia, Purdue
DJ Parker, North Dakota State
Brawley Lamer, Cal Poly
Navy's David "Francis Scott" Key showed how dangerous he could be when he advanced to the round of 16 at the 2021 NCAAs. Vanadia had a quality year redshirting after being recruited by Purdue off the 2021 Big Board. The Boilermaker is looking to prove his bona fides in his first varsity season.
The Bison have a good one in DJ Parker, a tall (listed at 6'2''!) true sophomore from Moline, Illinois who just missed out on qualifying for the NCAA tournament in 2022. Brawley Lamer, of the famous wrestling Lamers of Oregon, is listed in the registration at 184 in lieu of Adam Kemp. Lamer spent the previous five seasons at Cal Poly at either 157 or 149.
Spey's Spredictions
1) Keckeisen; 2) Hidlay; 3) Romero; 4) Finesilver
197 Pounds
Favorites
Isaac Trumble in the Jungle is off to a fast start in the 2022-23 season, winning his first five matches including over #11 Zac Braunagel and #19 Silas Allread. Fun fact: T-Rums is also a member of the NC State ROTC programming, earning a commission in the Army after he defeated Jay Aiello of Virginia last February.
Congrats to Fr. Isaac Trumble for being commissioned into the Army after his win tonight!#PackMentality pic.twitter.com/9E7761tF27

— NC State Wrestling 🤼‍♂️ (@PackWrestle) February 5, 2022
Hoffman had his breakout season during his fourth year in Columbus, finally getting on the podium on the sixth-place step last March. He went on quite a run to earn the All-American honor, beating Nino Bonaccorsi, Jake Woodley, and Tanner Sloan in Detroit.
Contenders
#17 Kordell Norfleet, Arizona State
#18 Tanner Sloan, South Dakota State
#19 Silas Allread, Nebraska
#21 Owen Pentz, North Dakota State
Jacob Cardenas, Cornell
Not a lot separates the favorites from the contenders. Kordell Norfleet is still looking for his first All-American honor, though he spent most of the last two seasons ranked in the top 10. Tanner Sloan is a three-time NCAA qualifier and bloodrounder from 2021. He also finished with a silver medal at the 2022 U23 World Championships at 97kg (the same color medal as his 86kg Team USA compatriot, Trent Hidlay).
Redshirt sophomore and first-time starter Silas Allred is 7-1 on the season, including a win over #21 Owen Pentz. Meanwhile, Pentz is a two-time NCAA qualifier with wins over three different All-Americans on his resume.
Jacob Cardenas was also in Spain with the U23 World Team at 92 kilograms, also winning silver (Team USA has three silvers and two bronzes in men's freestyle at that tournament).
Landmines
Trey Rogers, Hofstra
Andy Smith, Virginia Tech
Andrew Davison, Northwestern
Rogers is an experienced fifth-year senior and five-time starter for Hofstra who qualified for the 2021 NCAA tournament. Andy Smith is looking to have a breakout season during his third year in Blacksburg and second time as a starter.
After several injury-plagued seasons at Michigan, Davison transferred to Northwestern and qualified for his first NCAA tournament in 2022.
Spey's Spredictions
1) Sloan; 2) Trumble; 3) Hoffman; 4) Norfleet
285 Pounds
Favorites
Heavyweight in Vegas will be one of the most stacked brackets in all of college wrestling this season. So many of the entries will be dangerous but any list of contenders has to include NCAA finalists Cohlton Schultz and Mason Parris.
2022 NCAA finalist Cohlton Schultz has a mere three losses in his last two seasons in the NCAA, where he finished fourth and second. His semifinal bout with Jordan Wood had, dare I say, the most exhilarating finish to any NCAA heavyweight semifinal bout in history.
Watch highlights of that insane match below: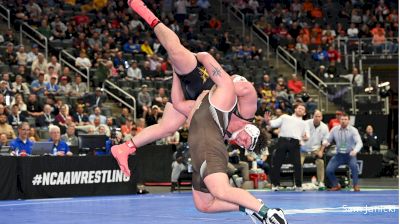 Unlock this video, live events, and more with a subscription!
Get Started
Already a subscriber? Log In
Parris finished in the bloodround in 2019 as a true freshman, then earned the number two seed at the canceled 2020 NCAAs. The Michigan man by way of Indiana followed that up with a runnerup finish in 2021 to the great Gable Steveson. Injuries slowed Parris down in the 2022 season (though you'll never hear him use them or anything else as an excuse), but he still managed a fifth-place finish. The big man has been firing on all cylinders in the fall of 2022, currently sporting a perfect 8-0 record including seven wins by bonus points.
Slavikouski is more of a wild card. The Harvard man was the #10 seed (and ranked #8) at the canceled 2020 NCAA tournament. The Ivy League then prohibited him from participating in the 2021 season. His 2022 season started and ended at the 2021 CKLV Tournament, where he defeated four wrestlers (including two All-Americans in Lucas Davison and Tate Orndorff) before suffering a season-ending injury in his finals match against Gas Tank Gary Traub.
Slavikouski appears healthy this season, as he racked up two wins against ranked opponents in the first event of the 2023 season, where he beat #21 Owen Trephan and #22 Josh Heindselman at the Journeymen Collegiate Classic.
Watch Big Slav defeat Davison at the 2021 CKLV: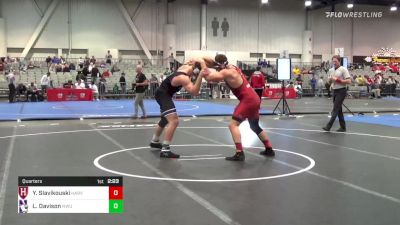 Unlock this video, live events, and more with a subscription!
Get Started
Already a subscriber? Log In
Contenders
Davison and Orndorff have all climbed podium steps before, giving this bracket four potential All-Americans. Throw in Slavikouski, who has beaten Davison and Orndorff, and Hendrickson, who was the #5 seed going into the 2022 tournament and you've got a recipe for some extra spicey quarterfinals in early December.
Fernandes qualified for his first NCAA Championship last season, finishing in the bloodround, one match shy of becoming Cornell's first ever heavyweight All-American.
AJ Nevills is a three-time NCAA qualifier from the famous wrestling Nevills of California, and a refugee from the sadly shuttered Fresno State wrestling program.
Grady Griess and Owen Trephan round out a loaded field of contenders that guarantee we will either see upsets, or all-ranked matchups in the quarterfinals.
Landmines
Zach Knighton-Ward, Hofstra
Cale Davidson, Nebraska
Trevor Tinker, Cal Poly
Knighton-Ward is starting for his fourth year in a row for Hofrsta, hoping to make it to his fourth NCAA tournament and first podium step. Davidson started for Wyoming back in the 2019 season but is now in his fourth season in Lincoln. Trevor Tinker Tailor Soldier Spy is not to be underestimated and also I wanted to make that movie reference in this preview when I saw his name in the list of registrants.
Spey's Spredictions
1) Parris; 2) Schultz; 3) Slavikouski; 4) Orndorff