Can Anyone Beat Adeline? 75kg Preview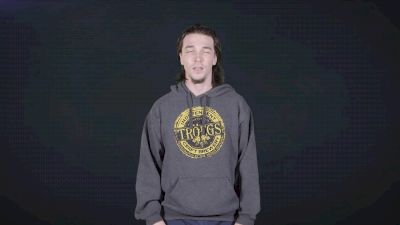 Unlock this video, live events, and more with a subscription!
Get Started
Already a subscriber? Log In
Check out the 75kg preview, featuring


The Contenders
#1 Adeline Gray (USA)
- Two-time defending world champ
#2 Erica Wiebe (CAN)
- 2014 world university champ
#11 Zhou Qian (CHN)
- Two-time world medalist
Never before has an American won a gold medal in women's wrestling. This weight has great potential to change that, as Adeline Gray has won the past two world championships. Since the weight became 75kg two years ago, she has only taken two defeats and rides a 38-match winning streak into Rio.
One of her toughest foes resides to our north. Our own Mike Mal did a great job breaking down World No. 2
Erica Wiebe
of Canada. Wiebe and Gray most recently met at the UWW test event in January, with Gray coming out on top 7-4 in the finals.
Only once in her short senior level career has Zhou Qian failed to medal at a tournament. She was bronze two years ago at world and bronze a year ago. Both of her losses were to Gray, though Qian was able to get the first takedown against Gray both times. She was also up 7-1 to Gray at the Test Event, but ended up losing 17-7 after getting taken down and leglaced. Check out Gray's cray comeback from 2014 below.
The Dark Horses
#3 Vasilisa Marzaliuk (BLR)
- 2015 Euro Games champ
#4 Aline da Silva Ferreira (BRA)
- 2014 world silver medalist
#8 Epp Mae (EST)
- 2015 Golden Grand Prix champ
Marzaliuk is a leverage nightmare. She has wrestled at five different events since Vegas and presented matchup issues with her height and length each time. Of any competitor in the field, she has the potential to give Adeline the biggest scare.
Like Qian, Aline da Silva Ferreira has wrestled Gray both of the pas two worlds. Wrestling for her home country will undoubtedly put pressure on da Silva, but may also propel her into the gold medal match again.
At the London Games, Estonia won just two medals, one of which was by a wrestler. Epp Mae is the total package and real threat to be one of her home country's only medalists again this time around. She can hit slidebys, counters and even has a gut wrench at her disposal.
How Gray Can Win Gold
The three-time world champ has a better mental game than anyone else in her weight. That is a big part of why she has won back-to-back titles. Although she has trailed in several matches, her confidence to be able to score points in bunches sets her apart.
While her snag single is not the most technically sound, she has a dogged determination to finish it and makes up by being one of the strongest in her weight. All it takes is one takedown, as she has perhaps the best leglace in the world.
Without a doubt, Adeline Gray is the best in the world at 75kg. When this weight is wrestled on August 18th, expect Adeline Gray to be at the top of the podium with the national anthem playing as the flag is raised behind her.
Predictions
GOLD: Adeline Gray, USA
SILVER: Zhou Qian, China
BRONZE: Aline da Silva Ferreira, Brazil
BRONZE: Epp Mae, Estonia
FIFTH: Vasilisa Marzaliuk, Belarus
FIFTH: Erica Wiebe, Canada


Olympic Wrestling Previews:

Men's Freestyle:
57KG
|
65KG
|
74KG
|
86KG
|
97KG
|
125KG
Women's Freestyle:
48KG
|
53KG
|
63KG
|
75KG
Greco Roman:
59KG
|
75KG
| 85KG (Coming 8/14) |
130KG
Top Matches Of Olympians:

Men's Frestyle:
Daniel Dennis
|
Frank Molinaro
|
Jordan Burroughs
J'den Cox
|
Kyle Snyder
|
Tervel Dlagnev
Greco Roman:
Jesse Thielke
|
Andy Bisek
|
Robby Smith
| Ben Provisor (Coming 8/14)
Women's Freestyle:
Haley Augello
|
Helen Maroulis
|
Elena Pirozhkova
|
Adeline Gray

Know A Foreign Hammer:

Toghrul Asgarov
|
Roman Vlasov
|
Taha Akgul

Saori Yoshida
|
Anzor Boltakaev
|
Abdulrashid Sadulaev

Anuiar Gedeuv
|
Erica Wiebe
|
Soronzonbold Battsetsegg

Hamid Soryan
|
Vladimir Khinchegashvili

2016 Olympic Wrestling Schedule