2022-23 NCAA D1 Dual Rankings
Team Dual Rankings
Missouri moves up a few spots after taking out Iowa State in a 23-12 dual win. Despite that win, Missouri has past losses on the season to #8 Virginia Tech, #12 Oklahoma State, and #20 Arizona State keeping them from rising higher. Iowa State stays at #6 because of their win on the season over Cornell.
The other notable top 10 upset was Ohio State's 22-14 win over Cornell. With that result, Cornell drops behind Ohio State and Iowa State because of their head-to-head losses. However, Cornell remains above Virginia Tech because of a win over the Hokies from earlier in the season.
South Dakota State took out North Dakota State in their rivalry dual, 19-17. With that win, SDSU comes into the rankings at #22 but fails to move higher because of their recent loss to Oklahoma.
Though NDSU lost, their win over #4 Nebraska keeps them from falling too much in the rankings and holds them at #18.
Check out all the ranked results from the past week:
Penn State over Clarion, 40-6
Iowa over Oklahoma State, 28-7
NC State over North Carolina, 28-6
Nebraska over Arizona State, 25-15
Ohio State over Cornell, 22-14
Missouri over Iowa State, 23-12
Virginia Tech over Virginia, 33-3
Oklahoma State over Oklahoma, 26-6
Michigan over Central Michigan, 30-6
Wisconsin over Northern Iowa, 23-17
Pittsburgh over Duke, 43-3
South Dakota State over North Dakota State, 19-17
Arizona State over CSU Bakersfield, 42-0
West Virginia over Clarion, 24-18
West Virginia over Lock Haven, 34-9
Michigan State over Central Michigan, 20-13
Indiana over Chattanooga, 32-3
As always, we'd love to hear your feedback - if you have thoughts send them over by email to Jonathan.Kozak@flosports.tv or send a dm over to @KozakJon on Twitter.
Rocky Elam's vs Yonger Bastida during Missouri's dual against Iowa State: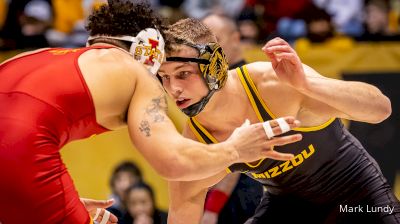 Unlock this video, live events, and more with a subscription!
Get Started
Already a subscriber? Log In