2022 UWW World Cup
Women's Weekly: Iowa Passes First Test
Women's Weekly: Iowa Passes First Test
Iowa made a statement by dominating the Missouri Valley Invitational over the weekend.
Nov 21, 2022
by Kyle Klingman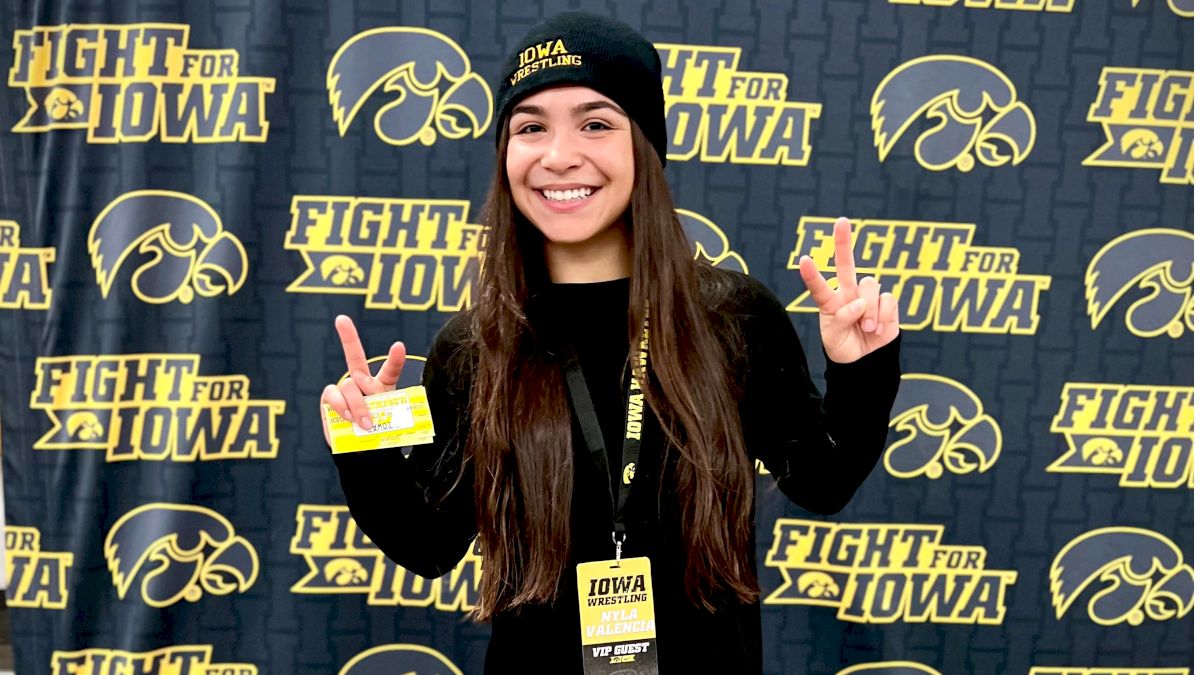 Clarissa Chun has been on the recruiting trail during her first year as head coach at the University of Iowa. The former Olympic bronze medalist sought the best talent from across the country to Iowa City.
Seven of those wrestlers entered the prestigious Missouri Valley Invitational over the weekend. Although they competed unattached, the results were jaw-dropping.
Sterling Dias (101), Nyla Valencia (109), Felicity Taylor (116), Nanea Estrella (136), and Reese Larramendy (143) won titles while identical twin sisters Emilie (101) and Brianna (109) Gonzalez were finalists.
Iowa combined for a 36-2 overall record with the only losses coming to teammates in the finals. No Hawkeye coaches could be in the corner since the team competed unattached.
"The results from this weekend feel incredibly rewarding," Valencia said. "We really came together and supported each other during our matches. All our hard work paid off and it proves that we're capable of anything when we have each others' backs. This is only the beginning for us."
There were 495 entrants in the tournament over 11 different weights.
For full results click, here.
For a full recap of Iowa's performance, click here.
Missouri Valley Invitational champions
101: Sterling Dias, Iowa-Unattached
109: Nyla Valencia, Iowa-Unattached
116: Felicity Taylor, Iowa-Unattached
123: Katie Gomez, Unattached
130: Lexie Basham, Texas Wesleyan
136: Nanea Estrella, Iowa-Unattached
143: Reese Larramendy, Iowa-Unattached
155: Marlynne Deede, Augsburg
170: Ashley Lekas, Augsburg
191: Sydnee Kimber, McKendree
235: Riley Dempewolf, Indiana Tech
Match of the Tournament
There's an unspoken rivalry between NCAA and NAIA programs. The WCWA Championships used to settle the dispute by hosting an end-of-the-year national tournament with all schools from all divisions.
Women's wrestling has grown significantly over the past four years so separate championships are held for each division. The NAIA Invitational Championships were first held in 2019 while the National Collegiate Women's Wrestling Championships (NCAA programs) began the following year.
The 130-pound finals featured two of the best wrestlers in the country. Lexie Basham of Texas Wesleyan, a 2022 NAIA champion, defeated Cam Geurin of McKendree, a two-time NCWWC champion, 3-1 in the finals.
Basham scored the lone takedown and notched a win for the NAIA in the mythical competition between the two divisions.
It was the only official win for the NAIA in the finals, though. Augsburg (NCAA D3) won a pair of titles and McKendree (NCAA D2) won the other. Riley Dempewolf of Indiana Tech (NAIA) won the 235-pound crown but it's not a sanctioned women's college weight.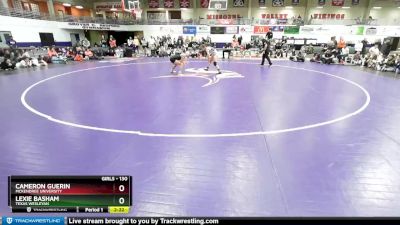 Unlock this video, live events, and more with a subscription!
Get Started
Already a subscriber? Log In
Watch national champions Lexie Basham and Cam Guerin square off at the Missouri Valley Invitational
All-Star Rematch
Sydnee Kimber of McKendree defeated Kelani Corbett of Missouri Valley, 6-4, to take the 191-pound title. The two will meet again on Tuesday, November 22 at the NWCA All-Star Classic in Austin, Texas.
Kimber is a three-time NCWWC champion while Corbett placed third at the NAIA Invitational in 2021 and first in 2022 when she competed for Lyon. She transferred to Missouri Valley where she wrestles for her brother, Kevin.
Sunkist Kid
Katie Gomez, 2021 U17 World champion and 2022 U20 World bronze medalist, also won a title competing unattached. Gomez, who competes with Sunkist Kids, won the 123-pound title a year after graduating from high school.
"The tournament was great and I had great competition," Gomez said. "I went in there excited to see how much I've improved since worlds. I definitely saw a lot more improvement in my strength. It also shows me how much more I need to work on, and one step closer to what's next to come."
Bill Farrell Memorial International
The women's field at the Bill Farrell Memorial International featured several high-level Americans in the field. U.S. stars Erin Golston (50 kg), Samara Chavez (53 kg), Alex Hedrick (57 kg), Michaela Beck (59 kg), and Andrea Schlabach (62 kg) took home titles.
"As a NYAC athlete, winning the Bill Farrell this weekend in New York City was extra special," Golston said. "Everything that I've been working on these past few months was showcased in each and every one of my matches. I want to carry this momentum into World Cup next month. I can't wait."
For full results, click here.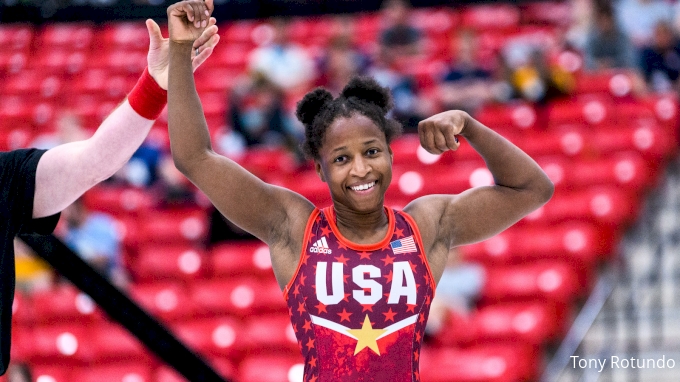 Erin Golston won all three of her matches at the Bill Farrell Memorial International by 10-0 technical superiorities
U.S. World Cup Line-up Is Set
It's time to get excited about the upcoming World Cup in Coralville, Iowa, on December 10-11. The USA women's freestyle team is headlined by reigning World champ Amit Elor, along with 2022 World medalists Kayla Miracle and Mallory Velte and 2019 World champion Jacarra Winchester.
Felicity Taylor should be a fan favorite with local Hawkeye fans. Taylor, a 2021 national collegiate champion for McKendree, transferred to Iowa this year.
U.S. Women's Line-up
50 kg — Alyssa Lampe
50 kg — Erin Golston
53 kg — Felicity Taylor
53 kg — Ronna Gross
55 kg — Jacarra Winchester
55 kg — Jenna Burkert
57 kg — Alexandra Hedrick
57 kg — Amanda Martinez
59 kg — Lexie Basham
59 kg — Michaela Beck
62 kg — Kayla Miracle
62 kg — Jennifer Rogers
65 kg — Mallory Velte
68 kg — Sienna Ramirez
68 kg — Solin Piearcy
72 kg — Amit Elor
72 kg — Skylar Grote
76 kg — Dymond Guilford
76 kg — Yelena Makoyed