2022 Black Knight Invitational
Penn State Crowns Five Champs At Black Knight Invite
Penn State Crowns Five Champs At Black Knight Invite
The Nittany Lions were dominant in West Point in a tournament that saw three multiple-PSU finals.
Nov 21, 2022
by JD Rader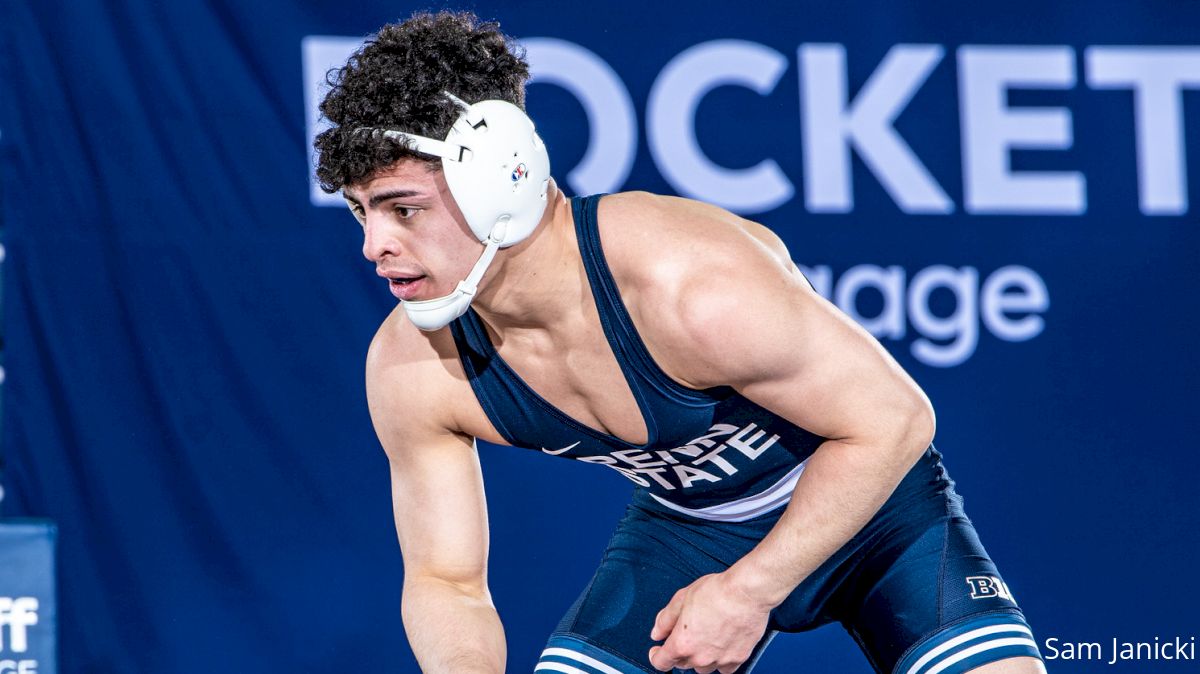 It was a successful Sunday trip to West Point for Cael Sanderson's team. The Nittany Lions brought home five titles and had three others lose to teammates in the finals. Beau Bartlett (141), Shayne Van Ness (149), Levi Haines (157), Alex Facundo (165), and Max Dean (197) all brought home the on-brand award for the honor of Black Knight champion.
It was the first college tournament title for Bartlett and Van Ness. Bartlett looked sharp down at his new weight class of 141 lbs, but had to win a tough overtime match over teammate David Evans in the finals. Van Ness trailed most of the finals match until securing the go-ahead takedown late against 2X national qualifier and currently ranked #18 Johnny Lovett of Central Michigan. With two pins, a tech, and a medical forfeit, Dean barely broke a sweat. His performance earned him OW of the tournament.
Listen to Shayne Van Ness talk about wrestling for Penn State below.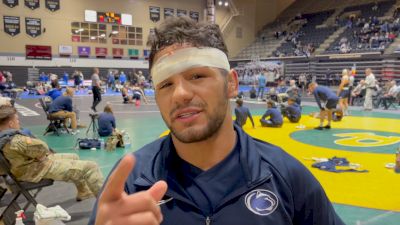 Junior Terrell Barraclough got the start against Lock Haven in Penn State's only dual of the year so far. However, with Haines defeating him 2-1 in the finals, it will be interesting to see if he gets to start moving forward. This a reminder that Haines is a true freshman, so with the new rule, he now gets five dates to wrestle attached and not burn his redshirt.
See the complete list of Penn State results below. Click on a match to bring it up in a new tab.
Full Results
125: Gary Steen, 3rd
R16: Gary Steen State College, PA (Penn State) DEC Yanni Vines New York, NY (Columbia), 5-4
Quarters: Gary Steen State College, PA (Penn State) DEC Patrick Adams Buffalo, NY (Buffalo), 10-3
Semis: Ethan Berginc West Point, NY (Army) DEC Gary Steen State College, PA (Penn State), 4-2
3rd place: Gary Steen State College, PA (Penn State) DEC Zander Phaturos Waynesburg, PA (Campbell), 3-2
125: Karl Shindledecker, 0-2
R16: Charlie Farmer West Point, NY (Army) DEC Karl Shindledecker State College, PA (Penn State), 9-6
Consi: Patrick Adams Buffalo, NY (Buffalo) DEC Karl Shindledecker State College, PA (Penn State), 9-5
141: Beau Bartlett, 1st
R16: Beau Bartlett State College, PA (Penn State) TF Cole Rhemrev Barrington, IL (Indiana), 18-3 4:30
Quarters: Beau Bartlett State College, PA (Penn State) MD Tyler Morris West Point, NY (Army), 20-7
Semis: Beau Bartlett State College, PA (Penn State) DEC Shannon Hanna Norfolk, VA (Campbell), 7-2
Finals: Beau Bartlett State College, PA (Penn State) DEC David Evans State College, PA (Penn State), 3-1 SV
141: David Evans, 2nd
R16: David Evans State College, PA (Penn State) DEC Jack Marlow Buffalo, NY (Buffalo), 11-6
Quarters: David Evans State College, PA (Penn State) F Justin Bierdumpfel Mahwah, NJ (Brown), 0:36
Semis: David Evans State College, PA (Penn State) DEC Cayden Rooks Bloomington, IN (Indiana), 3-2
Finals: Beau Bartlett State College, PA (Penn State) DEC David Evans State College, PA (Penn State), 3-1 SV
149: Shayne Van Ness, 1st
Quarters: Shayne Van ness State College, PA (Penn State) MD Kaleb Burgess Buffalo, NY (Buffalo), 15-7
Semis: Shayne Van ness State College, PA (Penn State) DEC Graham Rooks Bloomington, IN (Indiana), 8-2
Finals: Shayne Van ness State College, PA (Penn State) DEC Johnny Lovett Miami, MI (Central Michigan), 5-3
157: Terrell Barraclough, 2nd
R16: Terrell Barraclough Kaysville, UT (Penn State) TF Michael Leandrou Oyster Bay, NY (Hofstra), 19-3 7:00
Quarters: Terrell Barraclough Kaysville, UT (Penn State) DEC Derek Gilcher West Bloomfield, MI (Indiana), 6-0
Semis: Terrell Barraclough Kaysville, UT (Penn State) DEC Corbyn Munson chelsea, MI (Central Michigan), 3-1
Finals: Levi Haines State College, PA (Penn State) DEC Terrell Barraclough Kaysville, UT (Penn State), 2-1
157: Levi Haines, 1st
R16: Levi Haines State College, PA (Penn State) DEC Trae Mcdaniel West Point, NY (Army), 8-2
Quarters: Levi Haines State College, PA (Penn State) MD Troy Nation Land O Lakes, FL (Campbell), 17-3
Semis: Levi Haines State College, PA (Penn State) DEC Nate Lukez West Point, NY (Army), 7-4
Finals: Levi Haines State College, PA (Penn State) DEC Terrell Barraclough Kaysville, UT (Penn State), 2-1
165: Alex Facundo, 1st
Qaurters: Alex Facundo State College, PA (Penn State) DEC Tyler Lillard Aurora, OH (Indiana), 10-4
Semis: Alex Facundo State College, PA (Penn State) DEC Tracy Hubbard Detroit, MI (Central Michigan), 7-3
Finals: Alex Facundo State College, PA (Penn State) MD Matt Lee State College, PA (Penn State), 10-2
165: Matt Lee, 2nd
R16: Matt Lee State College, PA (Penn State) MD Chandler Amaker Charleston, SC (Central Michigan), 10-2
Quarters: Matt Lee State College, PA (Penn State) MD Mason Spears Providence, RI (Brown), 11-2
Semis: Matt Lee State College, PA (Penn State) DEC Dalton Harkins West Point, NY (Army), 4-3
Finals: Alex Facundo State College, PA (Penn State) MD Matt Lee State College, PA (Penn State), 10-2
184: Donovon Ball, 3rd
Quarters: Donovon Ball New Cumberland, PA (Penn State) DEC Ben Cushman Flushing, MI (Central Michigan), 7-3
Semis: Jacob Ferreira Mount Kisco, NY (Hofstra) DEC Donovon Ball New Cumberland, PA (Penn State), 3-2
3rd place: Donovon Ball New Cumberland, PA (Penn State) DEC Sahm Abdulrazzaq Woodbridge, VA (Army), 4-3
174: Jack Kelly, 1-2
R16: Cole Rees Erie, PA (Campbell) DEC Jack Kelly State College, PA (Penn State), 6-4
Consi: Jack Kelly State College, PA (Penn State) DEC Anthony Derosa Bloomsburg, PA (Bloomsburg), 10-5
Consi: Jack Mcgill Collegeville, PA (Columbia) F Jack Kelly State College, PA (Penn State), 2:02
197: Max Dean, 1st
R16: Max Dean State College, PA (Penn State) F Brandon Hoselton Chenoa, IL (Campbell), 1:55
Quarters: Max Dean State College, PA (Penn State) TF Aaron Wolk chappaqua, NY (Brown), 15-0 4:20
Semis: Max Dean State College, PA (Penn State) M FOR Nick Willham Greenwood, IN (Indiana), 5-0 3:00
Finals: Max Dean State College, PA (Penn State) F Trey Rogers Hastings, MN (Hofstra), 1:15
197: Lucas Cochran, 5th
R16: Lucas Cochran State College, PA (Penn State) MD Danny Lawrence West Point, NY (Army), 13-1
Quarters: Sam Mitchell Buffalo, NY (Buffalo) DEC Lucas Cochran State College, PA (Penn State), 5-2
Consi: Lucas Cochran State College, PA (Penn State) MD Cade Dallwitz Holly, MI (Central Michigan), 16-2
Consi: Lucas Cochran State College, PA (Penn State) DEC Levi Hopkins Palmer, AK (Campbell), 10-5
5th place: Lucas Cochran State College, PA (Penn State) DEC Eli Sheeren Buffalo, NY (Buffalo), 9-4