2022 Black Knight Invitational
4 Big Storylines At Sunday's Black Knight Invite
4 Big Storylines At Sunday's Black Knight Invite
Here's why we'll be tuning in to the Black Knight on Sunday.
Nov 17, 2022
by JD Rader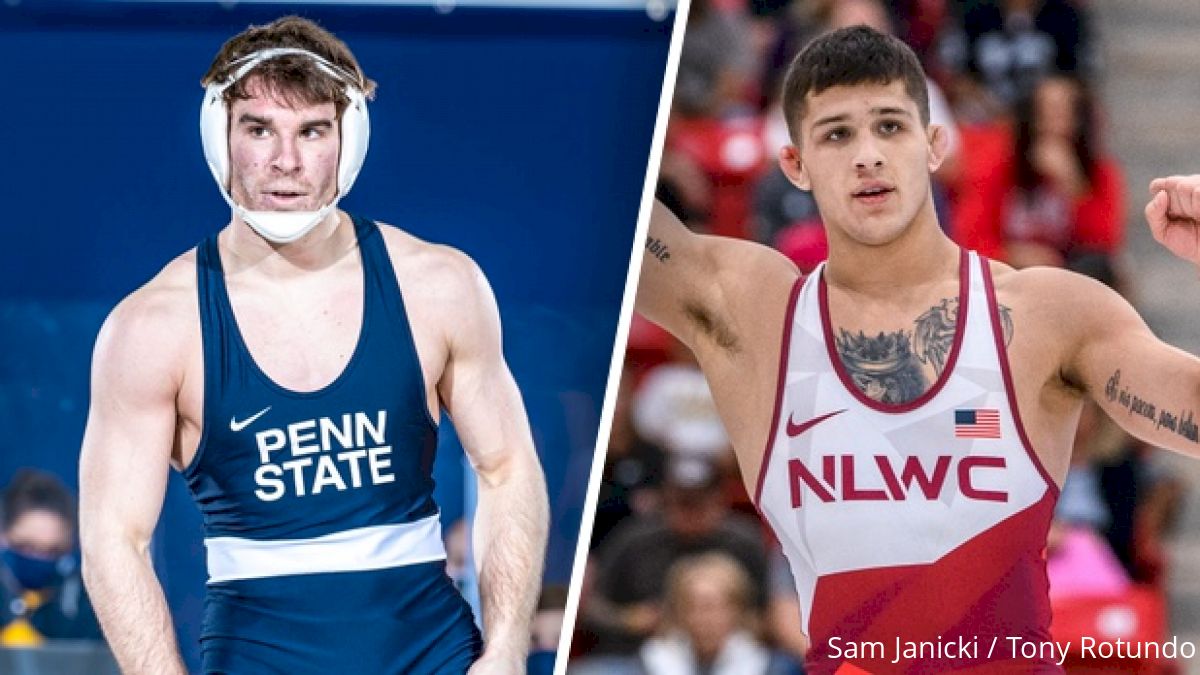 For the first time since 2019, Penn State is headed back to Army's Black Knight Invite. And according to their official website, they're bringing their starting line from opening weekend plus Timothy Levine and Joe Lee. This, combined with the other teams competing, will provide some excellent Sunday entertainment.
Teams Competing
Penn State
Hofstra
Campbell
Columbia
Bloomsburg
Indiana
Brown
Central Michigan
Buffalo
Potential Penn State Wrestle-Offs At 125 and 165
In their official preview, Penn State noted that the only two weights where they're bringing multiple guys is 125 and 165. It seems safe to say this will be used as a data point as to who gets to start moving forward.
Against Lock Haven last week Gary Steen got the nod at 125 lbs. He dropped the bout to 15th-ranked Anthony Noto by major decision. The other entry for the Nittany Lions is transfer Timothy Levine. Levine competed for Brown last year at 141 lbs where he went 18-14 including 1-2 at the EIWA Championships.
Alex Facundo was the 165 lbs starter last week and defeated Aiden Gaugler by tech fall. However, in his press conference last week, Cael Sanderson mentioned that Joe Lee was still an option. Lee competed at the Bearcat Open last weekend and went 5-1 losing to Micah Hanau of the United States Military Academy.
Time For Shayne Van Ness To Prove Himself
Shayne Van Ness might still be the biggest mystery in division I wrestling. He was the #4 overall recruit coming out of high school, but he has been relatively inactive since his junior year of high school. As a redshirt last season he went 2-0.
The New Jersey native made his official debut against Lock Haven and impressed with a pin over Lock Haven's Connor Eck. With two top-33 opponents in the field, Van Ness will finally get an opportunity to truly prove where he's at. Van Ness will most likely have to go through #18 Johnny Lovett of Central Michigan and/or #HM Graham Rooks of Indiana. Both are multiple-time national qualifiers. If Van Ness can dominate them, he's ready to go with the big dogs.
Watch Shayne Van Ness defeat Jesse Mendez at Who's Number One 2019 below.
Unlock this video, live events, and more with a subscription!
Get Started
Already a subscriber? Log In
Is Army's Ethan Berginc For Real?
It won't come as a surprise to Pennsylvanians, but for national fans, Ethan Berginc has surely raised some eyebrows early this season. A PA AAA state champ in 2020, Berginc had a quiet USMAPS year going just 8-2. This season, however, he's 7-0 with wins over Brandon Kaylor and Liam Cronin. Those wins have been good enough to earn him a #22 ranking. With Buffalo's honorably ranked Tristan Daugherty being the only other ranked opponent in the field, Berginc won't be able to increase his ranking unless some people above him take some losses. He can do his part by staying undefeated and beating wrestlers he's supposed to, however.
A Field Of Ranked Wrestlers
Penn State and Ethan Berginc won't be the only tough wrestlers in the field. Take a look at all the ranked wrestlers who will be competing on Sunday.
125 - #HM Tristan Daugherty, Buffalo
133 - #HM Dominic Zaccone, Campbell
141 - #23 Cayden Rooks, Indiana
149 - #18 Johnny Lovett, Central Michigan
149 - #HM Graham Rooks, Indiana
157 - #20 Michael Petite, Buffalo
174 - #18 Donnell Washington, Indiana
174 - #21 Benjamin Pasiuk, Army
174 - #HM Jay Nivison, Buffalo
174 - #HM Austin Murphy, Campbell
184 - #21 Caleb Hopkins, Campbell
184 - #HM Jacob Ferreira, Hofstra
197 - #HM Trey Rogers, Hofstra
285 - #18 Taye Ghadiali, Campbell
285 - #23 Zachary Knighton-Ward, Hofstra
285 - #HM Jacob Bullock, Indiana