2022 Luther Open
Hawkeyes Win Two Titles At Luther Open
Hawkeyes Win Two Titles At Luther Open
The Iowa Hawkeyes sent a squad of young wrestlers to Luther Open in Decorah, Iowa.
Nov 13, 2022
by JD Rader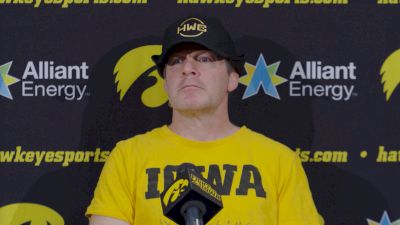 While the starting lineup won't get its season started until Sunday afternoon against California Baptist, a strong contingent of Hawkeyes rolled up to the Luther Open to get some matches under their belt.
The two 133 pounders were the lone champs for the Hawks: Cullan Schriever in the elite division and Jace Rhodes in the silver. Schriever competed unattached, which would point towards Brody Teske starting at 133 on Sunday and Schriever redshirting this year. Schriever's first year was 2021, the free COVID year of eligibility, so he still has a redshirt to play with. Schriever's only real test came in the semifinals against Augsburg's Cade Willis. Trailing in the 3rd by a point, Schriever got the go-ahead takedown and ride out to win.
Watch Cullan Schriever's highly competitive semifinal bout below.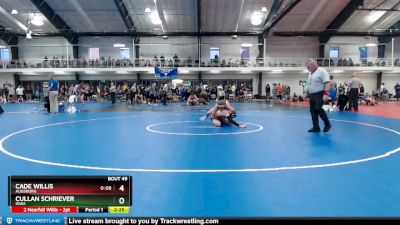 Unlock this video, live events, and more with a subscription!
Get Started
Already a subscriber? Log In
Other interesting results include true freshman Kolby Franklin taking 2nd and Mickey Griffith and Bradley Hill taking 3rd in the elite division. Franklin lost to a freshman from Wisconsin-Oshkosh. Griffith lost to D3 champ from Loras, and Hill lost to Ryg of Upper Iowa, who took 3rd at D2s in 2021.
All in all the Hawks went a combined 28-7. You can find brackets, full results, and match archives HERE.
Full Results
Elite 133: Cullan Schriever, 1st
Champ. Round 2 - won by tech fall over Denis Murphy (Wisconsin-Oshkosh) (TF 21-4)
Quarterfinal - won by tech fall over Yousuf Zigan (Luther) (TF 19-2)
Semifinal - won by decision over Cade Willis (Augsburg) (Dec 7-5)
1st Place Match - won by major decision over Kaden Anderlik (Upper Iowa) (Maj 13-5)
Elite 157: Joe Kelly, 4th
Champ. Round 1 - won by decision over Dylan Falck (Coe) (Dec 13-6)
Champ. Round 2 - won by decision over Jackson Rolfs (Upper Iowa) (Dec 6-3)
Quarterfinal - won by fall over Travis Guzman (Nebraska Wesleyan) (Fall 3:46)
Semifinal - lost by decision to Drake Hayward (Minnesota State Mankato) (Dec 6-2)
3rd Place Match - lost by decision to Chance Throndson (Upper Iowa) (Dec 7-4)
Elite 184: Mickey Griffith's, 3rd
Champ. Round 2 - won by tech fall over Colby Lape (Augustana (IL)) (TF 15-0)
Quarterfinal - won by major decision over Thomas Culp (Eureka) (Maj 13-3)
Semifinal - lost by decision to Shane Liegel (Loras) (Dec 8-3)
3rd Place Match - won by decision over Bentley Schwanebeck-Ostermann (Augsburg) (Dec 5-4)
Elite 197: Kolby Franklin, 2nd
Champ. Round 2 - won by fall over Mathieu Arsenault (Coe) (Fall 0:35)
Quarterfinal - won by tech fall over Mason Askelsen (Minnesota State Mankato) (TF 15-0)
Semifinal - won by major decision over Jared Voss (Coe) (Maj 19-6)
1st Place Match - lost by decision to Beau Yineman (Wisconsin-Oshkosh) (Dec 9-4)
Elite 285: Bradley Hill, 3rd
Champ. Round 2 - won by fall over Quinn Wilcoxen (Cornell College) (Fall 0:39)
Quarterfinal - won by decision over Walter West (Luther) (Dec 7-3)
Semifinal - lost by decision to Tyler Kim (Augsburg) (Dec 3-2)
3rd Place Match - won by medical forfeit over Zach Ryg (Upper Iowa) (MFF)
Silver 133: Jace Rhodes, 1st
Champ. Round 2 - won by major decision over Jackson McCormick (Rochester Community & Tech. College) (Maj 14-4)
Quarterfinal - won by major decision over Nosa Egbon (Loras) (Maj 15-3)
Semifinal - won by decision over Justin Fortugno (Wisconsin-Whitewater) (Dec 8-3)
1st Place Match - won by decision over Dominik Mallinder (Wisconsin-Whitewater) (Dec 9-5)
Silver 285: Easton Fleshman, 5th
Champ. Round 2 - won by decision over Landen Schemmel (Cornell College) (Dec 9-3)
Quarterfinal - lost by decision to Reed Parrish (Rochester Community & Tech. College) (Dec 8-3)
Cons. Round 4 - won by decision over Andrew Keeler (Luther) (Dec 1-0)
Cons. Semi - won in sudden victory - 1 over Jacob Peacy (Wisconsin-Whitewater) (SV-1 3-1)
5th Place Match - won by fall over Cayden Miller (Iowa State) (Fall 2:35)
Silver 285: Gage Marty, 3rd
Champ. Round 2 - won in sudden victory - 1 over Jordan Lewis (Wisconsin-Whitewater) (SV-1 3-1)
Quarterfinal - won by fall over Kamond Manning (North Iowa Area Community College) (Fall 0:48)
Semifinal - lost by decision to Robert Beese (Augsburg) (Dec 1-0)
3rd Place Match - won by major decision over David Pierson (Wartburg) (Maj 10-0)