2022 Keystone Classic
What To Watch For At The 2022 Keystone Classic
What To Watch For At The 2022 Keystone Classic
A breakdown of the biggest stories to follow and expected entry list at the 2022 Keystone Classic on November 20.
Nov 15, 2022
by Jon Kozak
The Keystone Classic hosted by the Pennsylvania RTC will go down on November 20 in Philadelphia, Pennsylvania, and will feature some of the top college programs in the country. Check out some of the most notable stories heading into the tournament with a full list of potential starters participating in the event.
149 Is The Weight You Can't Miss
True freshmen Caleb Henson pulled off the upset of the regular season last weekend when he took out two-time All-American Sammy Sasso in overtime, 5-3. The weekend before, Henson opened his season by winning the Southeast Open with a 3-0 decision over West Virginia's Sam Hillegas. Those performances moved Henson to #9 in our 149 rankings but, Henson's tests won't stop at the Keystone Classic. #2 Jonathan Millner, #3 Kyle Parco, #15 Doug Zapf, and #13 Quinn Kinner all have the potential to be in the 149-pound field.
Though Henson brings the "hot hand" into the Keystone Classic, #3 Jonathan Millner and #4 Kyle Parco are clearly the most credentialed in the field at 149. Both are two-time All-Americans and have traded wins at the last two NCAA tournaments (Millner won in 2022, and Parco won in 2021). Millner has been perfect on the year after winning the App State Invite last weekend. However, Parco was forced to injury default during a match with Doug Zapf at the Journeymen Classic last weekend leaving some doubt as to whether he'll wrestle in Philadelphia.
Speaking of #15 Doug Zapf, the senior has made the descent down to 149 after qualifying for the NCAA tournament last season at 157. Zapf opened his season by going 3-0 at the Journeymen Classic with 2 major decision wins and the injury default over Parco. Zapf looks to be a serious All-American threat this year and could come out on top of the 149-pound bracket at the Keystone Classic.
Rider's Kinner is coming up to 149 after qualifying for the NCAA tournament last year at 141. Kinner won a MAC title last year and notably defeated former Ohio State teammate #9 Dylan D'Emilio at NCAAs. Kinner's performance at the Keystone Classic will show us just where he fits in this year's landscape at 149.
Hear Jonathan Millner talk about his 2022 NCAA tournament:
Caleb Henson's win over Sam Hillegas in the 2022 Southeast Open Finals:
Arizona State To Show-Off Fresh Lineup
Arizona State will travel across the country for this early season tournament after earning trophies at each of the last two NCAA tournaments. The Sun Devils finished 4th in both 2021 and 2022 and are currently ranked #5 in our team rankings. However, they've faced some early-season adversity with injury to title contender Jacori Teemer. With Teemer out for the year, the Sun Devils will need the entire squad to step up this season.
Despite the loss of Teemer, Arizona State still has a cast of experienced starters. Brandon Courtney, Michael McGee, Kyle Parco, and Cohlton Schultz are all past All-Americans that will provide the necessary firepower to lead the Sun Devils to another podium finish. Then there are the unproven wrestlers that bring in high expectations with them to the starting lineup. Jesse Vasquez (141), Tony Negron (165), Cael Valencia (174), and Anthony Montalvo (184) will look to provide the necessary boost to help earn another trophy. Each wrestler will have incredible matchups at the Keystone Classic that will tell us where they stack up in their respective weight classes.
Cael Valencia takes out 4X national qualifier Hayden Hastings at the 2021 Cowboy Open: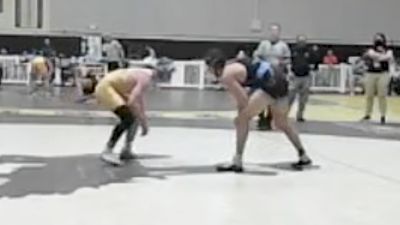 Unlock this video, live events, and more with a subscription!
Get Started
Already a subscriber? Log In
133 Is DEEP
Of the 11 teams attending the Keystone Classic, 5 of them are bringing wrestlers ranked at 133 pounds. Penn's Colaiocco is the highest-ranked wrestler in the field and had a solid 2021-22 season after going 22-4 and winning EIWAs. However, he came up just short after losing to eventual All-American Lucas Byrd in overtime. The Keystone will be a shot for Colaiocco for some early-season redemption for a disappointing NCAA tournament and an opportunity for him to show he's ready to challenge for All-American honors this year.
Sam Latona will be another wrestler looking for redemption after a slow start to the season when he lost to Pat Phillips at the Southeast Open on the opening weekend. Latona has a chance to get revenge on Phillips at the Keystone Classic. After the loss to Phillips, Latona got back on track and defeated freshman standout Jesse Mendez to shoot back up the rankings.
Pat Phillips' win over Sam Latona at the Southeast Open: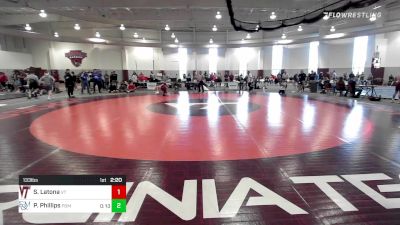 Unlock this video, live events, and more with a subscription!
Get Started
Already a subscriber? Log In
Tons Of Ranked Wrestlers - Upsets Looming
With as many ranked wrestlers as there will be at the Keystone Classic, there are sure to be upsets in every weight. Every season, we see new contenders emerge at early season tournaments and this tournament is the perfect event for new contenders to shine. To get a better feel for who you should watch out for, check out the seeds and full entry list for the Keystone Classic here!