2022 Southeast Open by Virginia Tech
Hokie Insider: VT Stacking Up Talent In NCAA Trophy Pursuit
Hokie Insider: VT Stacking Up Talent In NCAA Trophy Pursuit
Thanks to its work on the recruiting trail, Virginia Tech is building a sturdy lineup from top to bottom in its bid to climb in the NCAA team standings.
Oct 31, 2022
by Jim Carlson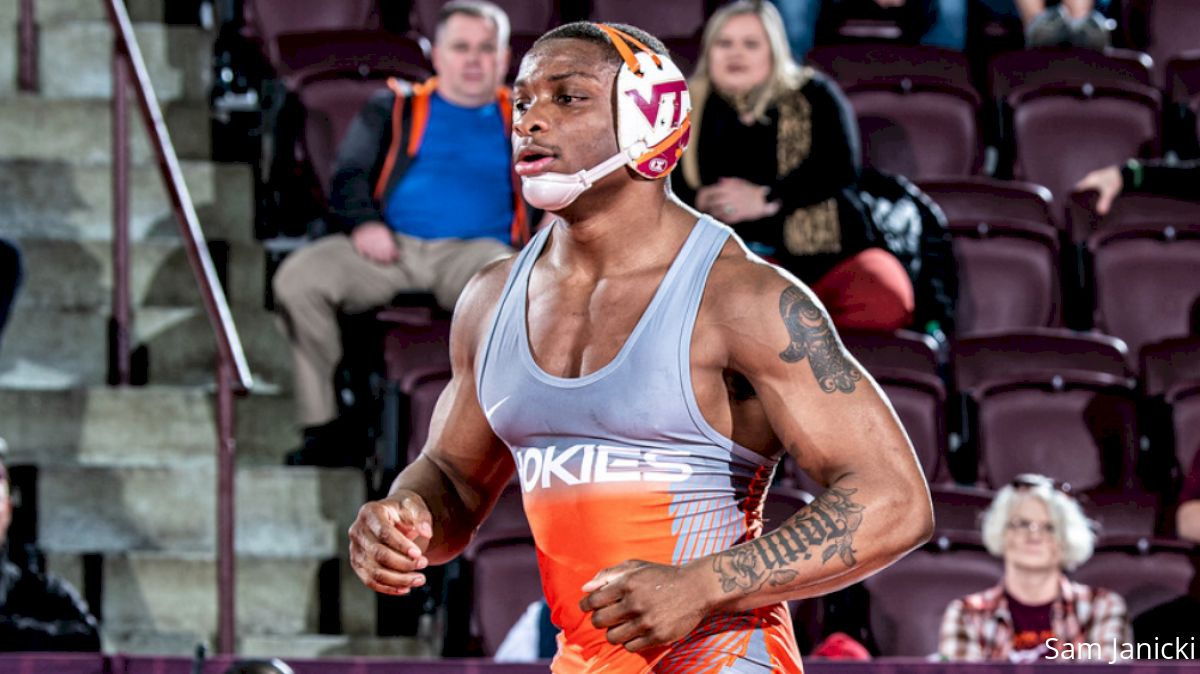 Unlock this article, live events, and more with a subscription!
Get Started
Already a subscriber? Log In
Preseason conversation about NCAA wrestling team titles always includes Penn State and Iowa, often involves Cornell and Arizona State and recently has pulled Michigan, North Carolina State and Ohio State into the mix. With star power returning, upperclassmen improving and a skilled incoming class, it might be time to talk Tech.
Virginia Tech hasn't been known as a contender. It finished fourth in 2016, the year former VT coach Kevin Dresser left for Iowa State. Since then, head coach Tony Robie has guided the Hokies to 52 wins in 67 dual meets while thick in the Atlantic Coast Conference race with perennial champion N.C. State.
Times change, the talent base can expand and the interest in a particular college can grow in the mind of high-level recruits. That college lately has been Virginia Tech, which attracted the 10th-ranked recruiting class among 2022 high school graduates, even though it's sitting at a mid-level #13 in Flo's preseason rankings.
"Our mission in recruiting is always to go out and get the best kids we possibly can and get as many of them as we possibly can. We've been fortunate that we've been able to do that the last several years," Robie said. "That's what it's all about. Recruiting is a huge part of the game and we're excited about the future of the program and the talent that we currently have here in the coming years with our freshman class and the class that we have coming in.
"I think the success we've had as a program, and we have a great staff who has the ability to build relationships with kids and their families, and that's all part of the game. Once we get them on campus, it's a pretty easy place to sell once the kids get here and they experience it. We think the culture of the program and our team helps with that aspect a lot as well."
The intangibles necessary to win a team title are many, and Robie noted that only a handful of teams have been able to do that.
"It's not like we're sitting around thinking about that on a daily basis; we're just focused on improvement and what we need to do to be the best that every guy on our team can be," he said.
"Our goal is for every single one of our guys to reach their potential and I think if we can continue to recruit at the level we're recruiting at and we get everybody to reach their potential, that's really all you can ask for. If you put yourself in the mix enough and in that conversation, which we really haven't done, you have a chance of things going your way."
A Probable Potent Lineup
Two redshirt freshmen, Eddie Ventresca and Cooper Flynn will battle for the 125 spot; Ventresca won the Maroon-Orange wrestle-offs match 3-1 over Flynn in sudden victory. Alabama state champion Sam Latona will bump up to 133; freshman Tom Crook won a 7-4 bout over redshirt senior Collin Gerardi at 141.
"I thought Tom Crook looked fantastic going out there against Collin Gerardi, who's in his fifth year and has wrestled a lot of Division I college matches," Robie told Tech Sideline. "He did a lot of good things, was very offensive, kept his foot on the gas and was really good in every position."
Freshman Caleb Henson, a top-20 recruit labeled by Robie as an "immediate impact guy," will step in at 149 in place of Bryce Andoninan, the All-America who has made the jump to 157. "I don't think he'll have a hard time moving up to 57," Robie said about Andonian.
Robie said he was pleased with the depth at 165, and Connor Brady upended Drew Nicholson 3-1 in the wrestle-offs. Mekhi Lewis, 2019 NCAA champion and 2022 runner-up, returns at 174. Hometown guy Hunter Bolen, a two-time All-America and four-time NCAA qualifier, returns at 184. Robie said the staff is confident in Andy Smith and Cody Howard at 197, and that top-10 recruit T.J. Stewart is a "likely" redshirt. Smith defeated Stewart in the recent wrestle-offs. ACC runner-up Hunter Catka is the Hokie heavyweight.
"Having that kind of depth, that kind of competition is going to make everybody better, and it's going to help the end product of who we end up putting out on the mat," Robie said.
Hokies At Home … Eventually
Tech competes in the Southeast Open in Salem, Virginia, on Nov. 5 and travels to Ohio State, the Keystone Classic in Philadelphia and the Cliff Keen Invitational in Las Vegas prior to its initial home match Dec. 11 against #6 Missouri. After that, the Hokies' home slate includes #8 Cornell (Jan. 6), #17 N.C. State (Jan. 20) and #16 Pitt (Jan. 27).
"It's important to provide that kind of entertainment value to our fans; they want to see that," Robie said. "It's important to our administration that people show up and watch, and whether we win or lose, we want to create those kinds of experiences for our fans."