UWW
20 Facts And Figures From The World Championships
20 Facts And Figures From The World Championships
Take a look back at the World Championships and some of the historic feats that occurred in Belgrade.
Sep 22, 2022
by Andy Hamilton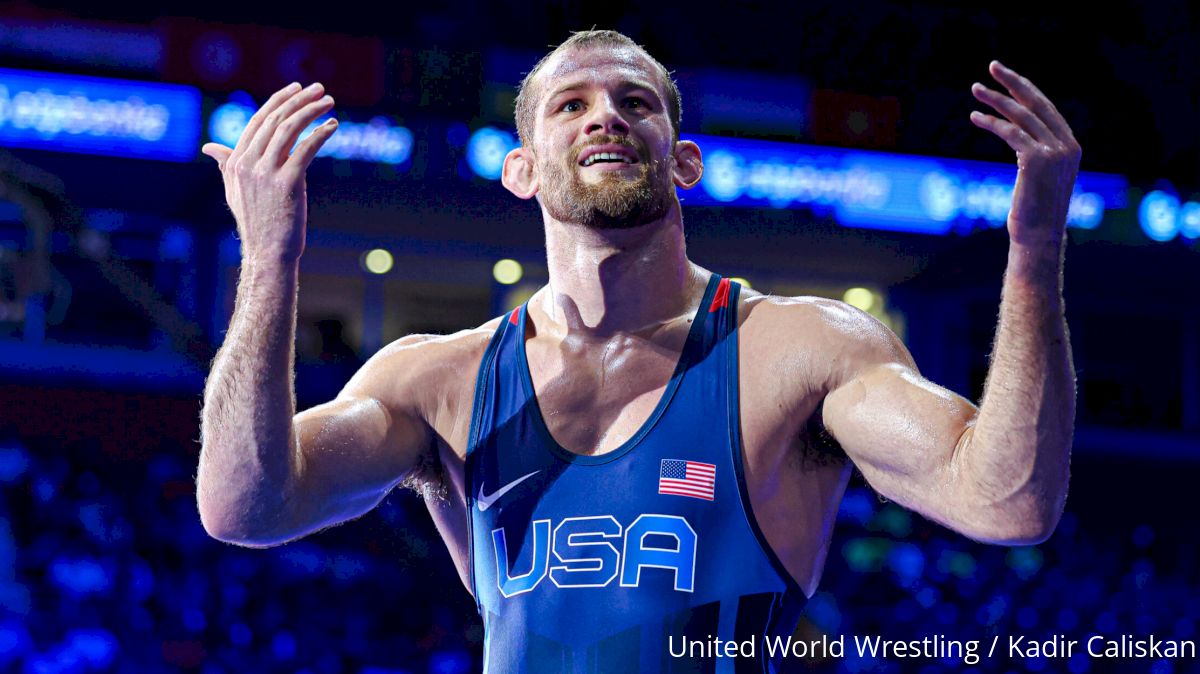 Collectively, the United States has never had a better performance at the World Championships than the Americans turned in last week in Belgrade.
The men's freestyle team hauled home its fourth team title and spent the weekend rewriting the American record book and the women's freestyle team matched its record with seven medalists. That combination put the USA alone at the top of the combined medal chart for the first time.
Here's a look at 20 facts and figures from Belgrade in addition to the seven we gave you last week on Jordan Burroughs and his run to seven titles:
1. There's never been an era of American wrestling that stacks up to the one we're in now. Take the career accomplishments of the four USA men's freestyle World title teams, for example. The 1993 squad combined for 16 career World-level titles and 36 medals. The 1995 group — primarily the same bunch as '93 but with Kurt Angle — combined for 18 titles and 38 medals. The 2017 team — in an eight-weight era — combined for 15 titles and 34 medals. This year's squad has racked up 21 titles and 39 medals.
2. Nine Americans have won at least three men's freestyle World-level titles. Four of them — Burroughs, Kyle Snyder, Kyle Dake and David Taylor — led the USA title charge last week.
3. Sixteen Americans have won at least four men's freestyle World-level medals, including six on this year's team: Burroughs, Snyder, J'den Cox (6), Dake (5), Thomas (Gilman (4) and Taylor (4).
4. United World Wrestling's current team scoring format went into play at the 2018 World Championships, and Russia established the men's freestyle points record a year later when it piled up 194 with five champs and six finalists. The USA men's freestyle squad topped that record in Belgrade with 198 points.
5. The USA men's freestyle team tied the American record with four champions, matching a feat accomplished by the 1993 and 1995 world title squads. This year's bunch set a new American record with eight finalists, besting the previous record of six. With eight medalists, the USA squad also tied the American record set in 1987.
6. Snyder collected his eighth World medal on Sunday when he claimed the 97-kilogram gold. Snyder is now the sole occupant on the third line of the American men's freestyle medal chart behind Bruce Baumgartner (13) and Burroughs (10). It was Snyder's eighth straight medal-winning performance at World-level tournament, which ties Baumgartner, who won eight straight from 1983-90.
7. The United States continues to rule the world at 79 kilograms. Since United World Wrestling instituted the weight class in 2018, Americans Dake and Burroughs have captured all four World title belts. Combined, they're 18-0 at the World Championships with nine technical superiority victories. Dake and Burroughs outscored opponents by a combined 147-18 count in those World bouts at 79 kg.
8. The USA men's freestyle team compiled a 37-7 record in Belgrade.
9. The USA women's freestyle team continues to trend upward. The Americans scored 103 points at the World Championships in 2018, 105 in 2019, 147 last year and 157 in Belgrade.
10. Dominique Parrish and Amit Elor became the 11th and 12th Americans to win women's freestyle World titles.
11. With her win in the 72-kilogram finals, Elor — at 18 years, 8 months and 14 days — became the youngest World champion in American history. Elor's gold was the 100th World-level medal for the USA women's freestyle program.
12. Tamyra Mensah Stock's third World and Olympic title put her in a class with Adeline Gray (6), Helen Maroulis (4) and Tricia Saunders (3) as the only American women to win at least three World-level golds.
13. The 57-kilogram silver medal claimed by Helen Maroulis was her eighth World-level medal, which moves her within one of Adeline Gray and Kristie Davis for tops on the American women's freestyle list.
14. By claiming a 50-kilogram bronze, Sarah Hildebrandt became the 10th American woman to win at least four World-level medals.
15. Simon Fraser University products combined to score 95 points, which would've been good enough for third in the women's freestyle race. Parrish won gold, Maroulis took silver, Mallory Velte and Canada's Karla Godinez Gonzalez bagged bronzes. Additionally, Ana Godinez Gonzalez and Justina DiStasio placed fifth for Canada.
16. Japan's Yui Susaki ran her record to 17-0 at the World Championships and Olympics after blitzing through the 50-kilogram bracket. She outscored her World and Olympic opponents by a combined 110-0 count since the opening round of the 2018 World Championships.
17. Kyrgyzstan, which had never won a Greco World title prior to Belgrade, captured two golds in a span of three days.
18. Armenia's Artur Aleksanyan and Turkey's Riza Kayaalp became the 15th and 16th wrestlers to win five Greco World-level golds.
19. Stevan Micic became Serbia's first freestyle World medalist when he captured a bronze at 57 kilograms.
20. Moldova — which had never had a women's freestyle World champ until last year when Irina Ringaci won the 65-kilogram gold — captured another title in Belgrade, where Anastasia Nichita won the 59-kilogram gold.