2022 Senior World Championships
Seven Incredible Facts And Figures From Jordan Burroughs' Run To 7 Golds
Seven Incredible Facts And Figures From Jordan Burroughs' Run To 7 Golds
On his journey to the top of the American wrestling mountain, Jordan Burroughs has produced some stunning statistics.
Sep 17, 2022
by Andy Hamilton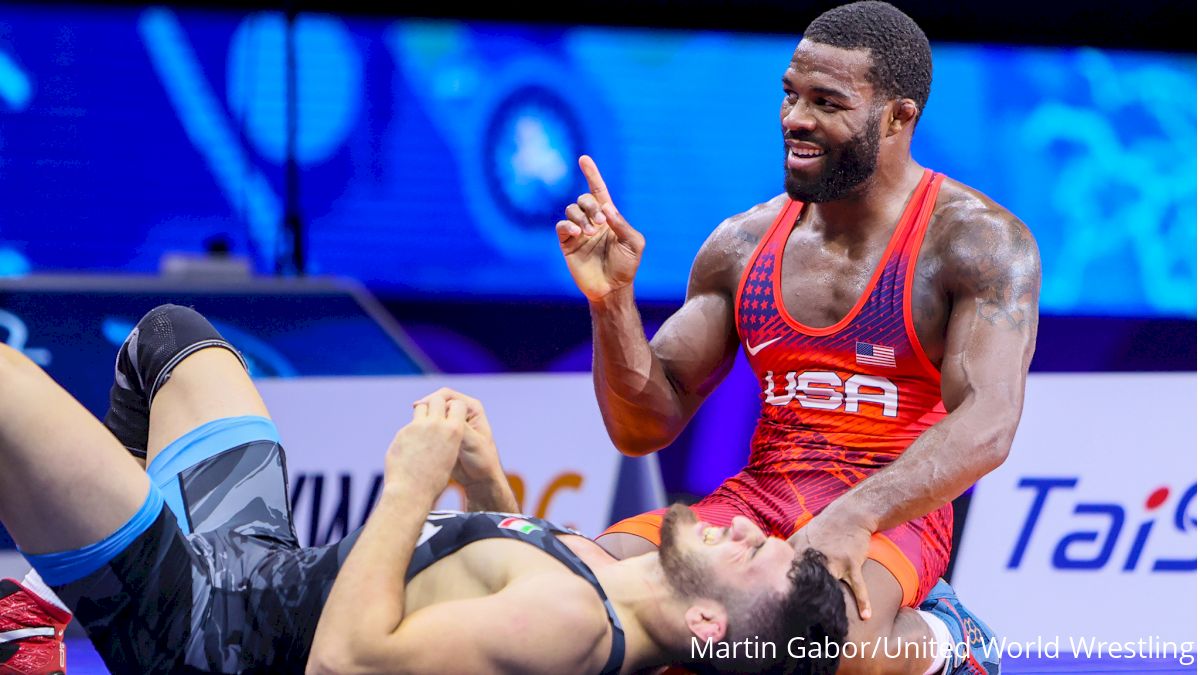 Jordan Burroughs now stands alone atop the American wrestling mountain after capturing his record-setting seventh World and Olympic title on Friday. His remarkable journey has been lined with extraordinary facts and figures.
Here's a look at seven of them:
1. Burroughs has stacked up his seven titles in 12 years. In the 12 years prior to his Senior-level debut, the United States won a total of five men's freestyle World and Olympic titles — Stephen Neal (1999), Brandon Slay (2000), Cael Sanderson (2004), Bill Zadick (2006) and Henry Cejudo (2008).
2. Burroughs ushered in a new era for the United States — one in which multi-time World-level titlists have become commonplace. When Burroughs won his Olympic gold in 2012, he became the first American man to win multiple World-level titles since Tom Brands and Kurt Angle backed up World titles with Olympic golds in 1996. If Thomas Gilman wins Saturday in the 57-kilogram title bout, the United States will have a men's freestyle lineup with six multi-time World-level champions.
3. With his seventh title, Burroughs moved into a three-way tie with Abdulrashid Sadulaev and Makharbek Khadartsev for sixth all-time. Only Aleksandr Medved (10), Buvaisar Saitiev (9), Sergei Beloglazov (8), Arsen Fadzaev (8), Valentin Yordanov (8) have won more.
4. With Friday's 4-2 victory against Iranian Mohammad Nokhodilarimi, Burroughs ran his career record to 10-0 in World and Olympic medal matches, which is believed to be the most men's freestyle World-level medal match victories without a loss.
5. Unless he pushes back his retirement date beyond Paris — Burroughs said in June that he plans to compete until 2024 — he won't catch Bruce Baumgartner's American record of 13 World and Olympic medals. But Burroughs is now in a class with Baumgartner and three others — Khardtsev, Yordanov and Medved — as the only men's freestyle wrestlers with at least five World-level titles and 10 or more medals.
6. Nine different Iranians have stepped on the mat with Burroughs during the past 12 years and none have walked off victorious. Friday's win against Nokhodilarimi ran Burroughs' record to 15-0 against Iran and 5-0 against in World and Olympic title bouts.
7. Burroughs has registered 66 wins against 30 wrestlers who have combined to win 67 World and Olympic medals, including 12 golds. Those figures could grow on Saturday when Dake wrestles in the World finals and Italy's Frank Chamizo wrestles for bronze at 74 kilograms.